Hot Buttons
Hot Buttons
The law isn't justice. It's a very imperfect mechanism. If you press exactly the right buttons and are also lucky, justice may show up in the answer. A mechanism is all the law was ever intended to be.
- Raymond Chandler

I include here a couple of articles I read recently. I also report a conversation I had with a CPA at a Christmas party a few days ago, then conclude with my opinion as to why all these things apply to our situation with the forestry trust (if you haven't already guessed by then).
White-Collar Hanky-Panky Keeps Sleuths Occupied
by Voranai Vanijaka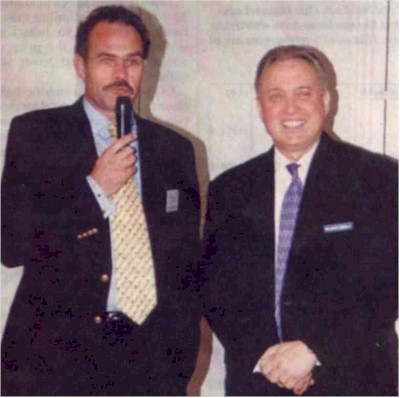 ArmorGroup president and CEO Stephen Loffler (left) and William O'Reilly,
chairman of ArmorGroup (Asia-Pacific): "Judging from our clients' concerns,
urgent steps need to be taken by the Thai authorities," Mr O'Reilly says.
With US$150 million worth of loans at stake, 25 international creditors sat nervously sweating over rumours that their client, a publicly listed Thai company, was suffering severe liquidity problems. In a country where transparency and disclosure remain less than ideal, the creditors were looking for independent confirmation that their money might have gone missing.
After extensive research and an undercover investigation, it was discovered that the money lent had been used fraudulently by the directors to prop up failed personal real-estate projects. The company was raided by local police and regulatory officials and is now under restructuring.
This global investigator sports an English accent and carries the latest security technology - but no, it's not MI6, and the agents are not named Bond. It's ArmorGroup (Asia-Pacific) Ltd, a regional subsidiary of London-based, Armor Holdings Limited. Its top sleuths in the region are William O'Reilly, an 18-year veteran of the US Federal Bureau of Investigation, and Paul Bromberg, a Briton who is an Asia expert fluent in Mandarin and Thai. The company investigates due diligence, detects frauds, protects intellectual property, locates hidden assets, and identifies corrupt practices.
In the past 3 years, ArmorGroup (Asia-Pacific) says revenue has risen by 300%. It says it has had a role to play in 12 of the 16 largest restructuring projects in Thailand, boasting an 85% success rate. "Our clients are banks and financial institutions, law firms, and Fortune 500-type companies, all of whom are wary of the security risks in Thailand," said Mr Bromberg.
Mr O'Reilly recalls one case in which a company executive wept in front of a steering committee, claiming to be broke and bankrupt, and not able to service his company's debts. Then he disappeared from the country. While crying poor, the executive in question was basking in luxury, as an investigation by the ArmorGroup revealed. He took his family on a first class trip to Paris, vacationing at an obscenely expensive hotel.
We're not private investigators, but a full-service risk and security management provider," said Mr Bromberg. The company has 10 full-time investigators who are former financial analysts and journalists as well as law-enforcement officers. Investigative fees range from US$5,000 to $25,000. "Most of our investigators are women," said Mr O'Reilly, explaining that women in Asia seem to have the knack of extracting information from powerful men. Elsewhere, the profession is dominated by males.
Stephen Loffler, president and chief executive of Armor Holdings Limited, said Asia held huge potential for security risk management services. In June, Armor Holdings Incorporated acquired OVG International Limited and Traquair Limited, a pair of investigative firms with offices in Hong Kong, Bangkok, Singapore and Tokyo and operations throughout Asia-Pacific. The acquired firms became ArmorGroup (Asia Pacific) Limited, which expects to generate about $3 million in revenue in its first financial year starting in June. Armor Holdings is listed on the New York Stock Exchange and has operations in 42 countries, employing some 25,000 staff. It has also added new dimensions of risk and security management to its Asia-Pacific subsidiary's scope of operations. Other than investigative services, the company provides computer and electronic security, as well as physical security.
Mr Loffler explained that high-tech crimes can be committed from anywhere. "To commit bank fraud, you just need a keyboard." He cited an example of a local banking client whose computer system was hacked into by an unknown perpetrator. "The affair was kept very quiet because, if news of the hacking had got out, shareholders would have panicked, the share price would have crashed, and customers would have flown," said Mr Loffler. "Computer security is the largest concern worldwide."
Despite the exposure of a number of white-collar crimes, with several cases now in the court system, clients continued to express grave concern over the slow pace and in efficiency of the Thai bankruptcy court system and its litigation process, said Mr O'Reilly. "The current system is very slow and not efficient enough to deal with the problems," he said. His clients, notably foreign investors, "have seen very little improvement, if any, from the past, and see no improvement in the future. Judging from our clients' concerns, urgent steps need to be taken by the Thai authorities."
Meanwhile, business continues to expand on other fronts. In August, the US State Department awarded a worldwide site licence to Armor Holdings' subsidiary, New Technologies Incorporated, for computer security software tools. Another Armor Holdings subsidiary, US Defence Systems Incorporated, has received a 5-year contract to provide security services for the US Embassy in Bangkok, said Mr Loffler, bringing potential revenues of about US$5 million. The contract resulted in the company's manpower jumping from 10 to more than 250, and will start in November. A specially trained ArmorGroup security force will take over the embassy's security operation.
Armor Holdings' current US embassy security contracts include the embassies in Congo and Uganda, hot spots that require a high degree of specialised expertise, said Mr Loffler.
Bangkok has long been a hub for intelligence operations that span Indochina, so security is an imperative issue, said Mr O'Reilly, "and there's the recent Burmese embassy incident to consider". Armor Holdings Limited plans to expand further into China and to move into Jakarta, both locations that represent ample business opportunities.
Source: Bangkok Post business section Monday 23 October 2000
See also:

Compo For Long Tax Battle
by staff reporter Matt Rilkoff
Compensation is being considered for an Auckland couple who lost their business and nearly $1 million after a 10-year battle with Inland Revenue about overpaid ACC levies.
The acting Commissioner of the IRD, John Perham, apologised to Murray and Janette Willis before parliament's finance and expenditure select committee yesterday, for the IRD incorrectly demanding $100,000 from their business.
An earlier judicial review of the case had ordered the IRD to pay compensation but the department chose not to do so. The couple said they would still like compensation for the battle which cost them their good health as well as their business.
Murray Willis said working 7 days a week for 7 years to repay a debt they did not owe was very traumatic and their health suffered terribly. He said the apology came as a big surprise and was also very traumatic and they now just wanted to get on with their lives.
The chairman of the select committee, Mark Peck, said the committee recognised the terrible toll inflicted on the Willis by their battle with the IRD. "They've dealt with this issue for 10 years and very few people can understand what they went through as they tried to save their company initially, and then to just keep their heads above water and to maintain health," Mr Peck said today.
He said the committee would consider the matter of compensation and hoped to present a recommendation for the IRD by next week at the latest.
Source: © NewsRoom 16 November 2000

Loosen Up for Christmas
I was surrounded by people I didn't know. I struck up a conversation with the nearest gentleman, who was standing slightly off to the side. He appeared to be alone. He was about 30, married, he said (though his wife was up in Auckland where they lived); he told me he was a CPA with one of the large accounting firms. I'll call him Paul.
Paul and I chatted a bit. He had no children. He had worked overseas a few years but liked New Zealand best. He had been with his employer about 2 years. I happened to ask him during our conversation if he considered the firm he worked for had integrity.
Paul paused for a long time and seemed troubled. He asked how long I had been in New Zealand. He said perhaps I didn't understand "how things worked here." He said it bothered him because he was sometimes asked to sign off on audits which hadn't really been done, but had been requested by one or another of their major clients. He said there was an "old boy" network in New Zealand and the members often held each other's interests to come before that of the people the audits were designed to protect.
He agreed emphatically with me that records at the Companies Office and land title records were inherently insecure. He also said he was aware of instances where the "old boys" had helped each other "get rid of trails." He said that in his opinion New Zealand was still run by an oligarchy of about 20 wealthy families but that "things were slowly changing."

Reflection
There are two points about the first article I would like to make: in the comment, "In a country where transparency and disclosure remain less than ideal, the creditors were looking for independent confirmation that their money might have gone missing," the country being referred to was Thailand. However, from my own personal experience, they could just as easily have been talking about New Zealand because I will state flatly, transparency and disclosure remain less than ideal here. The other point is that this type of thing is common enough the world over. The firm in this article is a private one, not the equivalent of the Serious Fraud Office: they cannot subpoena records. Yet they are generally able to discover enough information (through various means undisclosed) to get the job done.
There are two points about the second article I would like to make. The chairman of the select committee said of the Willises: "They've dealt with this issue for 10 years and very few people can understand what they went through as they tried to save their company initially, and then to just keep their heads above water." I think I can say that I have at least an inkling of what they went through. My husband and I have also lost roughly $1 million from our immigration investment and its fallout. My personal investigation of the forestry trust has covered only about 4 years thus far. I sincerely hope this doesn't mean we have another 6 years to go. But this article does show that persistence can pay off in the end. And I am nothing if not persistent.
It's the third item, the party conversation, that disturbs me the the most. The CPA felt that what he said was fairly common knowledge, certainly among his colleagues. He said he thought most accountants thought "nothing could be done" as business was competitive - if your firm wouldn't cooperate, someone else's would. He personally felt that one of the reasons for squelching an investigation of the winebox affair was because a lot of data regarding the existence of these types of situations would be revealed and a number of influential people had a more than passing interest in seeing that that didn't happen.
It will be of great interest to me to see how the SFO involvement in both the winebox affair and the Flat Rock investigation resolves itself. Will the SFO lay a claim in either situation? Will they keep their investigation of Flat Rock "open" until everyone stops asking? Will they close their investigation of Flat Rock but decide to keep their files private as they appear to be doing in the winebox affair? Will they cooperate with our Inspector at some point?
I presume these issues will resolve themselves sometime in the future.

For news articles on the Flat Rock Forests Trust, forestry, the Serious Fraud Office, one immigrant family's experiences, immigration specialists, fraud, juries, logging, and more, check out the News Table of Contents. Or you may wish to visit the Forestry Trust Table of Contents to read how a unit trust went bust. Or the Topics Table of Contents which offers a different approach to lots of topics - among them poisonous insects, eating dogs, what's addictive, training vs teaching, tornados, unusual flying machines, humour, wearable computers, IQ tests, health, Y chromosomes, share options, New Jersey's positive side, oddities, ageing, burial alternatives, capital punishment, affairs, poverty, McCarthyism, the most beautiful city in the world, neverending work and more...