Companies Office Speaks (Pg 1)
Oh, There's No Hurry...
Strive to make proposed solutions as self-executing as possible. As the degree of discretion increases, so too does bureaucracy, delay, and expense.
- Donald Rumsfeld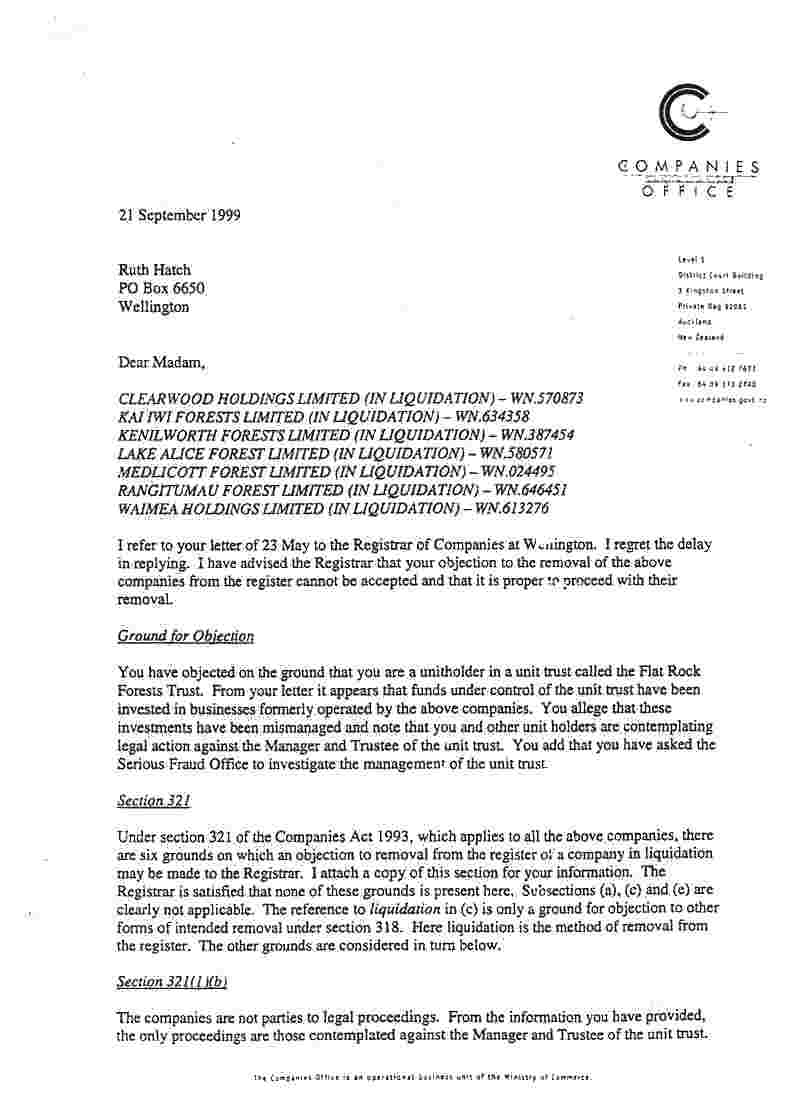 Reply from the Companies Office denying my request to keep Flat Rock Forests Trust-related companies on the register until we had a chance to have their records inspected. Our request was denied because the companies were not currently in litigation, though we had been waiting for the Serious Fraud Office to conclude their investigation before we acted. The reply was received only after nothing could be done.
Go to next page: Companies Office Speaks (Pg 2)

Interestingly, three years later, the Serious Fraud Office's involvement is still not concluded and unitholders are still waiting to act. By the time it is our turn, will there be any records left showing what really happened? Not likely. And for me to even inquire if records could be saved was "vexatious"? Notice this letter comes from Auckland. You might want to read Government Gives Con Men a Key to the City...

For news articles on the Flat Rock Forests Trust, forestry, the Serious Fraud Office, one immigrant family's experiences, immigration specialists, fraud, juries, logging, and more, check out the News Table of Contents. Or you may wish to visit the Forestry Trust Table of Contents to read how a unit trust went bust. Or the Topics Table of Contents which offers a different approach to lots of topics - among them poisonous insects, eating dogs, what's addictive, training vs teaching, tornados, unusual flying machines, humour, wearable computers, IQ tests, health, Y chromosomes, share options, New Jersey's positive side, oddities, ageing, burial alternatives, capital punishment, affairs, poverty, McCarthyism, the most beautiful city in the world, neverending work and more...