Where Money Is Concentrated
The Wonders of Dubai
Dubai banned the movie Charlie's Angels because it's "offensive to the religion of Islam."
Apparently, the religion of Islam is offended by movies without a plot.
- Jon Stewart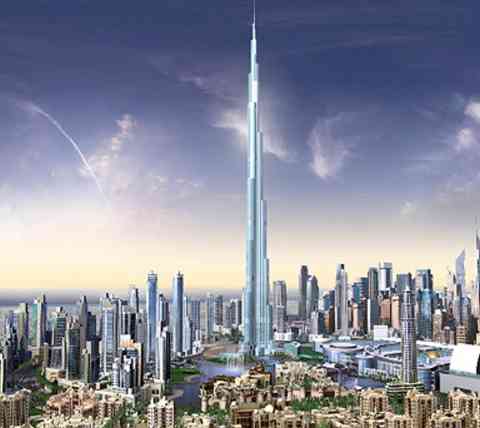 Burj Dubai (Computer image by Samsung)
A computer image depicts the Burj Dubai in the United Arab Emirates, which will be the world's highest building when completed in November 2008. Three Emirati banks signed an $869 million deal to finance the building, projected to be about 800 metres (2,640 feet) tall. It will have 160 floors. The building will also contain residential, commercial, hotel and entertainment facilities, including the largest shopping mall in the world.
According to the sales pitch: "At the crossroads of India and the Middle-East, equidistant between Europe and Asia, Dubai is fast beconing the financial and cultural hub for over a billion people. At the centre of that hub stands the most exclusive address in the world." Real estate development in Dubai is rapidly transforming the Gulf state with innovative and breathtaking projects like "The World", an artificial archipelago that replicates a scale model of the world with all major land masses, as well as replicas of lost cities from different parts of the ancient world. His Highness General Sheikh Mohammed Bin Rashid Al Maktoum Crown Prince of Dubai's vision is to provide the best the world has to offer. With no personal corporate or sales taxes, foreign direct investment has expanded strongly and mega projects have become synonymous with Dubai's development.

The World
Click to Play
Source: allhatnocattle.net, burjdubai.com, gizmag.com, guide.theemiratesnetwork.com

The Concrete Curtain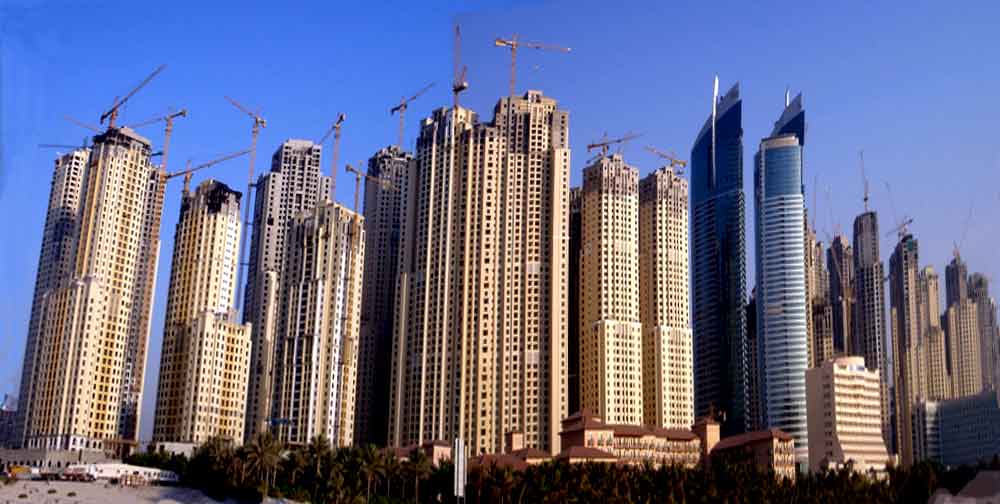 Jumeirah Beach Residence: on course to be the world's darkest, emptiest, luxury skyscrapers.
A few years ago an associate was commissioned to copywrite a brochure for a new real estate development. All the material was sent through, which details such as location, type of building, market segment, main features and so forth. The associate quickly spotted what seemed to be a mistake, and called the agency. "It says 40 towers in the information. Did you mean 4?"
"No, it's 40 towers."
"On that one strip of land? Will they fit?"
"They'll have to fit."
Roll forward to 2007, and the huge lumbering concrete monstrosity that is Jumeirah Beach Residence has indeed been crammed into the strip of land between Dubai Marina and Jebel Ali power station. So little thought was given to proper planning that no room was left to put in adequate roads, let alone parking: [Head of Roads Planning Section Hashim Mohammed] Al Hashmi revealed that a high quality public transport bus service would be introduced for the residents of Dubai Marina and Jumeirah Beach Residence. "The corridor in this area is too narrow and since the buildings have come up little can be done about it."
Drive around Jumeirah Beach Residence at any time of the day and it is shocking how dark and shadowy the narrow roads are, in a city usually so brilliantly sunlit as Dubai. The towers cut off the sea, the sky and the sunset like a huge concrete curtain. As National Geographic put it, "Some critics are questioning the speed of change and a lack of planning: the towering apartment complexes stand like a wall, cutting off the rest of Dubai from its coast."
So who's going to live there? There may be millions more workers pouring into the UAE, but how many of them - even white collars - can afford to rent at JBR, let alone buy? Two years ago, analyst Matein Khalid gave these predictions: "But in 2007 - 2008, a phenomenal 200,000 new units will hit the market. This means that we need about 800,000 new expats who are not labourers, housemaids, tailors, minimum wage bachelors or the Sharjah/Ajman commuters to fill these units. In essence, a doubling of the professional high income salaried population of Dubai in the next two years. Realistic? Not at all."
And now a report from investment bank EFG Hermes is in the spotlight, with analysts noting "overbuilding on a heroic scale." The report suggested Dubai has a demand for 40,000 to 50,000 residential units per annum. But it failed to make the point observers have added since, that only 30% of this demand is in the luxury sector which comprises the majority of construction projects. This could leave the real level of annual demand for new high-end properties in Dubai at 15,000 units per annum, which was also suggested by figures forecast in a recent report on the population growth outlook until 2010 from the Dubai Chamber of Commerce and Industry.
Source: secretdubai.blogspot.com "Secret Dubai Diary" Intrigue and adventure in the United Arab Emirates 23 April 2007

Discontent in Dubai
by Tim Mansel
Dubai is a city of towers. Ostentatious towers of glass and steel, 40 or 50 storeys high, lined up in rows along the main highways, and each complete with helipads and rooftop swimming pools. Elsewhere Dubai is a jungle of cranes. Some cluster at the airport, where a 3rd terminal is going up exclusively for the use of the local carrier, Emirates. Or there is Sheikh Zayed Road, home to an enormous construction site dominated by a tower - the Burj Dubai - which, when complete, will be the tallest building in the world at more than 160 storeys. The people behind it are coy about saying exactly how tall for fear of competition, although they do promise the last word in luxury and prestige.
Stress and Depression
But Dubai has another face. On the outskirts of the city, where the desert begins, are the concrete barracks where the workers live, thousand upon thousand of them. Dubai is being built virtually from scratch - 20 years ago few of these gleaming towers existed - and the men building it are migrants from India, Pakistan, Bangladesh and Nepal. They work for about $5 a day, sleep 4 or 5 to a room, and see their families once every 2 - 3 years because it's hard to raise the money to pay for a trip home.
I met a group of workers - from Andhra Pradesh in southern India, from Kabul in Afghanistan, and from Pakistan's North West Frontier Province - one evening after they had returned from work. They were preparing dinner in a small, dingy, communal kitchen with a noisy fan. Scrawny cats ran across the compound; a cockerel scratched in the dirt. The balconies were festooned with the men's washing. "We get 600 dirhams a month ($160)," said one. "They deduct 200 dirhams for our food and it costs another 100 for us to phone home. It's impossible to save anything."
"Many of the workers suffer great stress and depression," says KV Shamsudeen, an Indian businessman, who has set up a charitable trust on their behalf. He says many of the workers have to take out loans in order to pay an agent in their home country to find them a job, even though this type of commission is illegal. "The people who come here aren't able to take loans from the banks, because they don't have any assets," Mr Shamsudeen says. "So they borrow money from personal lenders. The interest for such loans can be as much as 10%."
Spiral of Debt
As a result, many workers find themselves heavily in debt, and KV Shamsudeen says there have been a number of suicides among expatriate Indians: 74 in 2004, 84 in 2005 and 25 so far this year. There's little that workers in the United Arab Emirates can do to improve their lot. Strikes are illegal, although there have been several recently. And because there is no right of association, there are no trade unions. So when, for example, pay is late, there is little the men can do about it. The lack of redress also means that smaller grievances - like having to wait an hour at the end of the day to clock off - can suddenly boil over into violence.
However things look as though they might be about to change. The UAE government is sensitive to criticism. In 2004, for example, it ordered a magazine to withdraw from circulation an edition in which it had published information on the number of men killed on construction sites. Organisations like the World Bank and the IMF, as well as the United States have all made clear that they want the UAE to improve labour conditions. The government has now responded by saying that a new labour law being drawn up will allow workers to organise. Current plans, according to the minister of labour, envisage a single union with separate representatives for different industries. The minister has said he expects the proposed law to be in place by the end of the year.
Source: news.bbc.co.uk 12 April 2006

Pentominium: Largest Residential Tower in the World
by Jorge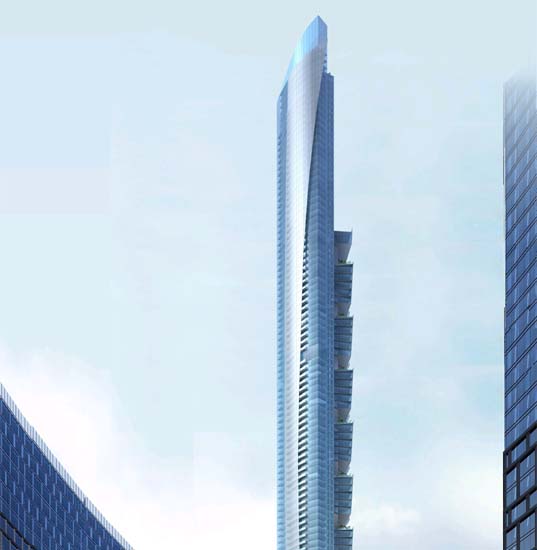 Pentominium: Largest residential tower in the world, Aedas Designs
With all the construction happening in the Middle East, it was just a matter of time before someone proposed a building that would aim to challenge the title of the tallest residential tower, a title currently held by Q1 at the Gold Coast in Australia. So, please allow us to introduce you to Pentominium, a 576 metre tall building that has been proposed in - where else - Dubai.
There is some extravagant architecture that is being done in Dubai, and this one is no exception. The 120 floor tower, designed by Aedas, was conceived with two challenges in mind, that of dealing with the existing urban landscape and with the extreme desert environment and climate conditions in Dubai. That and also to provide an extremely luxurious living to its occupants. As you see, every floor of the building will be an individual apartment.
We don't usually go around criticising designs, preferring to focus on the benefits of good design, but something rattled us a bit about this one. Perhaps it was the sheer chutzpah of creating the largest residential tower in the world, what could be the tallest building in the world, in the middle of the desert. Perhaps it is the hint of sustainability, where the designer alludes to environmentally friendliness because they threw in a few skygardens every 5 or 5 floors. We really couldn't tell. We must admit that while the full features of the building have not been shown, this project could potentially be an environmentally friendly building, although we sorta doubt it will turn out that way. Having said that, it certainly is eye-catching.
Source: inhabitat.com 8 June 2007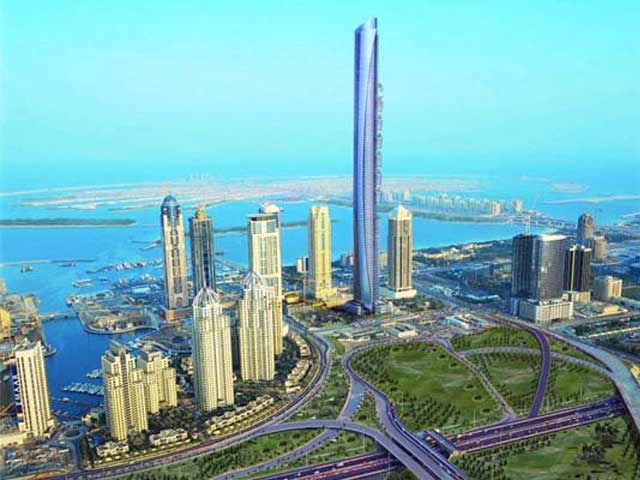 In a city of superlatives, the 516 metre tall building and its 120 floors will overshadow every other residential development in the world. The building will be iconic, and its residents exceptionally exclusive. You will be living in a piece of history unique among the property for sale in Dubai. Pentominium is a unique concept created through combining a penthouse with a luxury condominium, which means that each residence spans an entire floor.
The top floors of this world's only Pentominium will contain a Sky Lounge, Sky Pool, Business Centre and a private observation deck along with ladies & gentleman's health clubs and a cigar lounge, squash courts, a banqueting hall and private theatre. Every aspect of the building, from its architecture to its systems, have been created to reflect Trident's position of "Creating New Benchmarks in Luxury Living".
Pentominium is expected to become the most sought after address in the world, a signature to the status of those who have reached the very pinnacle of success.
Each individual unit will take up a complete floor of the tower providing over 6,500 square feet of unsurpassed luxury. Each floor will have a private foyer of its own and smart biometric access control. Taking the element of luxury living spaces to another level are entire floors which are uniquely suspended in mid air, giving the impression of floating penthouses in the sky.
Price: US$2,747,329 to $4,219,481
Source: signaturepropertiesworldwide.com

Custom Penthouse - Type A 6,540 Square Feet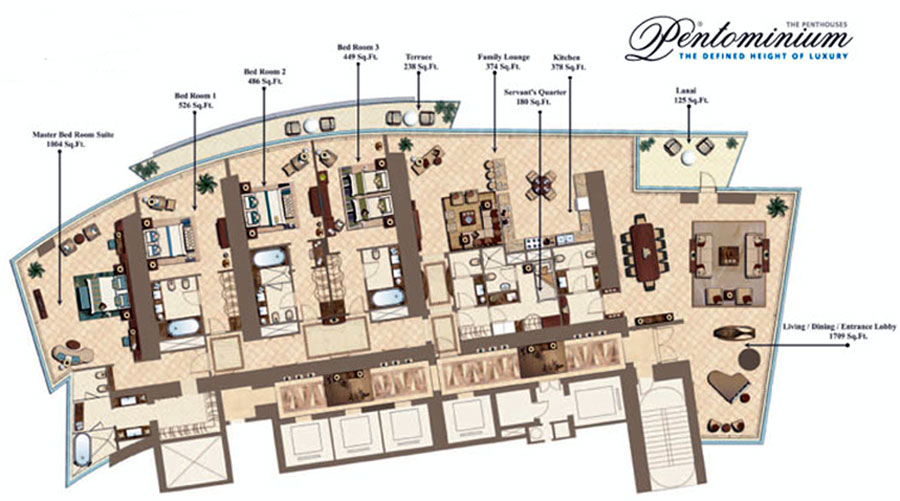 | | |
| --- | --- |
| | Luxurious custom-designed 4-bedroom penthouse |
| | Individual penthouse on each floor with private entry foyer |
| | Separate family lounge with a 40-inch or larger screen along with Bang and Olafson Home Theatre sound system pre-installed |
| | Large formal living/dining area with spacious terraces and lanai |
| | Designer kitchen with built-in appliances and breakfast counter |
| | Built-in closets in all bedrooms |
| | Separate maid's room with built-in closets and en suite bath |
| | Three assigned covered parking |
| | Assigned basement storage of 75 square feet included |
| | Chauffeurs quarters with en suite bath |
| | Utility room with pre-installed washer and dryer |
| | Digital keyless entry system |
| | 3rd generation home automation systems with touch screen panel |
Subject to change
See also:
| | |
| --- | --- |
| | Sinister Paradise (an extermal site) - for a fascinating look at what's going on underneath: "Sheikh Mo and his thoroughly modern regime, of course, disavow any connection to this burgeoning red-light industry, although insiders know that the whores are essential to keeping all those five-star hotels full of European and Arab businessmen. But the Sheikh himself has been personally linked to Dubai's most scandalous vice: child slavery..." |
| | Goonagoon (an external site) - for absolutely spectacular photos of the Burj al Arab - you can see why it's considered the finest hotel in the world... |

For more articles relating to Money, Politics and Law including globalisation, tax avoidance, consumerism, credit cards, spending, contracts, trust, stocks, fraud, eugenics and more click the "Up" button below to take you to the page on "How Many Countries in the World?" Clicking "Up" from there will take you to the Table of Contents for this section.