Many Brits Can't Drive - in Theory
British Driving Test
Drive on. We'll sweep up the blood later!
- Katharine Hepburn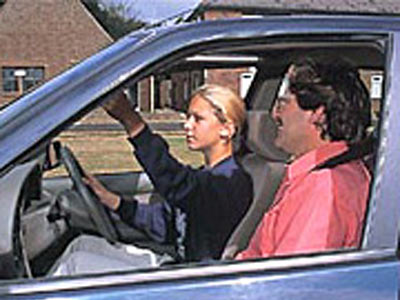 It's 70th Birthday...
A third of motorists fear they would not pass their pass driving test if forced to take it again. A survey to celebrate the 70th birthday of the test reveals many drivers never learnt their Highway Code. The majority of drivers do not know the stopping distance for a car going at 70mph. And a quarter believe it's okay to overtake on the inside lane of a motorway. Insurance spokesman Ian Parker said: "From our research, it appears that very few drivers would pass the theory element of today's test." The theory examination was introduced in 1996. Drivers who passed their test after this date failed 47% of the survey's questions, only marginally better than those who passed before the test. The survey also revealed most drivers don't know it is the passenger's responsibility to wear a seatbelt if they are aged over 14. And nearly half don't know what green cats eyes are for.
Driving Test Knowledge
Did you know?
| | |
| --- | --- |
| | The driving test was introduced on 13 March 1935. |
| | When the test was brought in 70 years ago there were only 1.5 million registered vehicles. |
| | The year before the compulsory test was brought in, 7,000 people were killed as a result of road accidents. |
| | Introduced as a safety measure, it saw fatal and serious injuries fall by 17% within 3 years. |
| | Hand signals were removed in 1975 and a video hazard perception test introduced in 2002. |
| | Since 1996, drivers have to pass the written Theory Test before they are able to take the practical driving test. |
| | Two "Show me" "Tell me" questions involving vehicle safety were introduced at the beginning of the practical test in September 2003. |
| | The Driving Standards Agency conducted 1.3 million tests for car drivers and 1.4 million theory tests in 2002/2003. |
| | There are 1,635 driving test examiners in the UK and 31,000 people registered as driving instructors with the DSA. |
| | The cost of taking a practical car driving test rose in December from £39 to £42. |
Source: sky.com, sky.com/skynews
See also:
| | |
| --- | --- |
| | Learning Your Chinese Highway Code - The most memorable question was: "If you come across a road accident victim, whose intestines are lying on the road, should you pick them up and push them back in?" |
| | Dutch Driving Test - Are you allowed to stay behind this bike? |

For more articles relating to Money, Politics and Law including globalisation, tax avoidance, consumerism, credit cards, spending, contracts, trust, stocks, fraud, eugenics and more click the "Up" button below to take you to the page on "How Many Countries in the World?" Clicking "Up" from there will take you to the Index for this section.