I Trust This Is Really a Deed
I Need My Deed
The deed is everything.
- Johann Wolfgang von Goethe

A good deed never goes unpunished.
- Gore Vidal

The following letter, from Flat Rock Forests Trust's Manager, refers to the curious compiled deed, NOT to any official document. According to the Manager, the compiled deed was used as their "working copy", despite the fact that the Trustee wrote a letter included at the front of the document saying they accept "...no responsibility or liability for the consequences of relying on the annotated version, if any part of it proves inaccurate."
The Trustee made that comment despite the fact that it was their law firm who created the document in the first place.
Well.
I guess that means no one is responsible...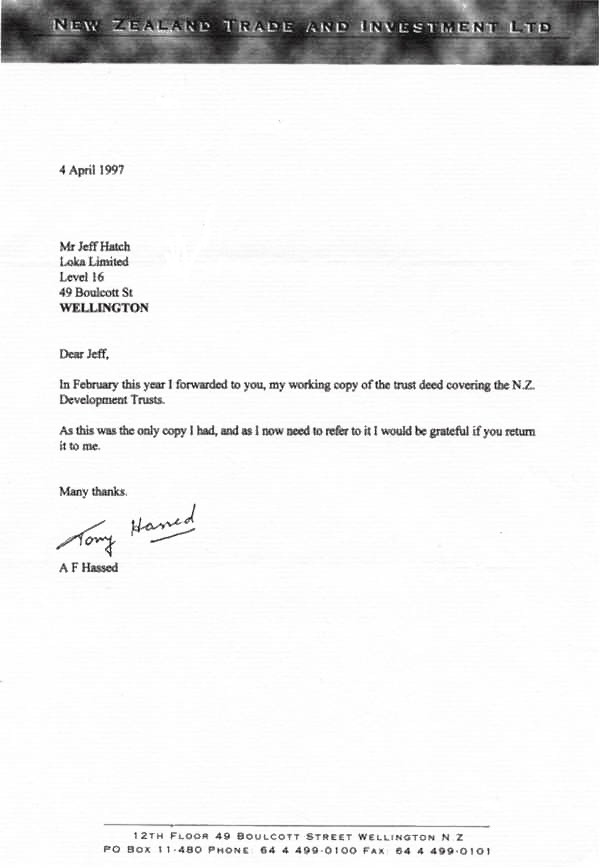 Tony Hassed's request for the copy of the deed he used to answer unitholder questions - which
contained mention of a Trust Fund which officially didn't exist and omitted to mention one which did

For news articles on the Flat Rock Forests Trust, forestry, the Serious Fraud Office, one immigrant family's experiences, immigration specialists, fraud, juries, logging, and more, check out the News Table of Contents. Or you may wish to visit the Forestry Trust Table of Contents to read how a unit trust went bust. Or the Topics Table of Contents which offers a different approach to lots of topics - among them poisonous insects, eating dogs, what's addictive, training vs teaching, tornados, unusual flying machines, humour, wearable computers, IQ tests, health, Y chromosomes, share options, New Jersey's positive side, oddities, ageing, burial alternatives, capital punishment, affairs, poverty, McCarthyism, the most beautiful city in the world, neverending work and more...