FRFL Prospectus Amendment
Extending the Offer
Two-thirds of the Earth's surface is covered with water. The other third is covered with auditors.
- Norman Augustine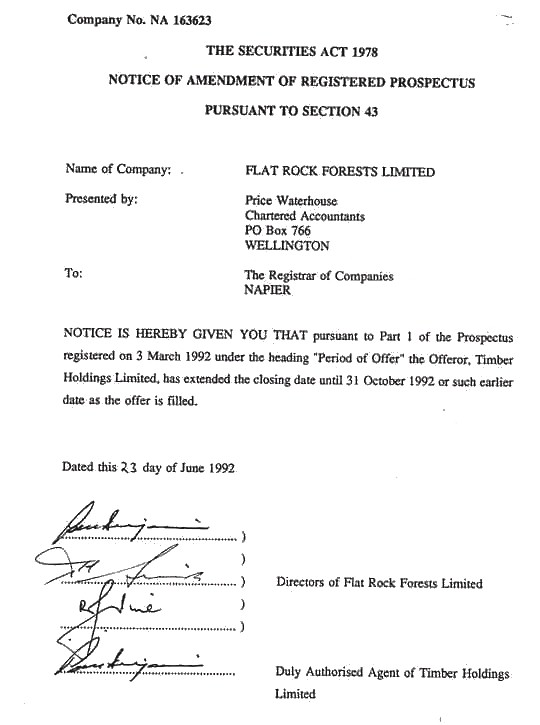 Amendment to the Flat Rock Forest Limited (FRFL) Prospectus
which was presented by Price Waterhouse

The Trustee chose PriceWaterhouse to audit the Trust (because, as you can see, they were totally independent). PriceWaterhouse relied on unaudited financial statements to reach their conclusions - and they found essentially nothing wrong. Now, everyone is happy. Except maybe the unitholders. (And maybe the SFO?)

For news articles on the Flat Rock Forests Trust, forestry, the Serious Fraud Office, one immigrant family's experiences, immigration specialists, fraud, juries, logging, and more, check out the News Table of Contents. Or you may wish to visit the Forestry Trust Table of Contents to read how a unit trust went bust. Or the Topics Table of Contents which offers a different approach to lots of topics - among them poisonous insects, eating dogs, what's addictive, training vs teaching, tornados, unusual flying machines, humour, wearable computers, IQ tests, health, Y chromosomes, share options, New Jersey's positive side, oddities, ageing, burial alternatives, capital punishment, affairs, poverty, McCarthyism, the most beautiful city in the world, neverending work and more...