Trustees 1st Reply to Our Request (Pg 1)
Actually, We Didn't Send Ourselves a Letter:
the Trustee Sometimes Gets Little Details Wrong...
If you want to know your true opinion of someone, watch the effect produced in you by the first sight of a letter from him.
- Arthur Schopenhauer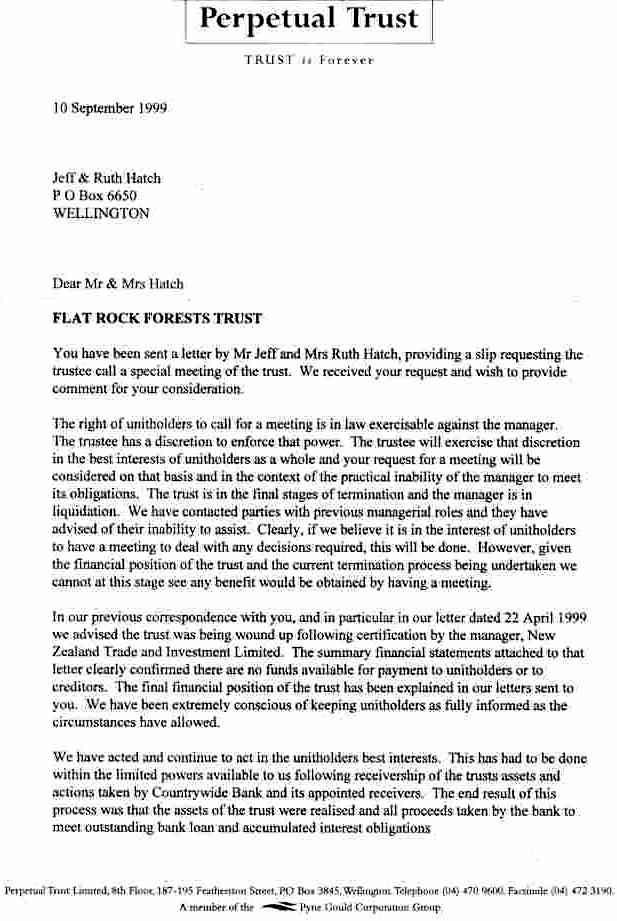 Go to next page: Trustees First Reply to Meeting Request Pg 2
I knew from the envelope that wouldn't like this letter - and I didn't.

For news articles on the Flat Rock Forests Trust, forestry, the Serious Fraud Office, one immigrant family's experiences, immigration specialists, fraud, juries, logging, and more, pressing the "Up" key below will take you to the Table of Contents for this News section. Or you may wish to visit the Forestry Trust Table of Contents to read how a unit trust went bust. Or the Topics Table of Contents which offers a different approach to lots of topics - among them poisonous insects, eating dogs, what's addictive, training vs teaching, tornados, unusual flying machines, humour, wearable computers, IQ tests, health, Y chromosomes, share options, New Jersey's positive side, oddities, ageing, burial alternatives, capital punishment, affairs, poverty, McCarthyism, the most beautiful city in the world, neverending work and more...