Arc en Ciel Maison
Our Home
Where we love is home - home that our feet may leave, but not our hearts.
- Oliver Wendell Holmes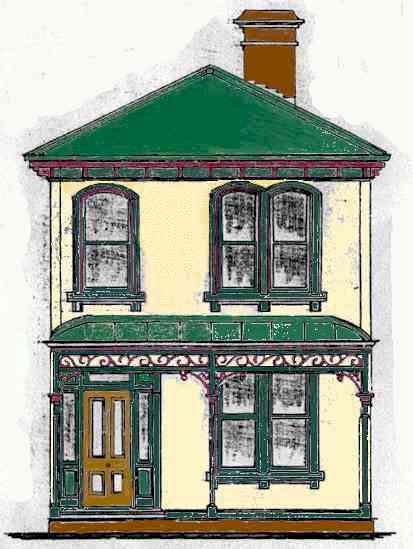 Our home was built by a Mrs Tweed in 1897, one of three in a row (though ours is the only one of the three still around - the other two have been torn down to make way for apartment complexes). The picture of the house sbove is a copy of the original architect's pen-and-ink drawing (obtained from the Wellington Archive).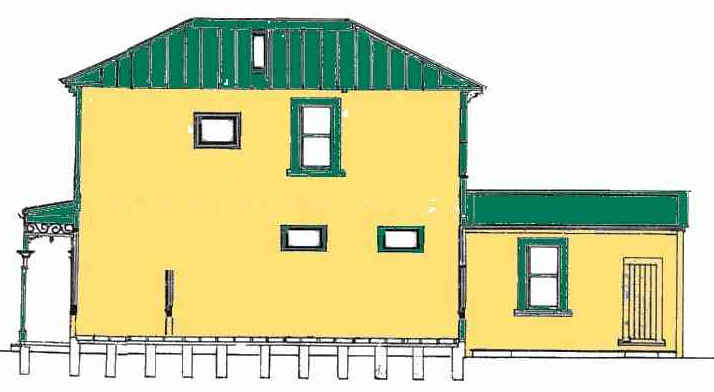 Side View
Downstairs, the washroom and kitchen have been combined into one large room. The outside toilet has been converted into a laundry room. Upstairs, two of the bedrooms have been transformed into a bedroom, dressing area, and bath. Other than that, the house is very much like the day it was built (except that the floors now slope gently away from the fireplaces).
When we visited the Museum of Wellington City and Sea recently, I saw a picture of a college graduating class from the turn of the century. One of the graduating students had the last name "Tweed." The original plans for our house show the house was built for a Mrs Tweed. I looked at the picture of this boy - probably 18 - and wondered if he was living in our house at the time the photo was taken. I wondered if he walked up the same staircase - maybe even slept in the room where my 18year-old son now slept. Growing up in a transient culture (the US), and having moved around quite a bit myself, I had not experienced a window into the past like that. (Actually, I later discovered that Mrs Tweed was a property developer - she lived in Thorndon, but had several houses and a business built for her in Te Aro. I don't know if she had them constructed for sale, or if she was in the business of collecting rents. About Mr Tweed - I presume there was such a person at least at some point - I know nothing at all.)
See also:
| | |
| --- | --- |
| | What Was Life Like a Century Ago? - for photos and memoirs |
| | A Prediction from 1900 of the Year 2000 - Adaptation of public parks to the needs of public gardening had come about in urban areas and electric transit - noiseless, dustless, and giving a service of 80 miles an hour - had made suburbs of territory as far as 55 miles away. The lines of the old downtown district had virtually disappeared... |

A Voice from the Past
Sometime in April 2001, I answered a knock on my door. The nice lady who stood outside said her sister, Doris Chung, had lived in our house for many years, moving out about a decade ago after her husband had died. She asked if I would mind if Doris visited sometime - she said Doris really missed the place and would like to see the inside again if possible. I said I would be delighted.
I called and spoke to Doris and invited her to come over. She brought one of her sons, Ken, one of her daughters, Marie, and her son's wife, Jill. We had a lovely visit. Doris, mother of 11 children, had lived in the house for over 30 years. Several of her children had been born in the house. We went through room by room and she pointed out all the changes which had been made since she had lived there. Her daughter told me how they used to slide down the stairs on a piece of rug. They showed me how the coal stove worked, what the backyard had looked like, told me about all the neighbours and the old the neighbourhood. Doris' husband had been an herbalist with a shop in what is now the restaurant Il Casino.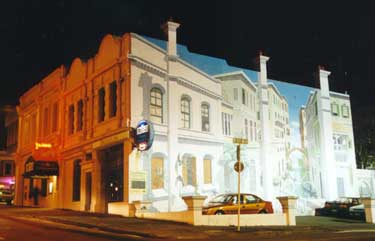 Il Casino at night
By the time they left, I felt like we were long-lost members of an extended family. We will keep in touch. It was a fantastic experience.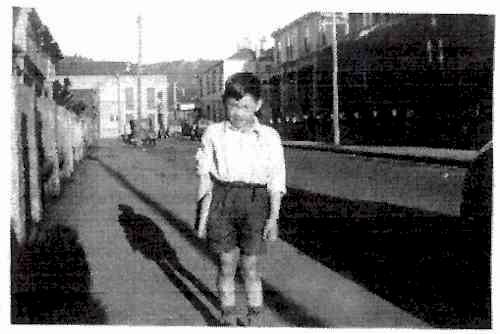 Looking east toward Tory Street. The street was lined with almost identical houses on either side.
The herbalist shop was on the right-hand corner at the end of the street (where the awning extends).
Our house above (the nearer house) taken while facing in an easterly direction. Above right was taken while facing west looking toward what is now Briscoe's on Taranaki. Below right is facing east looking toward what is now Moore Wilson's on Tory St. Ours is the only house remaining on our side of the street and only two are left on the opposite side.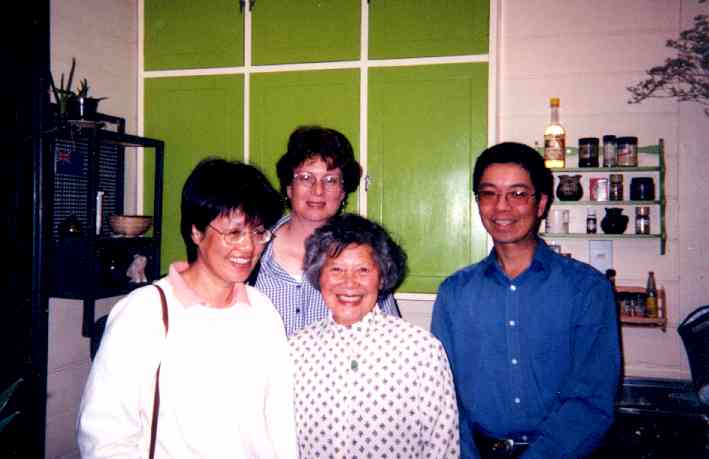 The Chung Family from left: Marie, Jill, Doris, Ken

The Score
What a difference 20 years or so can make!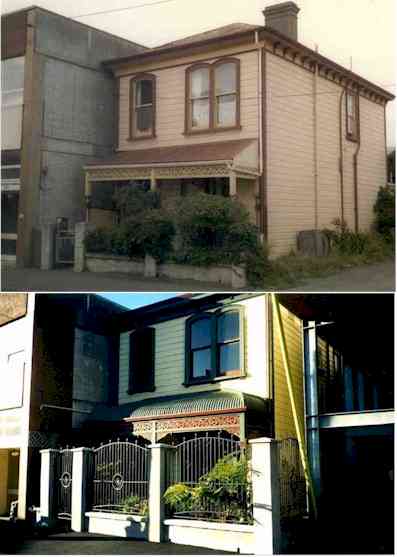 This Is the House Across the Street...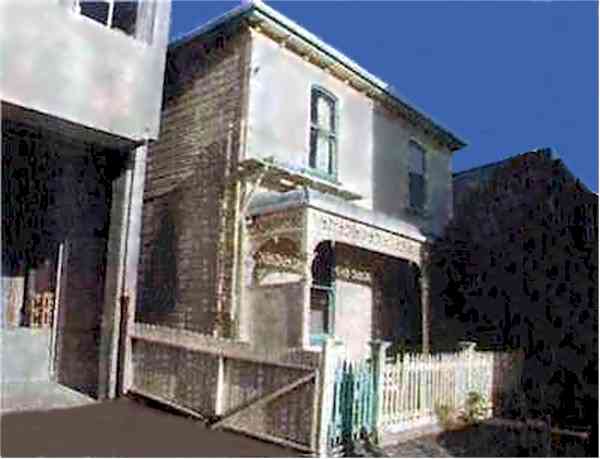 Old Character Earns Top Dollar
A largely untouched, turn-of-the-last-century property in inner-city Wellington has sold for double its rateable value. The 4-to-5 bedroom property at 26 Jessie Street "is on a very good, north-facing site and has endless development opportunities," Ted Jewett, of Jewetts, says. "It was one of Te Aro's last old character homes on the flat." The two-storey dwelling is believed to have been built between l900 and 1910. It occupies a 100-square-metre section, is zoned industrial B1 and retains many of its original architectural features, such as a kauri staircase, tiled fireplaces with marble surrounds and a black Shacklock Orion stove. "Just as many people were bidding to buy it and keep it as it is as there were wanting to develop it," Mr Jewett says. "Subject to resource consent, it could go up six or seven stories."
Mr Jewett says the highest bidder plans to keep the house as it is for a number of years, then relocate and refurbish it and make better use of the site for a future development. The unusually high sale price reflects the level of property investment interest in the capital, he says. "Shed 22 down on the wharf only has nine apartments left. There's a lot of confidence still in the city for both residential and commercial property investment. "It's blue sky at the moment. People are bullish and interest rates are holding."
Mr Jewett says it is a nationwide sentiment. "Look at what's been happening with the number of building permits issued in other parts of the country - Auckland, Queenstown, Christchurch, Taupo..." He says the Jessie Street sale sets a new level in Wellington and reflects the high value of inner-city land here. "Any land for development in the city is in hot demand. You can't get anything in Te Aro at the moment and anything else priced from $500,000 to $1 million is being snapped up."
Source: Dominion Post late July 2002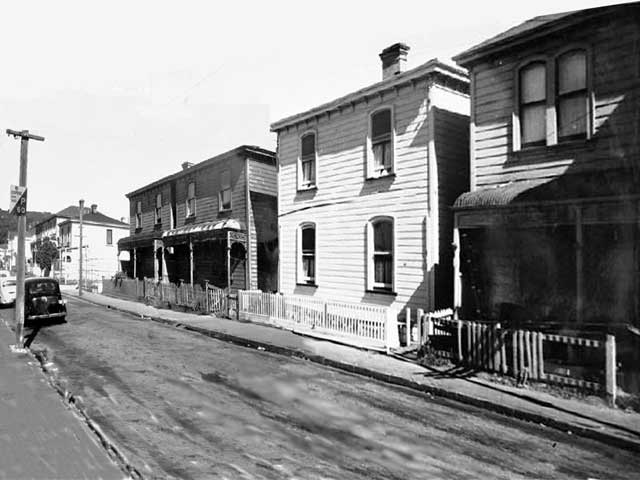 I think the centre white house is the same one as in the photo immediately above - there being no front awning
may argue against it, but I see ours (paired photos above that) disappeared, then reappeared...

We were really sorry to read this article because that house was where Gladys lived. Gladys was in her 90s and had lived in the house most (all?) her life. She took in boarders at the end to make ends meet, young single males who thought highly of her and looked out for her as her mobility decreased. But one day her health failed to the point where she was forced to enter the hospital. She never recovered enough to return to the house, though she desperately wanted to.
Gladys Wright died on Sunday, 21 December 2003. Seven members of the Chung family, her neighbours and close friends for decades, went to the funeral. There were perhaps another 20 people there. It was at the church she used to attend, around the corner at Cambridge Terrace. She had worked out the service herself.
Jessie Street is now a poorer place.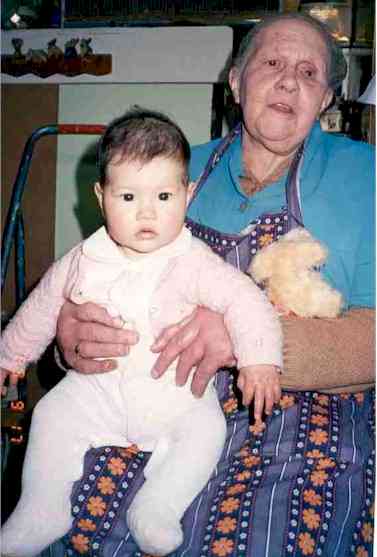 Gladys with Ken Chung's daughter

For satellite photos and pictures of Wellington from several different angles and for articles about earthquakes, history, business, the Ohariu Valley, statistics, fireworks, the national anthem, the kiwi icon and more click the "Up" button below to take you to the Table of Contents for this Wellington section.