A Window: Pain
Afghanistan
An eye for an eye makes the whole world blind.
- Ghandi

by Alan Perrott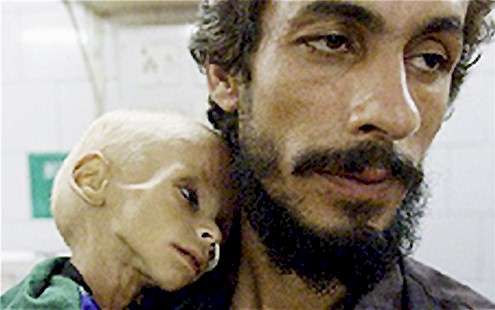 Two-year-old Gul Baz weighs only 5.3kg, the normal weight
of a New Zealand baby nine to 10 weeks old.
Photo credit: Reuters
Source: nzherald.co.nz 29 September 2001
See also:
| | |
| --- | --- |
| | Over and Under (in the Science section) - "The number of overweight people in the world equals the number of malnourished ones." |

Afghans Need Help Battling Anarchy
Canadian "peacekeepers" heading for Afghanistan are braced for a firefight. Gunfire and explosions still resound in Kabul, the capital. The Canadian advance party may have been targeted by a bungling terror bomber barely two weeks ago. And American and Afghan troops are battling fierce remnants of the ousted Taliban regime.
A year and a half after the Taliban's defeat, Afghanistan remains an anarchic, violent, warlord-ruled shambles. That despite the presence of 11,500 American-led coalition troops, and 5,500 members of a United Nations-mandated International Security Assistance Force in Kabul. President Hamid Karzai is struggling to get a national government up and running in a land that for a generation has known nothing but civil war, Russian occupation, backward Taliban rule and anarchy. The battle group of 1,800 Canadians who will be deployed this summer to lead the Kabul Multinational Brigade faces "a dangerous and expensive mission," warns Deputy Prime Minister John Manley. They'll patrol the capital and prop up the government. Ottawa has set aside $200 million, but analysts say the one-year mission will cost far, far more.
While Prime Minister Jean Chrétien's offer of peacekeepers may have seemed like a low-cost substitute for joining Washington's war on Baghdad, it is a high-risk mission in its own right. And it's one not made easier by the world's failure to police and rebuild the country. Between now and the fall, Ottawa should use its presence in Kabul to encourage other Group of Eight countries to provide more troops and aid, instead of letting a nation of 25 million slip from the front pages into obscurity. There's no point having peacekeepers rule over rubble.
Afghanistan needs up to $20 billion (US) over the next five years, Karzai estimates. Donors pledged $5 billion last year but delivered only $2 billion. The Americans (aided by Canada and other countries) proved better at smashing the Taliban regime, than replacing it. Karzai's writ barely extends beyond Kabul. The 4,500-strong Afghan army is only slowly growing. Warlords, meanwhile, command 100,000 gunmen, and rule most of the country. Efforts to relaunch the economy and to choke off the opium trade are in disarray.
All this may frustrate efforts to hold democratic elections next year.
As Canadian troops wade into this chaos, the UN and Karzai are appealing for more foreign peacekeepers and faster aid, to prevent the place from slipping back into the anarchy that allowed the Taliban and Al Qaeda to flourish. Karzai is beginning to confront Afghan warlords, demanding they pay taxes, a key step in restoring order. But he needs vigorous military backing, a bigger Afghan army and the cash to rebuild roads, power, water and other essentials, and to absorb 2 million returning refugees. Beginning now, Canada has a duty to keep the world's fickle attention on a broken country that needs repairing. Let's do what we can.
Source: The Toronto Star 9 June 2003

Up to 80 Civilians Dead after US Air Strikes in Afghanistan
by Jason Burke
Witnesses claim a village in British-run Helmand was bombed for 3 hours after the Taliban attempted to ambush a US-Afghan army convoy. Air strikes in the British-controlled Helmand province of Afghanistan may have killed civilians, coalition troops said yesterday as local people claimed that between 50 and 80 people, many of them women and children, had died. In the latest of a series of attacks causing significant civilian casualties in recent weeks, more than 200 were killed by coalition troops in Afghanistan in June, far more than are believed to have been killed by Taliban militants.
The bombardment, which witnesses said lasted up to 3 hours, in the Gereshk district late on Friday followed an attempted ambush by the Taliban on a joint US-Afghan military convoy. According to Mohammad Hussein, the provincial police chief, the militants fled into a nearby village for cover. Planes then targeted the village of Hyderabad. Mohammad Khan, a resident of the village, said 7 members of his family, including his brother and 5 of his brother's children, were killed. "I brought 3 of my wounded relatives to Gereshk hospital for treatment," he told the Associated Press news agency by phone. The villagers were yesterday burying a "lot of dead bodies," Khan said.
American forces in Iraq also found themselves heavily criticised over civilian deaths when 8 people died, apparently caught in crossfire from a gunfight between insurgents and soldiers in Baghdad's Sadr City yesterday. But residents, police and hospital officials said 8 civilians were killed in their homes and angrily accused US forces of firing blindly on innocent people. Prime Minister Nouri al-Maliki condemned the raids and demanded an explanation for the assault on a district where he has barred American operations in the past.
In Afghanistan, the civilian deaths caused by US and Nato-led troops have infuriated local people and prompted President Hamid Karzai to publicly condemn foreign forces for careless "use of extreme force" and for viewing Afghan lives as "cheap." The increasingly fragile President has urged restraint and better co-ordination of military operations with the Afghan government, while also blaming the Taliban for using civilians as human shields.
Ban Ki-Moon, the United Nations Secretary-General, raised the issue of civilian casualties on a 4-hour visit to Afghanistan on Friday on which he met the senior Nato commander there, the American General Dan McNeill. Senior British soldiers have previously expressed concerns that McNeill, who took command of the 32,000 Nato troops in Afghanistan only recently, was "a fan" of the massive use of air power to defeat insurgents and that his favoured tactics could be counter-productive. "Every civilian dead means 5 new Taliban," said one British officer who has recently returned from Helmand. "It's a tough call when the enemy are hiding in villages, but you have to be very, very careful," he added. The American general has been dubbed "Bomber McNeill" by his critics.
But Nato has "never killed and will never intentionally kill innocent civilians." its secretary-general, Jaap de Hoop Scheffer, told a conference in Macedonia on Friday. "The majority of civilian casualties in Afghanistan have been caused by Taliban suicide bombs and roadside bombs."
US Air Force Major John Thomas said that, after a long skirmish and under constant fire from the Taliban, troops of Isaf (the International Security Assistance Force), called for close air force support during an operation in Helmand, where the Taliban have been resurgent this year. "All enemy positions were destroyed, but after friendly forces surveyed the area, there were reports of some possible civilian deaths," Thomas said. "The remains of some people who appeared to be civilians were found among enemy fighters in a trench line," he added.
The level of violence has soared in Afghanistan, with more than 2,800 people - mostly Taliban fighters - killed in fighting this year, according to an Associated Press tally of figures issued in the last few days by Western military and Afghan officials. A count by the United Nations and an umbrella organisation of Afghan and international aid groups shows the number of civilians killed by international forces was slightly greater than the number killed by insurgents in the first half of the year. In Helmand's Sangin district, Nato-led and Afghan troops clashed with Taliban fighters on Friday, leaving 15 of the militants dead, said Ezatullah Khan, a district chief. Helmand is the primary area of operations for the British troops deployed in Afghanistan.
There were no casualties among Nato and Afghan troops, the official said.
More than 3,000 British troops have been deployed in Helmand to combat both the Taliban and the drugs trade. Also in the south, 2 suspected Taliban members were killed while trying to place a homemade bomb on the side of a road in Zhari district of Kandahar province on Friday, said Ghulam Rasool, the district's police chief. Three children were also killed on Friday and another wounded when an old rocket they were playing with exploded in Zabul province in the south, said General Yaqoub Khan, the provincial police chief.
Source: observer.guardian.co.uk 1 July 2007

For articles on bioterrorism, patriotism enforcers, airport security, children in war, McCarthyism, humanitarian killing, Voice of America, pipelines, truth, lessons, anthrax, hatred and pain click the "Up" button below to take you to the Index page for this War on Terrorism section.