Tall Story
Just the Facts
If you aren't in over your head, how do you know how tall you are?
- T S Eliot

Stoop and you'll be stepped on; stand tall and you'll be shot at.
- Carlos A Urbizo

You have to do your own growing no matter how tall your grandfather was.
- Abraham Lincoln

Guinness Book of World Records lists Robert Pershing Wadlow, at 8' 11.1", as the tallest recorded man for which there is "irrefutable evidence" as to his height when he was measured on June 27, 1940. Wadlow died in Manistee, Michigan 18 days after being measured. He was 22. (A cause of death was not given, though I read elsewhere that it was later judged to have been directly related to his extraordinary size. For some reason (perhaps not hard to fathom) this reminds me of Jim Morrison.)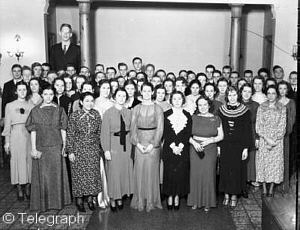 High school graduation - 1936
Guess which one is Robert Wadlow!
Important Dates
1918 - Robert was born 22 Feb 1918 weighing 8.7 pounds.
1919 - When Robert began to walk he weighed 40 pounds.
1923 - At 5 years of age, attending kindergarten, Robert was 5'6½" tall. He wore clothes that would fit a 17 year old boy.
1928 - Ten years old, Robert weighed 210 pounds and was 6'5" tall. His shoe size was 17½.
1929 - Just before Robert's 12th birthday the family learned of his over-active pituitary gland that caused his fantastic growth.
1931 - At the age of 13, and a member of the Boy Scouts, he was the largest Boy Scout in the world. Robert weighed 270 pounds and was 7'4". It took 14 yards of 36" wide material to make his Boy Scout uniform.
1937 - Robert and his father made an extensive trip west, including Hollywood and most of the western states, as a goodwill ambassador for International Shoe Company. Thereafter, the firm made his shoes free of charge.
1940 - Robert Wadlow died July 15, 1940 of an infection caused by a blister on his foot. (He had little feeling in his feet.) His weight was 490 pounds, his height was 8'11.1".

\
The Man Who Won't Stop Growing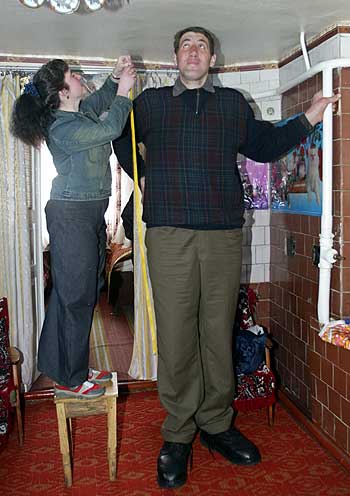 Things are still looking up for Leonid Stadnik.
At age 33, Leonid Stadnik wishes he would stop growing. He's already 2.53 metres tall, and recent measurements show that he is already 17 centimetres taller than Radhouane Charbib of Tunisia, listed by the Guinness Book of World Records as the tallest living man. He's also gaining on the 2.72-metre Robert Wadlow, the tallest man in history.
Stadnik's height keeps him confined to this tiny village 210 kilometres west of the capital, Kiev. "Taking a public bus for me is the same as getting into a car's trunk for a normal person," he said.
Stadnik's unusual growth began after a brain operation at age 14, which is believed to have stimulated his pituitary gland. Since then, life just keeps getting harder. Although he once was able to work as a veterinarian at a cattle farm, he had to quit three years ago after his feet were frostbitten because he wasn't able to afford proper shoes for his 43cm feet. This month, he finally got a good pair, paid for by some local businessmen.
Stadnik sleeps on two beds joined lengthwise and moves in a crouch through the small one-story house that he shares with his mother Halyna. A neighbour describes him as the "most unselfish, diligent man of a pure soul". His friends treat him with the same sort of soft good humour. They're trying to organise a trip for him to the Carpathian Mountains to show him that "there's something in the world taller than you," the neighbour said. - AP
Source: smh.com.au 19 April 2004 photo credit AP

A Big Impression
Caracter started his freshman season at St Patrick High School in Elizabeth, NJ, but completed that term at Scotch Plains - Fanwood although he returned to St Patrick as a junior. Caracter is 6' 8.5" (barefoot), weighs as much as 301 pounds, with wingspan of 7' at the 2004 Youth Development Festival held in Colorado Springs, Colorado. He graduates from high school in 2006.

"In my 6 years of evaluating prospects I have never observed a player whose skills are so far along at such a young age. Already has unbelievable size. Offensively he's very aggressive, and showed he could score via the drop step, elbow jumper, and 12-foot..."

"When he wants to, this is an elite level player. Can score with his back to the basket and will face up as well. Can really pass it..."
Source: The Star Ledger 1 July 2001 photo credit Steven Maikoski, USA Basketball

Young Caracter, Carter Make Summer Camp History
by Michael Marot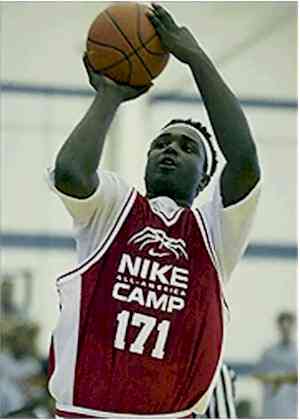 Derrick Caracter of Fanwood, New Jersey
is 6'9" and 286 pounds as an 8th grader.
Indianapolis — Derrick Caracter finds himself competing this week against some of America's best recruits — even though he has yet to put on a high school jersey. For Caracter, it's an opportunity to blend in and prove in front of the nation's top college coaches and NBA scouts that at age 14, he's every bit as good as the other 200 or so campers in Indianapolis. "I want people to say by the time I leave here that I'm not just a good 8th grader," Caracter said before the games started Monday afternoon. "I want them to say that I'm one of the top 15 players at the camp."
Caracter and Demond Carter are the first two middle schoolers to participate in the 16 Nike All-America Camps, but these two are no ordinary 8th-graders. Carter, who is 5'8" and 151 pounds, averaged 23 points and 5 assists playing for his high school varsity team, Reserve Christian in Laplace, Louisiana. He also was a first-team all-state selection.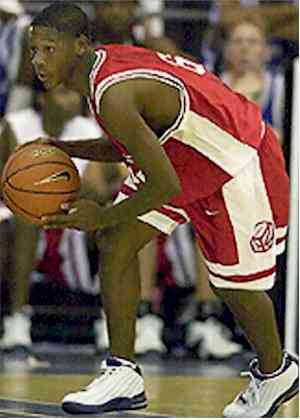 Demond Carter of Laplace, Louisiana, made first team
all-Louisiana playing with the varsity last season.
Caracter presents an almost unfathomable image. At 6'9", 286 pounds, he is one of the largest players at Nike camp. He has a personal trainer and a man's face. He leg squats 350 pounds on one leg although he has not yet started doing bench presses because he's still growing.
Last season, at Terrill Middle School in Scotch Plains, New Jersey, Caracter put up monster numbers — 28 points, 15 rebounds and 9 assists per game — against vastly undersized competition. And while most of the players at this camp are busy narrowing their college choices, Caracter speaks of the day he could play for his dream team, St John's — beginning in 2006. "It's good competition here and it makes me better, as a person and as a basketball player," he said.
That players such as Caracter and Carter have arrived in Indianapolis for Nike's annual camp should not come as a surprise. The trend in professional and college basketball has been toward finding younger players with greater potential. Earlier this year, Ohio's LeBron James reportedly was considering skipping his senior season at Akron St Vincent-St Mary so he could play in Europe next season while waiting to become eligible for the 2004 NBA draft. He later worked out with the Cleveland Cavaliers, who were fined $150,000 and coach John Lucas drew a two-game suspension for allowing James to participate.
James is only the latest example in a long line of recent changes. Of the top 10 picks in June's NBA draft, only three college juniors and no seniors were selected. That's forced college coaches to decide whether to pursue a DeJuan Wagner, who played one season of college ball, or an Amare Stoudemire, who committed to Memphis but skipped college altogether, or go after a player who might stick around a few years. Now, it's the high schoolers turn to adjust.
"I think this is part of the trend," said Michigan State coach Tom Izzo, whose team won the 2000 national championship and has lost three underclassmen to the NBA in the last two years. "I've recruited 7th graders, 6th graders, that's part of life. You just hope they come from good families."
Whether the inclusion of middle schoolers at the big-time camps, such as Nike in Indianapolis or ABCD in Teaneck, New Jersey, becomes a trend, remains uncertain. Camp director George Raveling said Nike officials will address that issue later this year, although he does not believe the addition of incoming high school freshmen to a camp typically reserved for soon-to-be seniors and juniors will continue to grow. "I suspect that if we determine there needs to be a more meaningful focus on kids who are 14 and under, we probably would prefer to have a venue that they compete in that stays in their age group rather than bringing in 10 or 15 eighth-graders to an event like this," Raveling said.
Still, Raveling, like college coaches and NBA scouts, cannot ignore the obvious: basketball players are developing faster in the professional and college ranks. And now, apparently, in middle school. Raveling cites the physical and mental maturity of Caracter and Carter as reasons for why they were invited to the camp, which is suddenly making what once was unthinkable seem plausible. "I get all different responses," Carter said, smiling. "People are like 'I can take you,' others stare at me like 'I can't believe you're in 8th grade.' I try to fit in, but that's kind of hard to do."
Source: USA Today 9 July 2002 photo credit Darron Cummings, Associated Press

Since these entries, though about the rather tall, are themselves rather short, I'll add a few other things. Here's a bit of trivia taken from information I read in one of the Wellington newspapers sometime around mid-April 2000 (sorry I can't be any more specific than that):
On 1 January 2000 there were approximately:
| | |
| --- | --- |
| | 6.1 billion people on Earth |
| | 1 billion telephones |
| | 500 million cars |
| | 310 million personal computers |
| | 15,000 commercial passenger aircraft |
| | 10,000 airports |
| | 500 working satellites in space (up to 3000 expired ones) |
| | 2,500 black rhinoceros |
| | 1,200 panda bears |
| | 1,000 blue whales |
I wonder if just about all the blue whales know each other. There's one blue whale for every 6.1 million people. There are 12 people for each car. There are about 20 people for each personal computer. Can there really be only 1.5 commercial passenger planes average for each airport? There must be an awful lot of non-commercial airports around the world.

I also read in an Economist (in an article called Will the World Starve?) many years ago that there are some 250,000 known plant species, although a mere 9 supply ¾ of all human energy intake derived from crops. Unfortunately, they didn't divulge what those 9 were. Rice, wheat, corn, potatoes and bananas I would guess made the list. Probably some kind of bean, too. And sugar cane. What else? Please emaii me with your suggestions.

Over and Under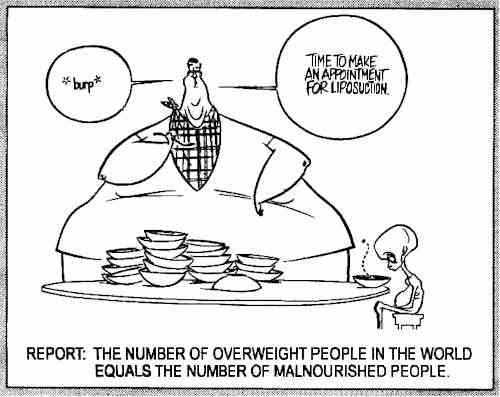 Source: Funny Times, March 2000

And Isn't She a Doll?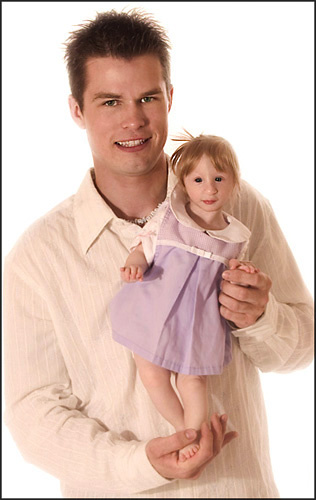 Kenadie Jourdin-Bromley, 7 pounds at age 2 with father Court
Primordial Dwarfism / "The Real Thumbelina"
Source: garyparker.com amazing photography collection of Gary Parker

World's Shortest and Lightest Person in Nepal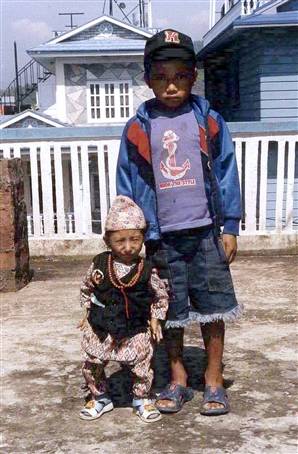 Khagendra Thapa Magar at 14 with a friend
in front of his home in the Banglung district in northwest Nepal
Kathmandu, Nepal - Khagendra Thapa Magar, 14, has been registered as the world's shortest and lightest human being by Guinness Book of World Records, the English language daily Himalayan Times reported. According to the newspaper, Thapa Magar is just 20 inches (50.8 centimetres) tall and weighs 10kg. According to Min Bahadur Rana who heads the Thapa Magar Academy, "Khagendra contested for the title with Jordan's Yoyansvans, who is 25.5 inches (64.77 centimetres) tall and weighed 10kg, but Khagendra came out as the winner."
Thapa Magar was born to Rup Bahadur Thapa Magar and Dhan Maya Thapa Magar in 1992 in Baglung district, about 220km west of the capital. Khagendra's birth was initially an embarrassment for the family and they tried to hide him from public, his father said. Khagendra began to move around only when he was 8 years old and his physical growth completely stopped at the age of 11. The Thapa Magars are organising programmes to exhibit the boy and raise funds for him and the family. According to his father, the son relieved him of debt and brought the family happiness and prosperity. - DPA
Source: gulf-times.com 29 August 2006 photo credit Khagendra Foundation/AFP/Getty Images

For articles on bacteria, centrioles, chairs, nebulae, asteroids, robots, memory, chirality, pain, fractals, DNA, geology, strange facts, extra dimensions, spare parts, discoveries, ageing and more click the "Up" button below to take you to the Table of Contents for this Science section.