Religious Humour, Art, History
Veiled Humour and Threats
I don't believe in an afterlife, so I don't have to spend my whole life fearing hell, or fearing heaven even more.
For whatever the tortures of hell, I think the boredom of heaven would be even worse.
- Isaac Asimov

Just in terms of allocation of time resources, religion is not very efficient.
There's a lot more I could be doing on a Sunday morning.
- Bill Gates

by Phil Proctor
Shazia Mirza, a 25-year-old Birmingham science teacher of Pakistani origin, is so determined to succeed as the first Muslim stand-up commedienne that she is prepared to risk the threat of a fatwa against her, writes the London Times' Dalya Alberge from one of the Planet's trusted international correspondents, Charles Moed.
Appearing in comedy clubs dominated by "white laddie men and blacks," audiences are shocked when she stands up and delivers jokes... dressed entirely in black, her head covered by a veil. In fact, she was recently physically assaulted by three Asian men during a London performance. (That's heavy heckling!)
"I didn't do a gig for two weeks," says Mirza. "What it's made me realise is that it's so important that I carry on for Muslim women and people who live their lives in oppression. I'm celebrating Islam; I'm not against it. Islam gives women a lot of power, but the culture takes that away; we're brought up not to speak out in public, but it doesn't say that in Islam."
Recently she won the London Comedy Festival after reaching the semifinals of the "So You Think You're Funny?" contest at the Edinburgh Fringe. Among the jokes in her routine - "I'm really looking forward to my wedding day. I can't wait to meet my husband. My friend Julie says, 'How can you sleep with someone you don't know?' But she does it all the time."
Source: Funny Times November 2001

I'm Crushed
A Fallen Pope Provokes a Sensation in Poland
by Apollinaire Scherr
By the time the Italian artist Maurizio Cattelan's "The Ninth Hour" arrived in Poland last December, it was already famous. Photographs of the work - a wax effigy of Pope John Paul II lying beneath a meteorite that has presumably crashed through a shattered skylight overhead - were reproduced widely around the September opening of "Apocalypse: Beauty and Horror in Contemporary Art," the sequel to the "Sensation" show, at the Royal Academy of Arts in London.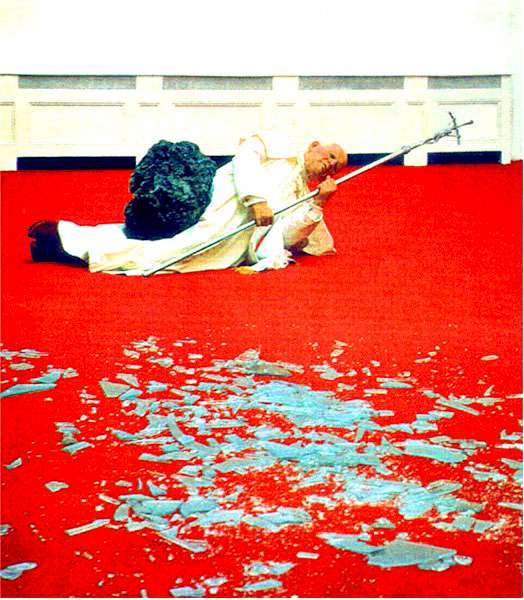 There "The Ninth Hour" took up a huge, high-ceilinged gallery carpeted in Vatican crimson, with the pope a little island of white. The London press treated the work as a comically labour-intensive one-liner, a monument less to the pope's absurd burden than to the artist's absurd effort.
In Poland, John Paul II's homeland, the response to the installation became the joke - at first grotesquely funny and then just grotesque.
On 21 December, a week after Warsaw's museum of contemporary art, the Zacheta Gallery, opened a centenary celebration that featured "The Ninth Hour," Halina Nowina-Konopka and Witold Tomczak entered the gallery and presented identification confirming their status as members of Parliament and granting them immunity to all but a few Polish laws. They then removed the rock from the pontiff and tried, according to some news reports, to stand it on its wax feet.
They left a copy of the letter Mr Tomczak had sent to the prime minister, the minister of culture and national heritage and the minister of justice demanding the dismissal of the gallery's director, Anda Rottenberg, on grounds that a "civil servant of Jewish origin" should not be spending the Roman Catholic majority's money on disgusting works of art. Ms Rottenberg should move to Israel, Mr Tomczak said, where she could commission wax sculptures of a chief rabbi knocked down by Yasir Arafat, for example.
A couple of weeks later, 90 members of Parliament joined Mr Tomczak in signing another, somewhat less offensive letter stating that "the restoration of a stately face to Polish national culture" required Ms Rottenberg's immediate dismissal.
Before the exhibition opened, the president of Poland, Aleksander Kwasniewski, and two local priests acted to circumvent possible negative reaction by stating publicly that "The Ninth Hour" served as an allegory for the pope's heavenly burden. (In conversation a few months later, Ms Rottenberg said: "It is a very unusual sculpture. People didn't know what to feel when they saw it. It is super-realistic and human-size, and the pope is lying on the floor very much alone and abandoned. He is a human being; it is an egalitarian monument. People are not used to that kind of presentation.")
But the official interpretation could keep neither the liberal and social democrats nor the conservative nationalists from casting Ms Rottenberg either as a victim of anti-Semitic nationalism or as a Catholic-basher. Just in time for the Parliamentary election campaigns, the opposing camps got out their messages on television and radio, in newspapers and magazines. When Ms Rottenberg, a Soviet-born Polish citizen, finally resigned, in March, after receiving piles of anonymous hate mail ("You Yiddish whore, go back to Israel!" urged one note), Mr Cattelan's "The Ninth Hour" had been largely forgotten.
"The Ninth Hour" makes its American debut this week at Christie's Rockefeller Center showrooms; it will be auctioned on Thursday after a few days of public viewing. In June, as a condition of sale to prospective buyers, it moves on to the Venice Biennale.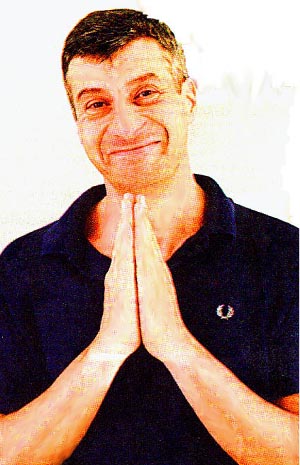 Mr Cattelan, who has been devising his spiky theatrical tableaus and actions since the late 80s, shares Marcel Duchamp's belief that the artist begins the work but the viewer completes it, defining the artwork's meaning and value and ultimately releasing it from its physical shell to become a story, a controversy, an image in the mind. But unlike Duchamp, he is actively interested in his art partner - the spectator - and in the contrary social currents in which the spectator swims and drowns. Mr Cattelan diverts the currents' regular harmonious course and steers them toward collision.
At Christie's, the wax pope will challenge the peculiarly American tolerance for mixing spirituality with commerce. Among art insiders at the Venice Biennale, the dummy will be welcomed as an old friend finally returned from battle.
Mr Cattelan's work is always acutely responsive to its larger context, but it doesn't always need to travel. The wax pope's grand tour was specific to its mission; the latest project, a replica of the Hollywood Hills' famous Hollywood sign, will stay put in Palermo, Italy. "It's the only place I wanted it," Mr Cattelan said. To meet that desire, he had to drum up $1 million and convince first Palermo's left-wing mayor and then the right-wing mayor who replaced him that the work was in the Sicilian city's best interest. The installation is spread out over a dump in the Palermo hills, latter-day "Godfather" country. "The usual direction runs from reality and Sicily to myth and Hollywood," Mr CatteIan explained. "I'm inverting it." The Hollywood sign will be unveiled during the opening week of the Venice Biennale as its first satellite project.
Few people are likely to make it to Sicily to see the massive anti-monument. If everything goes as planned, they won't need to. Lately, there have been two components to Mr Cattelan's projects: the work itself and a carefully considered photograph of it. The photograph of the toppled pope made its way into about 100 magazines, newspapers and Webzines. "We live in a world of images, and I'm just an image selector," Mr Cattelan said.
A few critics have described him, less charitably, as an ad man, a charge he embraces the way he does all charges, with infectious punk contrariness. "I love ads," he said. "The more I work, the more I want to step toward pure, straightforward communication. Who cares about art? Art is such a little world."
Source: The New York Times Sunday 13 May 2001; Apolllonaire Scherr contributes to "Goings on about Town" in the New Yorker. Photo credits: Christie's Images; Mr Cattelan's photo by Chester Higgins Jr of The New York Times

Artist Maurizio Cattelan (above) has reason to smile. "The Ninth Hour," his room with a life-sized wax pope felled by a meteorite, fetched $3 million at auction at Phillips, de Pury & Company, exceeding its top estimate by half - as reported in The New York Times 1 December 2004

Religion, History Merge in Islam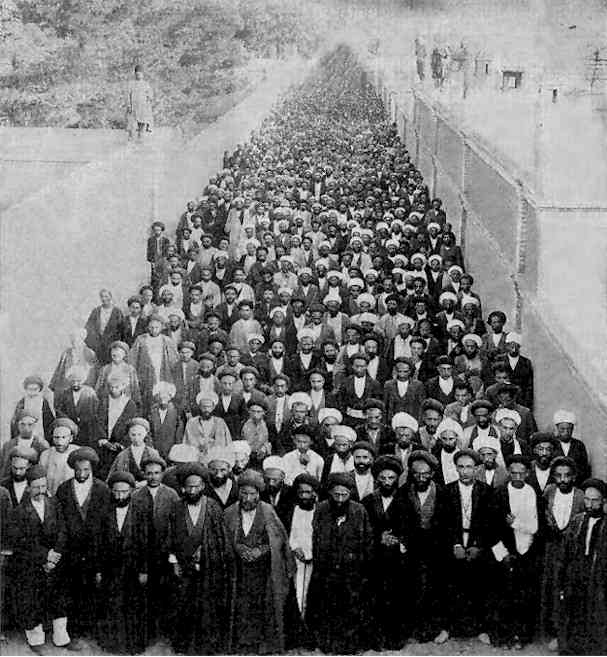 Seeds of discontent: Muslim revolutionaries demand the establishment
of a national parliament in Iran in this 1906 photo from National Geographic's The World of Islam.
by Cathy Lynn Grossman
Book spans decades of detail
National Geographic's new magazine/book The World of Islam ($22) is a compendium of dramatic and historic photography and lavishly detailed travelogue/sociology drawn from a century of National Geographic archives. And, as perhaps befits any look at a culture rooted in the Middle East, epicenter of contradictions, this examination of the politics, history and human experience in Islamic lands is laden with prescient observations and a few land mines that may trip up the modern reader.
Editor in chief William Allen, in his introduction, notes "how many of the observations by our earliest correspondents would be considered impolitic today." Impolitic as in racist, sexist and patronising. These sour notes are not excised, Allen says, because they give "modern readers insights into the times in which these accounts were set down - and the men and women who wrote them."
Here's Ella Sykes on Persian women: "She has the worst of it in every way, from the moment of her birth even to her life in the world beyond the grave." Asking readers to hopscotch through these deeply detailed stories from past decades, jumping over the bias of the writers, may be a lot to ask. Many readers have scant knowledge of Islamic culture and history to help them balance the scales.
Yet the photos alone, and the fragrance of times past, make this a fascinating mini-history text. While the earliest photos date to the turn of the century, there's a particularly handsome 1946 shot of one of the two towering Buddha statues in Bamian, Afghanistan, which were destroyed by the Taliban early last year. There's a glimpse of the intermigration, which began in 1922, of 2 million Muslims and Christians, ripped from their homes in Greece and Turkey and sent into exile. It was then considered, statistically, history's greatest trek," but writer/photographer Melville Chater brought a universal and timeless poignancy to the scene. He shows the faces of Turkish Christians packed into open rail carts riding past the weary Greek Muslims, bent over their handcarts, trudging westward. And he writes of shopkeepers bereft of a lifetime of customers, of parted lovers, and writers robbed of their voice where their "mother tongue would be as naught in yonder land of an alien speech. ... And there a grandmother wept at the thought of some tiny hill-topping cemetery henceforth abandoned to weeds and forgetfulness."
In 1950, Maynard Owens Williams, a former missionary and one of Geographic's most prolific writers and photographers, made an Easter-time visit to the Jerusalem border dividing the fledgling nation of Israel from Jordan, Jews from Arabs. He makes no mention of why or how the "Palestine War" happened, but he gets the future dead right: "Two Semitic nations, handcuffed by an uneasy armistice, guard sites revered by the followers of three great faiths." How it will work, Williams says, is "a huge dark puzzle in a land rich in puzzles. Probably not for decades will anyone know the solution."
Source: USA Today Thursday 3 January 2002 photo credit National Geographic

Slain Shi'ite Leader Mourned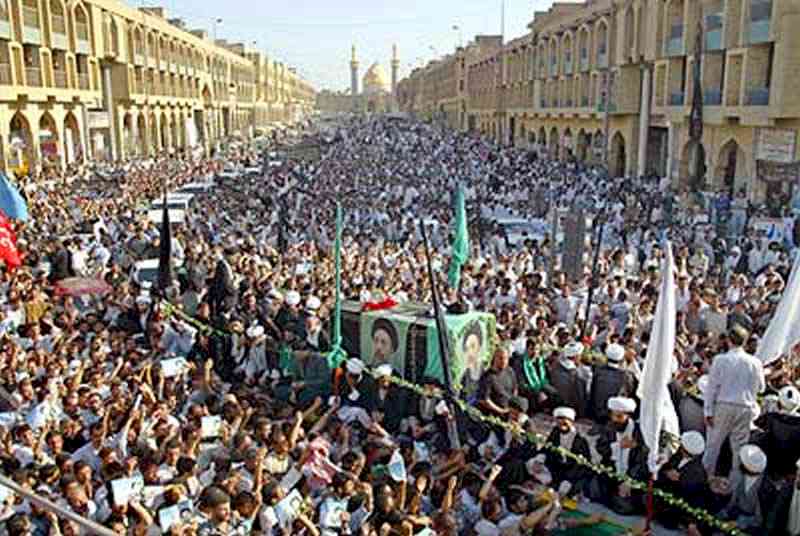 The funeral procession for Ayatolloh Mohammed Baqir al-Hakim passes through Karbala
Source: USA Today 2 September 2003 photo credit Misha Japaridze, Associated Press

Jakarta Faithful Gather to Pray for Their Lives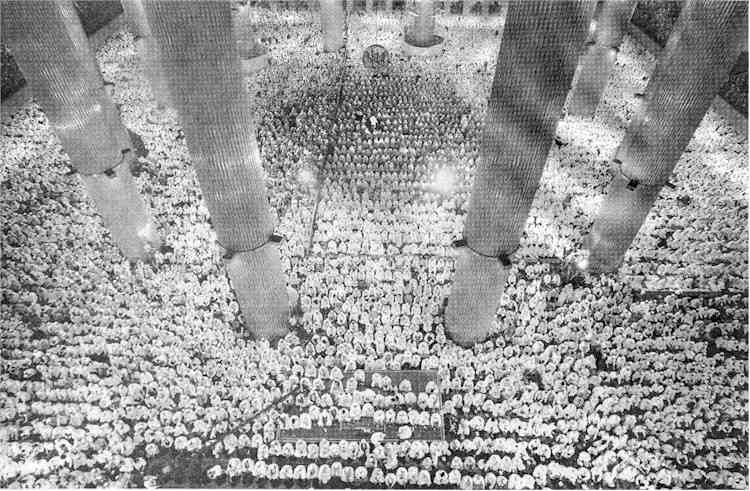 Indonesian Muslims praying yesterday in Jakarta for the safety of their nation in the face of fears
of further bombing attacks after the arrest of the accused militant leader Hambali.
The mosque, called Istiqlal, is the largest in Indonesia

Plains of Arafat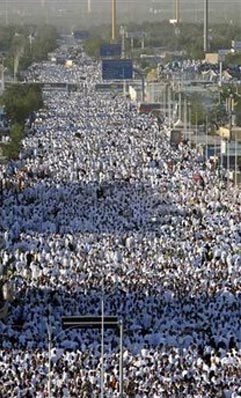 Muslim pilgrim pray outside Namira mosque in Arafat near Mecca, Saudi Arabia, Sunday 7 December 2008.
Nearly 3 million pilgrims converged around the holy city of Mecca at the beginning of the 5-day hajj pilgrimage, a lifelong dream for many Muslims.
(AP Photo/Hassan Ammar)

For more on Iran and the sentiments of modern-day revolutionaries, see also:
| | |
| --- | --- |
| | Life in the Middle East - Within the last few days, once more, thousands of our young have disappeared, imprisoned, maimed and killed. The Regime is again using one of its most preferred means of torture for women: their breasts slashed and bodies thrown from the balcony of their dormitory in plain view of the horrified eyes of thousands of their fellow-students!... |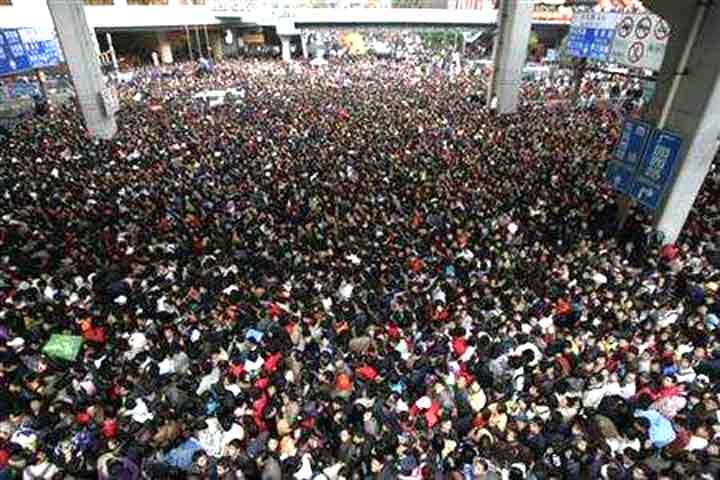 Stranded train passengers wait outside a railway station in China's southern city of Guangzhou 1 February 2008
Source: reuters.com Bobby Yip
By the end of this year 1/2 of the world's population will be living in cities for the first time in human history, the United Nations recently said.
For some reason, I like photos of huge crowds. For more of them, see also:
| | |
| --- | --- |
| | A Funeral in Gaza (in the Money/Politics section) - The largest crowd in 10 years gathered to bury Sheik Ahmed Yassin... |
| | Freeing Lebanon (in the Money/Politics section) - One weekm pro-Syriam the next week anti-Syria - which crowd was larger? |
| | Hajj to Makkah (in the Money/Politics section) - The largest human spectacle in the world... |
| | The EDSA Revolution (in the Money/Politics section) - the 4-day popular revolution that peacefully overthrew Philippine President Joseph Estrada in January 2001... |

Is There a Devil?
by Cathryn Conroy
Look to your left. Look to your right. Chances are both people you see believe in the devil and hell.
We are a nation of believers. A Harris Poll surveyed 2,201 American adults about their religious beliefs and found out some fascinating information. Most Christians - not surprisingly - believe in God, the survival of the soul after death, miracles, heaven, the Virgin birth, and the resurrection of Jesus Christ. But more than half of all adults also believe in ghosts. About a third believe in astrology. And more than a quarter believe they were reincarnated from other people who walked on this Earth generations ago.
This is what your friends and neighbors believe in:
| | |
| --- | --- |
| | God: 90% |
| | Miracles: 89% |
| | Survival of the soul after death: 84% |
| | Resurrection of Christ: 80% |
| | Virgin birth: 77% |
| | Devil: 68% |
| | Hell: 69% |
| | Ghosts: 51% |
| | Astrology: 31% |
| | Reincarnation: 27% |
Where will you go after you die?
| | |
| --- | --- |
| | Expect to go to heaven: 63% |
| | Expect to go to hell: 1% |
| | Expect to go to purgatory: 6% |
| | Expect to go someplace else: 11% |
| | Don't have a clue: 18% |
Here are some fun facts from The Harris Poll:
| | |
| --- | --- |
| | Women are more likely than men to hold both Christian and non-Christian beliefs. |
| | African-Americans are more likely than whites and Hispanics to hold Christian beliefs. |
| | Republicans are more likely to hold Christian beliefs than members of other political parties. |
| | The level of religious belief is generally highest among people without a college education and lowest among those with postgraduate degrees. (There's a reason for this.) |
| | Not all people who call themselves Christians actually hold conventional Christian beliefs. For example, 1% of Christians do not believe in God and 8% do not believe in the survival of the soul after death. |
| | More than a quarter of those who say they are not Christian do believe in the resurrection of Jesus and the Virgin birth. |
Source: channels.netscape.com


Who are the Zoroastrians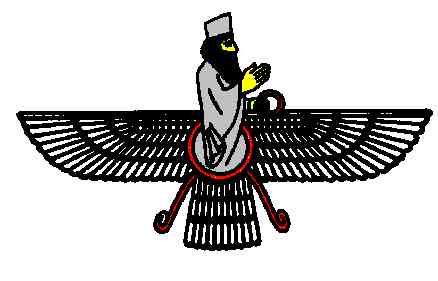 by Porus Homi Havewala
My ancestors, the Zoroastrians of Iran (pre-Islamic) were members of the Indo-European family known as the Aryans. They called themselves Zoroastrians because they believed in the teachings of the first Aryan prophet, Zarathushtra.
Zarathushtra was the first prophet to preach a monotheistic religion; he was born in Iran about 8000 years BC. He believed there was only one God, Ahura Mazda and that life in the physical world was a battle between good and evil. A man's actions would cause him to either cross the "Chinvato Peretu", the sword bridge, after death, and reach Heaven, or fall from it and go to the abode of the evil one. In the final days there would be a battle between good and evil, evil would be vanquished and the world would be purified by a bath of molten metal. Mazda would then judge the world, resurrecting the dead; his kingdom would be established on earth.
Zarathushtra's songs are called the "Gathas" which linguistically may be older than the Indian Vedic scriptures. The Gathas are written in an ancient Avestan dialect, sister language to Sanskrit of India, and Greek and Latin of the West. This is due to the fact that ancestors common to the ancient Iranians, Ancient Indians, Greeks, and Europeans were one and the same - the Indo-European (or Aryan) people.
Many Christian concepts were actually derived from Zoroastrian Aryan ideas which had thriven in Iran for thousands of years - until the Arab invasion of Iran around 1300 years ago. Concepts such as heaven and hell, God and an evil adversary, the coming of the Saviour or Saoshyant born of a virgin, the end-time purge of the world by fire followed by the resurrection of the dead (Ristakhiz), the making fresh of the world (Frashogard) and the final battle between good and evil leading to the final defeat of evil are all beliefs which filtered down to Judaism during the reign of King Khushru (Cyrus) of Iran.
Although proud to be Aryans, Zoroastrians also believe that all races in the world are created by God and are equal - ancient Aryans were both noble and tolerant. Cyrus, King of Iran (and an Aryan), rebuilt the temple of the Jews after freeing them from Babylon - for this, he is still remembered and called the "Anointed of the Lord" in the Bible. The Jews still celebrate that act in a festival. Many Jews then stayed in Iran under Cyrus and his successors as equal subjects under the king. Books of the Bible, written after this stay, adopted these Zoroastrian concepts. From there, they flowed into Christianity and other religions. (Indeed, the very idea of the Messiah, and the very concept of Jesus could be Zoroastrian in origin.)
Some scholars consider Zoroastrianism as such to be the mother religion of the present day world's faiths. The edict of Cyrus proclaiming equality for all his subjects is today enshrined in the United Nations.
Zarathushtra's religion was the prominent one in Iran until the conquest by the Arabs, who converted Iran to Islam. To preserve the Zoroastrian faith, a band of the Zarathushtrians sailed by boat to India about 1300 years ago, and settled there where they were called the Parsees (from "Pars" - that is, Iran). I am a descendant of these migrants. Rare as diamonds, we number only 100,000 or so in the world today.
We keep a holy fire in our temple as the symbol of Ahura Mazda, and our priests feed the fire with sandalwood and cedar and intone the ancient sacred Mathras (verses of praise) in the ancient Aryan Avestan language. The Mathric incantations are believed to have have a divine power used to fight evil. We also revere the elements of God such as water, earth, wind, and the creations of God such as the sun, moon and stars. We wear the sacred Aryan girdle or the "Aiwiyaonghanem" around our waists, a sign of our ancient Aryan lineage and religion, and the white "Sudreh" as a garment.
My real name is "Pourashpa", an Avestan Indo-European name meaning "Owner of Grey Horses", horses signifying spiritual wisdom. As per ancient custom, it should be always mentioned with my father's name - that is: Pourashpa Puthra (son of) Hormuzd (my father's name). The ancient Avestan Pourashpa has a mystical meaning because we believe the entire language itself, and its pronunciation (our ancient prayers the Gathas are in Avestan, and are the songs of Zarathushtra) has a powerful mystical effect in the fight against evil.
The Link between Zoroastrian & Germanic Mythology
Recently I read a book, Runes, by D Jason Cooper wherein he suggests a close link between pre-Christian Germanic mythology and Zoroastrian mythology. He says Germanic people travelled to Iran and India, bringing their myths with them - now seen as aspects of Indo-European thought found in the Rig-Veda and the Gathas. Examples: German mythology says the doom of the world will come after 3 winters with no summer in between. Then the fires of "Muspell" will sweep the world. In Zoroastrian mythology the final battle between good and evil will take place after 3 years of winter with no summer in between. Then a river of molten metal will sweep the earth, purifying the righteous as if in a bath of warm milk and scalding the evil (but purifying them, too).
Also, in both mythologies, two necessarily antagonistic forces (good and evil) and their contention has brought the material universe into being, in both cases a sacred cow is involved, in both cases the death of a sexless giant is involved (the first man, GayoMaretan, in Zoroastianism). In both cases, the forces of good and evil contend until the final days. Evil or chaotic forces are contained underground in both cases. Nails are considered a help to evil forces in both (Loki has a ship of nails of dead men). Cooper also says that Germanic mythology as we now have it is a late corruption of the original - Ragnarok was originally a purification after which the world was restored to its pristine state. Only later it became the destruction of all Gods but a few.
I was once surprised to read a book by a German author, written in the early 1900s, about German shepherd dogs. At the very outset, the author quoted passages from the Vendidad, an ancient book which (among other things) described the creation of the faithful dog by Ahura Mazda (God). Iran is considered by some to be the site of the "Garden of Eden" - indicating the very ancient culture of old Iran.
Please contact me if you have any questions on this ancient religion of the Aryans, called Zoroastrianism.
Porus Homi Havewala may be reached at Porushh@zip.com.au
Source: members.ozemail.com.au
See also:
| | |
| --- | --- |
| | Zoroastrian Disposal of the Dead - ...the sun and vultures work systematically and hand-in-hand to destroy the dead body. Then rain falls and washes away the dried bones into the sea. As much as a year is allowed in the Aryan scriptures for this process. (Contrast this with the burial process where the earth is polluted for at least 50 years and lies shallow and unused for cultivation)... |

The Pope of Soap
Sentiment without action is the ruin of the soul.
- Edward Abbey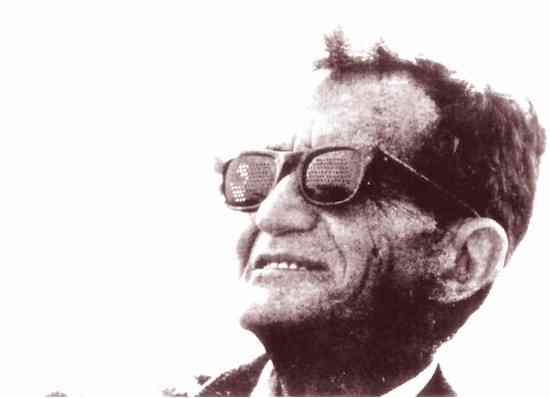 Emanuel Bronner - self-proclaimed doctor, philosopher and essene rabbi;
members of his family have been soapmakers since 1848
Next to Godliness: The Story Behind Dr Bronner's Soap
It's a body wash, shave, shampoo, massage and mouthwash. Nature's own "unsuprassed deodorant", facial pack and mosquito repellent, fruit spray, diaper deodoriser and denture cleanser has been around since 1968...
An Interview With Ralph Bronner
by Gail Grenier Sweet
Corporations come and go. Some fail to grow fast enough and die. Others spread like giant blobs in bad science-fiction movies. But the company that makes Dr Bronner's Soap is different. Certainly, the $7 million business could expand. Corporations in Sweden, Saudi Arabia, Germany, and Japan have offered to import the all-natural, inexpensive soap known for its thick lather. Big chain stores have asked to sell it, using their private labels. But the answer is always no. The family behind Dr Bronner's wants to stay small and honour the message on its label, which includes words from many of the world's great religions and philosophers (including Jesus, Hillel, Marx, Mao, Oprah Winfrey, and Carl Sagan). Staying small and honouring the message means remaining family owned and family run. It means making and packaging a pure castile soap in factories where no harm is done to the environment. It means keeping the same employees for 20 years or longer with out-of-the-ordinary pay, benefits, and profit sharing.
The company's founder, Dr Emanuel Bronner, also believed in sharing profits with what he called "Spaceship Earth," borrowing Buckminster Fuller's term. The company once donated a 1,000-acres worth more than $1 million, to be used for a camp (called Rainforest) for San Diego-area members of the Boys and Girls Clubs. Over the years, it has funded an orphanage in China, a chemistry lab in a Mexican school, freshwater wells in Ghana, homes for special children, college scholarships in foreign affairs, and homeless shelters.
Retaining family control of the company also guarantees continued use of a label that might look out of place on chain-store shelves. That famous label, the hallmark of a soap favoured by back-to-the-land pioneers and fashion models alike, contains the "Moral ABC" of Dr Emanuel Bronner. While you lather, you can read thousands of tiny words, scattered with exclamation points and run-on sentences: "When half-truth is gone & we are dust, the full-truth we print, protect & teach alone lives on! Full-truth is God, it must! Help teach the whole Human race, the Moral ABC of All-One-God-Faith."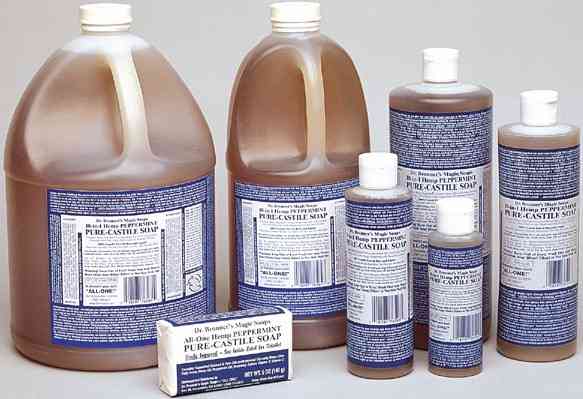 Twenty years ago, I noticed a strange listing in the white pages for Menomonee Falls, Wisconsin, where I live, 2,000 miles from the California home of Dr Bronner's Soap. Instead of a family name, the listing read, "All-One-God-Faith," followed by a street address (my street) and a phone number. I learned the address was that of Ralph Bronner, son of Dr Emanuel Bronner, soap inventor, and I heard tales about Ralph loading boxes of soap into his white van (marked "All-One-God-Faith") and driving thousands of miles to give the goods away wherever a flood or other calamity created a need.
Last summer, I finally met Ralph Bronner, the man behind the mysterious phone-book listing. He told me about the company's soap-bottling factory in Escondido, California, and he pushed some soap into my hand. Ralph and a photocopy machine are the entire publicity department. The company spends its money on expensive peppermint and hemp oils rather than on marketing. Ralph told me that, in his 300,000 miles of travelling, he hasn't found a health-food store in America that doesn't carry his family's product. Yet they use no salespeople and no advertising - just word of mouth and more than 50 articles in such publications as Parenting, Backpacker, Vogue, the Washington Post, the Chicago Tribune, the Milwaukee Journal, and others.
Shortly after I met Ralph, I travelled to California to visit my brother and his family, who live only a mile away from the soap factory, and got to see the operation firsthand. I missed my chance to meet Dr Bronner himself, however; he had died in 1997 at the age of 89.
The low-tech Bronner factory in Escondido was a world apart from the smelly factories I saw when I was growing up in Milwaukee. Surrounded by eucalyptus trees, the building emits no noise. There's no smoke and no odour except for the occasional whiff of peppermint, almond, eucalyptus, lemon, aloe vera, rose, or lavender. The day's work orders are scribbled on a chalkboard. Liquid soap is stored in elevated vats and gravity-fed into tubes handled by four women who fill bottles in a room below. With 15 employees, the company produces 1.5 million bottles a year, as well as bar soap, all packed by hand, with no machinery.
David Bronner, Ralph's nephew and the company president, showed me around and told me about his grandfather. Dr Emanuel Bronner was an eccentric who railed loudly and publicly against such "evils" as fluoridated water, communism, false religions, and poor health practices. Though he lost both parents in the Holocaust, he was a believer in the unity of the human family. Some saw his preaching about "uniting Spaceship Earth" as ranting, and he was once committed to an insane asylum in Elgin, Illinois. He escaped after three tries and fled to California, "where he fit right in," the family likes to joke.
When I returned to Menomonee Falls, I had questions for Ralph Bronner, the company vice-president. Ralph is 64 years old, retired from 32 years of teaching junior high school in Milwaukee's inner city. He now spends his days pursuing his love of folk music, practicing philanthropy, and promoting his father's philosophy and soap. He runs a coffee house and sings for day-care centres and children's groups. "Music, soap, and my life are so intertwined that they could never be separated," he says.
Talking with Ralph gave me a taste of what it might have been like to meet the eccentric Dr Bronner himself. What other company vice-president would take six cases of soap and a guitar on the train to Mardi Gras and lead the passengers in singing Steve Goodman's famous song City of New Orleans?
The interview began as we walked into Ralph's cluttered office.
Bronner: My wife would die if she saw this. It reminds me of my father's office after he escaped from the insane asylum.
Sweet: Tell me what it was like being the son of Dr Emanuel Bronner.
Bronner: I was just out of college when I first went out to LA to help him with the business in 1957. He was in an old tenement building. The room he rented - he called it a cave - was packed from floor to ceiling with thousands of documents he had written to world leaders: the President, the Russians, the United Nations. There's a letter he wrote to Roosevelt in 1943 in which he complains that the White House hasn't answered any of his telegrams for the past 10½ years. He got off the boat from Germany in 1929, and by 1932 he was writing to the President.
I was the prodigal son returning. I typed the labels. (No word processors back then.) I thought we were wasting our time. I told Dad, "Nobody's going to read this stuff." There were more than 3,000 words, in type smaller than a phone book. It was stupidity. And when I made a mistake in those days, we didn't even have white-out. We retyped it.
Finally, I went into teaching so I could become independent. In 1961, I brought my wife, Gisela, to California with me for the first time, and within half an hour, she was packing soap. Dad never wasted time on pleasantries.
I keep scrapbooks. If you glance at them, you'll get an idea of what goes on in this den. Some of it is business, with distributors and so on, but a lot of it is personal correspondence. Here's a letter from a man who says the soap makes him feel like someone put a York Peppermint Pattie in his underwear. Here's another from a man who thanks us for giving his life purpose: "My dear friend Dr Bronner. [It always floors me how many people who had never met my father thought of him as a close friend.] My life was empty until one day, while washing the daily grime from my skin and anticipating my demise, I noticed the words on the wrapper of a bottle of soap. I read them, and instantly there was purpose to my existence. Your words of eternal wisdom returned faith to an old man's black heart. For this I cannot thank you enough." And he signed it, "My eternal gratitude."
My favourite quote from the label, and one of Dad's favourites, is "God must have loved the common people of the earth, he made so many of them." That's Abraham Lincoln. I have no friends in the corporate world of briefcases and ties. They only want to buy us out, tell us how to double our sales, or get something out of us. My friends are the people stocking the shelves, cutting the carrots in the food pantries, and shopping in stores all over America. Three times a year, we go to a national convention. That's the only marketing we do. The other booths have slick Madison Avenue salesmen grabbing you and handing you brochures. We're just crowded into our little booth with a picture of Dad on the wall. And people hug us and tell us how wonderful our soaps are.
I would be in jail if I put on the label the claims that people make for our soap: Gets rid of warts. Cures eye infections. One woman showed me her teeth. "Don't they look beautiful?" she said. It turned out she brushes with the almond soap. A dentist she hadn't been to in two years wanted to know what she was using, because she had no plaque and no cavities. "Doesn't it foam?" I asked her. "Of course," she said. "My kids like to watch me brush so they can see Mom foam."
An animal-rescue operation wrote to tell us that an application of Dr Bronner's gets rid of fleas and ticks. We mention that, but we don't push it, because if I say it's good for fleas and ticks, people won't believe it's also a wonderful body soap.
In Charleston, South Carolina, a shark fisherman saw the sign on my car: Dr Bronner's Magic Soap. He stopped me and said our soap was the best he'd ever used for getting the fish smell off his hands. A farmer from Willard, Wisconsin, bought a case because he said it was the best for re-moving the smell of cow shit. This is the same soap Martha Stewart says is great for mosquitoes and Parenting magazine raves about for your skin. It's also the same soap that's number one among models, whose skin is their career. We don't push it on them; they call us. A photographer who'd been photographing models for 18 years once said to me, "You wouldn't believe how often I saw your soap in the dressing rooms."
Sweet: During the 32 years you taught school, were you still as involved with the company?
Bronner: Yes and no. My father, thankfully, slowed down over the years, but at his peak, I'd get four or five phone calls a week, some an hour long, about "Ralph, we're changing Number 6," or "Number 13" - which is how he referred to statements on the label. With faxes back and forth, I was never completely away from the business. I'd go out there for about two weeks at a time, which was all I could stand.
About 10 years ago, I started taking "soap trips," traveling at random, meeting the people who are selling our soaps, and telling them our story. On one trip through rural Minnesota, a woman told me, "My husband would love to meet you. He's out plowing the north forty." So I drove into the fields to find him. Seeing the tractor, I got out and waved to him. From a distance, I said, "I'm Dr Bronner's son." As he walked toward me, he recited from memory a quote on the label, the one about "God's perfect pilot." That choked me up: a farmer in a field in Minnesota, who didn't even know I was coming, had memorised part of the label.
For a typical soap trip, I might take 39 cases and about 400 copies of articles. When we leave, we usually don't know where we are going to stay that night. I sometimes go on the spur of the moment. I used to take a disabled friend along. One time, we were heading to Kansas City, and on the way we decided to go to Omaha. It makes no difference; I have no appointments.
I have met people so incredibly giving that your and my and most people's efforts pale in comparison. One of them is Rosemary Landry. Seven years ago, someone wrote to me and asked, "Could you send this remarkable lady some soap? She has adopted many handicapped kids." That's all he said. We drove 500 miles out of our way to meet her. In the last 20 years, she has adopted 39 children who were rejected by other families because of Down syndrome, elephantiasis, schizophrenia, tumours, and so on. She takes care of 9 to 15 kids, ranging in age from 3 to 23. She gets no recognition, no support, and yet she feels God has blessed her. We've become good friends. The kids call me "Dr Soapy." I play the guitar for them, and we have fun together.
A lot of people think I'm a salesman, that these are sales trips, but we already have more business than we can handle. Our soap is everywhere. When my wife and I were in Hawaii for our 40th wedding anniversary, we went to a crater, and there was a shack selling cold drinks at the bottom. Inside were 6 backpackers from all over America. All 6 loved our soap. Two of them had it in their backpacks. I had to autograph Dad's picture for them. This happens everywhere.
Sweet: So the purpose of your trips is...
Bronner: To tell the story. Of course, people can't believe this. They all think I'm a salesman. They can't believe Dr Bronner is my father and I'm the vice-president. I'll give you a good example. We were near Mount Shasta, and I walked into a health-food store and said, "I am Dr Bronner's son." The owner said, "Why are you visiting me? I'm already selling your soap." But I told her our story anyway, and by the time I left, she had tears in her eyes and was hugging both Gisela and me. She'd had no idea that our profits were helping to dig wells in Ghana and to raise Rosemary Landry's kids, or how we shared with our workers.
Sweet: How much do you share with your workers?
Bronner: Last year, every one of our 15 workers got from $6,000 to $22,000 as a profit-sharing bonus. They all have optical and dental as well as medical coverage, and a pension plan. Four times a year, we have safety meetings, which can be boring, but afterward we take all of our employees and their spouses, sweethearts, and kids out for a big party. We'll have an $800 bill. But they looked on Dr Bronner, my father, as a sort of father, too. We are all one family, and we try to carry on what he started.
Reporters can't believe 2,000,000 bottles are packed by hand, but you saw it - 4 to 5 people, not working fast, pack them with no machines. Corporate America wants us to believe that you have to have machinery and pollution if you want products; that we can't make money if we share profits with workers. We are proving them wrong and loving it. The business is still run out of a California bedroom that Dad converted into an office. The two secretaries can look out the window and see our cats and orange trees.
Sweet: How do you decide which causes to help?
Bronner: It's usually a call from someone who loves the soap. A woman I've never met named Adaku Nzeribe called 5 years ago. She'd just come from Nigeria and was depressed by the sight of Nigerian street women being forced into unwanted marriages, prostitution, and homelessness. She wanted to get some soap for them. We sent her soap and money for getting those women jobs and clothes. Churches and organisations often ask if they can buy it cheaper to ship it to Third World countries. We tell them it's no charge.
We've donated money to the Black Holocaust Museum, and 2 months ago, I met its founder, Dr James Cameron. He reminded me of my father, 85 years old and going strong. Dr Cameron said, "The world is our country, and we are all children of the same God." I showed him my father's label from 1950: "The whole world is our country, our fatherland, because all mankind are born its citizens. We are all brothers and sisters because one ever-loving, eternal Father is our only God." That's from Thomas Paine. My father added the part about brothers and sisters. He always changed things.
Source: thesunmagazine.org January 2001

We were able to buy Dr Bronner's soap from several health-food stores when we lived in New Zealand (though we often ordered it directly from Escondido because we couldn't often find the larger sizes). We've used his liquid soap almost exclusively for the past 25 or so years. I love the stuff, but I only ever bought it because of the quality, never for the sentiments on the label - except for the idea that the maker espoused his philosophy rather than product hype, which was certainly novel. I feel, since Emanuel Bronner was blind and suffered from Parkinson's disease the last 25 years of his life, possibly his refusal to sell out and his sharing of his profits weren't such onerous sacrifices for him. What I admire him more for is raising such nice sons who continued to uphold his standards.
See also:
| | |
| --- | --- |
| | US Ignores Religion's Fringes - Religious-studies scholars tried, in vain, to persuade the FBI that David Koresh was neither a lunatic nor a charlatan, but a religious leader. As such, he needed to be understood in the context of a version of Christianity that might have looked bizarre or misguided to most Americans, but was nonetheless deeply meaningful for Koresh and his followers - so meaningful, indeed, that they were willing to die for it. But it was easier to write off the Branch Davidians as brainwashed or crazy than to acknowledge that they were so committed to a cause that they gave their lives for it. Most Americans are embarrassed by such a depth of religious or political passion... |

The Pentekon Bible
by Rev Dana Livesay, Wanganui
God made, Adam bit, Noah arked, Abraham split. Joseph ruled, Jacob fooled, Bush talked, Moses balked; Pharaoh plagued, people walked. Sea divided, tablets guided, Promise landed. Saul freaked, David peeked, prophets warned, Jesus born. God walked, love talked, anger crucified, hope died. Love rose, Spirit flamed, Word spread, God remained.
Source: Book of Incredibly Short Stories selected by Brian Edwards, Tandem Press 1997

For articles on poverty, social markets, superfluous children, isolation, modern mating difficulties, status, boasting, gender differences, patriarchy, capitalists, civility, groups, racism, virtue, ethics, art, music, religion and crewing click the "Up" button below to take you to the Index page for this Social/Cultural section.