Fork It Over
Get Forked
Happiness is your dentist telling you it won't hurt and then having him catch his hand in the drill.
- Johnny Carson

Great Big Forking Lies
by Helen Robinson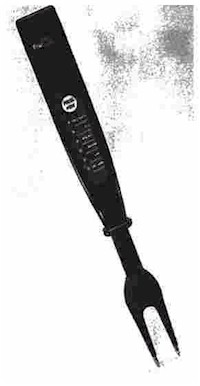 1. THIS WON'T HURT / IT DOESN'T HURT
Usually said about things like having a piece of metal forced through your skin, or having a needle repeatedly stuck into you. It does hurt and if it didn't it'd be because there was something wrong with your nerve endings.
2. YOU'LL GET OVER THEM
Okay, this is true. In the end. While you're waiting for it to happen and you miss them so much it's an actual physical pain and you can't stop thinking about them and every time you see anyone who looks even remotely like them you think it is them and you find yourself going places in the hope that they'll be there, it feels like an eternity. Especially when you've reached that stage when logically you know it's not going to happen or work out and you're totally unsuited anyway but your heart and your body haven't got the message yet and still really, really miss him/her.
3. I'LL LOVE YOU FOREVER
In terms of truth this is the opposite of the above. At the time it's usually true, unless it's followed by the words "take off your shirt" or "and anyway I didn't bring a condom" or preceded by the words "can you lend me $50 / fix my computer / go down on me." But in a few days, weeks, months or if you're lucky, decades, it's a great big lie. And some poor fool is left heartbroken and sobbing "but they said they'd love me forever" into his/her friend's shoulder, and wondering how they'll get the tattoo removed.
4. ANYTHING THAT [NAMES DELETED SO I DON'T GET KILLED] SAY
But then if you know them you know this already. And the last thing they claimed to have done is physically impossible anyway.
5. THESE ARE THE BEST YEARS OF YOUR LIFE
At least when said to teenagers, especially high school students. People who say this should be shot. They are not the best years of your lifer they are the worst years of your life. They are hell. Whenever my life goes horribly wrong and I feel like shit, I think "but no matter how badly I fuck up I'll never have to go back to high school" and this never fails to cheer me up.
6. IT'S NOT BASED ON PERSONAL EXPERIENCE
Well, some of it's not. But sadly the vast majority is, including the bit that has caused people to come up to me at parties and say "you're supposed to use depilatory cream, then it won't itch."
7. I'VE SLEPT WITH X NUMBER OF PEOPLE
Yeah, if you don't count the ones that you can't remember, the ones whose names you can't remember, the ones whose names you never knew in the first place, the ones you don't want to remember, the ones you only got naked and fooled around with but "didn't actually have sex with," the ones you didn't reciprocate, the ones that didn't reciprocate you, the ones you're not allowed to tell anyone about and the ones you're embarrassed to tell anyone about.
8. I'M JUST NOT ATTRACTED TO ANYONE OF THAT GENDER
Sexuality is a fluid and linear thing [just like a hose, then? - ed.], not something that can be put into tidy little boxes anyway, leading inevitably to the previous lie.
9. ANY POSITIVE STATEMENT FOLLOWED BY THE WORD "BUT"
As in "I really like you, but...", "We'd like to hire you, but...", and so forth. They are invariably followed by a statement which completely negates the first bit. The same applies to positive statements that follow the word "but" (as in "...but we can still be friends." "...but I still really like you," and "...but I'll pay you back"; and sentences followed by the words "it's just," as in "I know we shouldn't do this, it's just I really want to" and "I still want to see you, it's just I've got a lot going on in my life right now." (Shit, now I can't use any of these lines.)
10. IT'S ONLY A GAME
You know damn well it's more than that and if you don't shut up while I'm watching it I'll fucking smash you, you cunt. Oh my god! They're going to score! Oh no, wait, no they're not, how stupid of me.
11. THERE'S NOTHING GOING ON BETWEEN US
Given how slow people are to pick it up when people are secretly having sex with each other, if you're having to deny it, it means people have basically snapped you. However, consistent denial will stop the entire world from knowing about it, at least until one of you gets drunk and/or annoyed and blabs. Then your friendship will be ruined and one of you will have to leave the country. The implications will be terrible, honestly. And that's why we can't tell anyone about this.
12. MEANINGLESS SEX AND LOTS OF DRUGS WON'T MAKE YOU HAPPY
Yes they will. They'll also make you boring or broke or dead or all three if you're not careful. And so it's not worth it, is it? No, of course it's not. Illegal drugs and meaningless sex are bad. Stick to monogamy and beer if you know what's good for you. Right, kids?
Source: I don't know in which month this article appeared in Salient (Victoria University's student mag) but I DO know the year was 2000 (at least) in Helen Robinson's "Killing Time" column

I phoned up a really gorgeous ex-girlfriend of mine the other day. We lost track of time, chatting about the wild nights we used to enjoy together. I couldn't believe it when she asked if I'd like to meet up and maybe rekindle a little of that magic. "Wow!", I said, "I don't know if I could keep pace with you now! I'm a bit older and a bit balder than when you last saw me!"
She giggled and said she was sure I'd meet the challenge! "Yeah", I said, "just so long as you don't mind a man with a waistband that's a few inches wider these days!"
She laughed and told me to stop being so silly! She teased me, saying she thought tubby bald men were cute! "Anyway", she said, "I've put on a couple of pounds myself!"
I hung up.

For articles on affair motivators, changing relationships, do-it-yourself psychotherapy, lies, insincerity, social graces, cosmetic surgery, roots of culture, self-deception, love, and reunions of lost relatives click the "Up" button below to take you to the Table of Contents for this Relationships section.