Overviews Facilitate Insight
The Amazing Aerial Photography of Georg Gerster
To me, photography is the simultaneous recognition, in a fraction of a second, of the significance of an event.
- Henri Cartier-Bresson

Since 1956 Georg Gerster has been a freelance journalist specializing in science reporting and aerial photography. He has undertaken extensive visits to every part of the world, including Antarctica. Visit his site for loads more arresting photos. My only complaint is that there is little detail about each subject - but I suppose there is always Wikipedia...
Camel Caravan in Iran 1976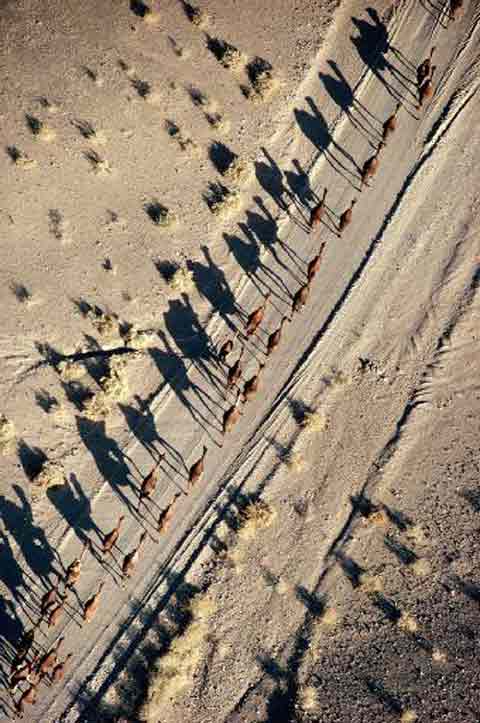 Source: georggerster.com

Village in Tanzania 1984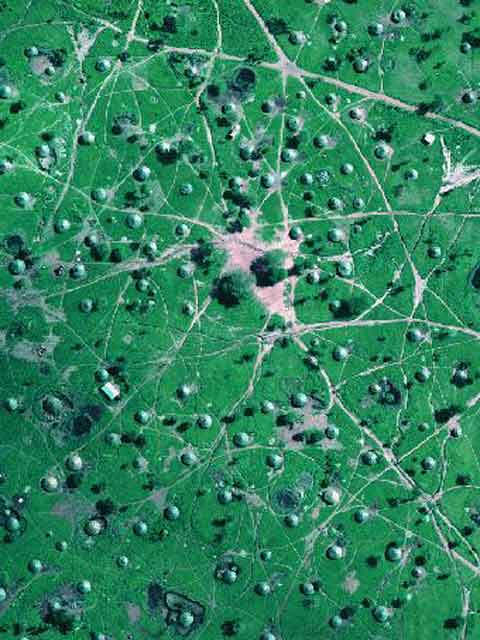 Source: georggerster.com
I like it because it looks like a giant leaf with galls...

Bryce Canyon, Utah 1970
This is karst.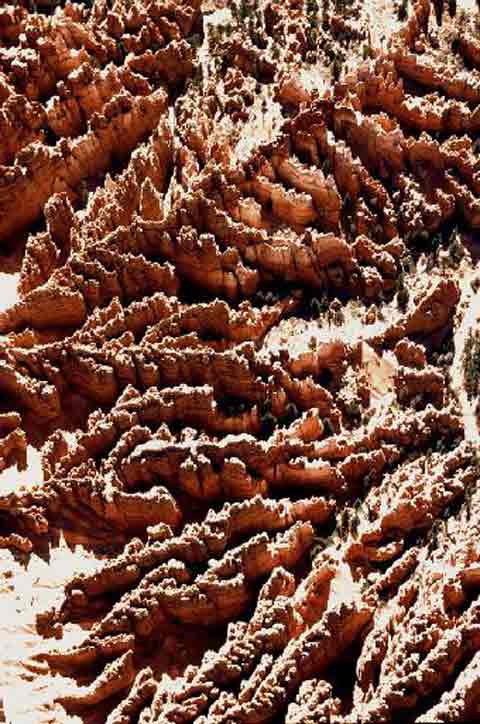 Source: georggerster.com
See also:
| | |
| --- | --- |
| | Logging Threatens Mystical World (In the Environment section) - Underfoot lies another world, even more ancient: a dark labyrinth of caves and subterranean streams carved through limestone and marble bedrock. Huge sinkholes, pits and vertical crevices called grikes riddle the forest, channeling water downward, where it may flow for miles before emerging. This landform, characterised by subsurface drainage, is known as karst... |
| | Punching a Hole in the Earth (in the Money/Politics "How Many Countries in the World" section) - Karst is limestone rock eaten away by runoff water which turns into sulfuric acid when combined with the rock, thus forming caves or sinkholes. This sinkhole is 330-feet deep and has swallowed a dozen houses and three people - so far... |
| | Madagascar Karst (in the Money/Politics "How Many Countries in the World" section) - This geological formation, called a karst, is the result of erosion, as acid rains have gradually dissolved the stone of the chalky plateau and carved out sharp ridges that can rise to heights of 95 feet (30 metres). This nearly impenetrable labyrinth (tsingy is the Malagasy term for "walking on tiptoe") shelters its own unique flora and fauna, which have not been completely recorded... |
| | The Zacatón Cenote (in the Money/Politics "How Many Countries in the World" section) - Cenotes are karst formations which occur when underground water etches away at limestone bedrock to form enormous subterranean caverns. Eventually the cavern roofs collapse leaving deep circular rock pools. The word cenote is a Spanish rendering of the Mayan word d'zonot which means literally "a hole in the ground"... |

For photos of the earth and moon, stained glass, sunsets on the Wellington Harbour, Lady Fair, Civic Square, the old mill, the Whippany River, historical houses, Lake Parsippany and more clicking the "Up" button below takes you to the Index page for this Photographs section.