No Door
Underground Retreats
Nowhere can man find a quieter or more untroubled retreat than in his own soul.
- Marcus Aurelius

The 4th Amendment and the personal rights it secures have a long history.
At the very core stands the right of a man to retreat into his own home
and there be free from unreasonable governmental intrusion.
- Potter Stewart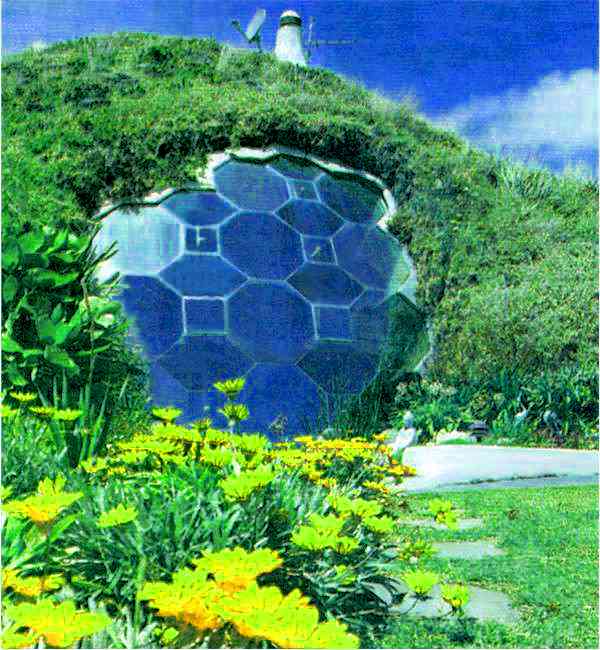 Source: The Dominion Friday 29 December 2000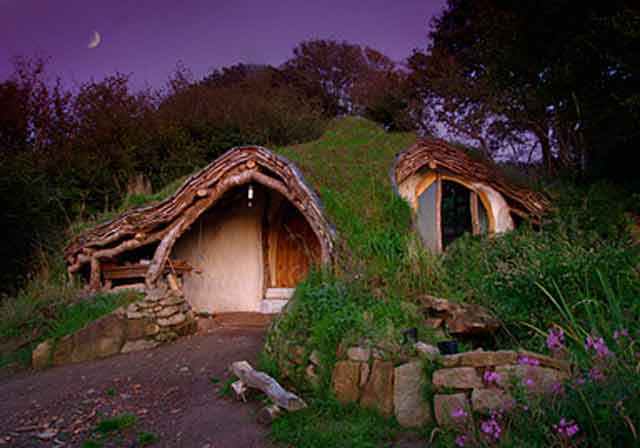 A family home in Wales
The above home was built for about £3,000 and 1,000 - 1,500 man-hours of labour. See the website at A Low-Impact Woodland Home for more information and more photos.

Aboveground Retreat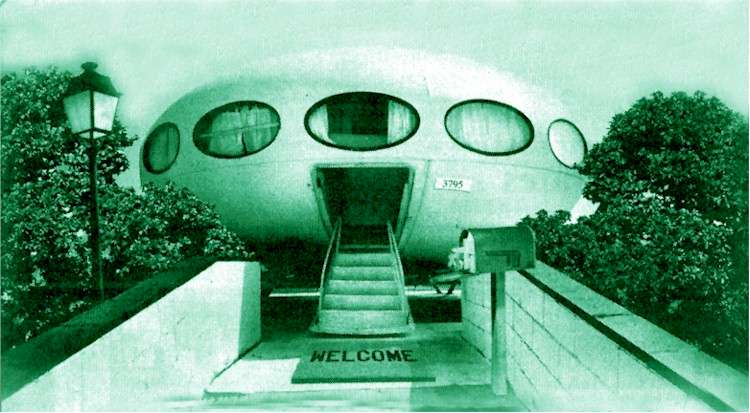 Source: The Wall Street Journal Friday 20 July 2001; apparently this house is located somewhere in (surprise!) southern California

I discovered that this house is called Futuro. It was designed by by a Finn and is made of plastic - more photos and infornation

Backyard Retreat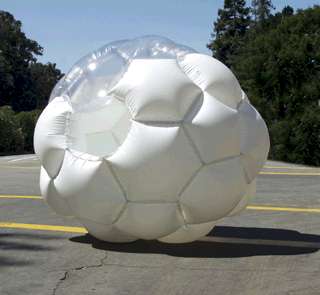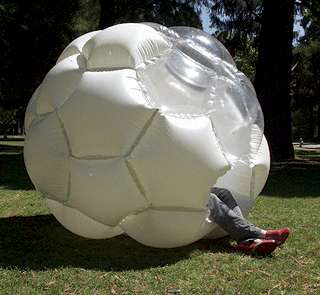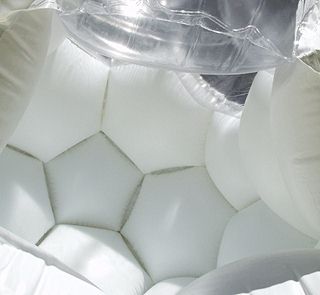 Large Chill Out Room, 2001 made by David Sevoir, Hong Kong - Inflatable indoor/outdoor room.
diameter 7 feet, 37.48 pounds, 31 clear and white PVC panels. Ships in a 25 x 20 x 10 inch box.
Leave Your Gravity Boots at the Door
Born of both purist modern and sci-fi kitsch, the Chill Out Room invokes perfect geometric structure in the name of guilt-free escapism. Utilising an array of 31 interconnected hexagonal pillows, the geodesic hive inflates to a formidable seven feet, seating at least two adults or three child sojourners.
It's a design that would make NASA proud: a large portal grants visitors easy access, soft white PVC walls cocoon the pod's human cargo, and an overhead configuration of clear panels provide a clear view of the stars above or the earth below. Climb in, sprawl out, and get your bubble on.
Price (US Dollars) $500.00
Source: designobject.com

Hobbit's Retreat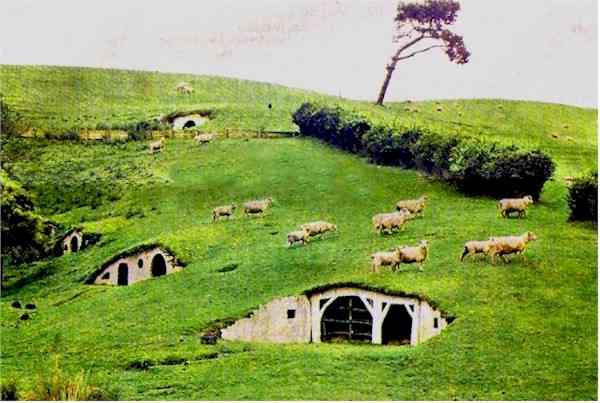 Hobbitat: Fifteen acres of a farm near Matamata served as Hobbiton for Lord of the Rings
Source: USA Today Friday 14 December 2001
For more Lord of the Rings photos, see also:
| | |
| --- | --- |
| | Actor Falls for Wellington - "A year in New Zealand? I'm indifferent to rugby and don't eat lamb but at least it seemed a good opportunity to visit Australia," he wrote. "Almost at once, however, New Zealand's allure won over and I managed only one weekend in Sydney for a wet and cold Mardi Gras..." |

Futuristic Retreat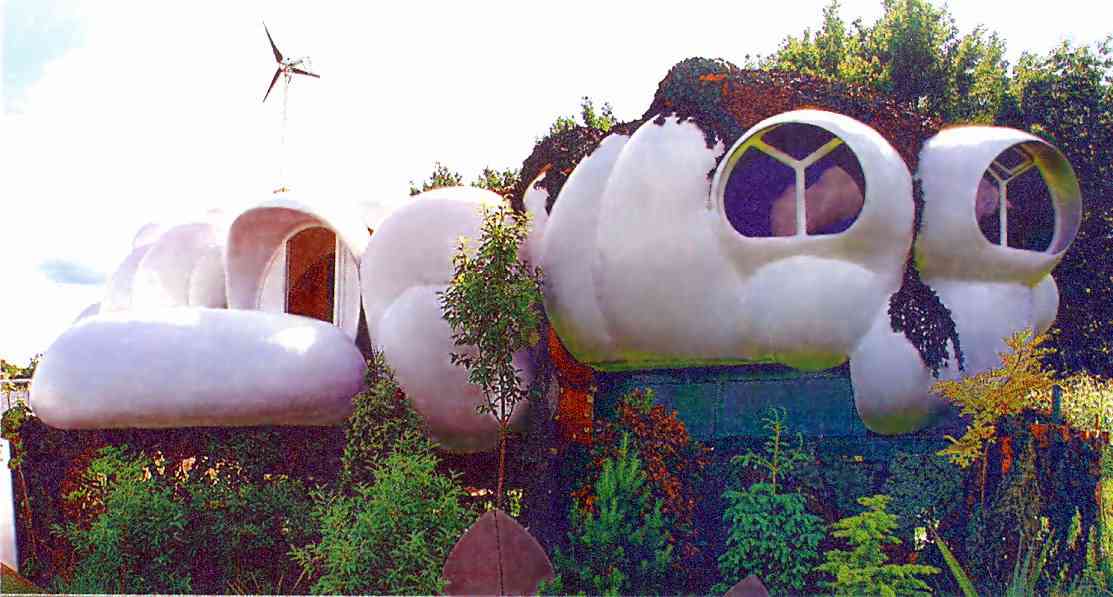 Crossway Green, England, hamlet of Worcestershire
This "Homes for Life" house is for display purposes only. A finished house would be larger and have larger rooms. It should be built into the landscape rather than perched on a platform - but, presumably, the bedrooms would still lack doors. The bathroom is not shown, but I can't help but wonder if IT has a door. (Answer: YES - see photo)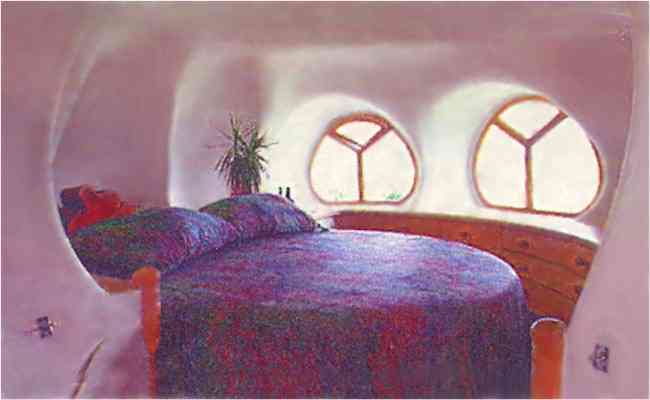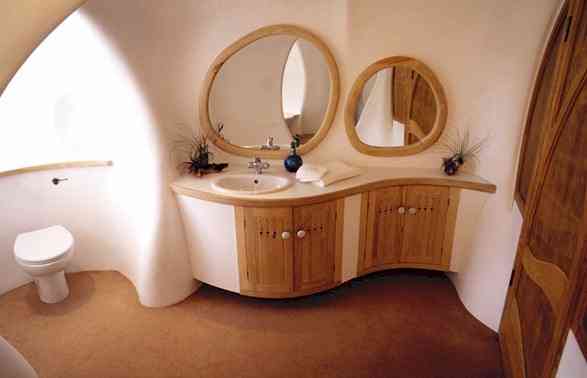 The bedroom has portholes and inwardcurving walls
Inside the house, the ceilings are wider than the floor, so the room curves in on itself. The house is made of fibrous plaster with pumice stone bead insulation and several layers of gunite. The components can be mass-produced in factories. They could be built at a fraction of the cost of a regular house and are designed to be bermed and eventually covered with grass. They are lovely - and a whole neighbourhood set into a hillside could hardly be less obtrusive. Plans are underway to build a 264-unit village of villas, chalets and apartments on a 65-acre site near the town of Stourport on Severn.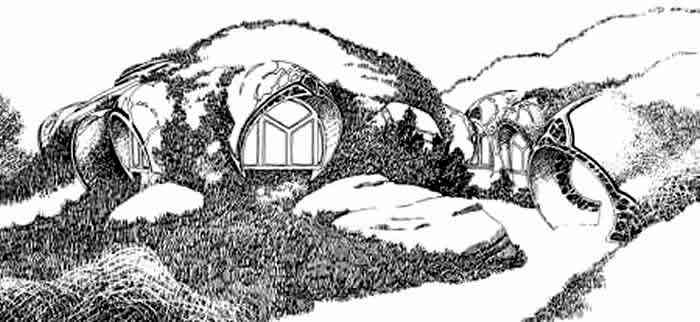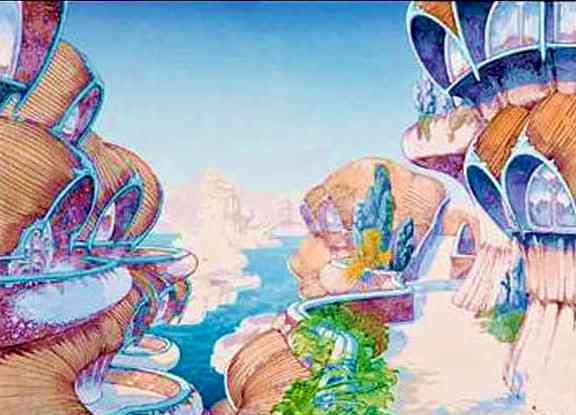 Proposed Village
Roger's houses are designed for the 21st century - artistically beautiful, environmentally kind, but cheap and quick to build. They began as a college project to design a child's bed and grew into a radically new form of architecture for a world awakening to the damage done by post-war housing and office development.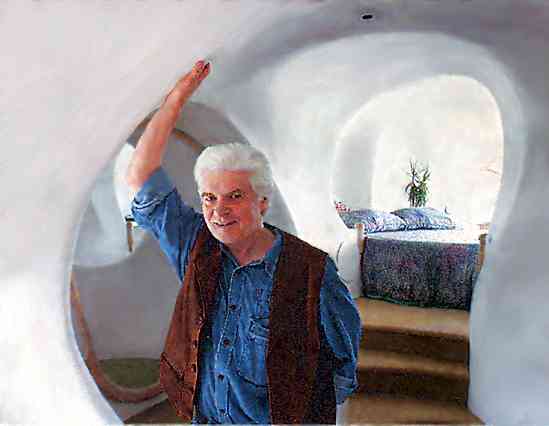 Roger Dean, 58, painter, graphic designer and architect
in the model home he proposes to build throughout England
Sources: The New York Times Thursday 24 July 2004 and rogerdean.com; some photographs by Jonathan Player

Treetop Retreats
10 Great Places to Sleep in a Tree
by Kitty Bean Yancey
Some vacationers would rather go out on a limb than stick with the familiar. Staying in a tree house is "an adventure that's safe and kind of cool," says Denise Restauri, executive vice-president of City Access Providers, a nationwide concierge service. For a client who wanted a "back-to-nature, primal" experience, the firm scoured the globe for leafy getaways. "I was amazed at how many there are," says Restauri, who shares a sampling.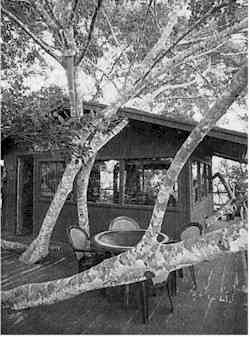 In Brazil: The Ariau Amazon Towers hotel is built at the level of the rainforest canopy
and is connected by four miles of sturdy wooden catwalks 30 feet in the air.
Ariau Amazon Towers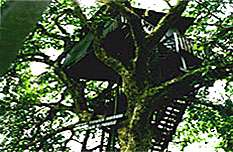 1 to 2 hours by boat from Manaus, Brazil
Bill Gates and Susan Sarandon are among VIPs who have signed up for this Tarzan adventure. It starts with a boat trip on the Amazon to a lush compound in the jungle treetops. Then come some "exotic and bizarre" activities to brag about back home - fishing for piranha and watching alligators. Two-night packages start at about $300 per person, including meals and excursions. Call (888) 462-7428 or visit ariautowers.com or ariauamazontowers.com.
Elfin Treehouse
Chiloquin, Oregon
Bring your own bed linens to this rustic retreat about 35 miles from Crater Lake. "It's for people who enjoy camping, but instead of being in a tent on the ground, you're in the air." Nightly rates are a budget-friendly $27 for two. (541) 783-2697 or www.gatheringlight.com.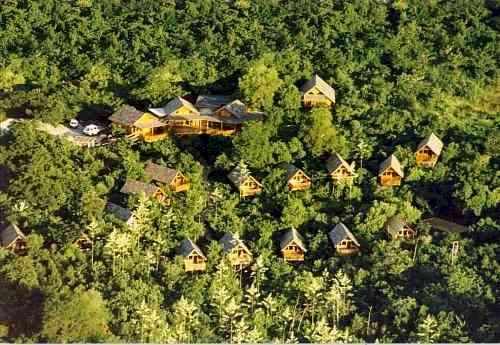 Only a few minutes from St-Denis, St-Paul, Le Port, and St-Gilles, Village Nature Lodge
(Roche Tamarin) occupies an ideal spot on the route to the most beautiful beaches of the island.
Village Nature Lodge
The island of Réunion
Sophisticated travelers from all continents adore this French outpost in the Indian Ocean. Rustic-chic elevated wooden bungalows run about $60 a night. 011 (262) 447-087 or villagenature.com.
Fur 'n' Feathers Rainforest Tree Houses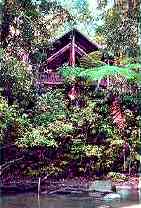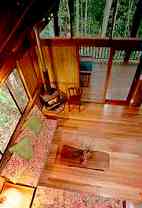 Tarzali, Australia
Nestled in rain forest a 1 1/2-hour drive from Cairns are five multistory houses in the timber. These aren't your granddad's treehouses - there are fireplaces, TVs, "even your own washing machine and dryer. This is going back to nature for people who like the luxuries of home." Rates: from $112 for two, including peeks at the resident kangaroos. 011 (617) 409-65364 or www.rainforesttreehouses.com.au.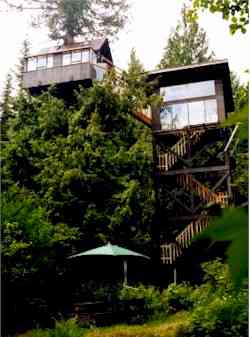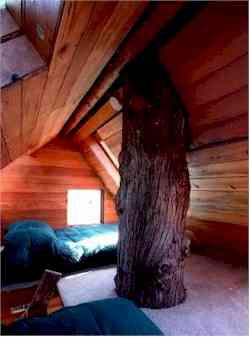 Near Mt Ranier: The two-level aerie of Cedar Creek Treehouse
Cedar Creek Treehouse at Mount Rainier
near Ashford, Washington
"It's like having your own state park for the weekend - except that your cabin is 50 feet up in a giant cedar tree with a view of Mount Rainier from your bed." The two-level aerie, near Mount Rainier National Park, is reached by a 77-step staircase; it's $200 nightly for two. (360) 569-2991 or www.cedarcreektreehouse.com.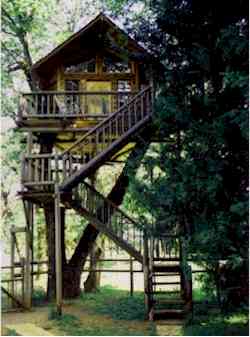 Peacock Perch at Out 'n About
Out 'n' About Treesort
near Cave Junction, Oregon
"Treesort" aptly describes the labyrinth of roosts, all with fridges, some with toilets, a few connected by suspension bridges. The complex "has the amenities, plus the typical things you'd do at a resort," such as hiking and horseback riding. Doubles start at $90; breakfast included. (800) 200-5484 or www.treehouses.com.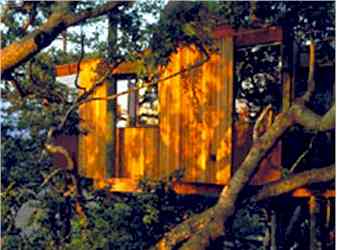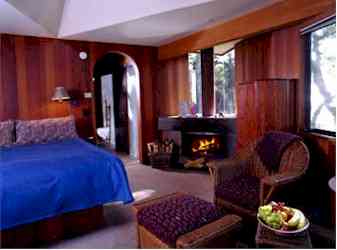 Post Ranch Inn: triangular rooms built 9 feet off the ground
Post Ranch Inn Tree Houses
Big Sur, California
The Post Ranch Inn is a favored hideaway of got-bucks vacationers who appreciate splendor in the wild - good food, wine, restorative massages and yoga classes. "I've heard someone say it was one of the most romantic places they'd ever been to." Accommodations include seven tree houses with fireplaces and private baths. The $655 daily tariff covers breakfast and activities for two. (800) 527-2200 or www.postranchinn.com.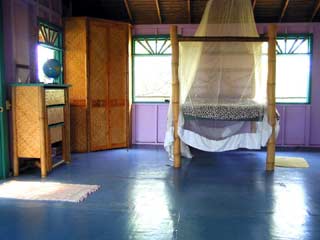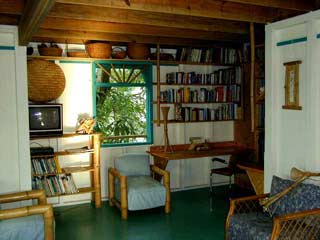 Tropical Treehouse: bedroom and "library"
Tropical Treehouse
Rincón, Puerto Rico
Surfers crave the waves on the west coast of Puerto Rico - "a great location." Those looking for something other than a beach hotel might consider this 5-bed tree house stocked with TV, VCR and microwave and filled with "designer bamboo furniture." Rates run $800 to $950 a week. Nicole at (787) 823-5839 or (787) 209-5905 (cell) or rinconnicole@yahoo.com. Website at www.tropical-treehouse.com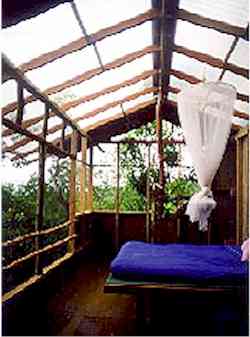 "Treetops" in Hawaii has 1,000 sq ft on 3 levels
Tree Houses of Hawaii
near Hana, Maui
Staying in lei country can mean tourist-infested anthill hotels. On Maui's uncrowded east side, "these are real tree houses in a real jungle." Doubles at the rustic retreat run $75 to $100. (808) 248-7241 or treehousesofhawaii.com.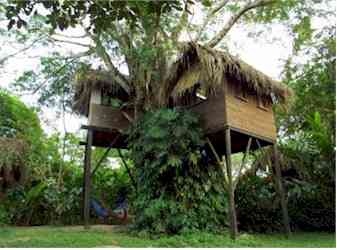 Just outside Bullet Tree Falls - parrots abound along with
caves, archeological sites, jungle walks, medicine trails, butterfly farms
Parrot Nest Lodge
near San Ignacio, Belize
Bunking in a thatched hut overhung by a 100-foot guanacaste tree is "a unique experience." Just $25 nightly for two also buys vistas of bright-coloured parrots in this tropical paradise south of Mexico's Yucatan Peninsula. 011 (501) 9-37008 or parrot-nest.com.
Source: USA Today Friday 20 July 2001; colour photos from the individual sites

For more on the unusual: events, abilities, means of self-expression, houses, conditions, people, luck, narrow escapes, resemblances, facts, diversions, heroism and more - click the "Up" button below to take you to the Index page for this Odds and Oddities section.