Come Ride with Me
Mountainbikers' Heaven
A bicycle does get you there and more.
And there is always the thin edge of danger to keep you alert and comfortably apprehensive.
Dogs become dogs again and snap at your raincoat; potholes become personal. And getting there is all the fun.
- Bill Emerson

Marriage is a wonderful invention: then again, so is a bicycle repair kit.
- Billy Connolly

When I was a kid I used to pray every night for a new bicycle.
Then I realised that the Lord doesn't work that way so I stole one and asked Him to forgive me.
- Emo Philips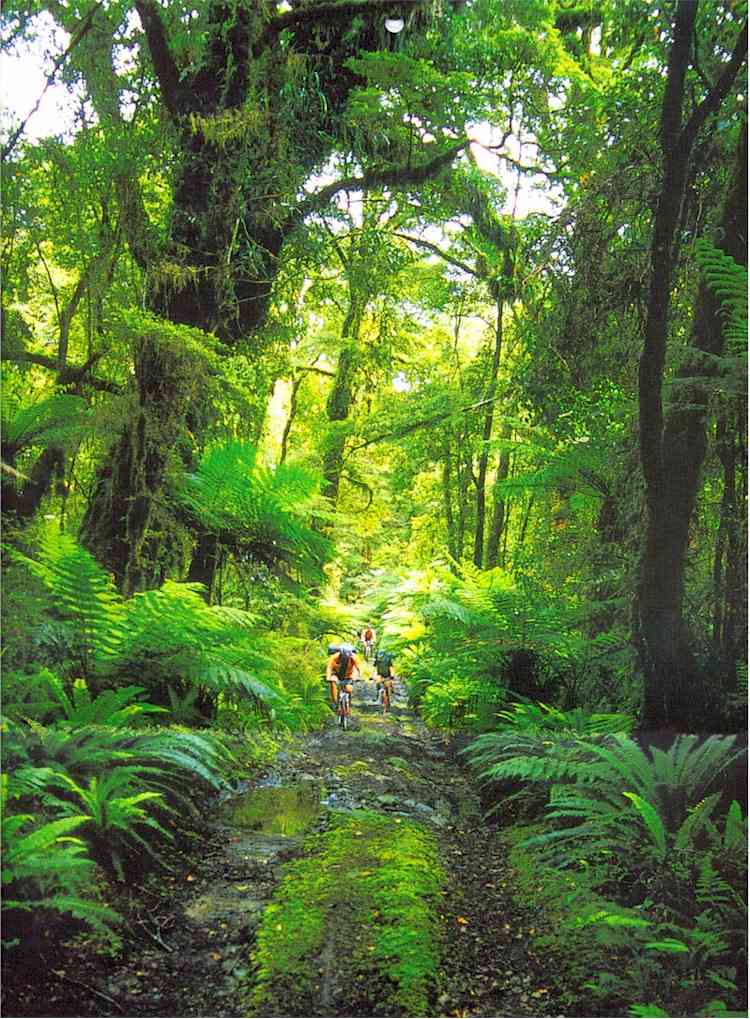 Barn Bay Track - Haast
Source: New Zealand Mountainbike 2001 Calendar images by David Mitchell, 45 Port Hills Road, Christchurch NZ. David may be contacted at mtbmitch@paradise.net.nz

There was an old man who always rode his bike to his brother's house every weekend. It took him 2 hours and he always made it by there by 2pm. But one day he tried to make it in 1 hour. He collapsed on a hill from exhaustion. Presently, a Corvette pulled up and the driver asked if he needed a ride. The man looked at his watch and saw he was likely to be late to his brother's. But the Corvette already had a passenger. "How?" he asked.
"No problem," said the man in the Corvette. "I've got a rope in the back and we'll tie your bike to the back bumper and you can ride it." (Monstrously stupid idea, but this is only a joke.) The man said, "Okay!" amd they took off. The driver yelled back, "Just yell BEEP BEEP if I'm going too fast." "No problem." the man thought.
They came to an Intersection and a Ferrari pulled up. The cyclist's eyes widened in fright. Sure enough, the light changed and THEY WE'RE OFF!
The cyclist made it to his brother's on time - and, by the way, the Corvette lost...
Meanwhile, at the local police department, a traffic cop said, "Hey guys! The weirdest thing just happened to me. A Ferrari and a 'Vette just lost me at over 120 miles per hour on Main Street."
"What's so weird about that?" asked the other cops.
The first cop said, "Well, there was this old guy on a bike right behind them screaming BEEP BEEP and trying to pass!"

Glory as Britain Scoops World Extreme Ironing Championships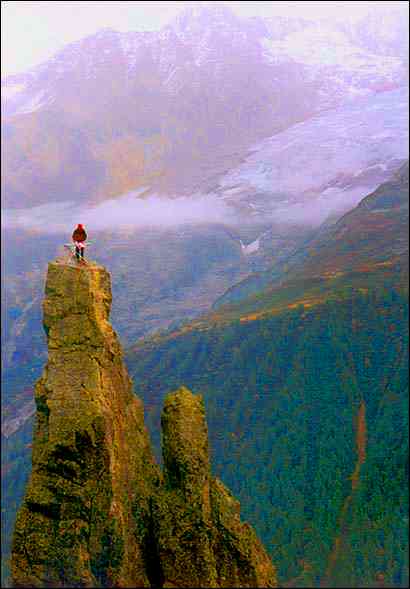 Iron Man Stumpy takes title at 5,500 feet
Britain has won the World Extreme Ironing Championships - from the top of an Alpine mountain.
The all-British team of four won the competition by ironing at an altitude of 5,500 feet in the Chamonix Valley in the French Alps.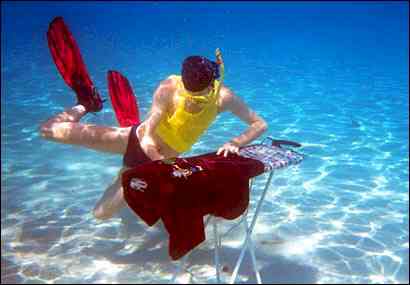 German underwater attempt not extreme enough
The spoof sport is growing in popularity and is aimed as a parody of popular 'extreme' sports. Britain fought off tough competition from the Germans. Sportsmen and women must attempt to iron in the most extreme conditions, combining the dangers of 'adrenaline' sports with the satisfaction of pressed linen.
Britain's intrepid team of four based in Leicester scaled 5,500 feet for the world's first ascent with ironing board and iron of the Aiguillette d'Argentiere in Chamonix. Iron Man Stumpy proudly unfolded his board and began ironing the team's towels when he reached the summit.
"We're delighted to win the competition," said Iron Man Stumpy. "It was quite an achievement to iron at such a high altitude - a world first as far as I am aware."
The British team beat extreme ironists from all over the globe. Runners up included a German competitor ironing whilst snorkeling in Malta and a pair of South Africans combining ironing and BMX bicycle racing. The founding father of extreme ironing, Phil 'Steam' Shaw added, "We were really impressed by the standard of entries we received."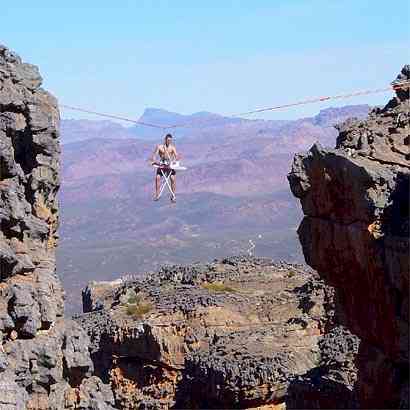 Troye Wallett and photographer Gordon Forbes submitted the winning entry
in the Rowenta Trophy 2003 Extreme Ironing photo competition.
For further information visit: extremeironing.com
Source: ananova.com Friday 9 November 2001, ananova.com Wednesday 21 May 2003

Extreme Ironing: Adding New Wrinkles To an Age-Old Chore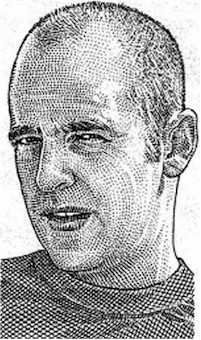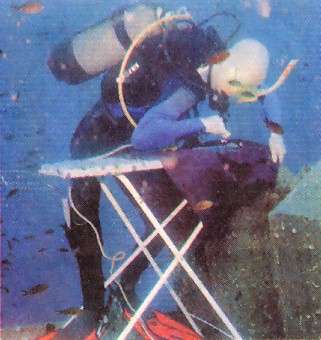 Philip Shaw, Louise Trewavas
by Cassell Bryan-Low
Enthusiasts Press Duds While Climbing, Diving; Photo Op in a Frozen Lake
Philip Shaw is giving new meaning to the term Ironman. The 29-year-old British technology consultant is the founder of a small, thriving underground of "extreme ironing" enthusiasts. They iron their laundry while rock-climbing, sailing, skydiving, or pursuing other risky sports.
In the last six years, extreme-ironing clubs have sprung up from Chile to South Africa. There's been a world championship in Germany, an expedition to the top of Mount Kilimanjaro and an ironing session under the frozen ice of a Wisconsin quarry. Extreme ironing is the subject of a forthcoming British book of photographs and a television documentary that first ran in December on Britain's Channel 4.
Mr Shaw dreamed it up in 1997 when he was living in the English town of Leicester and working in a knitwear factory. He came home from work one evening to face a pile of ironing. He thought he'd rather be out climbing rocks. So he started doing both at the same time. Then, while visiting New Zealand for New Year's Eve 1999, he met some German backpackers. They took quickly to his idea and set up a sister organisation and launched a website. German enthusiasts have since ironed on tree branches, in the snow and in the street. A group of Austrians then followed suit with their own website, as have others in Australia, Croatia and Iceland.
In September last year, the German Extreme Ironing Section held the first world championships in Valley, a small village near Munich. A German contestant, Inga "Hot Pants" Kosak, beat 80 contestants from 10 countries to win first prize in the individual event. Before crowds of cheering locals, contestants had to run a course, stopping for a bit of ironing at several stations along the way - in trees and in streams, for instance. Points were awarded for speed and ironing style. Each station had a different garment to be pressed - a shirt, boxer shorts, a tea towel. For the forest and water-based stations, contestants used cordless irons, "with mixed success," says Mr Shaw, because "they weren't as hot as real irons." For other stations, electric irons were plugged into outlets for several minutes and then unplugged for use in the activity. "A decent iron has plenty of retained heat to iron a shirt," Mr Shaw says. Most extreme ironers care more about getting a good picture than getting the wrinkles out.
Troye Wallett, a physician, was part of a South African team that took first place in an extreme-ironing photo competition Mr Shaw organised earlier this year. Their winning entry was a snapshot of Mr Wallett suspended from a rope tied across a 100-foot-wide gorge. Securing the board and iron to his body, he clipped himself in a sling to the rope and pulled himself out over the gully. The judges "liked the idea of me hanging out like apiece of washing."
Last year, the sport caught the attention of David Jeanson, a marketing manager for irons at Rowenta, a subsidiary of French appliance-maker Seb Group SA. He contacted Mr Shaw and ended up sponsoring the British squad in the world championships - paying for travel, team T-shirts, irons and the recent photo competition. "Basically, people hate ironing," says Mr Jeanson. "It was new to find something humorous about ironing." Despite permanent-press fabrics, 42% of American consumers iron at least once a week, and the majority of them spend from 30 minutes to 90 minutes at it, according to Applica Consumer Products Incorporated, a Miami Lakes, Florida, company that manufacturers irons under the Black & Decker brand.
This year, Anton Van De Venter, a 27-year old South African, claimed the record for extreme ironing at high altitude by doing it at the 20,000-foot summit of Tanzania's Mount Kilimanjaro. He posed naked for photographs while ironing his national flag at 32°F. A member of his group had died of altitude sickness halfway through the 6-day climb. But the team carried on, reaching the summit on August 14, and raising $2,000 for Yokhuselo, a charity offering shelter to abused women and children.
This year, Ian Mitchell, a Briton with a penchant for dangerous sports, brought the trend to the US. At a flooded quarry in Wisconsin in March, the 35-year-old sawed a hole in the ice and descended into the freezing waters in a vulcanized rubber dry suit, with air tank and fins. A Black & Decker Quick 'n' Easy 410 in hand, he ironed a shirt against the underside of the ice while a photographer friend accompanying him on the dive recorded the event. A computer programmer by trade, he says: "1 do this kind of offbeat thing because I stare at a screen all day."
In April, Louise Trewavas and another diver braved a roughly 1,100-foot-deep dive near Dahab, Egypt, an internationally renowned dive destination. Ms Trewavas, a 38-year-old website editor for the British magazine Diver, set up her ironing board in the sand and posed for the camera with T-shirt and a locally purchased iron, covered in Arabic writing and gold. The reaction from diving traditionalists was mixed. To those who take themselves too seriously, she says, the combination of ironing and diving "is a terrible affront."
Source: The Wall Street Journal 1 October 2003 underwater photo New Holland Publishers

Aussies Break Underwater Ironing Record 2004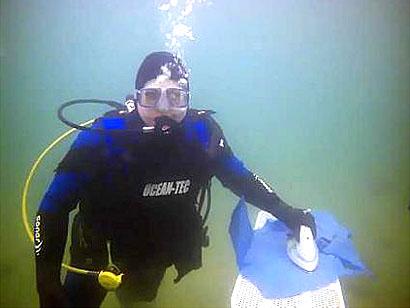 An Australian diving club has claimed a world record in the extreme sport of underwater ironing. Some 43 members of Melbourne's Bay City Scuba Diving Club ironed in 10ft of water in Port Phillip Bay. Club spokesman Alan Igoe said the 25 minute dive, using cold non-electric irons, also raised £250 for charity. "We always try to do something to get our members diving after the winter break, but this gained momentum and took off as a chase for a world record," he said.
Extremeironing.com confirmed the Australian divers had snatched a 6-week-old record from a 16-strong New Zealand group of ironists. Underwater extreme ironing was invented by German extreme ironist, Iron Lung, when he took his iron and board into the Mediterranean sea off Majorca in 2001. Extreme ironing founder, Steam, says: "I never realised how competitive the Aussie ironists were - as soon as the Kiwis took the record, they were there."
Source: ananova.com

If You Can't Do Extreme Ironing, How about Extreme Ironing Boarding?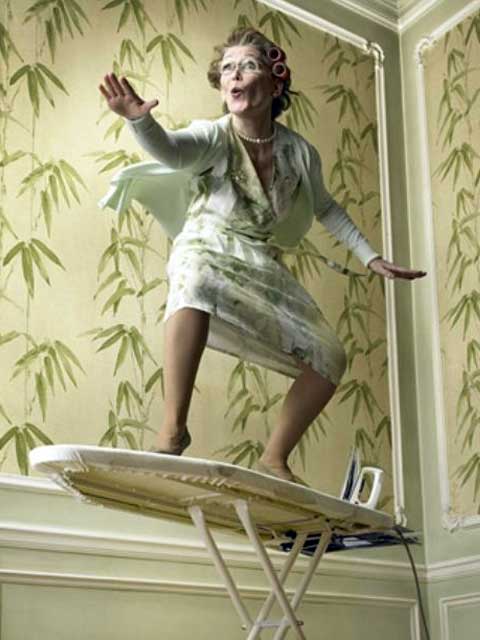 For more on the unusual: events, abilities, means of self-expression, houses, conditions, people, luck, narrow escapes, resemblances, facts, diversions, heroism and more - click the "Up" button below to take you to the Index page for this Odds and Oddities section.