Life Is a Challenge
Bump Lets Lisa See
The Pied Piper enjoyed people enjoying themselves. He was colorblind and race-blind and religion-blind.
- Hank Greenberg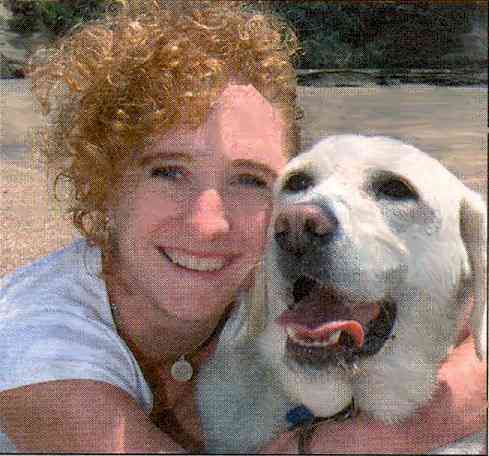 Cancer stole Lisa Reid's sight a decade ago. A bump on the head gave it back. The 24-year-old Aucklander has miraculously regained partial vision after knocking her head, confounding doctors who said she would never see again. Eleven days ago, Miss Reid bent to kiss her guide dog goodnight, but collided with a coffee table. When she woke the next morning she could see for the first time in 10 years.
"I woke up and wow, the colours," said Miss Reid, who now has 80% vision in her left eye. She saw her boyfriend of two months for the first time 8 days ago, along with most of her close friends. Her brother had changed from a 12-year-old boy into a man.
"It's almost too much to take in, I'm so excited. It's fantastic, amazing, unbelievable," she said. The cancer that robbed Miss Reid of her sight was diagnosed 13 years ago. Doctors gave her a 5% chance of survival after discovering a big brain tumour. Radiology and an operation to remove the cancer were successful, but the tumour had already damaged her eyes, cutting off blood and putting pressure on her optic nerves.
Miss Reid was declared legally and permanently blind at 14, her eyes able to detect only light and dark. "Everything was against me, but hey, I'm a stubborn old redhead," she said.
Auckland Hospital eye surgeon Ross McKay said Miss Reid had regained 80% vision in her left eye, but her colour vision was limited. He had no explanation for her recovery and had never encountered a similar case in 25 years as an eye specialist. He could not say whether her sight would be permanent. "For some reason she's got her sight back, and don't ask me for an explanation, because I don't have one," he said.
When Miss Reid discovered her sight on November 17, she kept it to herself for a few hours, content to play with her guide dog Ami in the back yard of her home in Devonport, on the North Shore. Later in the day she contacted her family, reading a health warning from a cigarette package to her mum over the telephone. "Lisa called me and said 'there's been a change, listen to this'," Louise Reid, Miss Reid's mother, said. "Then she started reading to me. I was completely blown away." Unsure if her sight would last, Miss Reid waited till the next day before throwing away her walking cane and spreading the news.
She could not identify her friends by sight when they first arrived on her doorstep to celebrate. - NZPA
Source: The Dominion Monday 27 November 2000 Photo credit NZ Herald

Sorrow Behind Miracle Woman's Joy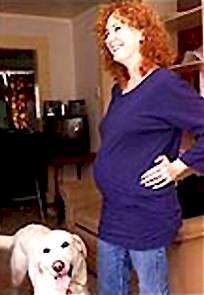 Medical miracle, former anorexic, cancer survivor, international celebrity, fiancée, and mum-to-be of a baby girl - Lisa Reid's 25 years of life have seen it all.
And on Tuesday, when 6000 copies of her story, Angel Eyes, hit bookshop shelves across New Zealand and Australia, the woman who miraculously regained her sight last November after 10 years of darkness will be making more revelations. Included are the abortion last year that haunted her, her husband-to-be's battle with amphetamine addiction, rape at a teenage party, almost starving to death, the pain caused by her father's abandonment of the family - and the overwhelming joy that consumes every waking moment.
Ms Reid was chatty and outgoing at the modest Devonport home she shares with her fiancé, 34-year-old builder Ron Williams, his 13-year-old daughter, Anji, and her beloved guide dog, Ami. But she admits to some nerves about her warts-and-all tale and wonders if the admiring public reaction she's enjoyed since her story broke might swing in a different direction.
The book reveals for the first time an event she described as the most traumatic in her life, "worse than being blind" - the abortion in July last year of a baby she felt was a girl, and whom she named Jessica Rose. Ms Reid fell pregnant to a "Mr Wrong", she said, and abortion was the only answer. In her book, she admits that as the world was marvelling over the 80% sight she had gained in her left eye, her heart was breaking for her lost child. To add to her distraction, Mr Williams was in drug rehabilitation in Auckland.
The book also tells of the breach between Ms Reid and her father. It is two years at least since she has spoken to him; at least 13 since they have met. The only person with whom he made contact after Ms Reid's story broke was her mother, Louise. "I'll always love him but it's not possible for him to be part of my life," said Ms Reid.
But she sees her life's hardships as something of a blessing, and is considering studying counselling. "I'm not the only one who's experienced everything that I've been through," she says, "but I've experienced all of these things because I've been one of the few people in the world chosen ... to be able to teach people and share with people. What I really want to teach people is not to judge. Every situation is different, even if it looks the same on the surface."
Ms Reid regained her sight after leaning down to kiss her dog goodnight, and banging her head on a coffee table. Although this medical miracle hasn't been explained, she accepts it might not last forever. Last week she had a migraine - this one, for the first time, delivered spectacular visual disturbances.
Another concern is that giving birth might place dangerous pressure on her brain, where the tumour that caused her blindness was excised so long ago. But she remains unworried: "If my vision went, just like that, I would continue to feel gifted and happy because I would still have experienced a miracle - and still have a special experience to share with everyone."
Source: nzherald.co.nz 2 September 2001; photo credit Kenny Rodger

Guide Dog Recovers after Violent Attack
by Nikki Carmichael
A partially sighted Belmont woman is playing nurse to her guide dog Ami after she was savaged by another dog. Lisa Reid's Ami has puncture wounds and is traumatised after the attack on 25 January when a neighbour's dog smashed through a window to attack her. Three people fought off the bull terrier cross with handbags, shopping bags, fists and a hose. The attacker's owners had the dog destroyed immediately after the incident.
Lisa, 28, and Ami have been together for 6 years. Ami was present when Lisa gave birth to daughter Maddison Ami Williams at North Shore Hospital in 2001. She says had last month's attack happened when she was totally blind, things would have been much worse. Ami didn't have her harness on as she got out of the family car in their driveway after being out shopping with Lisa's mum Louise. Ami went to greet a neighbour in a house near her own, when the bull terrier cross crashed through the window and attacked. Lisa and her mum struck the dog repeatedly, but it wouldn't let go. Someone turned a hose on it and its jaws were then wrenched open.
"Ami was screaming I've never heard a dog scream like that, it's not a yelp, but a scream," says Lisa.
Since the incident Ami won't get out of the car when they come back from the supermarket and although her wounds will heal she has psychological problems which need help. Lisa learned it was not the first time the bull terrier has attacked. It had previously attacked another dog across the street in an incident witnessed by two young children. Lisa says she is sick of dog owners not being responsible for their pets. She says owning a dog is much like having a child and you have to be responsible. The solo mum says Ami, who is eight in May, is a bit of a wimp and would not hurt anyone or anything.
posted by Ginger Bennett
gbennett@att.net
"To think that one small dog could stand for so much in the life of a human being, not only in his usual role of companion but as his eyes..." Dorothy Eustis, Saturday Evening Post, 1927
Happy 75th Anniversary to The Seeing Eye!
Source: nfbnet.org Friday 6 February 2004 originally from stuff.co.nz/stuff/sundaystartimes (no longer available)

Blind Leading the Blind
Have you ever stopped to think just what it must be like to be blind?
In Fiji there are still people who laugh at the blind. There are those who have no pity for people with physical handicaps.
Stop for a minute, close your eyes. Try to walk to the door. It's not easy is it? Imagine. Some people live in that world every day.
In Paris the public is being given the chance to find out what it's like to be blind. The Paris Videothèque has attempted to recreate the world as it is experienced by blind people: a circuit in which the blind are the guides and those temporarily deprived of their sight become the handicapped. "Dark/Noir" as the project is called also aims to show how the other senses - touch, hearing, smell and taste - acquire more acuity when the eyes become redundant. Visitors go through a curtain into the "kingdom of darkness".
The blackness is total; similar to an underground cave when the lights go out, nothing can be distinguished. A voice welcomes the small group tempted by the experience of "dialogue in the dark," an idea devised by Andreas Heinecke of the Frankfurt Foundation for the Blind.
The guide is called Gilles. He is blind, and it is his job to reassure and help those who find it difficult to cope. Anxiety and surprise are constant without the eyes to warn of what is coming. The visitor makes unsteady progress using a stick in one hand to scan the ground ahead for bumps while using the other to feel for larger obstacles and try to identify the object he has collided with. Many who have been round the circuit said they were continually afraid of falling into the void.
When sight is lost, touch and hearing are mobilised to compensate. In the garden it is the birdsong that captures the attention or the babbling sound of a stream nearby. Sounds gain in intensity in the all-encompassing darkness. The circuit begins in the garden. The visitors shuffle, trip and bang into each other, clutch at things around them, suddenly realising they are holding somebody else. After a mumbled "sorry" they turn away only to hit another person. Or was it a tree?
Gilles takes his charges into a room where he says there are sculptures. Visitors examine them probing and stroking the shapes, slightly embarrassed at the thought of what they might be caressing. Next comes a street recreated for real with the roar of traffic and noises coming from all sides. "This is only a quiet street believe me," says Gilles.
For the non-initiated the cacophony of vehicle engines, road works and jet aircraft overhead seems an odd sort of tranquility. What a really busy street must sound like defies the imagination.
To get over their fright, visitors are taken into a "cafe" complete with all the noises of glasses chinking and chatter. At the bar counter they order drinks from a blind barmaid. The final test is paying and being able to recognise the coins and count the change. The Videothèque also offers "dinners in the darkness" where diners often have difficulty recognising what they are eating, or short music concerts and braille reading sessions all in the dark. Not surprisingly, it is much easier to concentrate on what is being performed.
Towards the end of the tour, Gilles, who is 28, explains that he lost his sight gradually as a result of disease. "Two years ago" I realised one day that I could no longer see at all," he said. Gilles was critical of those with sight saying they made no effort to understand the problems of blind people.
Now the visitors can distinguish a faint glow that grows stronger as they make for the exit. When they emerge into the sunlight, they see Gilles for the first time with his dark glasses and white stick.
"Goodbye," he says, before returning into the world of darkness. - AFP
Source: The Fiji Times sometime in mid-1994

Dining in the Dark
Lights Out As Swiss Diners Get a Taste of Blindness
Zurich - A blind clergyman who raised funds to open a restaurant dedicated to making the sighted realise what it is like to be blind has created the quirkiest catering success of the year in Switzerland.
The 60-seat Blind Cow restaurant in Zurich, staffed by the blind and run in total darkness, has become so popular that it is booked out for dinner till next June. The Rev Jorge Spielmann, 37, is now being urged to open branches throughout Switzerland. The idea for the Blind Cow - whose name is the Swiss version of blind man's buff - began in his home, where he sometimes used to blindfold dinner guests. "They said it made them concentrate on the food and made them listen to the conversation around them," he said. Together with four blind colleagues he raised money from businesses and the city council to open the Blind Cow late last year in a redundant Lutheran church.
In the Blind Cow, which features simple German cuisine, waiters wear bells on their feet so that they can be heard as they move. They lead diners to tables like lines of blinded soldiers after a World War I gas attack - each with a hand on the shoulder of the person in front.
Smoking is banned. So are torches and even luminous watches. The only concession to the seeing guests is lights in the toilets.
Restaurant manager Andrian Schaffner said: "When you eat blind you sometimes have to be a bit of a caveman. Many blind people prefer to pick up a piece of meat and gnaw on it because that's easier than using a knife. Many sighted people join in." The blind date is a concept that has taken off in a big way at the Blind Cow. Several dating agencies arrange for people to meet in the total darkness of the restaurant. Later, if they find they are still keen on their prospective partners, they can show themselves in the light.
Mr Spielmann said: "Being blind is not about not having fun. We just want people to experience our world on our terms. It seems people like it - although we wouldn't wish blindness on anyone." - Daily Telegraph
Source: The Dominion Wednesday 13 December 2000

How Does an Invisible Meal Taste?
An unusual restaurant has opened in Berlin. Visitors of Unsicht-Bar (an invisible bar as translated from German) are offered their meals to eat with their eyes closed. Owners of the restaurant say they are trying to encourage diners to concentrate on senses other than eyesight.
Blindfolds are put on the eyes of restaurant guests, who are served (perhaps unsurprisingly) by blind waiters. Restaurant staff includes 30 people, 22 of whom are blind. There is no exact menu - guests are not offered selections of particular dishes but are instead quizzed about their gustatory passions: whether they most wish meat, fish or vegetables.
The restaurant was opened by the Organisation of the Blind (which includes people with very poor eyesight). Chairman of the organisation, Manfred Sharbah, says the organisers wanted people to use their senses of smell, touch and taste under rather unusual conditions. "People are surprised to find out that their gustatory receptors send the same signals to the brain that their eyes traditionally do," he said.
Source: funreports.com 6 September 2002

Now a new restaurant is opening in London - "Dans Le Noir" (In The Dark). The proprietor, Edouard de Broglie, already has a successful restaurant of this type in Paris. He thinks it's a perfect way to "savour food." (It saves on his utilitiy bills as well...) Most patrons opt for the "surprise" menu. De Broglie says that people tend to talk to each other (and nearby neighbours) more in the dark.

Blind Actors Perform in Pitch Dark Theatre
A troupe of blind actors is performing a new play in a pitch-dark theatre in Buenos Aires. Their production, The Desert Island, is the surprise hit of the season in the Argentine capital. The theatre is located in an unlit basement where the audience must be led to seats. Sound effects and smells are used to help overcome the fact that nobody can see anything.
"Everyone goes out with a different play in mind," director José Menchaca told Clarin newspaper.
Source: ananova.com Ananova Monday 23 September 2002

For more on the unusual: events, abilities, means of self-expression, houses, conditions, people, luck, narrow escapes, resemblances, facts, diversions, heroism and more - click the "Up" button below to take you to the Index page of Contents for this Odds and Oddities section.