Affairs of State
It's a Fact!
Manhattan is a narrow island off the coast of New Jersey devoted to the pursuit of lunch.
- Raymond Sokolov

Condensed History
New Jersey was inhabited by the Lenni-Lenape when the first Europeans arrived. An Italian sea captain named Giovanni da Verrazano (for whom the Narrows and bridge are named) was probably the first European to see the coast of New Jersey in 1524. In 1614, the Dutch explorer Cornelius Mey (for whom Cape May, the southern tip of the state is named) sailed into the mouth of the Delaware River and built a tiny fort. The Dutch claimed a huge tract of land that included parts of New York and New Jersey and called the area New Netherland. In 1664, British soldiers marched in and took control. King Charles II of England gave much of the former New Netherland to his brother, James, Duke of York. The English named that region and principal city - you guessed it - New York. James transferred the southern portion to two friends, John Berkeley and Sir George Carteret. Carteret had once served as governor of Jersey, an island in the English Channel. In honour of Carteret's service to the crown, the southern region of New Netherland was renamed New jersey. For the first 40 years, New Jersey was divided into two halves, West Jersey (capital Burlington) and East Jersey (capital Perth Amboy). The two halves were united by England in 1702. As early as 1740 New Jersey had more miles of roadway than any other colony. They mainly connected Philadelphia with New York - in only two days. By 1830 the trip had been reduced to only one day. New Jersey declared statehood on 2 July 1776 - two days before any of the other colonies. Trenton became the capital in 1790. New Jersey became the last state in the Northeast to free slaves in 1804 as it had more slaves than any other Northern state.
Source: New Jersey by R Conrad Stein 1998

State Facts about New Jersey
Note: There's no state song in the list below. There have been numerous attempts to come up with a state song in the last century - in 1940, 1954, 1970 and finally in 1996. Out of the 50 states, New Jersey is the ONLY state which does not have a state song. There are three songs that are contenders. The .mp3's are, all together, about 5 meg, so I've put them on a separate page (the next page in this section) along with a few facts about the situation. You can vote on your favourite...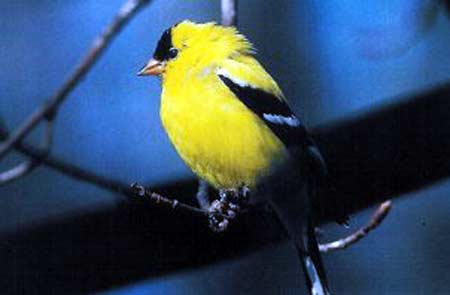 Eastern Goldfinch
| | |
| --- | --- |
| State Name: | State of New Jersey |
| Statehood: | Admitted to the Union: 18 December 1787 |
| Nickname: | Garden State |
| State Capital: | Trenton (1790) |
| State Motto: | Liberty and Prosperity (1928) |
| State Flower: | Common Meadow Violet (also called Purple Violet) |
| State Bird: | Eastern Goldfinch (1935) |
| State Tree: | Red Oak |
| State Memorial Tree: | Dogwood |
| State Insect: | Honeybee (1974) |
| State Animal: | Horse (1977) |
| State Fish: | Brook Trout (1991) |
| State Colours: | Buff and Blue |
| State Dinosaur: | Hadrosaurus (1991) (go figure) |
| State Shell: | Knobbed whelk |
| State Folk Dance: | Square dance (why bother?) |
| State Fair: | Cherry Hill in August |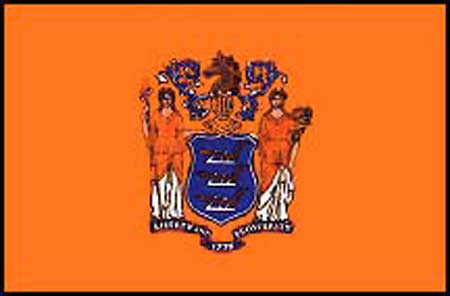 State Flag
Products - Some of New Jersey's crops are cranberries, tomatoes, and blueberries. Washington Crossing is one of their National Parks - the one where George Washington crossed the Delaware River on Christmas night in 1776. Most Eastern Goldfinches live in New Jersey. The red oak (state tree) grows 60 to 80 feet tall. The violet has a lovely purple blossom - the New Jersey Garden Club picked it as the state flower because it was pretty (not because it was native to New Jersey). New Jersey's most attractive animal is the horse that roams all over America - it has more race horses than Kentucky, the most diners in the in the world and 7 major shopping malls in a 25-mile-radius.
See also:

Pupils Get Blueberry Named State Fruit
Florida has the orange, Georgia has a peach and now New Jersey has the blueberry as its official fruit.
Last year fourth grade students at Veterans Memorial Elementary School in the town of Brick found the state had no official fruit. After debating which fruit best reflected New Jersey, the students settling on the blueberry, introduced their idea as legislation and lobbied for it. On Monday Governor James McGreevey accepted their recommendation and selected the blueberry as the state's fruit.
"With New Jersey being the birthplace of the cultivated blueberry, it is very fitting that the blueberry be named the official state fruit," Agriculture Secretary Charles Kuperus said in a statement.
Blueberries were first cultivated in the Garden State in 1916, by Elizabeth White, whose father owned a cranberry plantation. The Garden State now grows 22% of the nation's blueberries, a ranking that puts in second among all berry-producing states. Some 42 million pounds of blueberries were harvested in New Jersey in 2002, which were worth nearly $47 million. Michigan produces the most of the cultivated variety while Maine is the largest producer of the wild variety.
Source: reuters.com Tuesday 13 January 2004

Don't Call Tomato a Fruit in New Jersey
Trenton, New Jersey - The humble tomato may technically be a fruit, but lawmakers here consider it a vegetable. Members of the Assembly Agriculture and Natural Resources Committee on Monday approved a measure designating the Jersey tomato as the official state vegetable. A similar proposal is pending in a Senate committee.
Sponsors of the measure get around the fact that the tomato is considered a fruit by using a century-old US Supreme Court ruling that slapped a vegetable tariff on tomatoes, similar to the tax placed on cucumbers, squashes and beans. In squeezing tomatoes into the vegetable category, justices on the 1887 high court reasoned that if it's typically served with dinner, and not as a dessert, it must be a vegetable.
"Botanically it's a fruit, legally it's a vegetable," said Senator Ellen Karcher, who is co-sponsoring the Senate version of the bill. "Any of these bills that promote statewide pride is something we should embrace." The Jersey tomato's ride through the Legislature began after a group of 4th-graders wrote letters urging lawmakers to adopt a state fruit. The beloved blueberry won out, and it - not the tomato - took its place last year as the official state fruit. There currently is no official state vegetable in the Garden State.
Source: story.news.yahoo.com Tuesday 8 March 2005

Tourist Slogan Search Bars Sarcasm
New Jersey, trying to overcome its reputation for corruption, traffic and toxic waste dumps, has rejected dozens of sardonic and sarcastic entries in a contest for a new tourist slogan. A list of 5 possible slogans released yesterday leaves out "New Jersey: We can always use another relative on the payroll," and "Come to New Jersey: It's not as bad as it smells."
Voters get to pick the winner in the competition launched after Governor Richard Codey nixed "New Jersey: We'll Win You Over," created by a consultant who was paid $US260,000 ($NZ380,000). "It makes me think of when I was young and single and asked a girl out," Codey said in a statement. "She turned me down. I said, 'Give me a chance, I'll win you over.'"
Nearly 7,800 entries were submitted to promote a state not widely known for its pristine countryside and sun-soaked beaches. The 5 finalists are: "New Jersey: Expect the Unexpected," "New Jersey: Love at First Sight," "New Jersey: Come See for Yourself," "New Jersey: The Real Deal" and "New Jersey: The Best Kept Secret." Voters in the Garden State have until January 1 to make their selection.
Source: stuff.co.nz 23 December 2005

"New Jersey: We'll Win You Over" was the pick of everyone in my family. I'm not sure what Governor Codey's problem is.
By the way, I now suspect that New Jersey is called the "Garden State" because it is right next door to populous New York City - before the advent of cheap energy for trucking food as well as pumping water, NYC got its produce from next door (from the garden state), before the advent of Interstate highways and national trucking networks...

State Trivia
Highest population density in the US: 1,134.5 persons per square mile
Highest percent urban population in the US: with nearly 90% of the people living in an urban area
Home to: the headquarters of the Boy Scouts of America
Densest system of highways and railroads in the US (see Complex Highway Interchanges)
Commonly known as: "the diner capital of the world"
Home of Thomas Edison and his inventions: incandescent light bulb, phonograph, and motion picture projector (Menlo Park)
First Drive-In Movie Theatre: opened in Camden
New Jersey is home to the Statue of Liberty and Ellis Island! (I'll bet you didn't know that.)
First submarine ride: Passaic River, Paterson, 1878 by inventor John P Holland
First tunnel built under a river: the Holland Tunnel under the Hudson River.
First solid-body electric guitar: invented in Mahwah by Les Paul in 1940
Largest chemical producing state in the nation. (Don't make a joke, please.)
Home to the Miss America pageant: held in Atlantic City, it has the longest boardwalk in the world
Known for its production of: eggplant, cranberries, blueberries and tomatoes
First organised game of baseball: played in Hoboken, 1846
First intercollegiate football game: Rutgers College (now Rutgers University) played Princeton, 1869
First electrical telegraph: by Samuel F B Morse in Morristown in 1837
First city fully illuminated by electric street light: Roselle, 1882
First electric sewing machine: by the Singer Company in Elizabeth, 1889
First vacuum tube: by Lee de Forest of Jersey City, 1907
First air conditioner: by Willis Carrier, Newark, 1911
First transistor: Bell Laboratories, Murray Hill, 1947
Inventors of the Band-Aid: The three brothers Johnson, founders of the Johnson & Johnson Company
First seaplane: built in Keyport
First radio station: broadcast from Paterson
Tallest water tower in the world: Union (beat that!)

Famous Natives
Bud Abbott & Lou Costello, comedians
Harriet Adams, writer of Nancy Drew books under the pen name Carolyn Keene
Edwin Aldrin, astronaut
Count Basie, big band leader
Judy Blume, novelist
Jon Bon Jovi, musician
Elias Budinot - first US President (in a way)
Aaron Burr, statesman
Grover Cleveland, US president
James Fenimore Cooper, novelist
Tom Cruise, actor
Danny DeVito, actor
Allen Ginsberg, poet
William Frederick Halsey Jr, admiral
Whitney Houston, vocalist
Ernie Kovaks, comedian
Queen Latifah, actress
Jerry Lewis, comedian
Anne Morrow Lindbergh, author, wife of aviator Charles Lindbergh
Norman Mailer, novelist
Jack Nicholson, actor
Richard Nixon, US president
Joe Pesci, actor
Dorothy Parker, author
Paul Robeson, actor, vocalist and activist
Caesar Romero, actor
Carl Sagan, writer, astronomer
Ruth St Denis, choreographer
Susan Sarandon, actress
Antonin Scalia, Supreme Court Justice
H Norman Schwarzkopf, General
Paul Simon, composer, singer, performer
Frank Sinatra, vocalist and actor
Kevin Spacey, actor
Bruce Springsteen, musician and storyteller
Meryl Streep, actress
John Travolta, actor
Sarah Vaughan, vocalist
Dionne Warwick, vocalist
William Carlos Williams, physician and poet
Bruce Willis, actor
Thomas Woodrow Wilson, US president
Source: New Jersey State Road Atlas Hagstrom Map Company 2001 and New Jersey by R Conrad Stein, 1998

-------- Original Message --------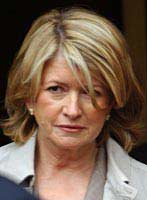 Subject:Other
Date: 22 Jul 2005 16:27:55 -0000
To: ruth@flatrock.org.nz
This message was posted via the Feedback form.
Name: Kimberly Cline
Email: kimberly.cline@astrazeneca.com
Phone: 302 886 4170
Comments: Wasn't Martha Stewart born in NJ? It is not on your site!!!
Reply:
Why, yes. Thanks.

During the Great Depression, families entertained themselves at home because they could not afford movie tickets. With this thought in mind, an out-of-work salesman named Charles Darrow dreamed up the board game Monopoly in 1933. Darrow named properties such as Park Place and Ventnor Avenue after streets in his favourite vacation spot: Atlantic City, New Jersey. Shortly after its introduction, Monopoly was America's favourite game. When Atlantic City leaders attempted to rename Baltic and Mediterranean Avenues in 1973, Monopoly-lovers shouted out their anger. The city dropped its plans.
Source: New Jersey by R Conrad Stein, 1998

Census Quick Facts
| | | |
| --- | --- | --- |
| People | New Jersey | USA |
| Population 2000 | 8,414,350 | 281,421,906 |
| Population % change 1990 - 2000 | 8.6% | 13.1% |
| White persons % 2000(a) | 72.6% | 75.1% |
| Black or African American % 2000(a) | 13.6% | 12.3% |
| Native American persons % 2000(a) | 0.2% | 0.9% |
| Asian persons % 2000(a) | 5.7% | 3.6% |
| Native Hawaiian/Pacific Is. % 2000(a) | 0.0% | 0.1% |
| Some other race % 2000 | 5.4% | 5.5% |
| Two or more races % 2000 | 2.5% | 2.4% |
| Persons under 18 yrs old % 2000 | 24.8% | 25.7% |
| Hispanic or Latino origin % 2000(b) | 13.3% | 12.5% |
| Homeownership rate 2000 | 65.6% | 66.2% |
| Households 2000 | 3,064,645 | 105,480,101 |
| Persons per household 2000 | 2.68 | 2.59 |
| Family households 2000 | 2,154,539 | 71,787,347 |
| | | |
| --- | --- | --- |
| Business | | |
| Private non-farm w/ paid empls 1998 | 230,860 | 6,941,822 |
| Private non-farm employment 1998 | 3,368,365 | 108,117,731 |
| % change 1990 - 1998 | 4.6% | 15.7% |
| Nonemployer establishments 1997 | 457,920 | 15,439,609 |
| Retail sales 1997 (in $ thousands) | $79,914,892 | $2,460,886,012 |
| Retail sales per capita 1997 | $9,922 | $9,190 |
| Building permits for housing units | 31,976 | 1,663,533 |
| Federal funds & grants 1999 ('000s) | $40,397,603 | $1,516,775,001 |
| Local govt employment fulltime 1997 | 298,363 | 10,227,429 |
| | | |
| --- | --- | --- |
| Geography | | |
| Land area 2000 (in square miles) | 7,417 | 3,537,441 |
| Persons per square mile 2000 | 1,134.5 | 79.6 |
Notes:
(a) includes persons reporting only one race
(b) Hispanics may be of any race, so they are included in applicable race categories
Sources include the US Census Bureau's State and County QuickFacts. Data derived from Population Estimates, 2000 Census Population and Housing, 1990 Census of Population and Housing, County Business Patterns, Building Permits, Consolidated Federal Funds Report, 1997 Census of Governments.
Source: The Best of New Jersey Friday 15 June 2001

You Know You're from New Jersey When:
by Angela Marra
| | |
| --- | --- |
| | You don't think of fruit when people mention "the Oranges". |
| | A good breakfast is a hard roll with butter. |
| | You've known the way to Seaside since you were able to talk. |
| | When you go to Seaside, you're going "down the shore", not "to the shore". |
| | The Jets/Giants game has started many a fight at your school and/or local bar. |
| | You know that this is the only "New..." state that doesn't require a "New" to identify itself - that is, Hampshire and York can't stand on their own. |
| | You live within 20 minutes of at least three different shopping malls. |
| | You know at least 8 or 9 guys named Tony. |
| | You start planning for Memorial Day in February. |
| | You've never, ever pumped your own gas. |
Source: The Youngtown Edition (County College of Morris) 7 April 2004
-------- Original Message --------
Subject: Other
Date: 27 Jan 2006 17:20:58 -0000
To: ruth@flatrock.org.nz
This message was posted via the Feedback form.
Name: N. Brittin
Email: purplefox1970@yahoo.com
Comments: Most of what is listed above generally only applies to the portion of the state north of Trenton or what we in South Jersey think of as New York. We also will state we're from South Jersey when asked where we're from. There are still bumper stickers available "South Jersey: the Secret State" from a movement several years back to separate from North Jersey.
Yours is a strange and wonderful site.

Why, thanks...

Did You Know...
| | |
| --- | --- |
| | That the New Jersey State House is the second oldest state house in use in the United States. What is the oldest? |
| | That a part of the original 1792 State House still exists today. Where is it? |
| | That two of New Jersey's three branches of government have offices in the State House. What are they? |
| | That real 23 karat gold is used to cover the State House dome. How much gold is needed for one layer? |
| | That the State House originally housed the State Museum and State Library. Where are these buildings now? |
* * * * * * Answers * * * * * *

The Maryland State House in Annapolis was built in 1772, and is still the meeting site for that state's Legislature.

A portion of the original 1792 structure is still in use as part of the Governor's offices.

The legislative and executive branches both have offices in the State House.

It takes only 11 ounces of gold leafing to cover the State House dome.

The State Library and State Museum are now in separate buildings located next to the State House Annex, to the west of the State House.
Source: Produced by the Office of Public Information, Office of Legislative Services, State House, CN-068, Trenton, NJ 08625-006

The next page in this section contains three mp3 files (current contenders for New Jersey's state song) and is approximately 5 meg in size. If you are navigating through this site and lack a fast connection, you may wish to skip to the page following that one, Complex Highway Interchanges.

For more articles on New Jersey including facts, census data, complex highway interchanges, photos, transit plans, politicians, geology, canals, regions, governance, flora and fauna click the "Up" button below to take you to the Index page for this section.