4,000 Years of History
Santorini
Every island in the Aegean Sea is full of graves and traces of a vast prehistoric empire.
- James Theodore Bent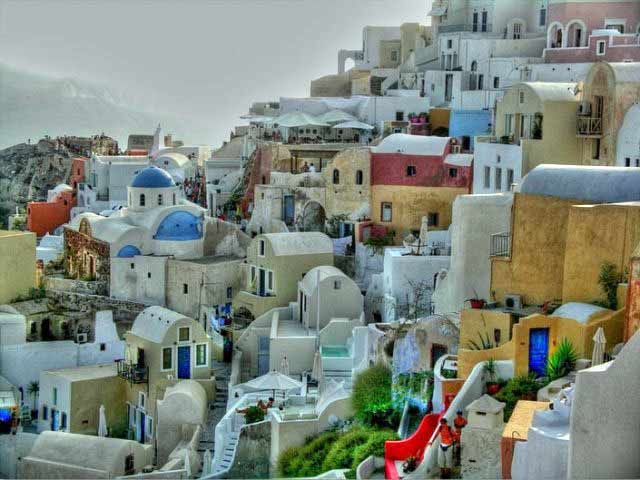 The village of Oia © Antonio Saponaro 8 April 2007 Source: npocto-kpacota.livejournal.com
The houses are separated only by paved alleys
Santorini (Saint Irene), the southernmost member of the Cyclades group of islands, is located in the southern Aegean Sea about 130 nautical miles (200 kilometres) from Athens. It has a 4,000-year-old history. It was created by a volcano and the black beaches and steeps cliffs which surround the caldera and its twisted colourful rocks give it a distinction that sets it apart.
The island of Thera, the best-known Minoan civilisation outside Crete, once graced the centre of the caldera, but it sank in a massive explosion sometime during the period 1650 - 1450 BC. The eruption is thought to have also destroyed the Minoan civilisation on Crete by sweeping it away with a powerful tsunami. Local legend has it that this event is responsible for tales of Atlantis. In the Theran ruins have been discovered intricate pipe systems indicating the Therans had both hot and cold running water (the hot water likely coming from a steam vent) and even toilets and a sewer system - the first known occurrence. Before the eruption, the caldera formed a nearly-continuous ring, with only one small opening.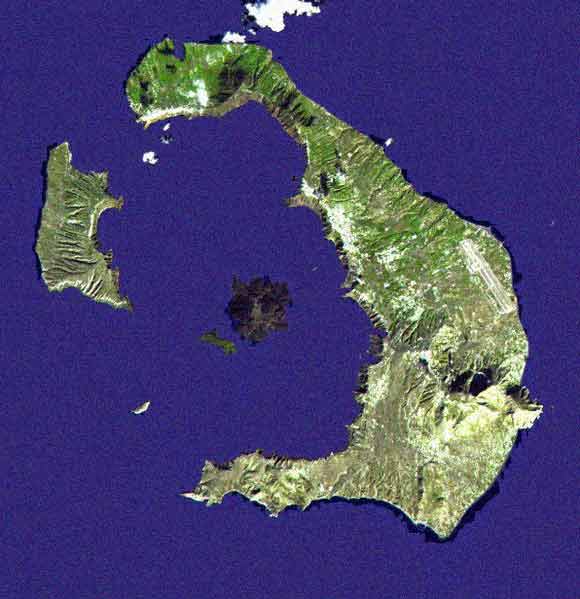 Landsat satellite view Source: en.wikipedia.org
The caldera's is quite deep - 300 to 400 metres - and has a surface area of about 45 square kilometres. It merges with the sea in two places, thus making it a spectacular safe harbour. The islands of Palea Kameni and Nea Kameni are today found in the centre of the caldera. They boast hot mud springs and contain beautiful rock formations.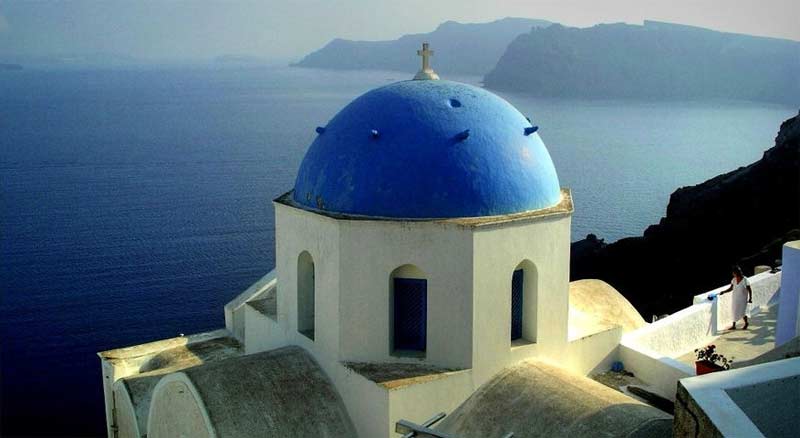 A typical church
Santorini received its current name from the Venetians in the 13th century. It was annexed by the Greeks in 1912. Today, about 14,000 people live on the island. Fira is the capital city.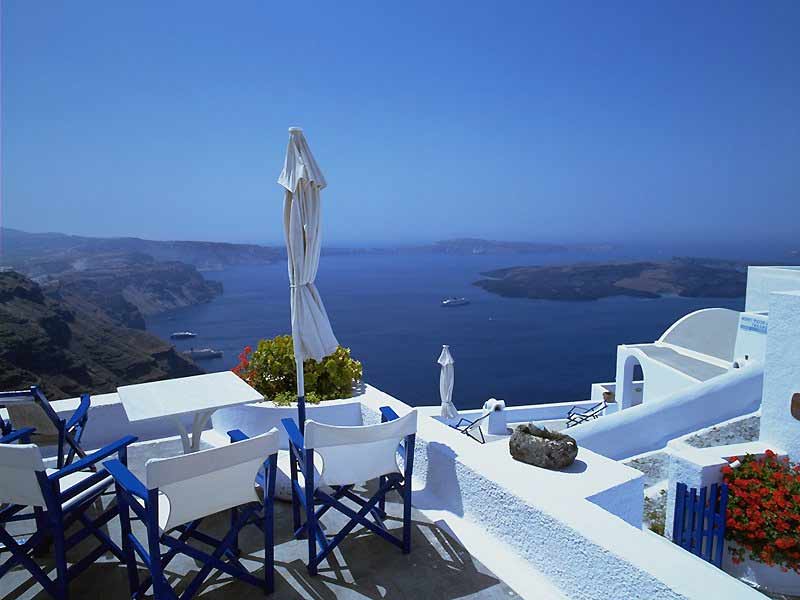 Looking down and out, Source: frogview.com
In 2006, Santorini was picked by Travel and Leisure as the best European Island. It has legendary nightlife (tourism is the main industry) - and cats everywhere, though water is scarce as there are no rivers and few springs on the island.

For more articles relating to Money, Politics and Law including globalisation, tax avoidance, consumerism, credit cards, spending, contracts, trust, stocks, fraud, eugenics and more click the "Up" button below to take you to the page on "How Many Countries in the World?" Clicking "Up" from there will take you to the Index for this section.