The Most Indebted Nation in the World
Beach Life: A Preview of the New Man-Made Island in the Seychelles
I feel we are all islands - in a common sea.
- Anne Morrow Lindbergh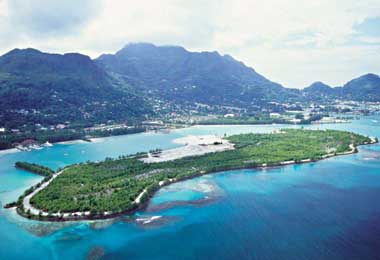 The Seychelles are now a viable option for a holiday home.
by Graham Norwood
Anyone fancy a holiday home in the Seychelles? A new artificial island is shaping up to sell the dream for the price of a London bedsit.
Until recently the Seychelles was best known as a sun-kissed holiday destination - just ask the Blairs, Brad Pitt and Paul McCartney, who have all spent summers there in recent years, or Roman Abramovich, who moors one of his super-yacht there. Now you can buy a place there, too.
The 115 Seychelles islands, each individually small but spread over no less than 530,000 square miles of the Indian Ocean, are famed for their beautiful green hills and blue seas. Just 82,000 residents - four-fifths of them living on the main island, Mahé - work mostly in agriculture or tourism and no one lives far from some of the world's best beaches. Now the 116th island is shaping up as a holiday-home destination. Originally created at the same time as a nearby airport, the island, now called Eden, lies just off Mahé. Around 95 acres of reclaimed land, created by technology developed in Dubai, has become the first area on the Seychelles where foreigners can buy at market prices.
Until the existence of Eden, foreigners could buy only if they struck complicated high-value one-off financial deals with the islands' government. Few took the opportunity - the author Wilbur Smith was one who did, although his 22-acre private estate, complete with a quarter of a mile of coastline, is currently for sale, should you have a spare £3.25m. For those with more modest budgets, Eden's homes will be built in a New Orleans-style Creole architecture, each water-facing and some with their own small private beach. Prices start from a relatively low £155,000, although the largest villas will hit £1.15m. Service charges are likely to be around £2.25 per square metre each month and there will be leasing costs for the mooring.
This new, 116th island is the only part of the Seychelles where property is designated as freehold - a move undertaken to attract buyers from Britain and South Africa, where leasehold is seen as a less reliable ownership status. Eden is also the first formal marina on the Seychelles. Each of the 470 apartments, townhouses and villas, the first of which will be completed and ready for occupation in spring 2007 with the rest being constructed over the next 5 years, will have its own personal mooring as well as nearby off-shore deep-water facilities for large yachts.
"So far we've attracted South Africans - they've been holidaying here for decades - as well as Australians and Scandinavians. We've had Russians, too, with mega-money," explains Annelize Lubbe, the scheme's architect. There will be 24-hour security on this gated island, and ownership confers residency rights. This means no capital gains tax is payable on profits when you eventually sell up. Sporting facilities for residents will include tennis and squash courts, a gymnasium, swimming pools, restaurants and bars. But if you want a taste of the real Seychelles you will need to leave Eden.
Instead, head for any of the less populated islands and you will see immediately why the Seychelles is now selling property to foreign buyers in a bid to earn hard currency. Although undeniably beautiful and relatively rich by African standards, the country is the most indebted nation in the world, according to the World Bank, and has a thriving black market. Foreigners get a better exchange rate selling hard currency on a beach than in an official bureau de change, and GDP figures for the country show a continuing decline since 2000.
Against that context, is it wise for a Briton to buy there? If the purchase is purely a holiday home, then the answer is yes. Eden Island, for example, is overcoming the absence of good communications and shopping and the arrival of the Four Seasons resort, and with others expected, will also lift the level of service and facilities. But if the purchase is mainly for investment, the jury is still out.
There will be a rental pool for Eden Island owners more interested in making money than baking in the heat. Yields are expected to be about 6% for owners who let out for 25 weeks of the year. But the cost and ease of getting that income out of the country is unclear. There is also a question mark over how strong the country's tourist economy can be without more flights, from Europe in particular. But, with prices from £155,000 - roughly the same as an average house in Portsmouth - it might be a bargain. See www.edenisland.sc or www.savills.co.uk.
A
B

uyer's

G

uide to the Seychelles
| | |
| --- | --- |
| | Very wealthy buyers enter into financial deals with the government allowing them to buy on the main islands in return for investing. |
| | Mere financial mortals are restricted to Eden Island (with similar resorts to follow soon) where they pay a 10% deposit on apartments and the rest on completion, while larger properties involve making phased payments during construction. |
| | Buyers are entitled to residency - meaning no capital-gains tax or estate duty payable by the seller on re-sale. |
| | An owner may not sell without giving the developer first right to re-acquire at market value. |
| | All future buyers of the property must pay 6.5% stamp duty. |
Source: money.independent.co.uk 18 October 2006

For more articles relating to Money, Politics and Law including globalisation, tax avoidance, consumerism, credit cards, spending, contracts, trust, stocks, fraud, eugenics and more click the "Up" button below to take you to the page on "How Many Countries in the World?" Clicking "Up" from there will take you to the Index for this section.