This Is the Ultimate Luxury
The Home Front
To err is dysfunctional, to forgive co-dependent.

- Berton Averre


Ideal Home for Dysfunctional Families?

Urban theorist James Howard Kunstler, author of The Geography of Nowhere and other books on suburbia, says big open plans and communal designs run counter to a traditional sign of status, the ability to keep others out. "Privacy is the ultimate luxury," he says.

The new "closed door" policy of building homes, some designers say, appeals to people who marry and have children later, and who are accustomed to having time to themselves. Don Evans, an Orlando, Florida architect, says he is drawing up plans more often for America's blended families. "He might be in his 50s, she might be in her 30s, and the kids could range from very young to teenagers - people want walls today," he says. "You need, separate spaces to stay married."

The extra rooms don't necessarily mean extra room. After 4 decades of annual increases in the size of the average new US home, it has remained steady at around 2,320 square feet for the past 3 years. The difference is that living rooms and other common spaces are shrinking and small rooms are multiplying.

The National Association of Home Builders, the builders' trade group, estimates that the average American living room has been squeezed to only three quarters the size it was a decade ago. The latest US Census figures show that the average household size dropped 2%, to 2.59 people, in the decade ended. in 2000. At the same time, the number of new home buyers demanding at least 4 bedrooms is up by 7% since 1990. In many cases, buyers turn the extra bedrooms into closed-off refuges for pursuits like Pilates and coin collecting.

For Larry and Susan Caruthers, a room of one's own - plus a getaway from that one - was so important they rejected 300 houses before paying $741,000 last October for a Colonial in Ashburn, Virginia. The 4,000-square-foot home has a "retreat" room off the master bedroom where Mr Caruthers watches tele­vision and a nook in the dressing area dedicated to Mrs Caruthers's sewing hobby. The 4-bedroom home also has separate bathrooms for each of the two grown Caruthers children when they visit. "We all need a little down time from each other," says Mrs Caruthers, a 51-year-old homemaker.

In their new house, Michael Coffey, a Hatfield, Massachusetts, furniture sculptor and his wife, a university archivist, have an office apiece, each on a different floor, plus 5 patios and 2 decks. It's a lot better than their old house, where they shared an office and his messiness and her neatness caused tension. Mr Coffey says being able to shut the door is one of the secrets of familial happiness. "We like our own space, our privacy, our own rooms," he says. "Everyone should have a room of one's own."

The blueprints for these fortresses of solitude are being drawn up by both mass-market developers and high-end architects. In one of its newer plans, Toll Brothers of Huntington Valley, Pennsylvania offers a room off the master bedroom that can be closed off with double doors. For a further retreat from the master bedroom, there's also a "princess suite" with its own walk-in closet and bathroom.

Greystone Homes, a division of Miami-based Lennar Corporation, also offers a master bedroom retreat plus separate study and library areas.

Cambridge, Massachusetts architect Graham Gund says some clients are now asking for "movable walls" so they can close off rooms. Mr Evans, the Orlando architect, recently designed a nearly 7,000-square-foot home with two Internet alcoves (one upstairs, one down) and a family room that's divided into a "gathering area" for talking and a "leisure" area for a pool table and other games. Upstairs, each of the 5 guest suites has its own sitting area, and there are two separate play areas.

For builders, of course, multiplying the number of walled-off spaces can be a way to claim buyers are getting more rooms for the buck. And each new enclosed area becomes a chance to bestow a fancy name. (In Mr Evans' design one of the upstairs playrooms is dubbed "the oasis.") But since home buyers still tend to gauge a house by its square footage, builders try to add special features to boost prices. In Denver, for example, Richmond American Homes charges as much as $9,000 extra to add an area off the master bedroom that includes a fireplace, a countertop for a coffee bar, niches for television and books, and a mini-refrigerator.

The approach isn't for all architects. William Sherman, chairman of the department of architecture and landscape architecture at the University of Virginia, says all the cut-up spaces make families more isolated and lonelier than ever. "People don't even gather in the same spot to watch tv anymore," Mr Sherman says. "It's sad."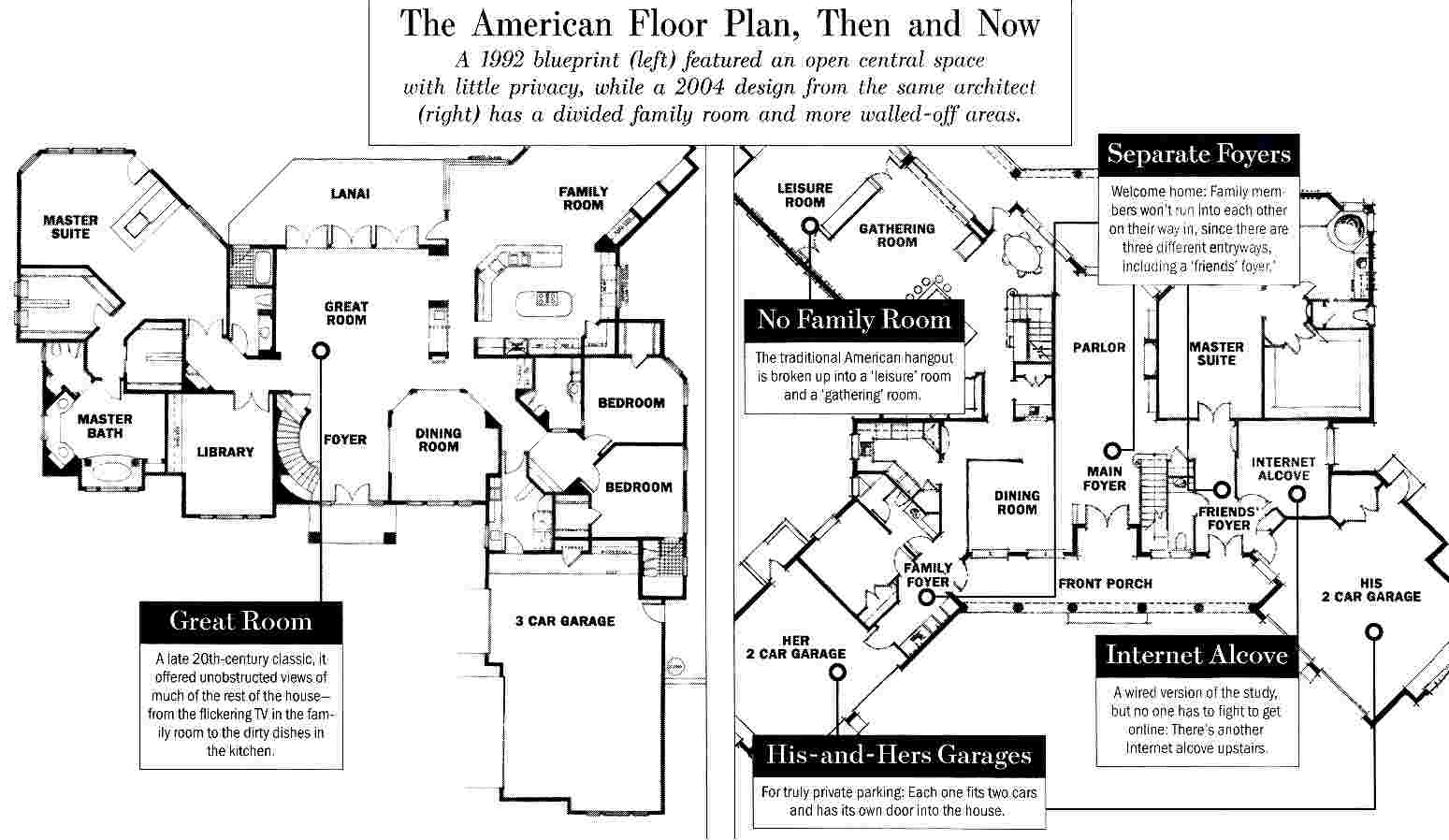 Source: The Wall Street Journal Friday 26 May 2004

For articles related to lifestyles including guns, television, extortion, hair, handbags, parenting, time bind, desserts, fitness, feasting, friends, happiness, ageing and more, click the "Up" button below to take you to the Index for this Lifestyles section.