In Your Own Back Yard
Gardens
Bad gardens copy, good gardens create, great gardens transcend.
What all great gardens have in common are their ability to pull the sensitive viewer out of him or herself
and into the garden so completely that the separate self-sense disappears entirely, and at least for a brief moment
one is ushered into a nondual and timeless awareness.
A great garden, in other words, is mystical no matter what its actual content.
- Ken Wilbur

In the Cotswolds, A "Snake in the Grass" and Other Æsthetics
Design ideas for outdoor spaces were solicited from 400 people, including architects, industrial designers and furniture makers, said Therese Lang, who with Jan Chillery organised the second annual Westonbirt International Festival of Gardens. A panel chose 14 designers and gave each $24,000 and a 2,100-square-foot work site at Westonbirt, the national arboretum, 600 acres near Tetbury, in the English Cotswolds.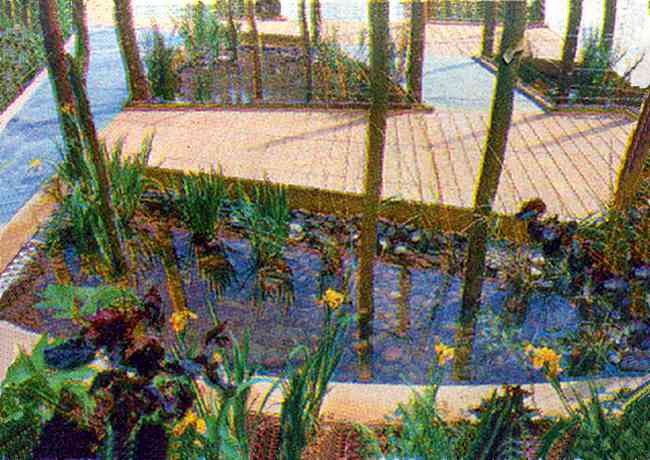 Natalie Dewsnap of London made "Outer Space," a garden that has timber and aluminium paths crossing a pond, and wire fences that, she said, symbolize the divide between man and nature.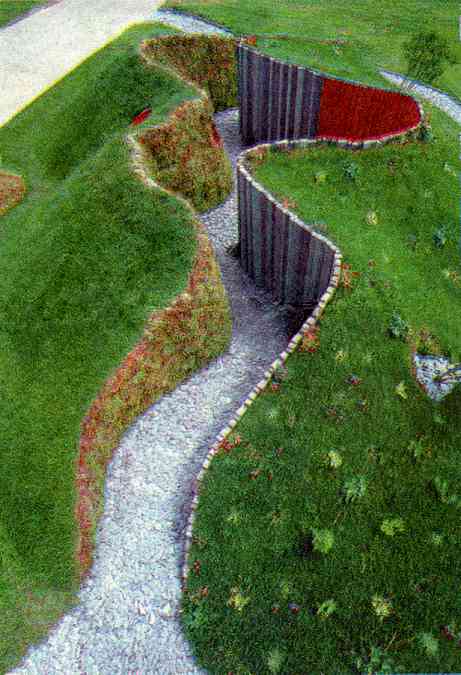 "Snake in the Grass" is by Alison Wear and Miranda Melville of London. "It means something quite unexpected - the snake in the grass that creeps up and bites you," Ms Wear said. One side of the 70-foot slither through the earth is walled with timber; the other is planted with sedum. festivalofgardens.co.uk
Source: The New York Times Thursday 24 July 2003

Oh, and If You Have the Room...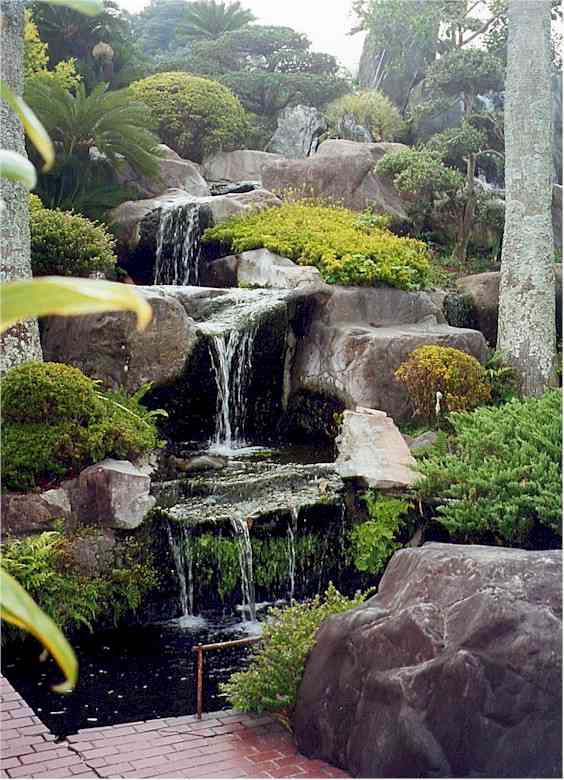 Source: kimshea.com

Oh, and If You Don't Have the Room...

Source: Balcony and Terrace Planting

For articles related to lifestyles including guns, television, extortion, hair, handbags, parenting, time bind, desserts, fitness, feasting, friends, happiness, ageing and more, click the "Up" button below to take you to the Index for this Lifestyles section.