A Tunnel 60 Miles Long
New York City Water Tunnel Number 3
Water, water, everywhere, Atlantic and Pacific. But New York City's got them beat,
Our aqua is terrific!
- Edward Koch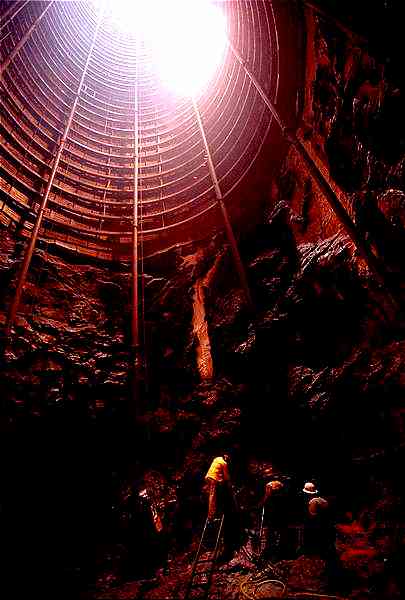 Photo by Peter Essick, Aurora, wpni01.auroraquanta.com
1999 Grand Award - Water Resources
You and 9 million of your New York neighbours need up to one and a half billion gallons of water per day. Two enormous tunnels deliver it to you, but demand is so high that the city has not been able to clean them since they were built during the Great Depression.
What do you do?
Lucky for you, engineers at Malcolm Pirnie, Incorporated of White Plains, New York, developed a solution you can drink to - they designed a third tunnel that is being dug 800 feet below the Big Apple. They fit the funnel with a one-of-a-kind, expandable valve system that allows it to be expanded during three independent phases of construction without interrupting the continuous service needed to keep the city's water flowing at its usual pace.
City Tunnel Number 3 is the largest capital construction project in the history of New York City. The activated portion of the tunnel runs 13 miles, from the Hillview reservoir in Yonkers across Central Park and under the East River and Roosevelt Island into Astoria, Queens.
The tunnel will eventually span more than 60 miles, bringing water from the Catskills. It will cost more than $5 billion. (People in the United States use up to three times as much water as the people in Europe.)
Engineers overcame enormous safety hazards in the construction of the tunnel, and developed unique protocols for robot and manned inspection in the massive, constructed shafts. They used directional drilling and provided the city's first automated chlorine residual metering system to increase the safety of the water through automatic monitoring and disinfectant dosage systems.
Source: American Council of Engineering Companies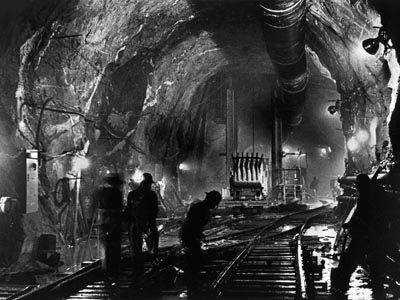 Excavation of Stage 1 of City Water Tunnel Number 3 looked like this in 1972.
Today, water filling this portion of the tunnel is serving areas of the Bronx and Manhattan.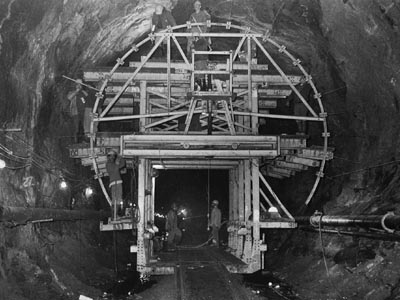 Workers take and mark measurements in Stage 1 of the tunnel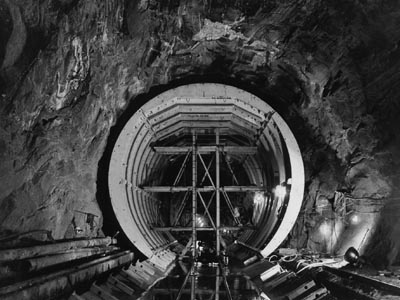 An arch is constructed to prepare the tunnel to be lined with concrete.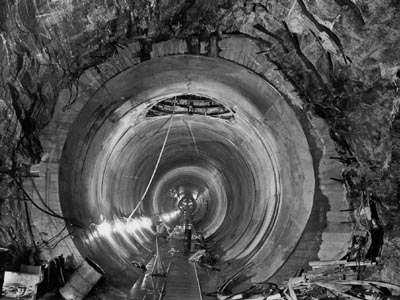 Taken in 1978, this photograph illustrates the full-circle concreting method
essential to the tunnel's construction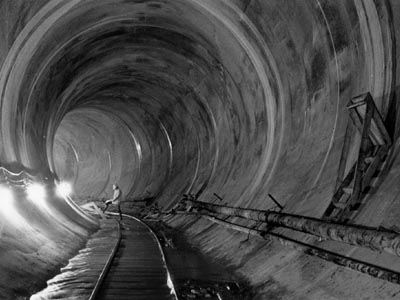 This finished section of the tunnel, which is 24 feet in diameter, is under Shaft 13B,
near the Central Park Reservoir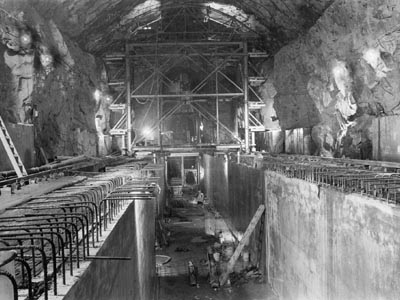 Construction in a flow control or valve chamber looked like this in August 1983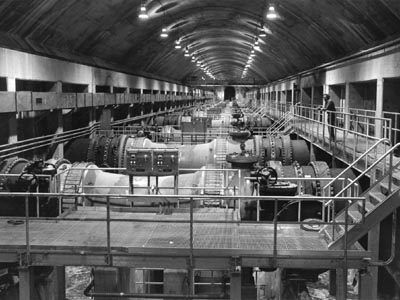 The valve chamber in Van Cortlandt Park was completed in 1990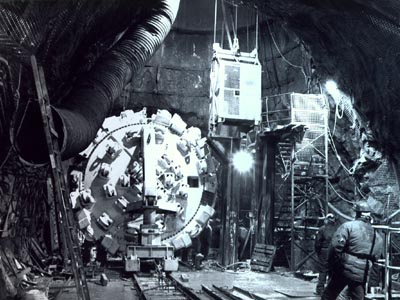 The Tunnel Boring Machine (TBM) was lowered in sections and assembled on the tunnel floor.
It chips off sections of bedrock in Stage 2 of City Water Tunnel Number 3.
The TBM's rotating steel cutting teeth replace the dynamite needed for earlier excavation.
Mayor Giuliani and Commissioner Miele activate the fountain in Jacqueline Kennedy Onassis Reservoir on 13 August 13 1998, inaugurating City Water Tunnel Number 3. Mayor Giuliani presents the Sandhogs with a ceremonial plaque bearing the names of the 24 people who lost their lives in construction-related accidents. A permanent bronze plaque will be mounted outside the Central Park Reservoir's South Gatehouse.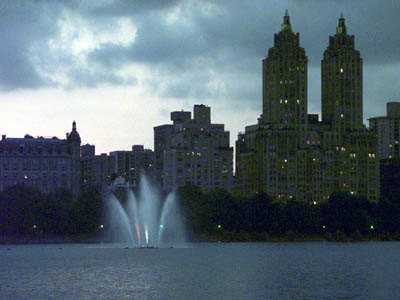 The illuminated fountain in the Reservoir in Central Park
stands as a bold symbol of City Water Tunnel Number 3.
Source: www.nyc.gov

For pages on natural disasters - including lightning strikes, volcanoes, floods, global warming and more - as well as satellite and castle photos and some great pictures of trees, clicking the "Up" button below takes you to the Table of Contents page for this Environment section.