Snow Wonder
US: Time of First Freeze in an Average Year
There are tons of people I'd like to freeze for all of eternity, but we won't go into that!
- Holly Marie Combs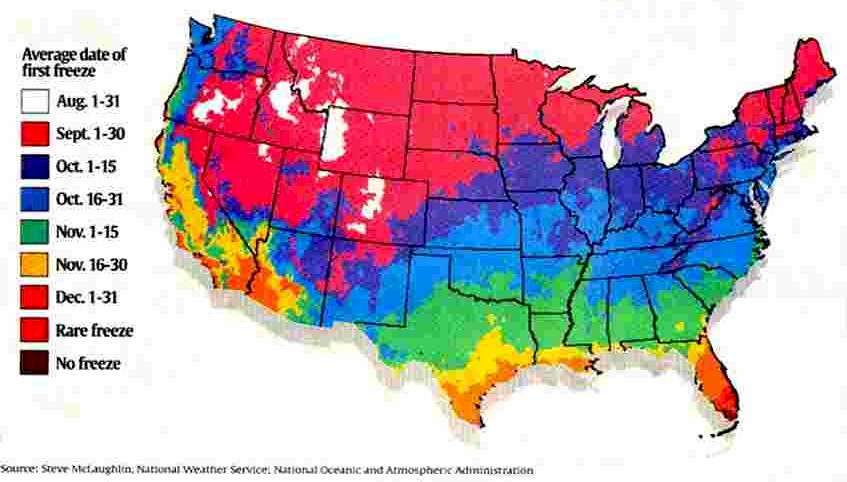 Source: USA Today Thursday 6 December 2001

At the time this map was published, downtown Buffalo and cities near the Lake Erie shore had not had a freezing temperature yet this season, although the average freeze date was more than six weeks ago. (This was their first freezeless November on record.) By 23 December, they had experienced only 1.2 inches of snow. But things have now changed...

Buffalo Cleans Up after 7-Foot Snow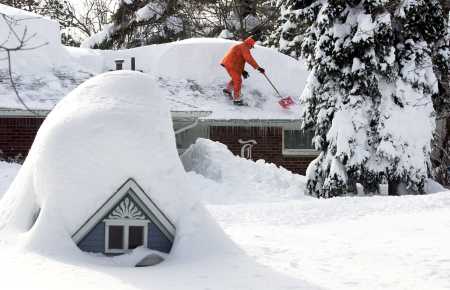 Douglas Boris removes snow from his roof in Lancaster, NY, Saturday, 29 December 2001.
A major snowstorm dumped nearly 7 feet of snow on the Buffalo area in a 5 day period.
(AP Photo/David Duprey)
by Carolyn Thompson
Buffalo, NY - The sun, not snow clouds, filled the skies over Buffalo Saturday and shed light on the mammoth task at hand - digging out from under a near 7-foot snowfall. An army of street crews hacked at thick walls of snow with payloaders. Prison inmates cleared fire hydrants and residents uncovered buried driveways and cars, shooting plumes from snowblowers and shoveling eye-level mounds.
"I've never seen snow this deep," said Dennis Myers, a landlord using a snowblower to unclog his parking lot.
A Lake Erie-fed storm dropped 82.3 inches of snow - nearly a winter's worth - in five days before blowing south to ski country Friday. It stunned even this city known for legendary snows. "Even by Buffalo's standards, it was very severe," said Mayor Tony Masiello, forced to watch the whole thing from afar when the snow kept him from returning from an out-of-town trip.
Traffic began moving again Saturday on a 75-mile stretch of the New York State Thruway closed Thursday. The Buffalo Niagara International Airport re-opened Friday evening after being snowed in much of the week. With the skies finally clear, property owners were left to assess the damage, most of it to flat roofs that buckled under the weight of the snow. An 83-year-old man was killed by a collapsing carport, one of at least three fatalities attributed to the storm. In Buffalo, a man was found dead in his car late Friday and police said he may have suffocated after seeking shelter there. A car accident killed a Lewiston woman Wednesday.
Mike Walters, Erie County's commissioner of emergency services, said most main streets were passable Saturday but city side streets were in poor shape. He worried that high winds forecast for Sunday would hinder efforts to clear them. "Some have upwards of 4 feet of snow in them," he said. "We need to be able to get fire apparatus and other emergency vehicles through them."
Assisting local crews were 119 troops and heavy equipment from the National Guard and 450 state workers, who brought with them nearly 200 pieces of equipment, Governor George Pataki's office said. With schools scheduled to re-open from Christmas break Wednesday, crews also hurried to clear parking lots. Plans went ahead for a New Year's Eve celebration centered on the arrival of the Olympic torch.
"You know, in Washington when there's two inches of snow it shuts down," said Senator Charles Schumer, Democrat-NY. "Here, there's seven feet of snow and the main roads are all plowed."
Practice makes perfect, said Masiello. "There's nobody in America who can deal with snow removal like Buffalo's street crews," he said. "We just flat out know how to deal with this. We've had a lot of practice." Many out Saturday shared the mayor's civic pride, marveling at the kindness of strangers. "Buffalo is a pretty kind place anyway. But as soon as snow hits, everyone becomes your new best friend," said Christine Collins as she shoveled out her car. "There's people that are scouting around with skis on and they call back to headquarters, they're like: 'Young woman on North Forest stuck.' And like five people come out and push you out."
While City Hall tallied overtime and contracting costs, Schumer estimated the county could spend $10 million or more on the cleanup. He joined Pataki in seeking a federal disaster declaration and financial aid. The storm still had some life in it after leaving Buffalo, the National Weather Service said. Northern Chautauqua and Cattaraugus counties - about 30 miles south of Buffalo - were bracing for weekend totals of 3 feet or more.
The storm came after two unusually mild months: the city's first-ever snowless November and 1.2 inches of snow through 23 December. Buffalo's average yearly snowfall is 93.5 inches.
Source: www.newsday.com 29 December 2001 © The Associated Press

1966 North Dakota Blizzard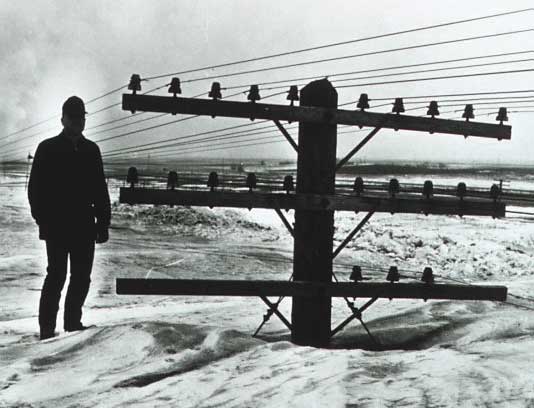 A man stands near a utility pole in North Dakota 9 March1966.
A spring blizzard produced snow so deep that it nearly buried the utility poles.
Source: www.nsidc.org from NOAA/Department of Commerce courtesy of the Historic National Weather Service Collection

Ice Storm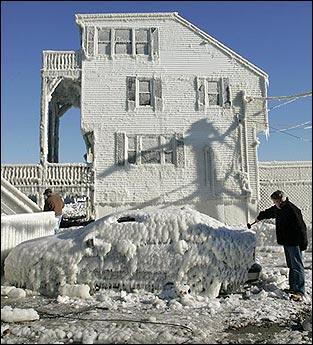 Hull, Massachusetts - John McDonald, of Quincy, uses a rubber hammer to clear ice from a friend's car.
Some residents spent Tuesday clearing ice from their homes following a blizzard that
dumped more than 3 feet of snow on some coastal towns in the state on Sunday.
Source: www.wftv.com Slideshow 25 January 2005 photo credit Associated Press

Why Would This Many People Leave Their Cars Parked in Such a Vulnerable Spot?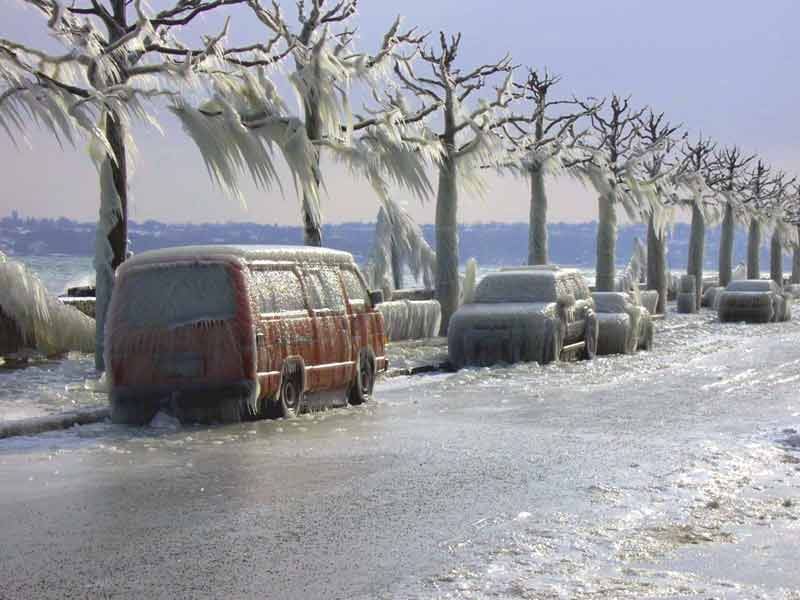 This photo was emailed to me - I haven't a clue where it was taken, nor by whom. I'd guessed Chicago - but what do I know? If you recognise the setting or know the photo's origin, please let me know! It's a stunning photo.
-------- Original Message --------
Subject: Ice Storm Pics...
Date: Wed, 30 Mar 2005 22:04:11 -0800 (PST)
From: Jeremiasz Trzaskalski <ict1523@yahoo.com>
To: ruth@chaos.net.nz
That pic is from Lake Leman in Switzerland, not Chicago. See www.snopes.com/photos
Just thought I'd share that with you since I noticed it on your web page.
-------- Original Message --------
| | |
| --- | --- |
| Subject: | Fw: Ice Storm |
| Date: | Mon, 19 Jun 2006 09:39:29 +0200 |
| From: | Reinhardt Wurzel <r.wurzel@rms-online.de> |
| To: | <ruth@chaos.net.nz> |
Hi,
Greetings from Germany.
That famous picture (cars under ice beside lake) was taken at Genfer Lake in Switzerland in February 2005.
It was the first time that something happened there like this.
Best regards
Reinhardt
Dear Jeremiasz and Reinhardt:
Whichever lake it was, THANKS!
Ruth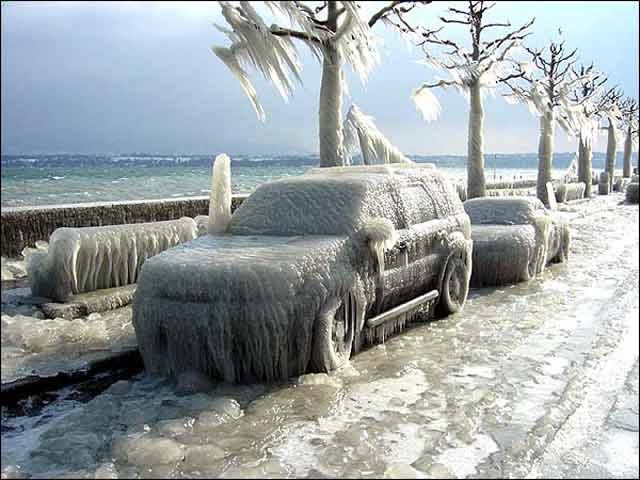 A close-up...

A Snarl in Traffic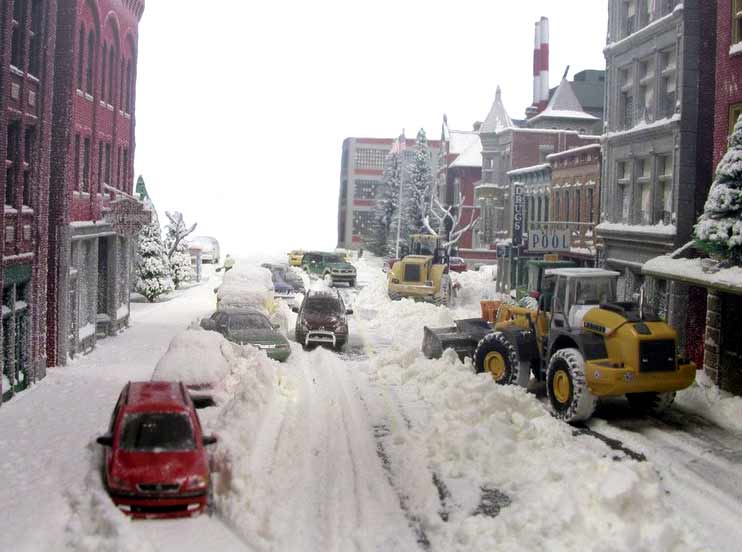 Guess where this is! Actually, the scene was created by Claude Fortin and the photo was taken by his friend Marc Aubin,
both members of a model vehicle club! The snow is made with flour.
Source: www.1-87vehicles.org 1/87 Vehicle Club, established to promote the construction, use, and manufacture of prototypically accurate vehicle and equipment models in 1/87 scale (most commonly known as the HO scale). They are incredibly good at what they do.

For pages on natural disasters - including lightning strikes, volcanoes, floods, global warming and more - as well as satellite photos and some great pictures of trees, click the "Up" button below to take you to the Table of Contents page for this Environment section.