FRFL Annual Return 1991
Return to Me
No statement should be believed...
- Robert A Heinlein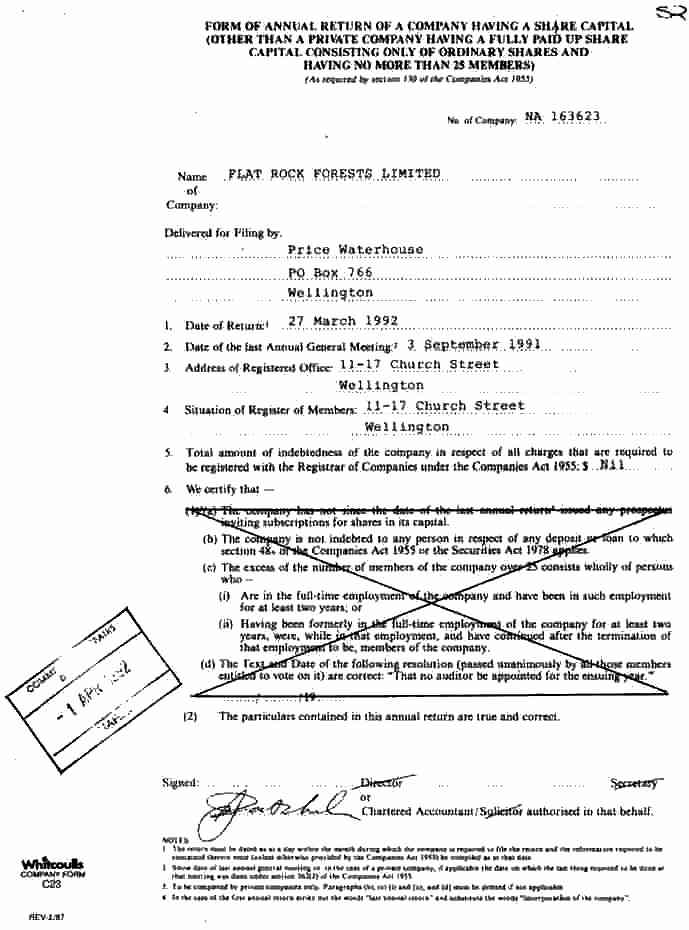 Flat Rock Forests Limited (FRFL)'s 27 March 1992 Annual Return
was delivered for filing by Price Waterhouse.
Their address was the registered office and where the register was held.

Is New Zealand so small that conflicts of interest are inevitable? I think not.

For news articles on the Flat Rock Forests Trust, forestry, the Serious Fraud Office, one immigrant family's experiences, immigration specialists, fraud, juries, logging, and more, check out the News Table of Contents. Or you may wish to visit the Forestry Trust Table of Contents to read how a unit trust went bust. Or the Topics Table of Contents which offers a different approach to lots of topics - among them poisonous insects, eating dogs, what's addictive, training vs teaching, tornados, unusual flying machines, humour, wearable computers, IQ tests, health, Y chromosomes, share options, New Jersey's positive side, oddities, ageing, burial alternatives, capital punishment, affairs, poverty, McCarthyism, the most beautiful city in the world, neverending work and more...