I Quit
De-Muirly Doing My Job
There are thousands of girls out there who could be doing my job.
- Yasmeen Ghauri

You learnt that, whatever you are doing in life, obstacles don't matter very much. Pain or other circumstances can be there, but if you want to do a job bad enough, you'll find a way to get it done.
- Jack Youngblood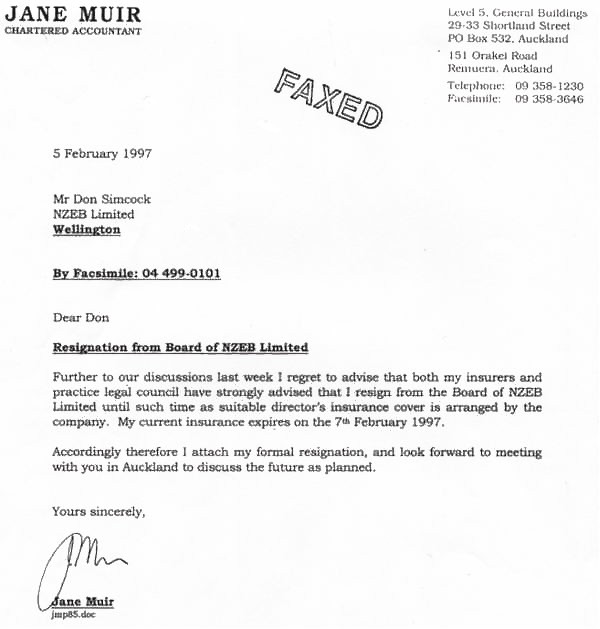 Jane Muir's Letter of Resignation
When I read this, I couldn't help but wonder just whose future was being discussed.

For news articles on the Flat Rock Forests Trust, forestry, the Serious Fraud Office, one immigrant family's experiences, immigration specialists, fraud, juries, logging, and more, check out the News Table of Contents. Or you may wish to visit the Forestry Trust Table of Contents to read how a unit trust went bust. Or the Topics Table of Contents which offers a different approach to lots of topics - among them poisonous insects, eating dogs, what's addictive, training vs teaching, tornados, unusual flying machines, humour, wearable computers, IQ tests, health, Y chromosomes, share options, New Jersey's positive side, oddities, ageing, burial alternatives, capital punishment, affairs, poverty, McCarthyism, the most beautiful city in the world, neverending work and more...