A Wet Welcome to Wellington
Little Did We Know That We Would Soon Get Soaked for REAL!
Immigration is still the sincerest form of flattery.
- Clayton Cramer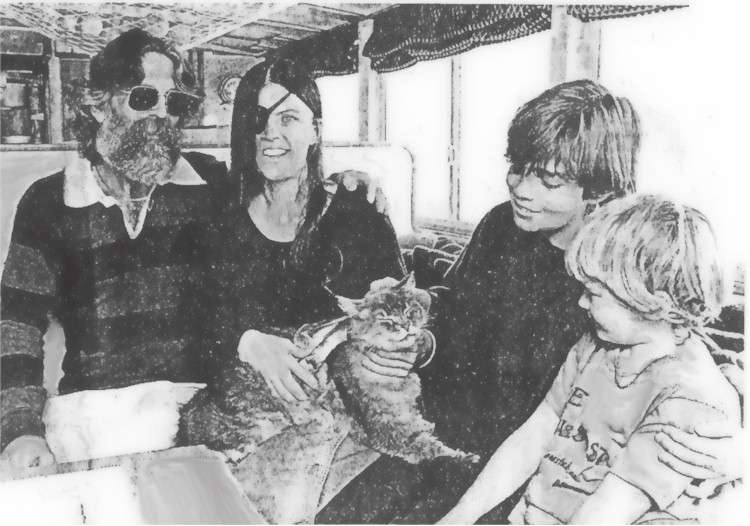 Jeff, Ruth, Cody and Wolf Hatch with the ship's cat, Bay Kitty
Migrants Arrive Via the High Seas
It was a wet but warm welcome today for Wellington's newest citizens - the Hatch family who motored 11,000km from San Francisco on their 22m, $700,000 launch. Business migrants Jeffrey Hatch, his wife Ruth, 11 year-old Cody, Wolfgang, 5, and their cat Bay Kitty made it safely through the heads at dawn after battling 50 knot southerlies off Cape Palliser which had the Lady Fair rolling 40 degrees.
They were welcomed with a fire hose salute from the tug Kupe. Then, as they tied up on their double berth at Chaffers Marina, they were presented with a cake and flowers.
Mr Hatch sold his computer software business in the United States a year ago with a condition of the sale being that he couldn't compete in the same business for a year. The family had planned to buy a hotel in Washington State and came out to New Zealand before settling down. They spent, a month last winter touring the North Island in campervan and fell in love with the place. So instead of buying the hotel they swapped some land for the Lady Fair and came out to New Zealand with the help of the Wellington Regional Enterprise Board.
They motored out of San Francisco on October 1st and headed here via San Diego, Tahiti, the Cook Islands, Whangarei, and Whitianga. To qualify as business migrants the family invested $500,000 through NZ Development Trust Fund and Mr Hatch plans to get back into his computer trade.
Mrs Hatch said the boat was built as a torpedo retriever in the 1960s for Donald Douglas of the McDonnell Douglas Corporation. It was subsequently purchased by a "survivalist" who fitted it out to store his wealth and improve his chances of living through Armageddon which never came.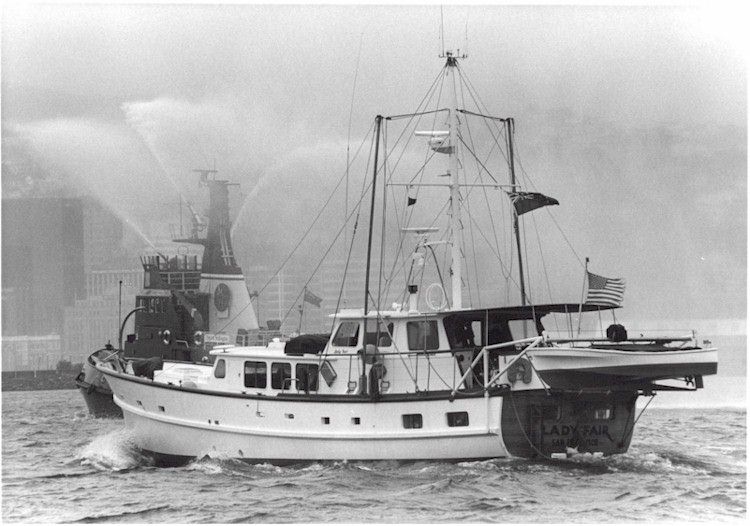 Lady Fair preceded by the tug Kupe
Source: The Evening Post 7 December 1993 photo credit Ray Pigney

For news articles on the Flat Rock Forests Trust, forestry, the Serious Fraud Office, one immigrant family's experiences, immigration specialists, fraud, juries, logging, and more, pressing the "Up" key below will take you to the Table of Contents for this News section. Or you may wish to visit the Forestry Trust Table of Contents to read how a unit trust went bust. Or the Topics Table of Contents which offers a different approach to lots of topics - among them poisonous insects, eating dogs, what's addictive, training vs teaching, tornados, unusual flying machines, humour, wearable computers, IQ tests, health, Y chromosomes, share options, New Jersey's positive side, oddities, ageing, burial alternatives, capital punishment, affairs, poverty, McCarthyism, the most beautiful city in the world, neverending work and more...