Time to Fly
Open Up!
A little learning is a dangerous thing, but we must take that risk because a little is as much as our biggest heads can hold.
- George Bernard Shaw

This article is about the webmaster, co-designer of this site, and CEO of Chaotic Web Development: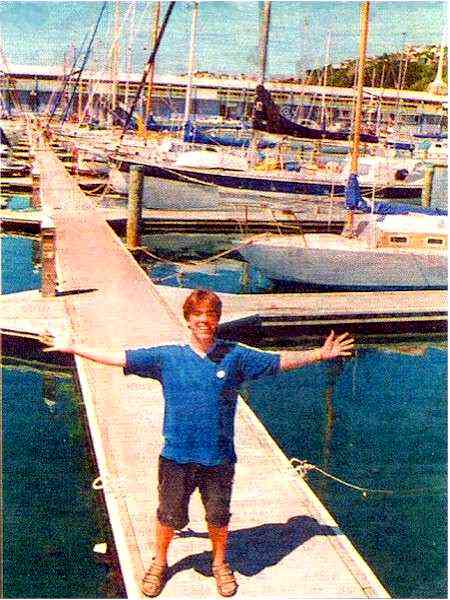 Cody is now 19 and in his third year at Canterbury
Travelling Life No Handicap
by Kathy Bethell
Cody Hatch lives in a boat in Wellington's Chaffers Marina and has had only two years of formal education. That hasn't stopped the 17-year-old Texas-born Wellingtonian being accepted at Canterbury University and winning a scholarship.
Cody spent much of his childhood on the move with his parents, first in a motorhome while the family travelled the United States and more recently on the launch Lady Fair, now berthed at Chaffers Marina. "When I was 10, we sold our house and wandered the USA," Cody said. "Eventually my parents sold the motorhome and bought the launch. We arrived here four years ago. "We were going to sail to New Zealand for a holiday, but we ended up staying here."
Apart from two years at Mackenzie College in Fairlie, South Canterbury, Cody has been taught by his mother at home. He sees this as an advantage because it has encouraged him to have an independent outlook and a liking for abstract concepts, which has fed his enthusiasm for science.
The scholarship, from Bayer New Zealand, will go towards paying his fees as he studies calculus, programming and organic chemistry at Canterbury University. He hopes to graduate and work as a computer consultant, like his parents. When asked what his friends thought about his living at a marina, Cody's response was honest.
"I don't have too many friends, living here and not going to school," he said. Cody says although he likes Wellington and could have studied at Victoria University, he chose to move to Canterbury because he grew to like the area after his two years at Mackenzie College.
Source: Contact 18 February 1999

Cody, now 21, no longer lives on a boat in Chaffers Marina (I'm somewhat sad to say). He is now studying telecommunications/networking in New Jersey. He has a 4.0 (out of 4.0) grade point average. His 15-year-old brother, Wolf, also homeschooled, is in his second semester at a New Jersey university and also has a 4.0 average. (Can you tell this is their mother writing? Oh. You could?)

For news articles on the Flat Rock Forests Trust, forestry, the Serious Fraud Office, one immigrant family's experiences, immigration specialists, fraud, juries, logging, and more, pressing the "Up" key below will take you to the Table of Contents for this News section. Or you may wish to visit the Forestry Trust Table of Contents to read how a unit trust went bust. Or the Topics Table of Contents which offers a different approach to lots of topics - among them poisonous insects, eating dogs, what's addictive, training vs teaching, tornados, unusual flying machines, humour, wearable computers, IQ tests, health, Y chromosomes, share options, New Jersey's positive side, oddities, ageing, burial alternatives, capital punishment, affairs, poverty, McCarthyism, the most beautiful city in the world, neverending work and more...