Everything Is Green
Growing Bigger
The man of character, sensitive to the meaning of what he is doing,
will know how to discover the ethical paths in the maze of possible behaviour.
- Earl Warren

There's More
| | |
| --- | --- |
| | Ankeny, Ohio, USA - "Martian Landing" maize maze portraying the planets of the Solar System. This maze was created to celebrate the first unmanned landing on the planet Mars. Also boasts a bridge, a quiz trail, 2 colour mazes and other features. |
| | Cherry Crest Farm, Paradise, Pennsylvania, USA - "Amish Horse-drawn Buggy" maize maze portraying Amish Horse-drawn Buggy, with bridge, tower, quiz trail, jigsaw trail, speaking tubes and sound system. Also contains turf maze, rope maze and colour maze. |
| | Hodgson Farms, Walden, New York State, USA - "Alien Abduction" maize maze portraying flying saucer. This maze has 3 bridges. |
| | Millets Farm Centre, Frilford, Abingdon, Oxfordshire, England - "Windmill" maize maze with bridge. This maze also has 6 towers; covering 330,750 square feet with 3.73 miles of paths. It is the world's largest maze as recognised by the Guinness Book of World Records. |
| | Shippensburg, Pennsylvania, USA - "Noah's Ark" maize maze portraying Noah's Ark, with 3 bridges, quiz trail, jigsaw trail, speaking tubes and sound system. There is also a turf maze and a colour maze. |
Source: maizemaze.com/Location1997.htm

Minnesota Maze
This is the Amazing Minnesota Maze, a large labyrinth located on the Gene and Judy Kimmes Farm near Hampton, Minnesota. This aerial view shows the interconnections.

The straight lighter-coloured lines are bridges that people use to get from point to point. Shapes include a ship, a fish, the state capitol building, and others.

In a few weeks, it'll be gone. In a few months, you might eat a cow that ate part of the Amazing Minnesota Maze (if you're a meat-eater, I suppose...).

Source: strinz.com/family/maze.htm
See also:
| | |
| --- | --- |
| | astrolog.org - A page of links to Life Size Labyrinths and Mazes |

Mirror Images
Not all mazes are maize. Here are two mirror mazes.
| | |
| --- | --- |
| | The Magical Mirror Maze, Wookey Hole Caves, England - one of the featured attractions at Wookey Hole Caves, Wookey Hole, near Wells, Somerset. This mirror maze is excellently maintained, and is one of the most impressive mirror mazes anywhere in the world. Wookey Hole Caves is Somerset's premier tourist attraction, and is open every day throughout the year (except for 2 weeks closure each winter). |
| | The "Labyrinthe des Dragons", Peaugres Safari Park, near Annonay, Ardeches, France - Designed in 1994, this mirror maze takes its theme from the Great Labyrinthe of Ancient Egypt. Egyptian frescoes adorn the pillars and serpent-like arches curl above you. With its magical phantoms and living dragons, you are drawn into a game in which you and your reflections are the only players. Features live crocodiles, pythons, scorpions and bats, and walls of aquarium fish. You enter the mirror maze through a Walk Through Parting Waterfall. |
Source: mirrormaze.com Both mazes designed by Adrian Fisher Maze Design. Adrian Fisher has the extraordinary vocation of designing and creating unique and beautiful mazes all over the world. He is internationally recognised as the world's leading maze designer. He's created over 200 mazes worldwide in 17 countries across 5 continents, designed the world's first cornfield maize maze, has set 4 Guinness World Records, and is the world's leading designer of mirror mazes. His definitive illustrated book Secrets of the Maze was an instant best-seller. His decorative paving projects often feature his patented invention, Fisher Pavers. He has a deep appreciation for landscape, a love of history and the arts, and an exceptional aptitude for tiling patterns and three-dimensional space. He lives in Portsmouth, England, and is a Liveryman of the Worshipful Company of Gardeners of London.

Power Plants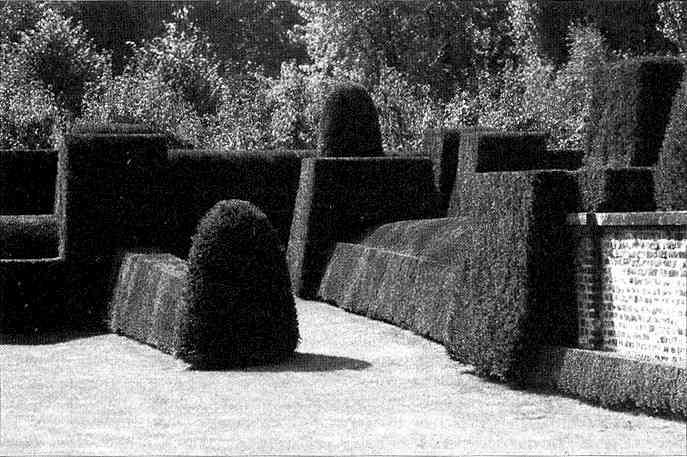 For most of the first half of the 20th century, Europeans had other things on their minds than gardening. Two great wars, social upheaval and sharply increased labour costs were the undoing of numerous splendid gardens. Several of these have been restored to something approaching their former glory by national conservation bodies like English Heritage, often as an afterthought to the restoration of grand houses that they commonly embellish. Only in a very few cases has tradition been cast aside and the opportunity seized to create an uncompromisingly modern garden on the skeleton of the old.
This is what the Duchess of Northumberland is attempting in the 12-acre (5-hectare) garden of the family seat at Alnwick castle, close to the Scottish border. She has engaged a 76-year-old Belgian designer, Jacques Wirtz, and his two sons, Peter and Martin, to create a £14m ($20m) showpiece, with tunnels of hedges and cascades of water, that she immodestly dubs "Britain's answer to the 17th-century splendour of Versailles". She hopes it will make north-east England a mecca for garden-Iovers, alongside the existing attractions of Wallington, Belsay and Cragside.
For many years, the Wirtzs remained something of a secret among garden designers. The patriarch, who was born in Antwerp in 1924 and studied landscape architecture in Vilvoorde during the second world war, founded the company in 1948. His first commissions were for small residential gardens. Only later did the call come to design public parks, housing complexes and university campuses. Highly structured, Mr Wirtz's work is distinguished by a clearly-contoured, geometrical quality that is as effective in winter as it is in summer. You won't see granite, steel or glass - the usual post-modernist pot pourri - in a Wirtz garden. Instead, he will use water for effect, or avenues of pleached hornbeams and clipped yew hedges, the better to lead and surprise the garden explorer. "The plant material always plays the first violin," says Peter Wirtz, who is overseeing the Alnwick project. "We search for the tranquil spirit, never for conflict."
Architecture transcends frontiers, yet garden design has always been more parochial and this is the first time that the Wirtzs have worked on a British garden, despite their formidable reputation in continental Europe. After more than two decades in the business, the breakthrough came in 1970 when Mr Wirtz was asked to design the garden of the Belgian pavilion at the Osaka World Exposition and an entire new campus for the University of Antwerp. Later, the Wirtzs' renovation of the gardens of the Elysee palace and the Carrousel of the Tuileries in Paris, with its sunburst pattern of radiating yew hedges, won them international acclaim. Three new commissions - for the landscaping of the tiny new Jewish cemetery in Geneva, the gardens around David Chipperfield's new law court in Salerno and a small garden in London's Canary Wharf - will make them better known when they are completed over the next two or three years, as will a series of new private gardens in Los Angeles, Chicago and Florida. Yet most of the Wirtzs' work is to be seen around their home base at Antwerp, where they have created numerous effective public spaces and private gardens, notable for their sensitivity to the existing landscape and its history.
That was what persuaded the duchess to invite them to submit a design for the huge walled garden at Alnwick, arrestingly set on a slope some 300 yards (270 metres) from the castle itself. Created in the 18th century and substantially altered in the 19th, it had been used for much of the last 50 years as a nursery for a local tree grower, and part had been paved over as a car park. Only when masses of laurel and other overgrowth had been cleared was it possible to see the sinuous line of the man-made earth banks that anchored the design that was made in the 1850s.
The Wirtzs have used these as the starting-point for their own scheme. It is dominated by a huge central cascade whose curved edges relate to the line of the earth banks: the duchess was convinced from the start that the sloping site, with two springs at its foot, demanded that water should be a key component of the design. Almost surrounding the cascade will be a spectacular hedge made of parallel rows of beeches joined at the top to form a tunnel that can be walked through, with windows cut out of the sides like arrow slits in a castle wall.
The project began in 1996 when Ralph Percy inherited the dukedom from his elder brother and moved the family into the castle.
The new duchess, with a passion for gardening that goes back to her childhood, took over responsibility for the garden and decided to do something dramatic with it. "As soon as I saw it I knew it was an extraordinary site," she recalls. "It's beautiful, quite magical." At first she thought of designing it herself, but the tremendous scale persuaded her to call in professional help. She consulted several British designers, only to find that they did not respond sympathetically to her over-arching vision and were too inflexible to accommodate it. "I'm sorry, Jane, we're not going to allow you to have a rose garden," said one, who was soon on the train south.
Then a European friend invited her to meet continental designers. "Their attitude was so refreshing," she recalls. "They listened to what I was saying and they had really good, new exciting ideas that I just hadn't come across when I met people in this country." But she has engaged a British firm of water technologists, after discovering that the elaborate plans of the American company she approached first would have lifted the cost of the project to £23m. Although construction was then hampered by atrocious winter weather, much of the infrastructure is in place and some of the 65,000 trees and plants have begun to arrive. The duchess is confident that the garden will be ready for visitors by October. Phase two, which involves more complex water technology, will take longer, and will need to attract well-endowed sponsors.
The duchess had to battle for planning consent to create this modem garden within ancient walls in the grounds of a grade-one listed building. At first she was told that she would have to restore what was there. She replied to the planners that she could do something better. This was taken as arrogant, she says, and people have asked her how she will feel when a younger generation changes it all again. It won't bother her, she insists: "The idea of a garden sitting stagnant for 100 or 200 years is not what I gardening is all about."
Source: The Economist 7 April 2001

For articles related to working including why, which career, bosses, time constraints, focus, trends, gender issues, pay differentials, getting laid off, getting re-hired, dependents, part-time work and balancing work and values click the "Up" button below which will take you [back] to the page on Rural Enterprise. Clicking the "Up" buttom at the bottom of that page will take you to the Index page for this section on Working.