Kiwis Have a Polished Culture
Cultural Icon: New Zealand's Kiwi
Someone once threw me a small, brown, hairy kiwi fruit, and I threw a wastebasket over it until it was dead.
- Erma Bombeck

by Steve Sole
With New Zealand's kiwi count halving every decade, a number of programs to study and preserve this biological oddity are getting off the ground. Though the kiwi has decreased in number, it has grown in reputation. This flightless bird is the foremost symbol for the country itself.
The flightless kiwi, with its hairlike feathers and long, curved beak, is so intrinsically woven into New Zealand's social fabric that its name is almost more brand than bird. Two hundred years ago, there were millions of kiwis. Today there are 85,000, and the number is falling at nearly 6% a year (or halving every decade). Half the kiwi eggs laid don't hatch, and 95% of the remainder are eaten by introduced predators before they are 6 months old. But while the 30-million-year-old bird is endangered, New Zealanders have claimed its name for their fruit, their products, their lifestyle - even for themselves.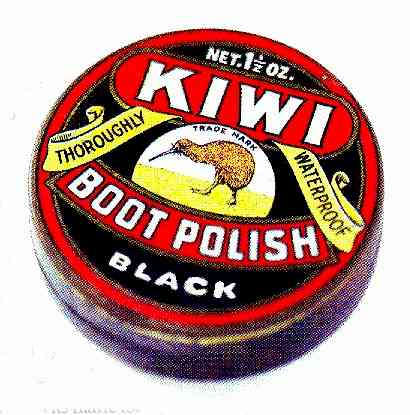 In 1877, Kempthorne Prosser & Company, selling household drugs and chemicals, was first to register a kiwi trademark. By the end of the 19th century, the kiwi image appeared on New Zealand postage stamps and bank notes. Today, we call our currency the kiwi dollar. But the produce that planted the word kiwi into everyday use was a boot polish that, ironically, was made in Australia. From 1906, New Zealand, Australian, and British troops carried William Ramsay's Kiwi boot polish throughout the world.
The naming of New Zealander's as Kiwis is harder to trace. During the First World War, fans named the phenomenally successful troupe of entertainers from the New Zealand Expeditionary Force "The Kiwis." They became the Kiwi Concert Party in the Second World War. The 2nd New Zealand Expedition Force rugby team was also called The Kiwis, and by the end of the Second World War, all Allies called New Zealanders Kiwis.
These days, most New Zealanders call themselves Kiwis, and most of the world does, too. Last year, I met an old man in a village in southwest China who, on hearing the words "New Zealand," pulled a key ring out of his pocket with an image of a kiwi on it and scanned his vocabulary for "Kiwi OK! Kiwi OK!" And television viewers heard "Kiwi" more often than "New Zealander" to describe our athletes during the Sydney Olympics.
Source: Hemispheres April 2001

The following article is about another cultural icon - the half emphasized in this article is the one who came from Nepal. But any New Zealander knows about Hillary and Norgay...
Conquest of Mount Everest
Kathmandu - He tended his father's yaks in its foothills as a boy and later stomped around its higher reaches as porter and guide until finally he reached the very top of the world - Tenzing Norgay's relationship with Everest was always very intense. And despite proudly wearing the title "Tiger of the Snows" bestowed on him for his prowess on Everest, he never quite got used to the fame that came with being the first person, along with Edmund Hillary, to reach its summit. "It has been a long road," he once said. "From a mountain coolie, a bearer of loads, to a wearer of a coat with rows of medals who is carried about in planes and worries about income tax."
Born in 1914 to a Sherpa family, Tenzing Norgay grew up in the village of Tsa-Chu near Mount Makalu in the Solukhumbu region of Nepal, which had a spectacular view of the highest peaks of the Himalayas, including Sagarmatha, the Nepalese name for Everest. "As I tended my father's yaks I used to gaze on the mountains, especially Sagarmatha and wonder what it must be like to climb so high in the sky," he said. "Surely only gods could live at such a height."
On 29 May 1953, he was to find out the answer to his youthful musings when he and Hillary blazed an historic route to the highest point on the planet. "It was such a sight as I had never seen before and would never see again: wild, wonderful and terrible. But terror was not what I felt. I loved the mountains too well for that. I loved Everest too well. At that great moment for which I had waited all my life my mountain did not seem to me a lifeless thing of rock and ice, but warm and friendly and living." A devout Buddhist, he dug a hole in the snow at the summit and left some items as sacrifice gifts. "Preferably I wanted to sacrifice my clothes and equipment, but now that wasn't possible," he said. "Instead I left a few biscuits, some chocolate and a blue pen. The blue pen had just a little piece left that my youngest daughter Nima had sent with me to sacrifice ... It was a quite ordinary pen, but one of my daughter's dearest things." He also left four small prayer flags, which he had carried in his pocket, attaching them to an icepick so they would blow in all directions from the roof of the world.
It had taken him seven attempts to get to the top, starting from soon after he had ran away from home at age 18 to live in Darjeeling, India, from where attempts at Everest were launched before Nepal opened up for foreigners in 1950. He managed to persuade British adventurer Eric Shipton to take him on as a porter in his 1935 expedition and he quickly showed his strength on the mountain. In the following years, he was to make another five trips, progressing from porter to altitude guide, each time scraping closer and closer to the summit but never quite getting there. His eventual success with Hillary brought immediate international recognition, not only for Tenzing Norgay, but also for the Sherpas, an ethnic group of Buddhists living in northeastern Nepal.
As he travelled the world, he championed their cause and as news of their mountaineering skills spread, they became integral to all expeditions up Everest - either as porters or as guides. Received by the Queen of England, the Pope and by many governments around the world, Tenzing Norgay enjoyed immense popularity after 1953, but devoted much of his time to organising trekking tours for westerners in order to provide employment for Sherpas. He continued climbing, and in 1963 he scaled Mount Elbrouz in the Caucauses with seven Soviet mountaineers - earning himself a gold medal from Moscow for "exceptional performances", the first non-Soviet to receive the award.
Tiring of the limelight, he went to live with his second wife, herself a Sherpa, and their six children in an Indian village near Darjeeling in his later years. Tenzing Norgay tried to dissuade his children from following in his mountainous footsteps. Jamling Norgay tells of his father's reaction when he said he wanted to climb Everest: "Why do you want to climb?" his father answered. "I already climbed it for you. You don't have to work on the mountain."
Tenzing Norgay died of illness at age 72 in 1986, leaving the world - and especially Hillary - to mourn the passing of the "Tiger of the Snows".
Source: sify.com/news Wednesday 21 May 2003

For satellite photos and pictures of Wellington from several different angles and for articles about earthquakes, history, business, the Ohariu Valley, statistics, fireworks, the national anthem, the kiwi icon and more click the "Up" button below to take you to the Index for this Wellington section.