Changing and Unchanging
But That's All in the Past!
Message from the Duke of Wellington to the British Foreign Office in London - written from Central Spain, August 1812:
Gentlemen,
Whilst marching from Portugal to a position which commands the approach to Madrid and the French forces, my officers have been diligently complying with your requests which have been sent by HM ship from London to Lisbon and thence by dispatch to our headquarters.
We have enumerated our saddles, bridles, tents and tent poles, and all manner of sundry items for which His Majesty's Government holds me accountable. I have dispatched reports on the character, wit, and spleen of every officer. Each item and every farthing has been accounted for, with two regrettable exceptions for which I beg your indulgence.
Unfortunately the sum of one shilling and ninepence remains unaccounted for in one infantry battalion's petty cash and there has been a hideous confusion as the the number of jars of raspberry jam issued to one cavalry regiment during a sandstorm in western Spain. This reprehensible carelessness may be related to the pressure of circumstance, since we are war with France, a fact which may come as a bit of a surprise to you gentlemen in Whitehall.
This brings me to my present purpose, which is to request elucidation of my instructions from His Majesty's Government so that I may better understand why I am dragging an army over these barren plains. I construe that perforce it must be one of two alternative duties, as given below. I shall pursue either one with the best of my ability, but I cannot do both:
1. To train an army of uniformed British clerks in Spain for the benefit of the accountants and copy-boys in London or perchance.
2. To see to it that the forces of Napoleon are driven out of Spain.
Your most obedient servant,
Wellington
- submitted by Paul S R Chisholm
Source: netfunny.com


Early Wellington
When the Europeans arrived they found thriving settlements and a bustling water-based trade and communication system. A chain of settlements extended from Waiwhetu on the eastern side of the Hutt Valley, Petone, round to settlements at the mouth of the Kaiwharawhara Stream, continuing to Pipitea Pa, Kumutoto Pa, Tiakiwai Pa and finally into Te Aro Pa in the heart of the waterfront. All these settlements are also in the context of a close relationship with Ngati Toa further north.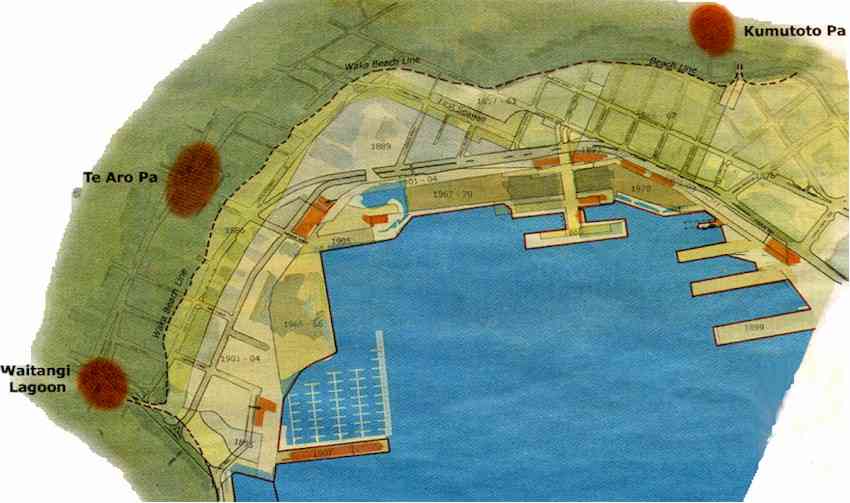 The area south of Te Aro Pa was well cultivated. Gardens extended to where the old museum is now at Buckle St and on some of the hilly area up to Brooklyn and Vogeltown. Streams, the Waitangi lagoon on the eastern end of Te Aro Flat, surrounding bush and the harbour itself were rich food sources and a source of other supplies such as flax and wood.
An important part of the waterfront history of Wellington is its mercantile and trading background. For most of the past 160 years Lambton Harbour has been a working port and the centre of so much of the comings and goings from the city. Early pictures of the port are fascinating and show how much the waterfront has changed over the years.
The reclamations show the different eras of port development, from the first 'T' wharf at Queens Wharf, through to the start of roll-on roll-off facilities at Taranaki Wharf, and the development of Clyde Quay as the Overseas Passenger Terminal. Of course, it was the development of containerised shipping that saw port activities move further, away from the central Lambton Harbour area.
There are many heritage elements on the waterfront. There are 15 heritage buildings, from the Overseas Passenger Terminal and the Herd St Post & Telegraph Building on Chaffers, around to Shed 21 on the northern end adjacent to the Railway Station. Heritage elements also include features such as wharf gates and bollards.
Te Papa is a very strong cultural drawcard on the waterfront, and there's also the Museum of Wellington City and Sea, the Academy of Fine Arts, and the soon to be opened Plimmer's Ark gallery. The whole waterfront is a place for artworks and sculpture. The shift from the waterfront as an industrial port to a place for recreation reflects the cultural changes in our city - not for nothing do we claim to be the arts and cafe capital of New Zealand.
Source: Wellington's Waterfront...a Progress Report December 2000 (ultimately paid for by Mr and Mrs Wellington Ratepayer)
See also:
| | |
| --- | --- |
| | Will Rising Seas Ever Threaten Wellington's Waterfront? - Presumably any new buildings would be expected to last at least 30 - 50 years, during which time the sea is expected to rise up to half a metre - possibly more if the Western Ice Sheet breaks loose (or other similar phenomena). [Lambton Harbour Management Chairman David] Gascoigne seemed surprised at my question and said no, sea levels had not figured into their plans at all... |
| | A Tiny Sampling of the Fauna Seen Around Wellington Harbour - Pods of orcas sometimes power into Wellington for a meal of stingrays. "I've seen them throwing stingrays around like frisbees," orca researcher Ingrid Visser says. They also snack on seal and dolphin. She estimates there are 150 - 200 orcas in New Zealand waters. Orca grow up to 9 metres. The triangular fin of the bulls can be up to two metres tall - the length of a calf. Calves can weigh up to 100 kilograms (220 pounds). Orcas belong to the dolphin family... |

For satellite photos and pictures of Wellington from several different angles and for articles about earthquakes, history, business, the Ohariu Valley, statistics, fireworks, the national anthem, the kiwi icon and more click the "Up" button below to take you to the Table of Contents for this Wellington section.