What Do the Ends Mean
The Principle Idea
Morality is the acceptance of principled responsibility for the way in which one's actions (or lack of same) affect the well being of other members of the human species.
- Marvin Harris

Alexander Hamilton's essays in The Federalist Papers provide a thoughtful analysis of the way a legal system must take into account the power of human passions and the relationship between emotion and reason. Structures of government are necessary, Hamilton believed, but there must be checks and balances that take into account the force of irrationality in the affairs of men.
Russell Gough, professor of philosophy and ethics at Pepperdine University, writing on Nando.net (14 May 1998) said that he had to agree with George Washington's words, "the foundations of our national policy will be laid in the pure and immutable principles of private morality."
Well, yes, I can agree with that. I thought the balance of what Gough had to say was delivered a bit superciliously (mostly a protracted jibe at Clinton's morals) and he displayed an almost mawkish adulation of his apparent hero, George Washington (whom I read was quite a social climber - a true test of morals). I agree with Gough that a successful democracy requires a degree of ethical character in its citizenry and leadership. And national character depends on private character.
I think one of the most important determinants of private character is how we each answer the question, "In my life, do the ends justify the means?"

News Before It Happens...



Source: waylay.com from Funny Times
See also:
| | |
| --- | --- |
| | Fraud Is Everywhere - ...bear in mind that these investors were lured in by the promise of up to 700% return on their investment - a ridiculous claim which, if true, would almost certainly mean the investment was ethically questionable at best... |
| | Not So Different - (a cartoon) |
| | Honour Your Self - "The real function of an academic institution is the development of character... The whole idea really is to try and rebuild a civil society..." |

What Do the Means End?
Mile High Couple Brought to Earth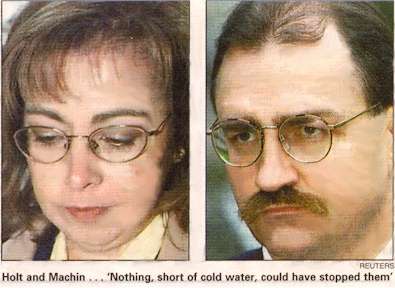 Manchester - Two strangers who ripped off their clothes and indulged in sex acts during a trans-Atlantic flight were fined by a British court yesterday for being drunk on a plane. The pair from northern England, both married and dubbed the "Mile High" couple by British media, met for the first time when they boarded an American Airlines flight from Dallas to Manchester last October.
Amanda Holt, 37, and David Machin, 40, were fined a total of £2,250 (NZ$7,250).
After drinking two bottles of wine, port and cognac, the couple snuggled under a blanket as the lights were dimmed for the midnight in-flight movie. But they soon lost their inhibitions, the blanket and most of their clothes. "Nothing and no one, short of a bucket of cold water, could have stopped them. They were determined to continue till their passions were spent - and they did," an airline source said.
Holt was seen in various stages of undress in the business class section, the Manchester Crown Court was told. Judge Harold Singer said that a woman across the aisle had been "offended and outraged," though her husband was not offended to the same extent.
An elderly woman sitting in front complained to flight staff after being hit on the head by Holt's foot and hearing miaowing noises. The judge said: "When staff came to remonstrate, they were ignored."
The affair came to a swift end as the pair were arrested by police. It reportedly led to friction in both marriages. The woman was dismissed from her job and the man resigned from his.
Machin, from Wakefield, a former company manager, was fined £1,250 with £700 costs. Holt, a former telecommunications executive, from Lancashire, was fined £1,000 - less than Machin because of an early guilty plea - with £400 costs. Machin, in a statement through his lawyer outside court, said he was deeply ashamed. The press had besieged his home and wildly exaggerated events, he said. I ask that it now shows restraint and allows my wife and I both the privacy and time to rebuild a relationship I nearly threw away through my own drunken stupidity."
Holt, whose husband was in court, posed for photographers outside. Her lawyer said: It is a matter of regret which Mrs Holt now wants to put behind her." - Reuters, Daily Telegraph
Source: The Dominion Friday 7 April 2000

It is interesting that what this couple were fined for was being drunk on a plane. If they had behaved exactly the same, but had been sober, what would the charge have been then?

10% of Passengers "Have Joined Mile-High Club"
Almost 10% of air travellers claim to have joined the "mile high club" by making love in a plane, according to a survey. More than half hope to join in the future, says the survey from online travel company Opodo. Nearly half of passengers have either been chatted up on flights or tried to chat up other travellers.
The survey also showed that nearly 10% of male passengers had tried to flirt with stewardesses, while 3% of travellers had actually managed to get a date on board. "We were all really surprised by some of the results," said Opodo's spokeswoman. "It just goes to show that not only are people getting more adventurous in the destinations they are choosing to visit but also in the places they are getting intimate. I guess that a flight to Australia would leave a lot more room for enjoyment than a quick trip to Edinburgh though."
Source: ananova.com Sunday 15th December 2002

Avoid Danger!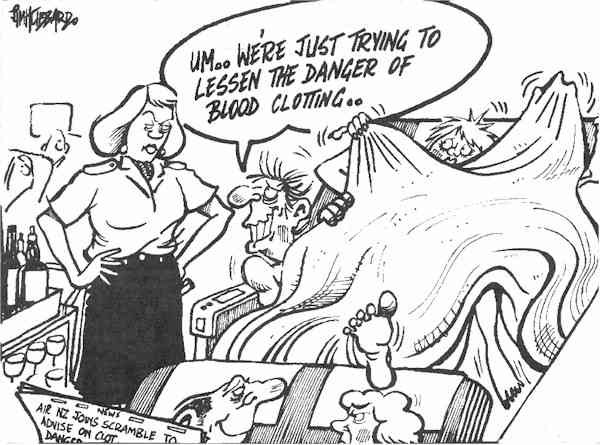 Source: The Dominion Friday 12 January 2001

For articles on poverty, social markets, superfluous children, isolation, modern mating difficulties, status, boasting, gender differences, patriarchy, capitalists, civility, groups, racism, virtue, ethics, art, music, religion and crewing click the "Up" button below to take you to the Index page for this Social/Cultural section.