The Art of Living
Wars Were Ever Thus
When power corrupts, art establishes the basic human truths which must serve as the touchstone of our judgment.
- John F Kennedy
1963 Amherst College address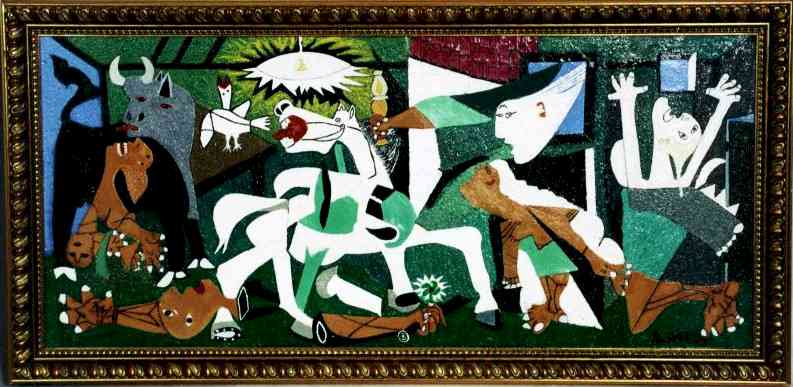 Guernica (pronounced garnkä) by Pablo Picasso, 1937
Oil on canvas 349.3 x 776.6 cm Museo de la Reina Sofia, Madrid
On April 26th 1937, a massive air raid by the German Luftwaffe on the Basque town of Guernica in Northern Spain shocked the world. Hundreds of civilians were killed in the raid which became a major incident of the Spanish Civil War.
The oak of Guernica, under which the diet of Vizcaya used to meet, was a symbol of the lost liberties of the Basques. The German planes, aiding the insurgents in the Spanish Civil War, indiscriminately killed women and children which aroused world opinion, and the bombing became a symbol of fascist brutality. The event inspired one of Picasso's most celebrated paintings. Guernica is also called Guernica y Luno.
The bombing prompted Picasso to begin painting his greatest masterpiece, Guernica. The painting became a timely and prophetic vision of the Second World War and is now recognised as an international icon for peace. Despite the enormous interest the painting generated in his lifetime, Picasso obstinately refused to explain its imagery. It has been the subject of more books than any other work in modern art and is often described as..."the most important work of art of the 20th century", yet its meanings have to this day eluded some of the most renowned scholars.

Guernica - 50 Years Later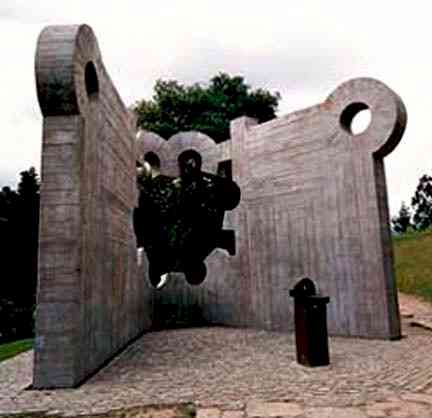 Eduardo Chillida's monument in Guernica was created to commemorate
the 50th anniversary of the 1937 bombardment of the town.
Source: Smithsonian Magazine July 2000; photo by Jesus Uriarte, Tasende Gallery, Los Angeles

Unlimited Vista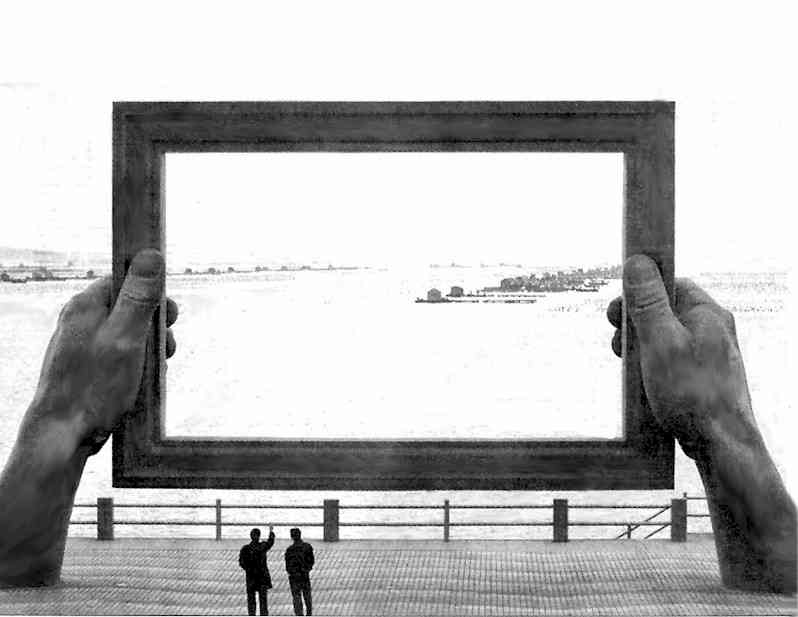 Chinese tourists in the seaside city of Weihei standing at a bronze sculpture measuring 30 feet by 60 feet.
Source: The New York Times Sunday 30 December 2001 photo credit Reuters

Very Limited Vista
Heaven's Gate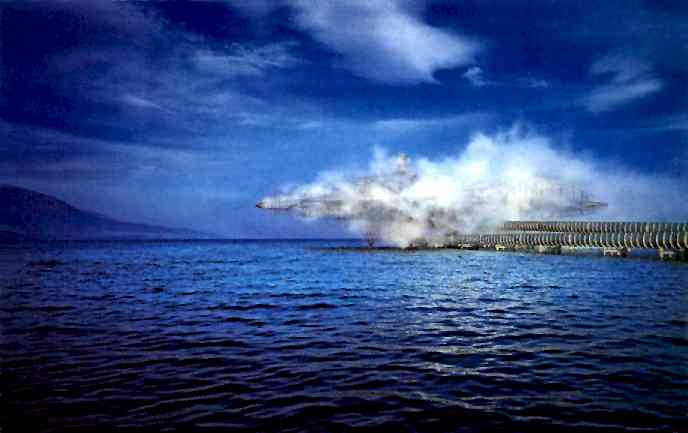 Mistifying - and delightful
Clouds may have silver linings. but even the sunniest of us seldom glimpse them on foot. The marvellous Blur Building that hovers above the lake of Yverdon les Bains in Switzerland provides such an opportunity. It gives anyone who has ever wanted to step into the clouds they watch from the aeroplane window a chance to realise their dream. Visitors don waterproof ponchos before setting off along a walkway above the lake that takes them into the foggy atmosphere of the cloud. The experience of physical forms blurring before your eyes as you enter the cloud is both disorientating and liberating. However firmly your feet are planted on the floor, it is hard to escape the sensation of floating. On the upper deck of this spaceship-shaped structure, the Angel Bar, a translucent counter lit in tones of aqueous blue, beckons with a dozen different kinds of mineral water.
To enter this sublime building perched in the landscape of the Swiss Alps feels like walking into a poem - it is part of nature but removed from reality. Its architects, Elizabeth Diller and Ricardo Scofidio of New York, designed it as a pavilion for the Swiss Expo 02 in the Three Lakes region of Switzerland, an hour's train ride from Geneva, which features a series of exhibits on the lakes. The Blur Building is easily the most successful. Indeed, you can skip the rest of the Expo - a Swiss kitsch version of Britain's Millennium Dome - and head straight for the cloud, which is there until the end of October.
The architects asked themselves what was the ideal material for building on a lake and decided on water itself: the element of the lake, the snow, the rivers and the mist above it. They wanted to play on and lay bare the notion of a world's fair pavilion by creating an ethereal ghost of one in which there is nothing to see. The result is a refuge from the surveillance cameras and high-definition images of our everyday world - a particular tease in Switzerland, where clarity and precision are so prized. (Anti-architecture or not, the Blur Building cost a cool $7.Sm.)
Out-of-the-box thinking is a trademark of Diller+Scofidio, a husband-and-wife team of architecture professors who became the first architects to win a genius grant from the MacArthur Foundation in 1999. Although they have built very little, they are interested in the social experience of architecture, in challenging people's ideas about buildings. They treat architecture as an analytical art form that combines other disciplines, such as visual art and photography, dance and theatre.
To rea1ise its Utopian poetry, the Blur Building has to be technologically state-of-the-art. Water from the lake is pumped through 32,000 fog nozzles positioned throughout the skeleton-like stainless steel structure; so the building does not just look like a cloud on the outside, it feels like a cloud on the inside. And while the 300-foot-wide platform can accommodate up to 400 people, visitors vanish from each other in the mist at about five paces, so you really can wander lonely as a cloud. Wordsworth must be smiling.
Source: The Economist 24 August 2002
See also:

Royal Interpretations
Illusions commend themselves to us because they save us pain and allow us to enjoy pleasure instead. We must therefore accept it without complaint when they sometimes collide with a bit of reality against which they are dashed to pieces.
- Sigmund Freud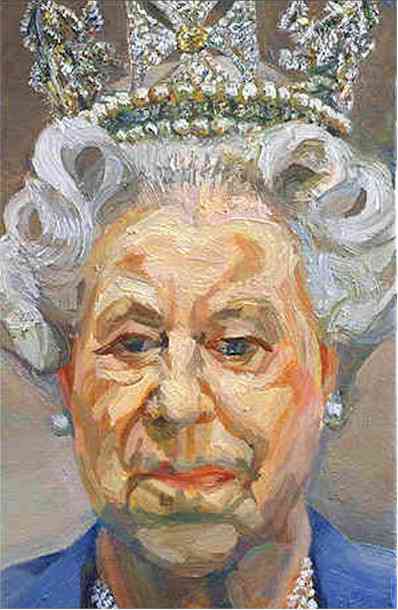 Is Lucien Freud's intense, penetrating style of painting
suitable for a portrait the British monarch?
Lucien Freud is often described as Britain's greatest living figurative painter. So is it any wonder that Queen Elizabeth II agreed to his request to paint her portrait? After all, monarchs have always been painted by the leading portrait artist of their time. King Henry VIII was painted by Holbein, Charles V by Titian, Charles I by Van Dyck, and Philip IV of Spain by Velazquez to name but a few.
The painting itself is very small, six by nine inches (about 15 by 22 centimetres). It wasn't commissioned, but done on Freud's request as a gift to the Queen. One can only presume that she was familiar with Freud's style and knew what she was letting herself in for.
Some of the comments by critics of the painting seem surprised that Freud has had the audacity to paint his monarch in his usual intense, penetrating style. The Sun newspaper, never known for its tact, described it as "a travesty" saying Freud should be "locked in the Tower" for it. The editor of the British Art Journal is quoted as saying: "It makes her look like one of the royal corgis who has suffered a stroke."
Freud is known for requiring sitters to come to his studio for many, many sessions. Obviously you doesn't tell your monarch to come to your studio; instead the sittings happened at St James's Palace, between May 2000 and December 2001. At Freud's request, the Queen wore the diamond crown she wears for the opening of the British parliament and in her portrait on stamps and bank notes. Freud is quoted as saying this was because he "had always liked the way her head looks on stamps, wearing a crown" and he "wanted to make some reference to the extraordinary position she holds, of being the monarch."
Freud has described his paintings as "a kind of truth-telling exercise." And the truth of the matter is that the British monarch is not a young woman. Whether you think Freud's painting is a disgrace or a masterpiece will depend on whether or not you like his powerful painting style. And perhaps on whether you think it's appropriate for a monarch. It's certainly very different to previous, more traditional portraits.
Lucian Freud's portrait will probably enter the permanent collection at the Queen's Gallery, Buckingham Palace.
Source: painting.about.com
I rather like it...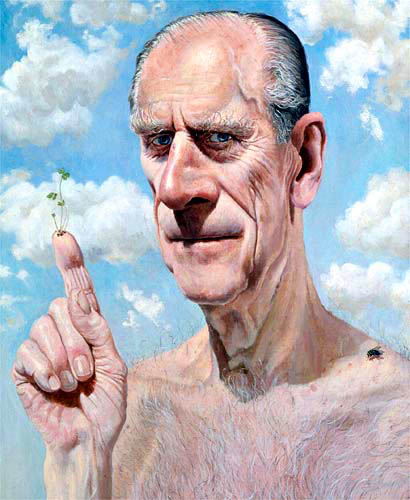 Duke of Edinburgh Hates Portrait
Prince Phillip says a portrait of him doesn't resemble him at all. The painting titled Homo sapiens, Lepidium sativum and Calliphora vomitoria - Latin for Human, Cress and Bluebottle - depicts him bare-chested with a bluebottle on his shoulder. Artist Stuart Pearson Wright, 28, also painted four strands of cress growing from a finger to represent the Duke's offspring.
The Duke posed for the picture four times but said after seeing an early version: "Gadzooks! As long as I don't have to have it on my wall." Phillip who posed fully clothed, refused further sittings and "an elderly gentleman from Bethnal Green" had to model so the artist could finish the work. Phillip commissioned the picture two years ago - but was so horrified with the weedy-looking result that it was repainted.
It is the original painting that is now on show at the Jerwood Space Gallery priced at £25,000. Asked by the artist if it was a true likeness, he said: "I bloody well hope not!"
Source: www.ananova.com Friday 30 April 2004

Do the royals have no sense of humour?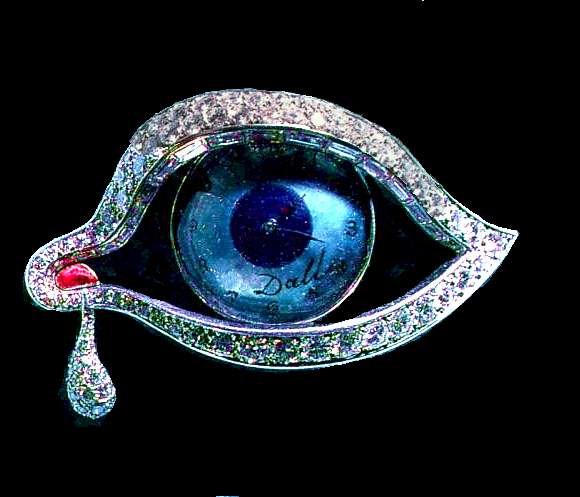 The Eye of Time, Salvador Dali 1949
See also:
| | |
| --- | --- |
| | Senses and Science - Most of us are likely to approach new art in ignorance of current aesthetic theories and trends and of the artist's previous output, in the hope that it will speak to us or at least grip our attention. Statistically, this hope is likely to be forlorn - innovative artists with an ability immediately to communicate beyond the cognoscenti are a minority in any generation. It's surprising and rewarding, therefore, to encounter artists working in unconventional media who make one sit up and take notice... |
| | Music and Madness, Music and Art, Music and Science (a page further on in this section) - Old halls and churches, constrained to the short horizontal spans achievable in wood or stone, are narrow with high ceilings. The first echoes received by the two ears are therefore from opposite walls, yielding decorrelated signals and a desirably spacious sound. Modem steel-spanned halls, designed to accommodate large audiences at low cost, are wide with low ceilings. The first echoes to reach both ears are therefore from the ceiling above, yielding highly correlated signals and a disappointing lack of spaciousness... |
| | The Works of Ivan Godoy Contreras (the next page in this section) - for, well, works... |

For articles on poverty, social markets, superfluous children, isolation, modern mating difficulties, status, boasting, gender differences, patriarchy, capitalists, civility, groups, racism, virtue, ethics, art, music, religion and crewing click the "Up" button below to take you to the Index page for this Social/Cultural section.