Unusual Art
Livio De Marchi
It is a mistake for a sculptor or a painter to speak or write very often about his job.
It releases tension needed for his work.
- Henry Moore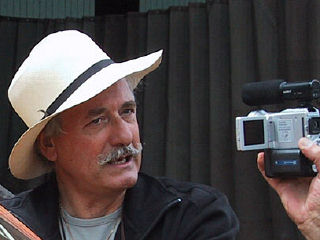 Livio de Marchi
Livio De Marchi was born in Venice where, though still a child, he worked on ornamental sculpture in the Venetian tradition in the workshop of a craftsman and meanwhile studied art and drawing at the "Accademia di Belle Arti" in Venice. He displayed an astounding skill in moulding materials, transforming them with wit and panache and creating sculptures with perfection of detail, spontaneity and essence. During his artistic evolution he worked first in marble, then bronze, and eventually in wood. However wood has always been his favourite material because it affords him a vitality which other materials do not.
Since opening his own studio, Livio De Marchi has allowed his fantasy to take wing. He has an ironical ability to "see" life, letting him carve unique sculpture. His artworks have been shown in cities all over the world including Milan, Florence, London, Paris, Düsseldorf, Zürich, New York, Los Angeles, San Fancisco and Tokyo.
| | |
| --- | --- |
| | In 1985 he created an enormous paper hat in wood in the Japanese Origami style. |
| | In 1986 a gigantic floating woman's shoe saw the light of day. |
| | In 1987 he carved, again following the tradition of Origami, a dove of peace which stands alongside the paper hat in the Central Park in Himeji (Japan) as a monument. In the same year the Kunsthalle Museum in Emden (Germany) bought his big pot with brushes called "Flowers of the Artist". |
| | In 1988 he made a floating life-sized 1937 Jaguar, sculptured in wood. |
| | In 1989 he carved la life-sized Fiat Topolino Model A. |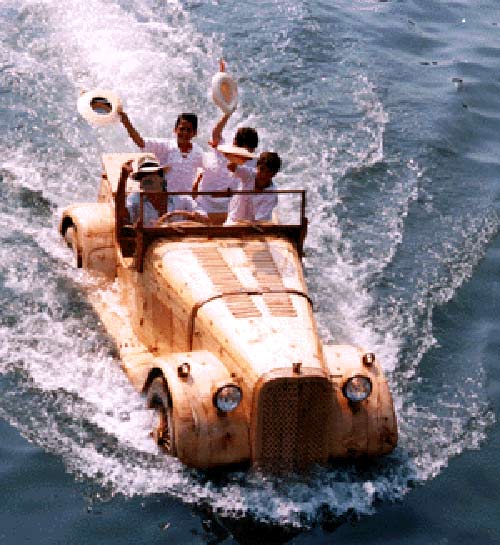 Fiat Topolino
| | |
| --- | --- |
| | In 1990, he created the "House of Books" in S Anna - Tambre D'Alpago (BL) Italy. It has already achieved worldwide fame. |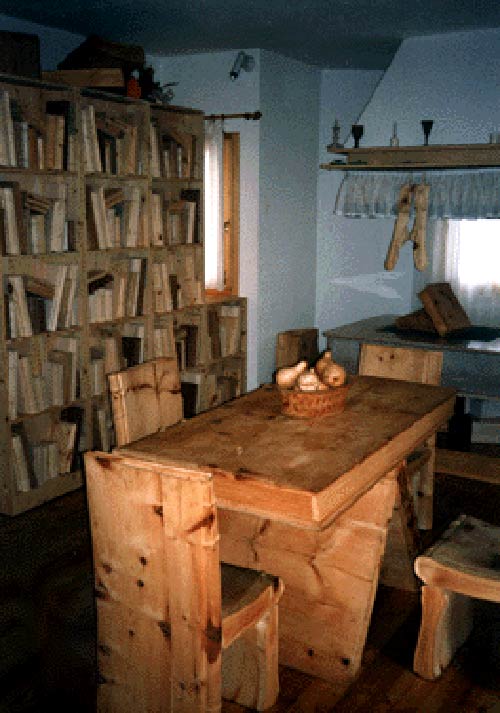 All the books in the shelves are carved of wood. In fact, so is everything in the house -
dishes, clothes in the closets, the fruit on the table, all the furniture...
| | |
| --- | --- |
| | In 1992 he made the "House of Books #2 in Germany for a private collection. |
| | In 1994 his fantasy took flight again and he created a floating work of art with the title "a dream in Venice": a huge pumpkin drawn by 4 horses, which rear up when the driver pulls the reins. The pumpkin can accommodate 4 people. It was one of the jewels of Carnival 1994. |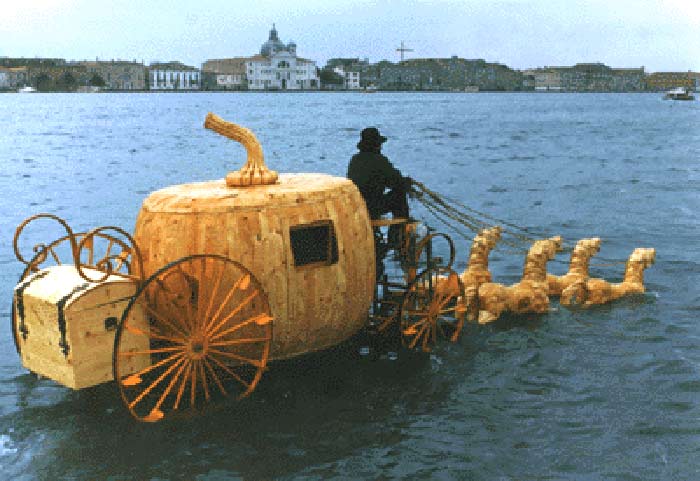 Fit for Cinderella
| | |
| --- | --- |
| | In October 1994, he constructed his "House of Books #3 in Japan. He intends to make 10 of his "House of Books" creations all around the world. We ourselves have wardrobes full of clothes and items for every use at our disposal. The sense of alienation which Livio de Marchi conjures up by recreating these objects enables us to empathize in advance with the excitement that is bound to grip our descendants 1,000 years from now when they stumble upon the remains. Or perhaps things will turn out differently in that our everyday stuff will receive much better care once it has been recreated in wood, so that our descendants will find more wooden sculptures by Livio de Marchi than original items. This is one of the reasons why the artist has the ambition of recreating in wood a range of garments which could be characteristic of a specific group of professionals or age category. |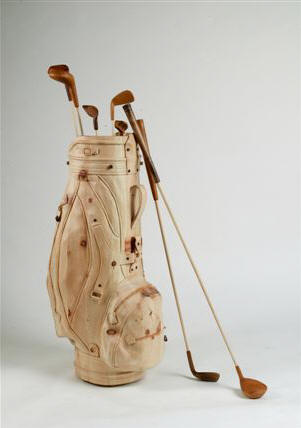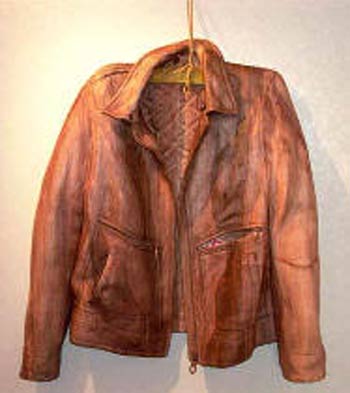 Wood, all of it
| | |
| --- | --- |
| | In 1995 for Carnival he carved an 8 metre high vase with 12 flowers (4 roses, 4 tulips, 4 daisies). It was anchored near the Dogana on the Grand Canal. |
| | In 1997 he created a floating wooden motor car "Mercedes Seagull". |
| | In 1999 he created a floating wooden car, Volkswagen Beetle. |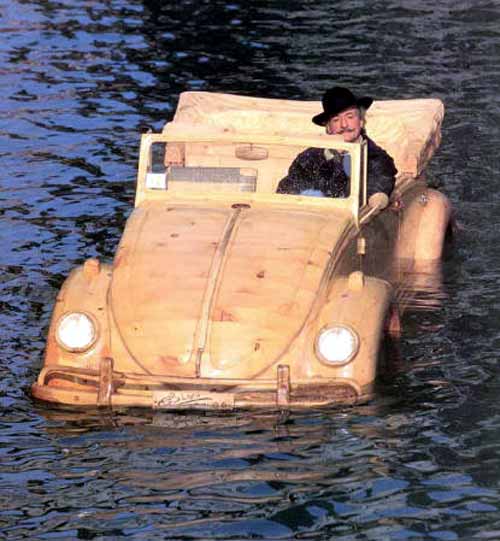 De Marchi in his Beetle - for sale for €105,000
| | |
| --- | --- |
| | In 2000 he created a floating wooden Ferrari F50. |
Sources: liviodemarchi.com and lievehemel.nl
See also:
| | |
| --- | --- |
| | Sam Barcroft Photography (an external site) - probably the best source of photos of de Marchi's work, but Barcroft seems a bit touchy about them being reproduced elsewhere, so I didn't. |

Brick Art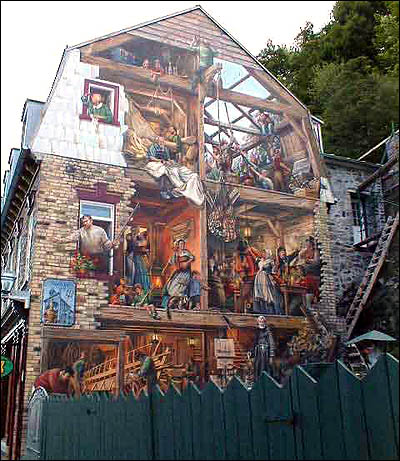 Source: thesun.co.uk sent to them by Simon Richards

Walking to the Sky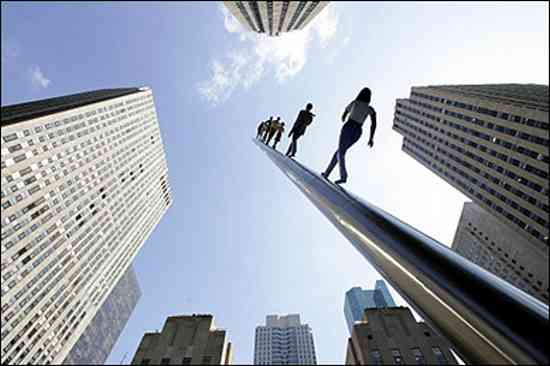 Jonathan Borofsky's 100-foot-tall sculpture is displayed in Rockefeller Center in New York City.
Source: allhatnocattle.net

For articles on poverty, social markets, superfluous children, isolation, modern mating difficulties, status, boasting, gender differences, patriarchy, capitalists, civility, groups, racism, virtue, ethics, art, music, religion and crewing click the "Up" button below to take you to the Index page for this Social/Cultural section.