Sit on It
A Chair-i-table Effort
The large executive chair elevates the sitter and it is covered with the skin of some animal, preferably your predecessor.
- Emilio Ambasz

A chair is a very difficult object. A skyscraper is almost easier. That is why Chippendale is famous.
- Ludwig Mies van der Rohe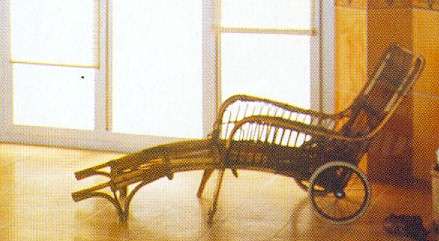 Scholarship That Counts...
Maybe you were envious of your friends whose households had beanbag chairs. But UC Berkeley architecture professor Galen Cranz says you're better off. In The Chair (Norton, US$27.50), Cranz examines humankind's relentless need to sit down. Tracing chairs from ancient Greece to Le Corbusier and way beyond, she sees in this bit of furniture a crucial symbol of power - even of gender.
As a trained sociologist, "1 specialise in how people use space - how people intersect with the environment," explains Cranz. As a chronic back-pain sufferer with severe scoliosis, she saw chairs as the "very intimate" point at which body and environment intersect. They're the quintessential piece of furniture. We touch them with our full bodies. They're anthropomorphic," Cranz notes. Her sleuthing uncovered Neolithic artifacts that showed female figures seated in four-legged chairs "but not so upright. They had a lot of slope."
As Western civilisation slouched steadily toward Bethlehem, it produced thrones, benches, and La-Z-Boy recliners. Chair divided rulers from rules, owners from owned. They also screw up our spines. In The Chair, Cranz incorporates physiological research to support her thesis that an oblique angle between thighs and trunk, say 125°, is ideal. Office chairs are torture, she says. The West has a lot to learn from cultures who eat sitting on the floor.
"We assume that the right-angle seated posture is natural," she warns. "We don't challenge it." - Anneli Rufus - The Monthly
Source: Anderson Valley Advertiser 05 January 00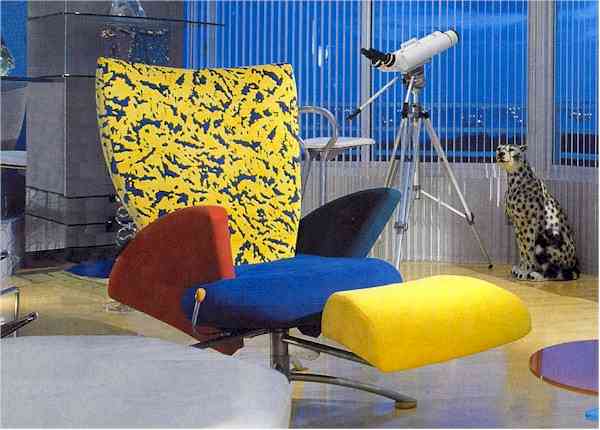 Source: trendsbooks.com New Zealand New Home Trends Vol 15 No 12 (both chairs)

Seeking the Best
A chair is a very difficult object. A skyscraper is almost easier. That is why Chippendale is famous.
- Ludwig Mies van der Rohe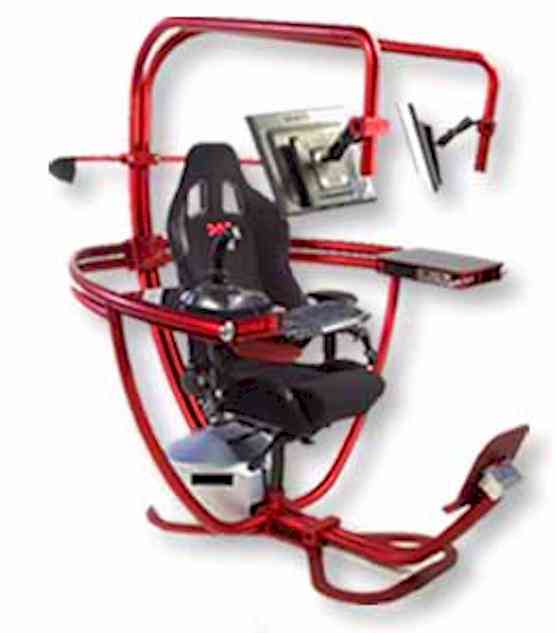 Personal Computing Environments have designs which eliminate the need for a desk. Rather, they wrap the workstation around the user. Buyers choose how to create their environments, beginning with a core modular frame design made of aluminium available in wide range of cool colours. From chair materials and shelving options to technology tools and gaming accessories, your personal computer environment will be your own work of art allowing you fingertip access to every tool you need, in the most comfortable fashion imaginable. The PCE also gives you the flexibility to add your own components, giving you limitless freedom to customise your environment.
You are provided with a palette of options: chair materials, number and types of monitors, desk space, audio surround sound system, and tower CPU holders. Once you submit your configuration, a PCE account rep will contact you to confirm your order and process your payment. Allow 8-10 weeks for delivery.
Cost? In the neighbourhood of US$5 - 6,000. For top-of-the-line models, company designers add options such as a luxury massage chair, two 22-inch flat-panel monitors and surround-sound speakers.
Source: mypce.com

Sitting in the Lap of Comfort Isn't Cheap
Ergonomics is the study of workers and the work environment, said Peter Greene, vice president of marketing at Dauphin (pronounced "dofan"), a privately-held German-based manufacturer of ergonomic office chairs. Dauphin claims more than US$200 million in annual sales world-wide. The company's goal is to produce chairs that combine ergonomics, comfort, and design. "We want the movements of the chair to support workers most optimally at their workstation," Greene said.
Dr Jeffrey Fernandez, an engineer and certified professional ergonomist (there are about 700 of them), works at Exponent in Alexandria, Virginia and consults on ergonomics. He said workers need a good chair for several reasons. "One, you need good back support and you need to be seated at the right height," Fernandez said. "Plus you need good arm support, and the arms must be supported at a good height." Fernandez also said seat pans should come in different sizes to support people of different sizes.
Lumbar support is also necessary. "All of us have the major curvature of our spines (small of our back) at different spots," he explained. Finally, the chair needs to be stable. "A good ergonomic chair has five feet, not four, in the shape of a star to provide this stability."
Dauphin's ergonomic chairs meet all of these requirements.
Greene explained that ergonomics had its roots in World War II, when the German military was outdueling the United States in combat. The problem with US planes was that the pilot had a long reach for the trigger once a plane was in sight. The design was changed to place the trigger next to the pilot, eliminating the reach and making US pilots more effective in combats.
While more research in ergonomics is conducted today, the early market research led Wilfred Dauphin to found his company in 1968. Dauphin was hired by a British firm to research the question, "What impact will the introduction of the computer have on office furniture requirements?" The British firm was unable to implement Dauphin's final business plan, so he began his company with his wife, Elke, and one employee in their garage in a small town in Germany. There he developed a basic chair with some basic adjustments. The market for ergonomic chairs evolved early in Germany as a result of that country's socialised medicine.
"They always had ergonomics norms, as they tried to prevent injuries in the workplace," Greene said. Greene said Dauphin's chair, with its separate adjustments for the seat and back, was the first ergonomic chair available in the US. (The company opened US operations in 1979 and now does about $20 million in annual sales.) In the past 5 to 10 years, US manufacturers have caught up to their European counterparts in ergonomics research and regulation, Greene said.
Dauphin now makes 10 lines of chairs, each with different aesthetics, functions, or both. The lines include executive chairs, task chairs and public seating. Prices range from US$385 or less for a tall-back task chair with adjustable arms to US$1,606 for a "fully loaded" executive chair with a leather headrest. Dauphin's upscale chairs are sold in 50 countries and are assembled in 13 factories throughout the world.
Greene likens Dauphin's manufacturing process to that of a large car maker. While Dauphin controls the design, manufacture of the components is sourced out to suppliers. The components are assembled in Dauphin factories. Manufacture of the "engine" - the base with wheels, is outsourced to a Dauphin-owned factory. The "engine" is the essential part of the chair that allows movement. Plastic parts are outsourced as are the fabric, foam and wood components, which are obtained from local suppliers.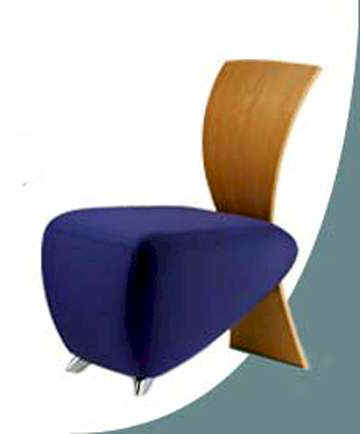 Of the 60 employees in their Boonton, New Jersey plant, about 45 are factory workers. Orders, ranging from a single chair to 1,500 chairs, are received each day. It usually takes 4 - 5 days to fill and ship an order, Greene said. From the order, which lists all necessary materials, the workers assemble the chairs. The factory floor is divided into separate areas of work. A large machine sits in the upholstery area, surrounded by bolts of fabric that will be cut according to patterns. In the past, fabric was cut by hand, Greene said, but all the patterns have been digitised and a computer has replaced human hands.
Workers operate sewing machines in the next area. Drawstrings are sewn into the fabric. About 90% of the chairs are upholstered with slipcovers, rather than using glue to fasten the fabric to the chair. Before upholstering the chair, foam is attached to the wood or plastic seat and back. The slipcovers are then tied around the plastic seat and back of the chair. Steam is used to make the fabric more flexible. "The steam really helps shape the fabric around the chair," Greene explained. Several staples are used to secure the covering. Besides being environmentally sound, the slipcovers are easier to remove and recover, if necessary.
In the assembly area, the chair back and the seat are put together, the "engine" is attached and the levers (or paddles) are added. Once the chair has been assembled, it is tested. While some models are tested by workers sitting on them, all ergonomic chairs are "table tested" for functions, such as tilting and swiveling. Once te chair has been fully tested, it is disassembled and packaged into cartons. The cartons are sent downstairs to the warehouse area by elevator and are geographically sorted and moved out of the factory.
Dauphin's underlying philosophy is simplicity. "Keep it simple and easy to use, then people will use them," Greene said. "The more complex you make them (chairs) and the adjustments, the less likely they are to use them." However, that's not as easy as it might sound. "The challenge is keeping it simple while providing the people with functions. This is harder to do. Anyone can make something complex."
New products are often driven by research and development and market research. New medical findings, æsthetic trends, and the development of new materials and technologies provide input for new, updated product designs. Development of a new chair can take up to three years, Greene said.
Although primary R&D functions are performed in Germany; the Boonton facility employs ah industrial designer and engineering support. Greene said those at the German parent are open and receptive to new product ideas. In fact, the new line of public-area seating was developed in Boonton, including a child-size version of the waiting room chair. This small chair is being used in pediatric hospitals and doctor offices.
Because of the sluggish economy, industry sales overall have been down 15% since last year, but Greene said Dauphin hasn't really been affected. In the future, Dauphin plans to make smart work surfaces, Greene said. Now in development, these tables will have the ability to support evolving technologies. "Not only are the chairs smart, but so are the tables," he said.
The Bobo chair lists for US$1,750 and sells online for US$1,225. The Baby Bobo children's seating module sells for US$595 and the contour chair with fully adjustable arms (the best-selling model for corporate America) sells for US$679.
Source: The Daily Record, Morris County New Jersey dailyrecord.com Dauphin's website is dauphin.com

Another Way to Be Sitting in the Lap of Comfort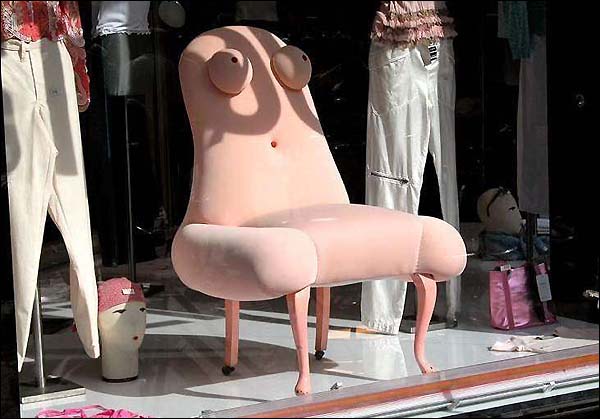 I suspect this is also not cheap...

It's Time to Weed the Sofa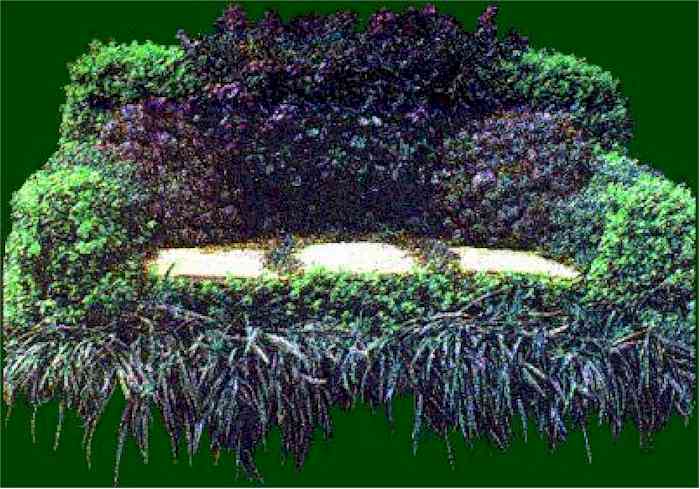 by Shawn Sell
Couch potatoes, beware: linger too long on this sofa and you might start sprouting yourself.
Cultivating Growth, the northern hemishpere's newest piece of urban street art, is a living sofa dreamed up by the Chicago Botanic Garden. Unlike all that fiberglass furniture also dotting downtown as part of Suite Home Chicago, this creative couch at the Harris Bank Plaza is covered with live plants.
"We wanted to make it fun and easy to take care of, so we used common plants that would take sun or shade and dry and windy conditions," says Cindy Baker, the garden's project manager. "We installed an internal watering system because horticulture in the city is very different than in the suburbs." The garden topiary features creeping jenny as the main "upholstery" on its steel frame, a seat made from flagstones and thyme, arm coverings made of water hyssop, pillows fashioned from hens and chicks and a throw of blue fan flowers. The sofa is 66 inches wide, 30 inches deep and 44 inches high.
Source: USA Today Friday 6 July 2001; photo credit William Biderbost, Chicago Botanic Garden

And Now for the Table...
Tabling an Idea

by Pilar Viladas
Just because you've bought a 1950s modern house doesn't mean you have to fill it with postwar classics. Although they're now regarded as giants of 20th-century design, Eames, Nelson, Bertoia and company were upstarts once. At this year's International Furniture Fair in Milan, there was some genuine innovation, employing new materials and technologies amid all the upholstered wannabes and coloured-plastic fashion victims. Among Cappelli's many ahead-of-the-curve offerings was Fabio Novembre's Org Prototipo, a table with a glass top and 171 rope legs. (Don't wory - six of them are reinforced with metal.)
Source: The New York Times Magazine 13 May 2001 photograph by Paolo Riolzi; styled by David Farber

Tree Top & Water Table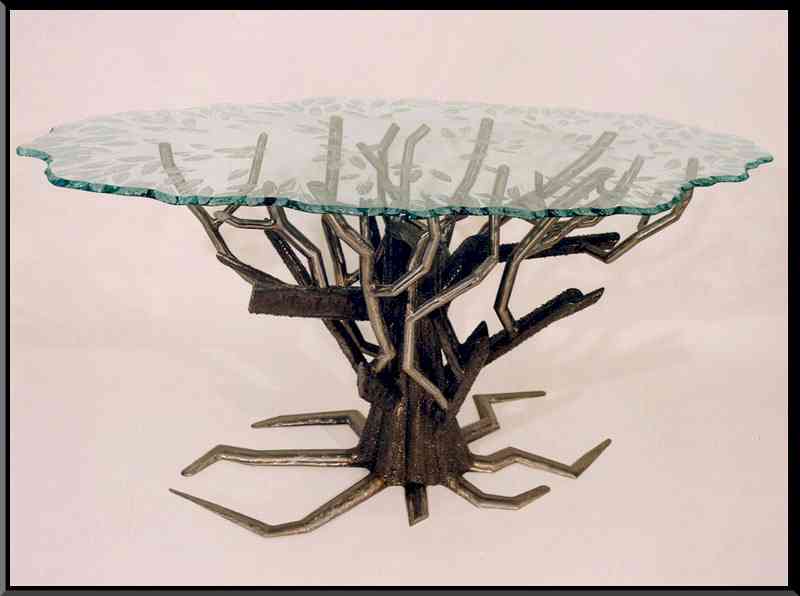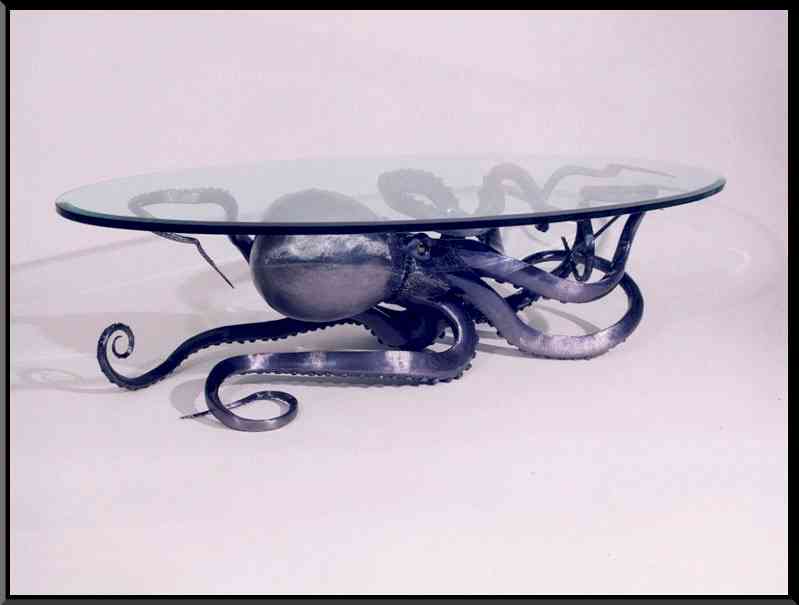 Forrai Metal Design, established 1995, is located in Orange County California. FMD is rapidly gaining a reputation of creating very unique metal artwork and of the highest quality. The work is very demanding, using old and modern metal smith techniques, with metals such as steel, stainless steel and aluminum. Once the metal is shaped, it is then brushed and sealed with polyurethane for durability. Each design is unique and mostly functional art.
Source: forraimetaldesign.com Visit his gallery!

Table Legs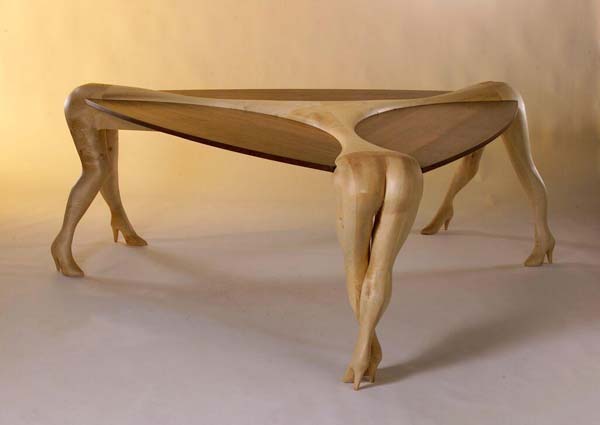 -------- Original Message --------
Subject: Re: Unusual table
Date: Mon, 5 Dec 2005
From: Paul Crawford <p_c_1966@yahoo.co.uk>
To: Ruth Hatch <ruth@chaos.net.nz>
Hi Ruth,
I was wondering where the table above came from. If you know of the artist and/or manufacturer, could you please let me know?
Regards,
Paul
Paul,
I was mailed a picture of that table - someone had found it on one of those sites that don't credit anyone. At the time I tried to find the source but was unable to. I'm very sorry - but I can't help you. It IS an unusual table...
Ruth
Ruth
Seems it is Dutch: ananova.com/news/story/sm_1636045.html
Regards,
Paul
Paul
Thanks very much. After reading the article, I found the website of Mario Philippona < home.kabelfoon.nl/~mjvdh/pag1.html> whose "passion for wood and the form of woman" have led him to make "sculpted sexy furniture". The table is for sale by the way - for about €10,000.
Ruth
See also:
| | |
| --- | --- |
| | Let Then Be Light (in the Society and Culture section) - for unusual light fixtures which "provide little illumination, but lots of atmosphere..." |

And, Finally, the Bed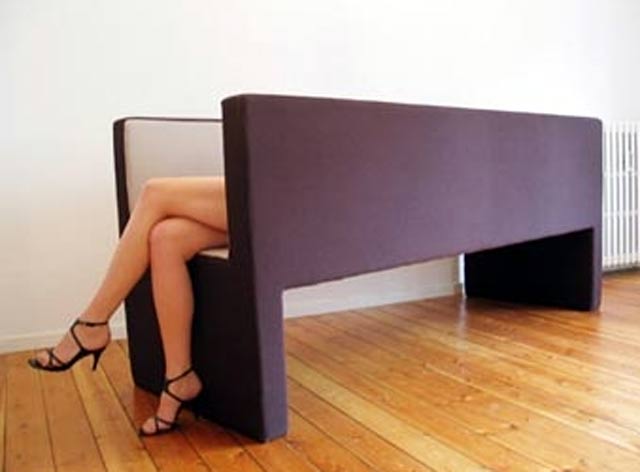 Outstanding bed - for one
Source: dasding.be

For articles on bacteria, centrioles, chairs, nebulae, asteroids, robots, memory, chirality, pain, fractals, DNA, geology, strange facts, extra dimensions, spare parts, discoveries, ageing and more click the "Up" button below to take you to the Index for this Science section.