Which Prison Rehabilitaes Better
More on Austria's Model Prison
The subject of criminal rehabilitation was debated recently in the Chicago City Hall.
It's an appropriate place for this kind of discussion because the city has always employed so many future cons.
- Mike Royko

Justizzentrum Leoben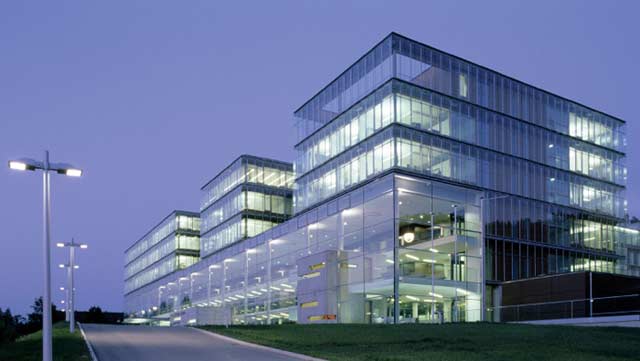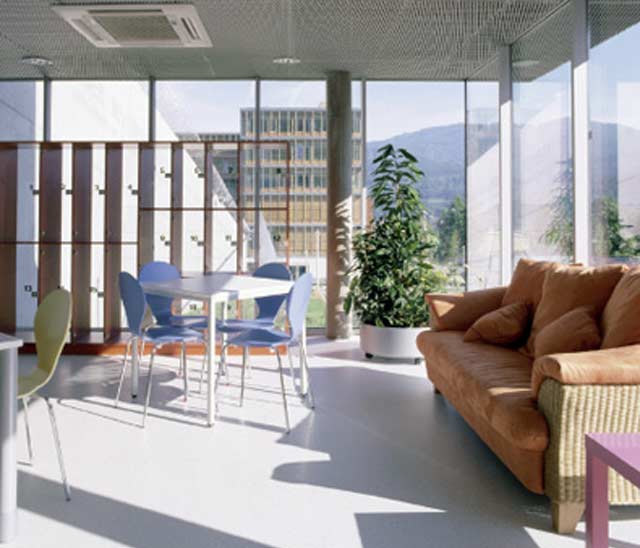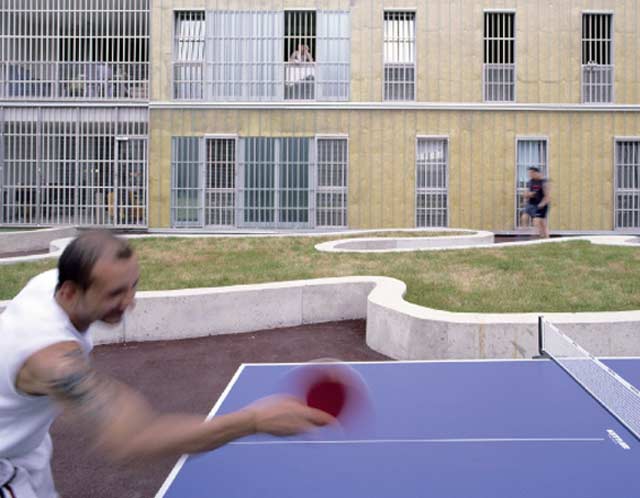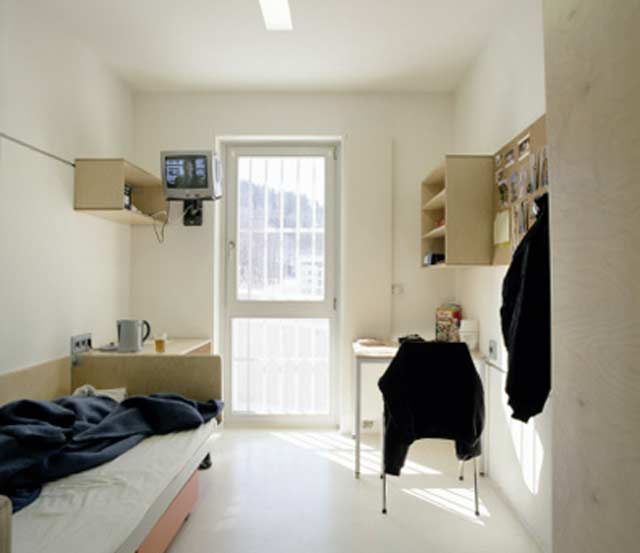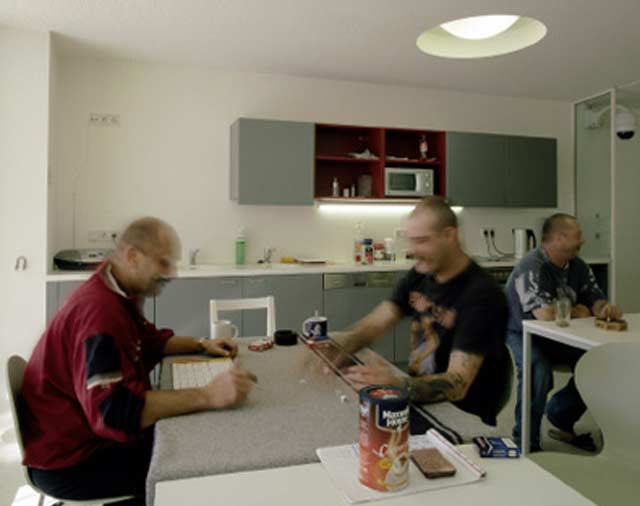 Source: hohensinn-architektur.at photos by Paul Ott
This prison is located in Styria, Austria.l The other prisons in Austria (I presume there ARE more) may look like prisons the world over, but this one is awesome.
Note: There are more photos on the preceding page along with something about the background.

Compare the Austrian prison above with the California accommodation offered below...
Jaramillo Opts for $75-Per-Night Jail Accommodations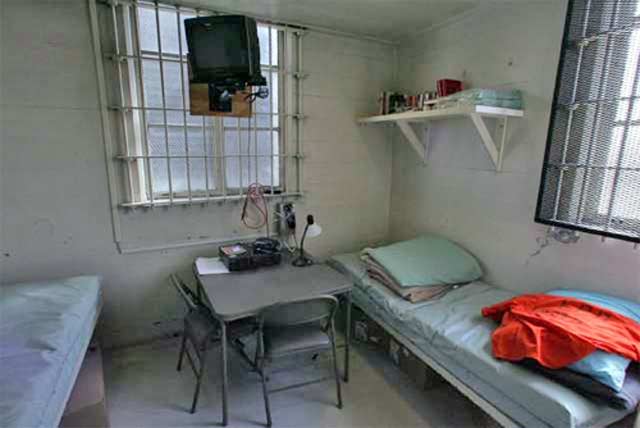 This cell at Fullerton City Jail is a pay-to-stay site.
"It's like the Mayberry jail with modern technology," a jailer says. A judge still must approve the deal.
by H G Reza
The former assistant Orange County sheriff's yearlong stay at the pay-to-stay, more-amenities Fullerton city lockup for two felonies won't be a picnic - well, actually, sometimes it can be. It is not the Mayberry jail, where justice is tempered with Southern hospitality, but for George Jaramillo it is the next best thing. The former Orange County assistant sheriff will rent a cramped cell at Fullerton City Jail to serve his one-year sentence for lying to a grand jury and unauthorised use of a county helicopter, police and district attorney officials said Thursday.
Jaramillo, 46, has until April to begin serving his term at a private or municipal jail of his choice after pleading no contest in January to two felonies. In return for his plea, the Orange County district attorney's office dropped 9 other counts and agreed he would not have to serve his term in a county jail. He could have gotten 13 years in state prison if convicted of all charges. Instead, Jaramillo will pay his debt to society in a spartan cell 3 feet from the drunk tank. The tank has no shortage of noisy occupants on weekends, mostly drunks picked up in the city's trendy downtown area. One of his jail chores will include cleaning the drunk tank.
Pay to stay can be summer camp compared with state prison. A criminal who can afford to pay for his jail stay enjoys privileges that make his punishment more bearable. For starters, Jaramillo may be able to bring his cellphone and a laptop computer. A screenwriter who paid to do his brief sentence in Fullerton was able to finish his screenplay on his laptop, said jailer Efren Ragay. Jail officials said Jaramillo will have trusty status, as do all pay-to-stay inmates, and he will be allowed to roam outside the building but not off the unfenced grounds. They are not concerned about him walking away, because that would earn him a transfer to the type of lockup he is trying to avoid. While in custody, he will have to wear an orange smock with the letters "FPD" at all times.
Jaramillo will also be allowed family visits in a patio in front of the police station, where he can enjoy restaurant meals that visitors can bring him. Otherwise it is frozen dinners from the microwave. The cost to be the city's guest is $75 per day. Usually, the entire sum is payable in advance, but because of Jaramillo's longer sentence he will probably be able to pay in installments, said Lieutenant John Petropulos. "If you're going to be in jail, it's the best $75 per day you'll ever spend in your life. You don't have to worry about getting beat up by a guy with a shaved head and tattoos," he said.
Cities began opening up their jails for paying clients about a decade ago. About 15 cities in Los Angeles and Orange counties rent jail space to low-risk offenders, including Pasadena, Alhambra, Seal Beach and Huntington Beach. Rates differ from jail to jail. Fullerton's rate seems like a bargain compared with that of Torrance, where inmates pay $171 per day. There are no reliable figures showing how many men and women have chosen to use pay-to-stay facilities. But generally, only low-risk inmates serving a year or less for nonviolent crimes are accepted. The program is little known, but its popularity is growing so quickly that you had better make your reservations soon. Huntington Beach Jail administrator Dale Miller said his facility, which can handle 8 male and 4 female paying clients, is booked until June. He said he turns down about half of those who apply.
Celebrities who have paid for their crimes include actor Christian Slater, who served 59 days in La Verne City Jail for battery and drug offenses. Rap music producer Dr Dre, sentenced to 5 months for violating probation, served his time in the Pasadena jail. Critics charge that pay to stay is a glaring example of the unequal distribution of justice in this country. "It symbolises the two-tiered system we have in this country for poor defendants and the well-to-do," said Paul Wright, editor of Prison Legal News magazine, which is an advocate for inmates. "The poor are just as deserving but can't afford to participate. This makes a mockery of the notion of equal justice under the law."
Jaramillo's choice of jails still must be approved by the judge. District Attorney Tony Rackauckas, who also has a say-so in where Jaramillo will serve his sentence, has already raised an objection. "I will not agree to any special privileges for Jaramillo, including the use of a cellphone or personal computer," he said. Robert Corrado, Jaramillo's attorney, said he and his client considered several jails in Southern California, making Jaramillo's safety the priority. "It needs to be a decent, clean place where his family can visit," Corrado said. Bill Naber, a jail consultant and former Sonoma County sheriff's captain, said that even if Jaramillo were ordered to serve his term in a county jail, he would not spend his time in Orange County Jail because inmates might seek revenge against him. Petropulos said Jaramillo would be required to work in the Fullerton jail. His duties will include heating the frozen meals for other inmates and mopping and cleaning the ageing but spotless jail.
Jaramillo, expected to report around the middle of the month, will share with another inmate a cell the size of a walk-in closet. They will share a corner toilet partly hidden behind a slim canvas wardrobe, affording only a modicum of privacy. Next to the toilet is a sink and two wall lockers like those found in a high school hallway. A card table with two chairs is wedged between two prison beds. Jaramillo can relax inside his cell and watch television or movies on a VCR. A wall phone below the TV allows him to make collect calls if he is not allowed to bring his cellphone. There is also a small shelf with reading material. The only other recreation available is shooting hoops in the jail's driveway.
The Fullerton jail was built during the Great Depression by the Works Progress Administration, but the facility has all of the electronic gadgets and surveillance equipment found in modern jails. "It's like the Mayberry jail with modern technology," said Ragay, who has worked there 20 years.
Source: latimes.com 2 March 2007 photo credit Glenn Koenig/LA Times

For articles on white collar and petty crimes, injustice, capital punishment, race, executioners, freedom of the press, cheating, private prisons, punishment, retribution, prison labour, appeals, instant justice, electronic tags, lepers and second chances click the "Up" button below to take you to the Index for this Prisons section.