Living in a Box
Auckland Central Remand Prison
Before his daring escape from prison, an infamous criminal had been photographed from 4 different angles.
The FBI sent copies of the pictures to police chiefs all across the land, with orders to notify Washington the moment an arrest was made.
The next day, the Bureau received a faxed reply from the ambitious sheriff of a small Southern town:
"PICTURES RECEIVED. ALL 4 SHOT DEAD WHILE RESISTING ARREST."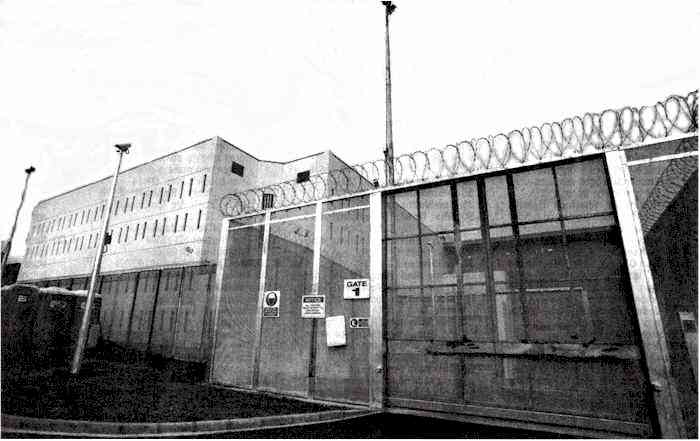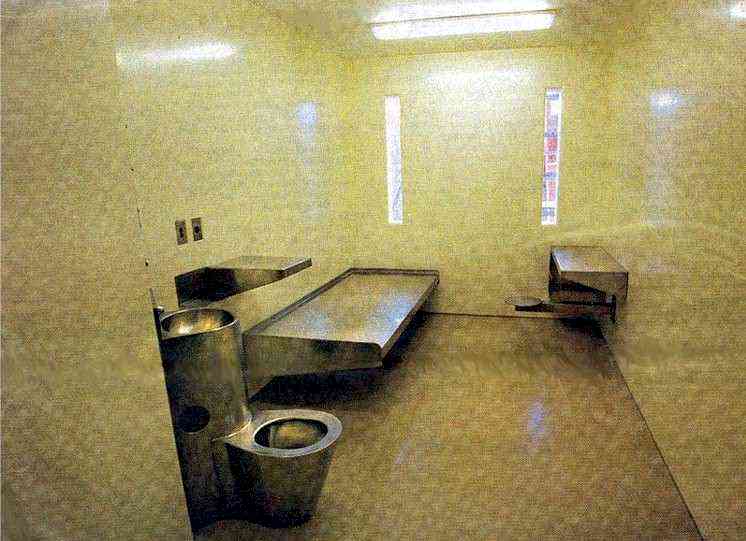 Divided Views: Cells in the new remand prison lack the dungeon-like atmosphere of Mt Eden,
but opponents criticise the new facility as a "poultry farm"
Source: New Zealand Herald Friday 14 July 2000

Is there no way to build a secure but beautiful prison? Or are they constructed deliberately ugly so prisoners won't desire to live there? Or so they won't enjoy living there? What, exactly, are all the purposes of prisons?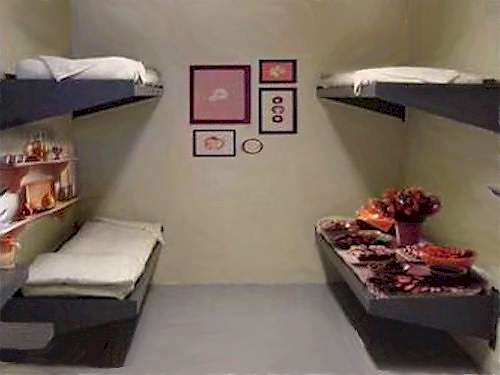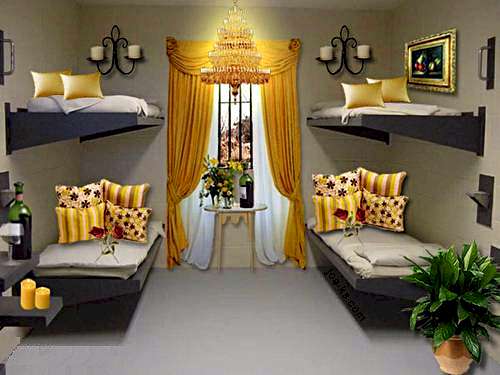 It'll never happen.

Making Hard Time Easier
by Claire Osborn
Off to prison? Those who've been there have some advice. If you go to prison in Texas, act like a nerd. Take classes in whatever. Hide in the library. Pray in chapel. If there's a fight brewing, back off. Talk your way out of it. If you can't, defend yourself, but don't win.
This is prison wisdom. The advice comes from two men who should know, one a former prison guard and the other a former inmate. Mark Bull, a former Texas corrections officer who worked his way up through the ranks, charges $150 an hour to explain how to survive in prison. His business, which also includes security audits and law enforcement training, is in Cedar Park. Lawyers with the Huntsville-area firm Habern, O'Neil and Buckley include former public defenders who use former inmates to educate people about survival in prison. The law firm charges $2,500 for a 1½-day session and/or $250 for a 1½-hour videotape. Most of their clients are middle-class future inmates and their family members, usually referred by defense lawyers. They include dentists, housewives and secretaries who have never had any experience with the Texas prison system and are in shock.
"This is nothing we ever dreamed we'd have to face or go through, because my son is a 25-year-old college student who'd never been in any trouble," said Carol Hibbs, a legal assistant from Wichita Falls. Her son, whom she declined to name, is serving 15 years for aggravated kidnapping. She said that Chuck Hurt, a former inmate who is a legal assistant at the Habern law firm, provided her family with invaluable advice. "He kind of walked me through what it would be like, and he's never not taken my calls, although sometimes he just listens to me bawl," Hibbs said.
Violence in prison is a continuing problem, according to statistics from the Texas Department of Criminal Justice that show inmates received 14,591 disciplinary convictions during fiscal year 2002 for assaulting other prisoners and staff members. Texas' prison system holds more than 145,000 convicts. Hurt said the law firm has had between 100 and 120 participants in the programme since 1996. Bull has had 12 to 13 clients during his first year of providing the consulting service. With the growing Texas prison population, both businesses have seen a demand for their services. More people are being sent to prison for the first time: during fiscal 2002, which ended in September, 25,955 people who had never been before were sent to Texas prisons, according to the Department of Criminal Justice. "That's plenty of targets who've never done any time," Bull said.
Although Bull and the lawyers at Habern, O'Neil and Buckley have different approaches, they agree on a few things. For example, don't let another inmate get friendly with you or offer to do you favours, because he or she will expect something in return. Inmates should also try to spend as much time as possible in their cells and away from common areas such as day rooms and recreation yards, to avoid getting raped. There are more people for guards to watch in common areas, and inmates have more opportunity to memorise a guard's routine, Bull said. If a prisoner is raped, he or she needs to report it to a physician or supervisor, Bull said. "It's a crime on the inside, just like it's a crime on the outside."
Hurt, who served time for an indecency charge and is now Bill Habern's legal assistant, agreed but said inmates should report rapes to captains, not guards. Guards often don't want to be bothered with paperwork, Hurt said. He said he often talked his way out of trouble in prison. One time, he negotiated with a man who wanted to steal his tobacco by giving the other inmate a job to do - roll the loose tobacco into cigarettes - in exchange for sharing the cigarettes. If you get into a fight, though, both Bull and Hurt say you should defend yourself - just don't win. "The prison is a gunslinger's environment straight out of the Old West, and if you win the fight today, then you have to get up and fight tomorrow," he said.
Trouble can start upon arrival. The first question a new prisoner often gets asked by another inmate is, "Who do you ride with?" Bull said. What the inmate wants to know is what gang the new person belongs to. If you don't belong to a gang, the safest thing is to tell the truth, Bull said. "Just say, 'I don't ride with anyone. I came in by myself, I'm serving my time by myself, and I'm leaving by myself.'" Getting involved with gangs entangles a prisoner in an endless cycle of retaliation and bloodshed that can seriously hurt the chances of parole. Gangs divided by race or ethnicity are a major problem in prisons, and many are operating illegal drug rings in Texas cities. One inmate was stabbed to death and another was severely beaten in a brawl involving rival prison gangs at the Department of Criminal Justice's Polunsky Unit last March. "The gangs will tell you, 'We'll watch your back,' but what you find out is, they won't protect you but will watch as you go out and perform and stick your neck out and get hurt," Hurt said.
A former inmate who consulted with the Huntsville law firm before he went to prison said the advice helped. "I don't think I'd be out of prison by now if it weren't for them," said Cody Martin, a Fort Worth high school soccer star who served 15 months for an aggravated assault. "Because of their information, I avoided gangs, I avoided becoming friends with people, and being sexually assaulted was not even an issue," Martin said.
The prison system also has advice about handling problems in prison. Janie Cockrell, the division director for the Department of Criminal Justice, agreed with some of the advice that Bull and the Huntsville law firm provided, such as not joining gangs and taking as many classes as possible. But she has other suggestions. Inmates should report crimes, such as sexual assaults, to guards because all the prison staff has been trained to handle the crime with sensitivity and report it to supervisors, said Cockrell, who started out as a guard in the prison system. Inmates don't always have to keep to themselves, she said. "Just because we have people in prison doesn't mean they are bad people; they did bad things, but they want to straighten out their lives. Other offenders can help you if you pick a role model."
The department is issuing an updated orientation manual for new prisoners that will include rules about clothing, personal property, how to act in various parts of prison such as dayrooms, and which officials to turn to for help in case of extortion or sexual assault. The state agency has a website that includes links to information for families of inmates at www.tdcj.state.tx.us.
The chairman of the board for the Texas Inmate Families Association, one of the largest groups statewide for relatives of prisoners, said advice about entering prison sounds like a good idea. "When people are faced with going to prison, it's a pretty scary thing, and they need all the information they can get," Stuart DeLuca said. "Our organisation really hasn't been able to address that yet." Most states do provide orientation for new prisoners, but the programmes vary, said Joe Weedon, a spokesman for the American Correctional Association. The national organisation has about 20,000 members. Hurt said the information on the state prison website for families is useful, but prison rules about issues such as visitation can change monthly, so it is hard to rely on books and manuals. "The only rule you can depend on is the rule coming out of the mouth of the guard standing in front of you," he said. It helps if inmates view prison like being in the military, because many prison employees are retired from the armed forces and run the prison like a boot camp. "Rather than feeling like they have become the lowest thing on Earth, I want inmates to keep their self-esteem by realising they are not going through anything different on the Ellis Unit than the recruits at any military recruitment centre," Hurt said. "Of course, it lasts longer."
Claire Osborn is a member of the (Austin) American-Statesman staff; she may be reached at cosborn@statesman.com.
Source: Austin360 Monday 13 January 2003

It is my personal opinion that Bull and Hurt and their respective firms charge a bit much. Like undertakers who sell grieving families expensive caskets, these men are dealing with people at an emotional time; prisoners and their families are often motivated by guilt and fear. Just because the men are paid these high fees doesn't mean the people paying them can actually afford to. Perhaps someone else will come along soon and perform this same service - only cheaper.

58¢ Crime Could Cost $270,000
Belvedere, New Jersey - A man who allegedly stole 58¢ from a car in rural New Jersey could end up costing American taxpayers hundreds of thousands of dollars for his trial and incarceration.
Over protests from a taxpayers' advocacy group and civil libertarians, prosecutors are pressing for a jail sentence of 5 to 10 years for a drifter accused of stealing the money in Greenwich, New Jersey in 1999. In Michael Monroe's defence, his attorney said he slid his hand through a slightly open window of the car to give more air to a rottweiler dog left inside.
It had already cost taxpayers $16,000 to keep Monroe in jail before his trial started yesterday in Warren County Superior Court, local officials said. "That's a waste of taxpayers' money for a crime that wasn't life-threatening," said Sam Perelli, state chairman of United Taxpayers of New Jersey.
If he gets the maximum term, it could cost about $270,000. Prosecutors alleged Monroe, 50, stole the cash on 6 June 1999, by reaching into the car while it was outside a supermarket. Car owner David Laman said he left the window open for his dog. - Reuters
Source: The Evening Post Wednesday 28 March 2001
See also:
| | |
| --- | --- |
| | Lawyer Has No Luck at All (in the section on Oddities) - Bentley's only stroke of luck was finding a lenient judge, who gave him a 15-month suspended sentence Friday for stealing 64,000 pounds of his clients' money... |
| | Quadriplegic Jailed on Pot Charges (earlier in this section) - A quadriplegic who says he uses marijuana for medical reasons has been sentenced to 7 years in prison - costing taxpayers 5 times more than an average inmate - after being accused of selling the drug from his home... |

For articles on white collar and petty crimes, injustice, capital punishment, race, executioners, freedom of the press, cheating, private prisons, punishment, retribution, prison labour, appeals, instant justice, electronic tags, lepers and second chances click the "Up" button below to take you to the Index for this Prisons section.