You Could Survive with These
When Living Is Precarious
All progress is precarious, and the solution of one problem brings us face to face with another problem.
- Martin Luther King Jr

Let architects sing of æsthetics that bring
Rich clients in hordes to their knees;
Just give me a home, in a great circle dome
Where stresses and strains are at ease.
- R Buckminster Fuller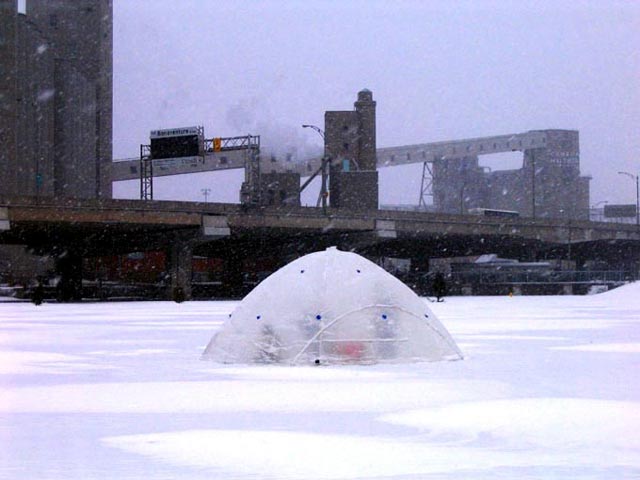 The matrix used in the fabrication of these domes is made from an inflatable vinyl structure whose frame is composed of plastic pipes pierced all around. Once this is arranged on a frozen flat surface of water and equipped with a rechargeable battery, it is connected to a blower that inflates it with air and to a "heating" pump that collects the water under the ice and circulates it into the pipes. A fog disperses and covers the surface which, upon contact with the air (-10º to -20º Celsius), is transformed into a fine film of ice in about 12 hours. Once the transparent shell stabilises, the matrix is then deflated and reused for a new dome. Each dome has a 6-metre diameter and a height of roughly two metres, and the ice layer that contains their dwelling should reach a thickness of four centimetres at its base and 6 centimetres at its peak.
Born of collaboration between two artists, this collective is interested in experimental constructions adapted to daily life and uses its know-how for the conception and production of Ice Domes. While Ana Rewakowicz has experimented for several years on inflatable elements responding to imaginary needs, Steve Topping has been creating shelters and alternative spaces that he approaches as temporary and transportable residences.
The ice domes are part of a contemporary artistic current preoccupied with the precariousness of the living conditions of a certain population, namely homeless people. But they also correspond with the utopia of creating nomadic and autarkical dwellings in the form of a "survival kit" adapted to our harsh climate.
Source: plein-sud.org

This Tent Fixes a Different Sort of Problem...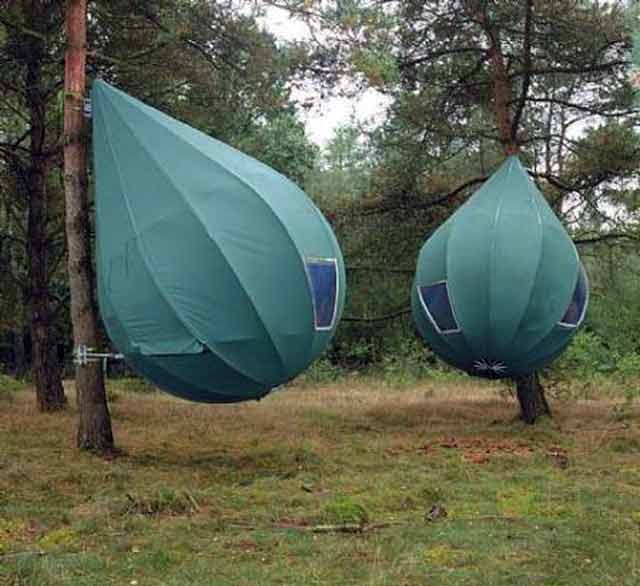 Then There's Fire...
Two Novel Fire Escapes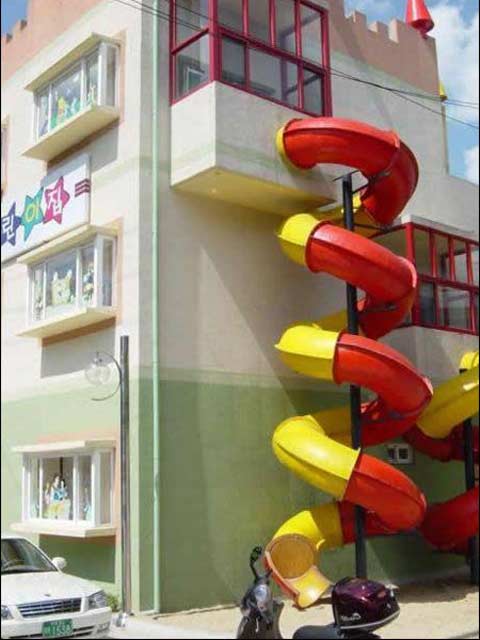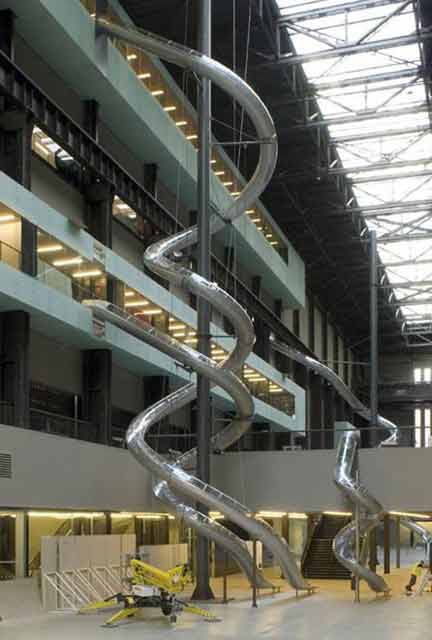 Source: baraskit.se

Buckminster Fuller's Dymaxion
I just invent, then wait until man comes around to needing what I've invented.
- R Buckminster Fuller

Click to Play
Source: stanford.edu and also visit a page of his unique inventions thirteen.org (worth a visit, I think)

Mystery Blob Eating Downtown Los Angeles
by Dana Bartholomew
A mysterious black blob attacked downtown Los Angeles on Monday with a tar-like goo that oozed from manholes, buckled a street and unmoored a Raymond Chandler-era brick building, firefighters said. About 200 residents were forced to flee as a hazardous materials team and dozens of firefighters worked throughout the day to identify what was first deemed "a black tarry substance" and later morphed into a "watery mud." While outside temperatures struggled to break 60, sidewalks in the vicinity steamed at 103 degrees, Los Angeles Fire Department spokesman Ron Myers said. "It's worrisome in the fact that it will keep the street closed and residents will be evacuated till the building is considered safe," Myers said.
Firefighters were alerted at 3am by complaints of a sewer-like smell at an apartment house at 1220 S Olive St near Pico Boulevard, but found nothing. They returned at 1pm to find a slime-like ooze lurking beneath central Los Angeles. "We were called back because there was a gooey substance, a tarry-type substance, coming out the underground electrical vaults, out of manhole covers in the street, through the sidewalks and possibly in one older apartment building," Myers said. A 120-foot stretch of Olive buckled 1½ feet, he said. The pre-1933 unreinforced masonry apartment building shifted one foot from its foundation. Sidewalks were as hot as Jacuzzis and a pressurized liquid shot from every street orifice located above what used to be a historic oil field downtown. No one was injured in what amounted to a black lagoon. Hazmat and Urban Search and Rescue crews determined that the mysterious substance wasn't flammable, Myers said. "Incident commanders are evaluating some form of drilling operation one or two blocks away as the possible cause," he added.
"They told us to get out from the building, because, probably, I don't know, anything could happen. The basement was flooding," resident Mary Robles told KABC-TV, Channel 7. By late afternoon, the American Red Cross had set up an evacuation center for the 150 adults and 50 children forced to flee the stuff of nightmares. "We're opening a shelter," said Nick Samaniego, spokesman for the Red Cross of Greater Los Angeles. "We're looking for a place to put them."
Source: dailynews.com sometime in 2006

For more on the unusual: events, abilities, means of self-expression, houses, conditions, people, luck, narrow escapes, resemblances, facts, diversions, heroism and more - click the "Up" button below to take you to the Index page for this Odds and Oddities section.