Get Bent
In Shape to Get out of Shape
In the long run, we shape our lives, and we shape ourselves.
The process never ends until we die. And the choices we make are ultimately our own responsibility.
- Eleanor Roosevelt

Blessed are the flexible for they can tie themselves into knots

You're in pretty good shape for the shape you are in.
- Dr Seuss

Get Bent - and Then Some More
by Steve Rendle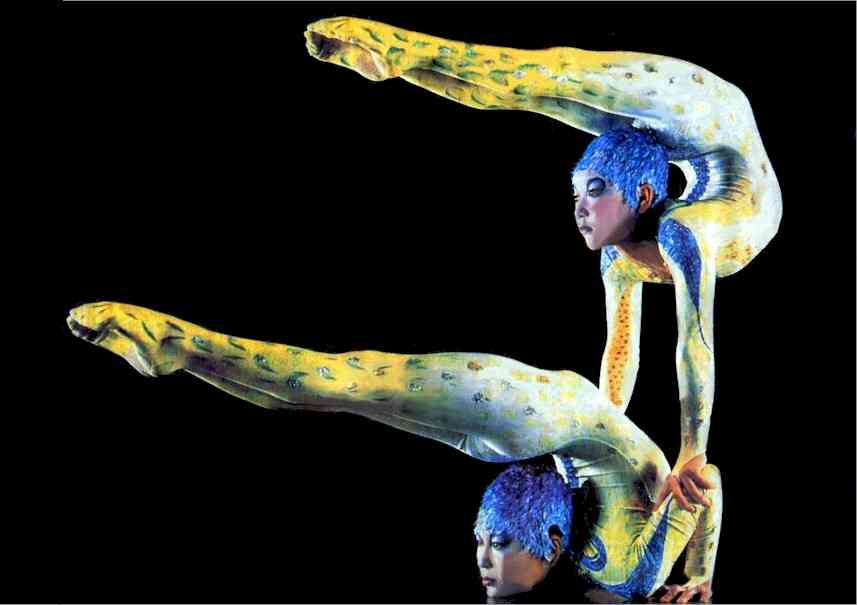 The sniggers start as soon as I ask the question, "Do you think I could meet the contortionists?"
But it's not every day you get the chance to talk to two 16-year-old Mongolian women with flexibility that defies belief. You have to ignore the stigma that immediately attaches itself to a bloke who shows too much interest in such artistes. Cirque du Soleil's TseveendoIj Nomin and Chimed Ulziibayar are showstoppers in a show of showstoppers. They had the star-studded crowd on opening night in Auckland gasping as they literally bent over backwards to (almost) turn themselves inside out.
Choreographed to music, they performed graceful movements on a revolving platform doing things that became almost too excruciating to watch. In keeping with the Cirque ethos, it was far more stylish than watching a rubber man jam himself into a glass bottle.
Sadly, the environs of the post-opening night party don't share this style. We are at least clear of any of the leaks in the roof, but getting away from the hubbub of chattering glitterati means talking near a wheely bin. They deserve better. Any illusions that they may be a tough to talk to because they're Mongolian, or tough to talk to because they're typical teenagers, is dispelled in seconds. Cirque has its own school and their English is perfect: "It's easier than French," says Nomin.
I start with the obvious - surely bending every which way but the one for which the body was designed has gotta hurt? They just laugh. "There is no secret," says Nomin when I suggest they may be double-jointed to the max. "You have to warm up really well, then that's it," Ulziibayar says. Easy.
Well, maybe not that easy.
"I decided when I was five to be a contortionist," says Nomin, which apparently was cool with her Army general father and pharmacist mother. Her younger sister is also a contortionist in Mongolia. "My grandmother was a trainer of contortionists," says Ulziibayar, who began at the same age. "When I was five I discovered I could make my body bend."
There's no doubting her parents are proud - her father owns a bus company in the Mongolian capital man Bator, and named it Ulzii after his daughter. Presumably it specialises in those buses that bend in the middle when they go around comers.
Despite their age, the pair are seasoned professionals, with 9 years in the circus business behind them, the last 7 with Cirque du Soleil after they were plucked from the Mongolian circus. That's where they got to know each other and now they are so close as a performing team, physically and stylistically, it's tough to imagine them working with different partners.
But just how long can you go on putting your body through the ringer? "It depends how flexible your body is," says Nomin. "It could be 30 or 40." That's potentially another 23 years. Ouch. The mind can only boggle. "My teacher, she can still do some contortions," Ulziibayar says. "Some people stay [as contortionists] longer than others. It depends on the back."
Ah, the back.
Inspired that age is no barrier - and there's "no secret" - I attempt to touch my toes in an embarrassing post-show-party sort of way. The response is instant and emphatic "The other way - that way's easy!" Feel like running away with the circus? Think twice if it's the Cirque du Soleil.
Source: The Evening Post Wednesday 24 January 2001 photo credit Al Seib, costumes Dominique Lemieux © 1999 Cirque du Soleil Incorporated

Contortionist Gets Stuck at Circus
by Smita P Nordwall
Circus workers thought a contortionist was joking when he said his right foot was stuck on his left shoulder. Berkline, 21, known by his stage name, became trapped while rehearsing in Gillingham, England. An osteopath freed his foot.
Source: USA Today Friday 13 July 2001

He's Tied Up Right Now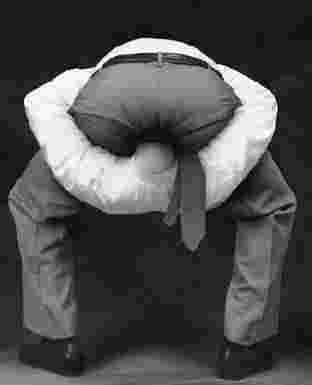 Source: The Web

How I See My Boss...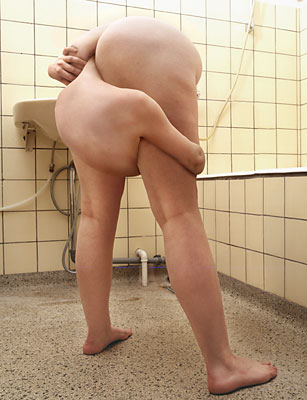 Inflexibility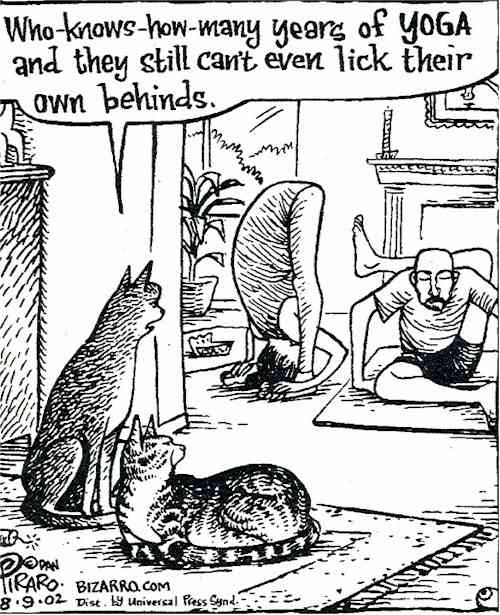 Source: Funny Times February 2003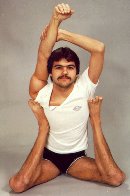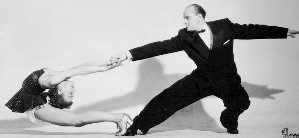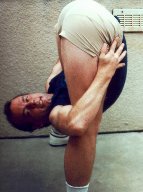 Source: contortionhomepage.com from "The Bendy Glossary". This page was co-authored by: Greg Ullman (NoNickname@aol.com) and Tige Young (tige@home.com).

Flexibili-Tea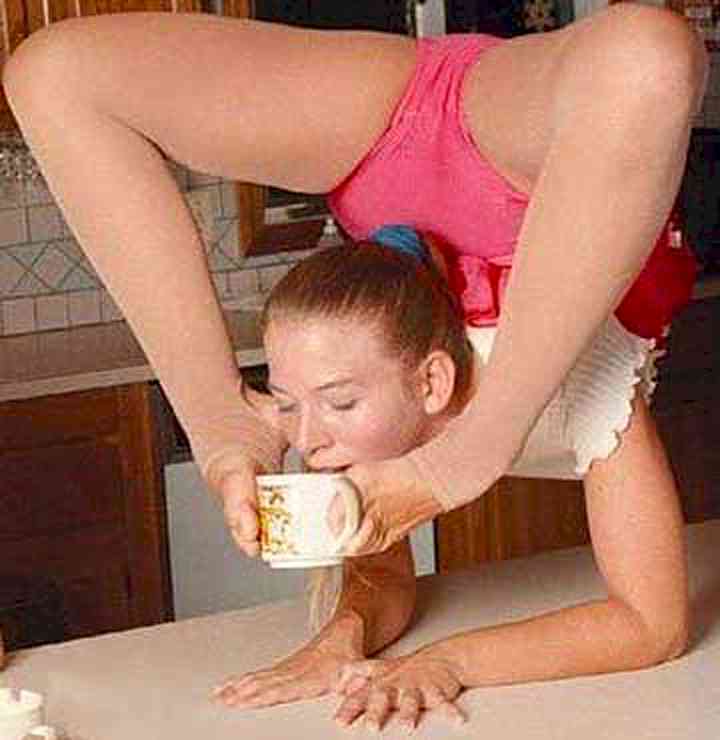 Source: thesun.co.uk sent to them by Chris Lowe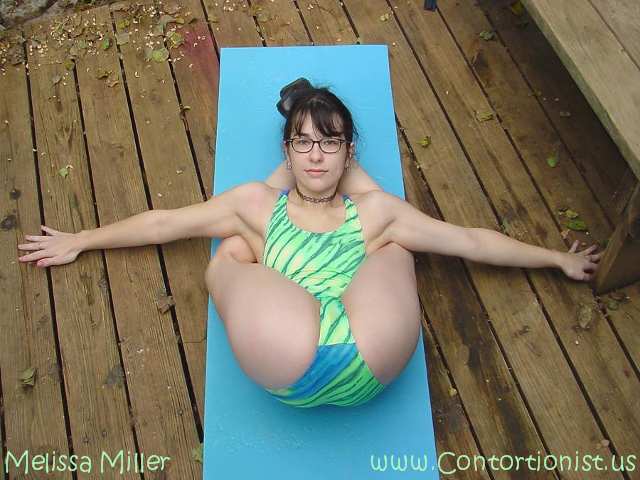 I Don't Know Who This IS, but I'm Impressed...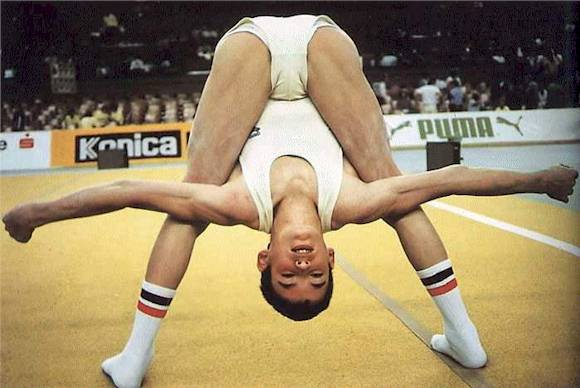 Source: joe-ks.com

-------- Original Message --------
Subject: contortion
Date: Tue, 04 Oct 2005
From: Tom Roche <TROCHE@health.nyc.gov>
Hello,
I was searching on the net for information on being a contortionist, and was led to your site. This may sound nutty, but I am capable of turning both my feet almost completely around outwards, to the point where they are facing backwards. If you have any information about how I could possibly put this to work, please let me know!
Thanks.
Tom Roche

For more on the unusual: events, abilities, means of self-expression, houses, conditions, people, luck, narrow escapes, resemblances, facts, diversions, heroism and more - click the "Up" button below to take you to the Index page for this Odds and Oddities section.