Upwardly Mobile Homes
Can a Prefabricated House Be "Architecture"?
Society is a made-up formula of what we are supposed to be, kept alive by those who believe in it...
I laugh in the ugly face of society, with all its fabricated dimensions.
- Christina Gerogiannis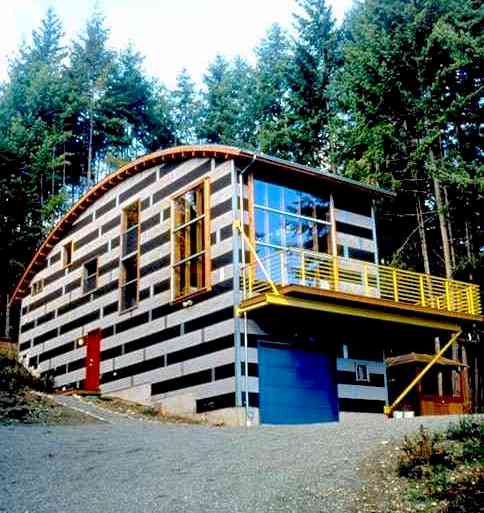 Kennedy House, Anderson Anderson
by Nancy Ann Jeffrey and Nancy Keates
When Peter Jelsma and Julie Pena decided to build a new house, they wanted something out of the ordinary. So they hired a pair of award-winning Manhattan architects who designed a sleek wedge of a home with cool touches such as floor-to-ceiling glass walls and bedrooms that spill onto a terrace. "It's very modern," Mr Jelsma says. But he's keeping quiet about it with the neighbours, since the house is coming delivered on a truck. It's actually a "prefab" design, which Mr Jelsma expects to raise some eyebrows in his suburban Nashville, Tennessee, neighbourhood. At some level, he says, "It's going to be a bunch of fancy mobile homes put together."
One of the biggest debates in architecture is whether prefabricated homes are the new cutting edge of design - or a flimsy platform for aspiring Frank Gehrys to make their mark. Instant homes are increasingly going high-style with geometric shapes, flowing interiors and lots of steel and glass, in the process attracting some renowned young architects across the country. They include Jennifer Siegal (her "Swellhouse" has walls finished with recycled newspaper) and Rocio Romero, who offers a recreational "tree house" for grown-ups. Established builders are getting into this, too, with one hiring the architect who did Bill Gates's mansion. Overall, upscale designs are now 10% of the $6.5 billion modular-home market, five times the share a decade ago, according to Fred Hallahan, a modular-home consultant in Baltimore, with some selling for more than $1 million.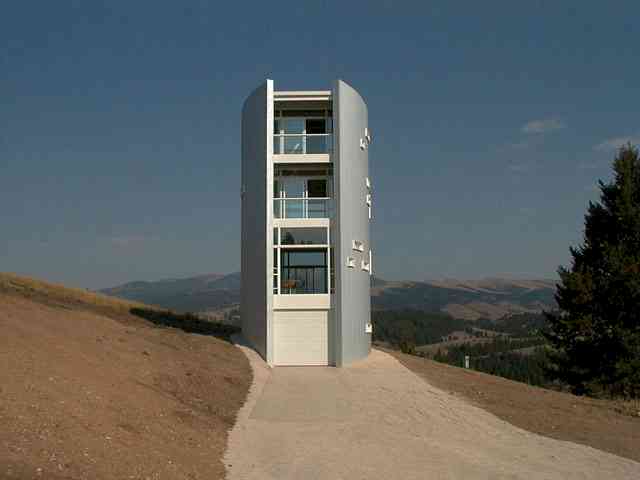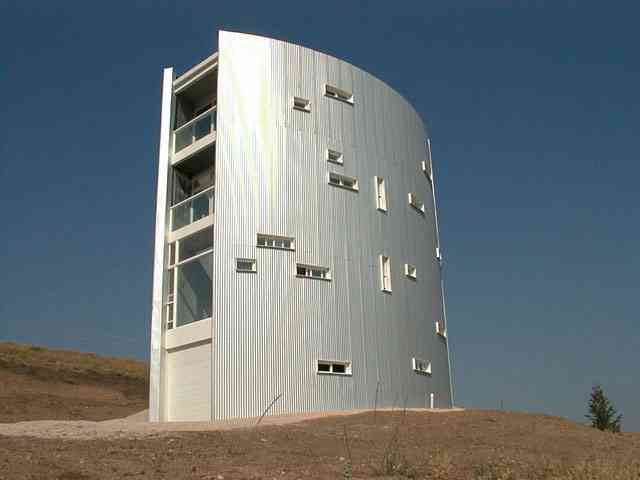 William Massie's "Big Sky" design in Montana
The house-in-a-box push isn't entirely surprising in an era when Kmart is offering Martha Stewart bedding (indeed, Ikea has sold more than a thousand "BoKlok" prefab homes in Europe). But winning over the mainstream is another matter. At Architectural Digest, the bible for design mavens, editor Paige Rense says prefab isn't on her radar. "Architects I talk with never mention it," she says. In New York, award-winning architect Alexander Gorlin says he hasn't been very impressed with what he's seen, likening many prefab designs to VW Bugs: stylish, but carrying the stigma of mass production. And for Robert A M Stern, dean of Yale's architecture school, the plans may be "witty and interesting," but the avant-garde details (corrugated, silver-toned walls, for example) make them a tough sell as real-world homes. People "like their houses to look handcrafted," he says.
In fact, prefabs can look every bit as handcrafted as homes built with studs. While there are some limits (materials must be tough enough to endure those long truck rides), prefabs can be styled as anything from Colonial to Mediterranean, with brick or stone finishes added on without much fuss. But the looks getting all the buzz tend to have boxy designs or space-age domes, and the explanation is simple: the architectural conceit of having structures honest about their approach. They're "making a statement" by trying to reflect the high-tech building process with a sleek minimalism, says Sarah Susanka, author of the best-selling book The Not So Big House. Still, many designers are trying to lose the downscale connotation by ditching the word prefab for fancier terms such as "mobile architecture" and "modular construction."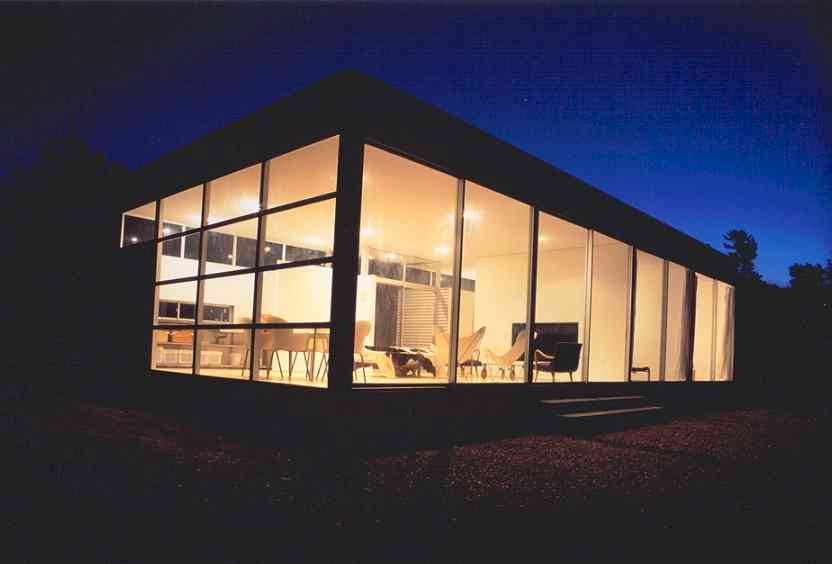 Rocio Romero's boxy LV house
Designers, of course, have been fascinated by mass-produced homes ever since the industrial revolution made them possible, and Sears Roebuck's mail-order-kit houses from the early 1900s still dot the landscape (see the previous page in this section for a photo of one). But even at first, they were associated more with a look-alike approach than sophisticated style. Indeed, one famous use of prefab homes was the planned community of Levittown on New York's Long Island, which for many is an emblem of the drawbacks to cookie-cutter developments. Even masters such as Frank Lloyd Wright and Buckminster Fuller (who wanted his round aluminum house to be mass-produced and easily shipped) have tried to instill great design in pre-made products. Yet the concept has never caught on with the public. "Every generation tries it," says Frank Toker, a noted art historian at the University of Pittsburgh and author of Fallingwater Rising. "And every generation fails."
But the new crop of prefab architects insists things are different now. For starters, in an era when constructing a house on time and within budget keeps getting tougher, instant homes can go up twice as fast and save as much as 50% compared with a traditionally built home. It isn't one size fits all anymore, either, thanks to modern computer-design methods that let architects vary the prefab houses the way Lego blocks can be moved around. More than that, though, architects think the new avant-garde looks can win over upscale buyers craving a touch of high design for their abodes.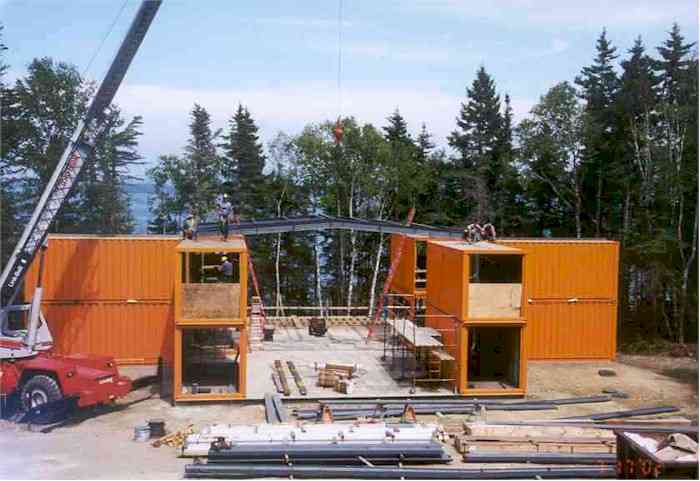 12-Container House; Adam Kalkin
That was a big draw for television producer Michelle Nader and her screenwriter husband Matthew Drake. They pride themselves on their sense of style (she wears Marc Jacobs and shops at Fred Segal in West Hollywood), but in months of house hunting saw one ordinary design after another. Then they spotted a photo of a prefab house by Ms Siegal, who favors angular, glassy styles and has been honoured by Harvard, among others, for innovative designs. Ms Nader and Mr Drake were sold, opting for a 3-bedroom model with a big, open living space that will go up in the Los Feliz section of Los Angeles. Total cost (including the land): $900,000. "I feel like we're investing in a new designer," Ms Nader says.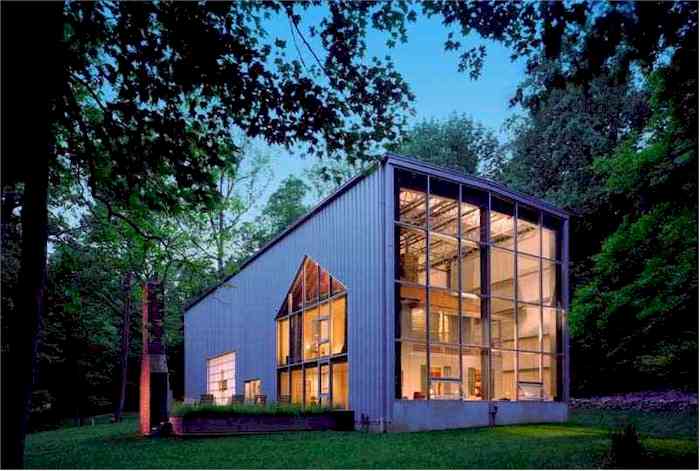 Bunny Lane, Adam Calkin
A lot of architects are counting on that kind of allure. Because most prefab homes aren't actually built until a customer places an order, putting out a design can be a relatively cheap way for ambitious architects to make a splash. They aren't likely to get sucked into contractor hassles, either, because relatively little work is needed on site - one architect supplies an instructional video for workers. And with Michael Graves selling his designs at Target (no house yet, but the chain does offer a Graves gazebo), there isn't much stigma for playing to mainstream consumers - quite the opposite, in fact. Architect Peter Anderson, of Anderson Anderson in San Francisco and Seattle, says he first got into prefab when clients in Japan wanted cost-saving methods, but after seeing more interest in the US, the firm began selling them here. "I'm excited about how it opens up new design options," he says.
But not every architect working in the field is so enthusiastic. For James Cutler, who designed the famed abode for Mr Gates, Microsoft's chairman, a deal with a company called Lindal Cedar Homes to adapt a wood-and-glass modernist house for prefabrication has been a "struggle." Mr Cutler says the idea of prefab goes against his belief that every building should be generated in response to its setting and then fitted to meld with the landscaping. He compromised, allowing his name to go on the project only if his firm had an opportunity to ensure each site was customised.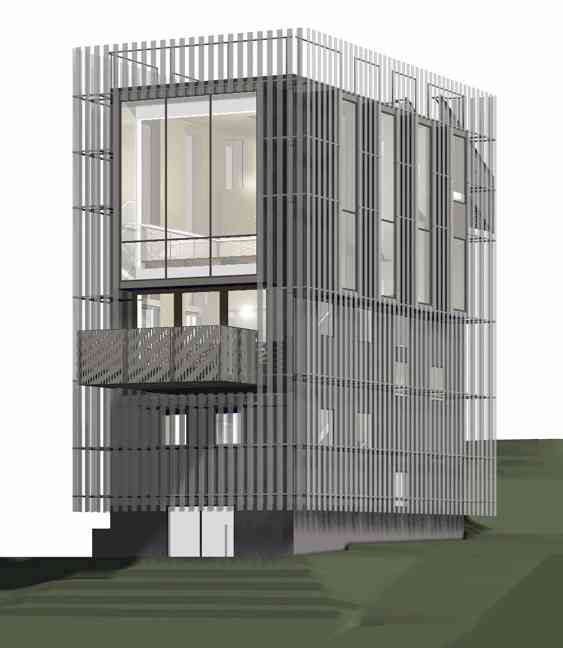 Cherry Orchard House, Lake Michigan, AndersonAnderson
Homeowners can wind up enduring some bumps, too. For one, buyers need to have somewhat adventurous tastes, because most high-end architects' designs can be pretty exotic-looking. The wait to hire in-demand architects can be months. Then, for all the supposed convenience, it isn't unheard-of for house-in-a-box jobs to run late or over budget. The prefab route also means giving up a lot of the flexibility of tweaking a traditionally built house, though architects are finding some ways to accommodate clients.
Donna and Christopher Evans of Jeffers, Montana, went to architect William Massie after a professor friend told them "he was going to change architecture as much as Frank Lloyd Wright," but they didn't like his first design. He went back to the drawing board, and he came back with a winner: A 2,500-square-foot addition to their existing homestead with a curving side and roof that swoops from 26 feet high to just 5 feet high. "From the front, it looks like a grand piano," says Mrs. Evans, an artist who works in stained glass.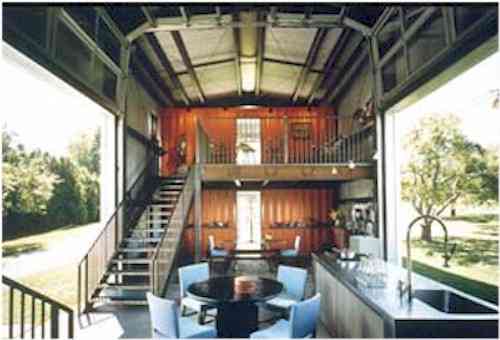 Interior of Collector's House, Adam Calkin
Even if some designers aren't convinced, more high-end prefabs are on the way. At Resolution: 4 Architecture, they're working on 8 new designs (including a $700,000 vacation home on Fire Island off New York's Long Island). Award-winning architect Donald Rattner is working on designs for high-end modular homes in Fairfield County, Connecticut. And in one sign of how the movement is playing to a high-tech sensibility, Microsoft recently recruited Ms Siegal to appear in an advertisement for sleek tablet computers.
Mark Podlaseck and his partner, Steve Bryant, are already sold. Mr Podlaseck, a 46-year-old researcher for International Business Machines, and Mr Bryant, a 34-year-old doctor, wanted a prefab design that would look distinctive in their Connecticut neighbourhood. They found it in a home by Mr Massie with a funky, V-shaped roof that "melts like a Salvador Dali" clock toward a nearby rocky outcropping. Says Mr Podlaseck: "It's extraordinary."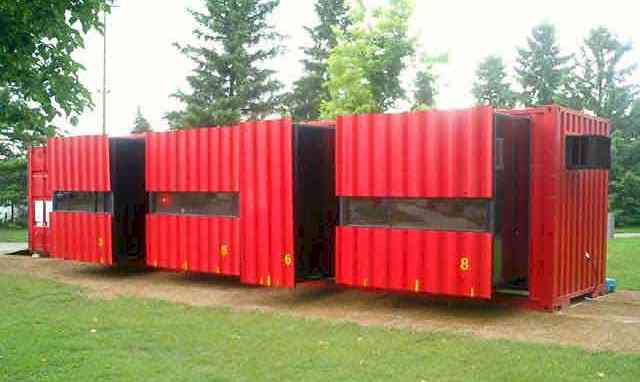 Lot-Ek MDU House
The Fabulous Prefab
A sampling of architects across the country who have begun offering prefabricated homes:
Name

Features

Comment

Resolution: 4 Architecture
New York
re4a.com

Floor-to-ceiling glass, rooms that merge into open-air decks.
At $250,000 to $500,000 for a 2,000-square-foot home, these are some of the pricier prefabs. It takes 2 days to assemble one, but 3 months before it's move-in ready.
Jennifer Siegal
Office of Mobile Design
Venice, California
designmobile.com

Use of 'plyboo," environmentally friendly bamboo flooring.
Ms Siegal's work is on display at the Smithsonian's Cooper-Hewitt, National Design Museum in New York. Her 720-square-foot "Portable House" arrives fully assembled.
Rocio Romero
Perryville, Missouri
rocioromero.com

Rectangular-box shape.
This 32-year-old architect built her first prefab home in Chile for her parents. Latest project: "Fish Camp," a $20,000 back-to-nature retreat.
William Massie
Troy, New York
massiearchitecture.com

Curving lines, building on or around rocks, mountains.
Next project: A "challenging," 3,000-square-foot home to be built within the rim of a canyon in Wyoming.
LOT-EK
New York
lot-ek.com

Use of large-scale industrial objects such as water tanks.
Talk about a tight fit. The "mobile dwelling unit" is a 550-square-foot house made out of a shipping container. (It does include windows.)
Adam Kalkin
Bernardsville, New Jersey
architectureandhygiene.com

Use of discarded shipping containers in Quik Build Kit house.
An architect with a sense of humor: Mr Kalkin is an artist whose website features a $1-a-minute telephone confessional. His work appears next month at New York's trendy Deitch Projects gallery.
Cutler Anderson Architects
Bainbridge Island
Washington
cutler-anderson.com

Lots of glass; energy-efficient.
James Cutler, known for his work on Bill Gates's home, insists that prefab manufacturers guarantee architects can customise each site. Assembly time is expected to take between 5 and 9 months.
Anderson Anderson
Seattle, San Francisco
andersonanderson.com

Striped, modular designs, rectangular shapes.
Architects started doing prefabs in Japan a decade ago. Price range varies widely, from $100,000 to $1 million.
Nancy Ann Jeffrey and Nancy Keates are staff reporters for The Wall Street Journal; write to them at nancy.jeffrey@wsj.com and nancy.keates@wsj.com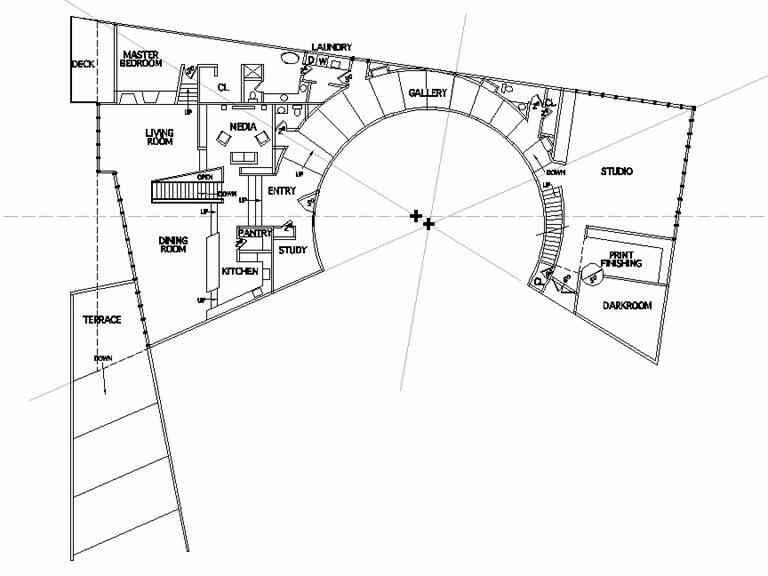 Fox Island Photographer's House & Studio, Anderson Anderson
Source: The Wall Street Journal Friday 9 January 2004

Spacebox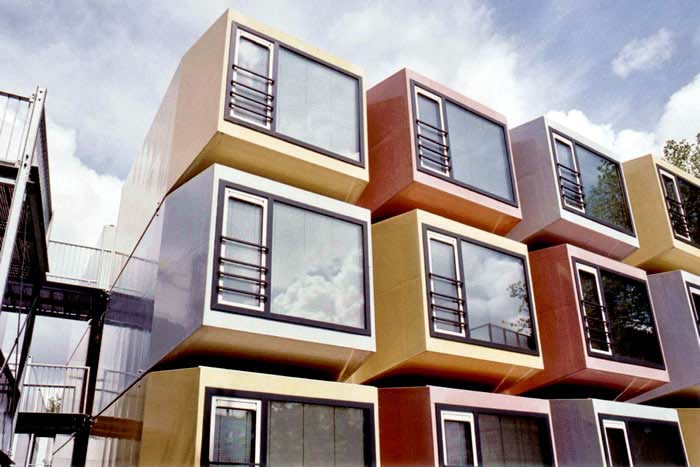 The units are delivered by the manufacturer completely ready for use and only need to be placed on top of each other at the building site and secured. The connections for water, electricity, sewage, telephone and data transfer are simple to install. As a result, a Spacebox complex can be realised very efficiently and very quickly. If necessary, units can be added or removed without requiring extensive construction-site facilities. The system is so flexible that it can be used to provide custom-made solutions for almost any location.
Source: spacebox.info

See also:
| | |
| --- | --- |
| | London's Container City (an external site) - Simply unbolt and relocate or store when land is required for alternative uses. |
| | Shipping Container Office and Tower (an external site) - German manufacturer of recycled bags put their offices in shipping containers to make a noticeable statement. |
| | Ecopods (an external site) - Canadian version which folds up into a secure box allowing it to be left in remote locations for months at a time with no worries of pests, vandalism or break-ins. |
| | Quik House (an external site) - New jersey based, the standard offering is 2,000 square feet, 3 bedrooms / 2½ baths, assembles in 1 day, and finishes in 3 months; comes in orange or rust. Estimated total cost (including shipping and assembly): US$184,000 (solar panels, wind turbines, green roof, additional insulation are extra). |

For more on the unusual: events, abilities, means of self-expression, houses, conditions, people, luck, narrow escapes, resemblances, facts, diversions, heroism and more - click the "Up" button below to take you to the Index page for this Odds and Oddities section.