Lipstick, Sunglasses, a Piece of History
What's in a Handbag?
She had the loaded handbag of someone who camps out and seldom goes home,
or who imagines life must be full of emergencies.
- Mavis Gallant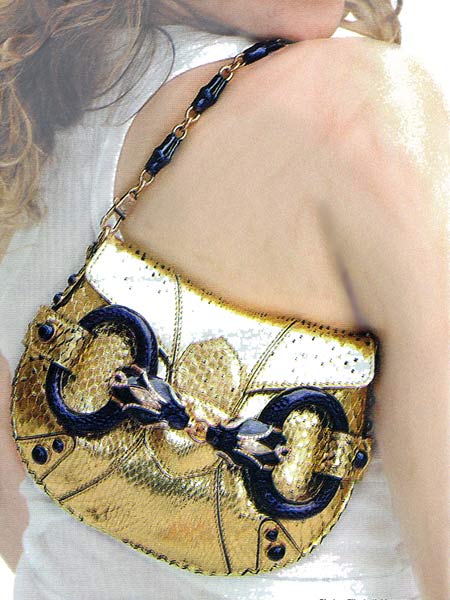 2004's "It" Gucci bag - gold python (with snake heads) by designer Tom Ford - at a cost of only $1730.
Source: The New York Post Thursday 13 May 2004
For a Small fee, Nathalie Lecroc, a Parisian artist, will paint a delicate little watercolour of your handbag and its contents. Then, before you dash home to get your new masterpiece framed, she will offer a few impressions of your character. "It's incredible what you can say about people after just two or three hours with their bags," she tells the latest issue of American Vogue. It's the same kind of insight you get when you sit with somebody at dinner."
Her only stipulation to the hundreds of women who are apparently queuing for her services is that they submit their everyday bag for her scrutiny - be it a swanky Kelly bag, or nylon rucksack from Gap. Nor will she allow them to edit its contents. So far, she has painted 139 of her handbag portraits. The series will be complete when she finishes number 1,001; the whole lot will then be gathered together in a volume entitled A Short Anthology of Bags and Handbags.
Lecroc describes her service as a "narcissistic reflection" in a tradition that goes back to the 17th century, when landowners commissioned artists to paint their estates. Never before have handbags been so important. Handbags are the most sought-after accessories, generating millions of pounds for the companies that produce them. This is why Jil Sander has gone into partnership with Prada - so that the Italian label can help the queen of German minimalism shift more bags and rucksacks. It is also why Gucci and the luxury goods conglomerate LVMH Moet Hennessy Louis Vuitton are both eyeing the Italian label Fendi.
Fendi, a 74-year-old Rome-based house which built its reputation on furs, used to be something of a dead duck in fashion terms. Then, in 1997, its reputation was revived, almost overnight, by a cute little bag called the baguette (so called because you carry it like French bread).
This autumn you can get baguettes in sherbet colours with lizard clasps, or decorated in green sequins. There is even one in hand-woven silk. It costs more than £3,000 ($7,800) because only three people in the world - a trio of Florentine artisans, if you must know - have the expertise to make it.
Last year, British designer John Galliano launched his long-awaited range of bags for Dior. Even before they hit the stores, his creations had taken on a kind of mythical splendour - thus making it pretty tricky for handbag fetishists to choose between "miseducation," (groovy denim), "serpent," (space age geometry) and "popcorn" (real violets set in hard, clear resin handles).
But what is it about bags? Why so flashy, girls? Since this trend started years ago - in the early 90s, when things didn't look nearly so rosy - it cannot simply be that there is too much money sloshing about the place. Besides, lots of women will go without all sorts of things, from cinema tickets to their annual holiday, in their hope of nabbing their bag of choice.
The truth is this: women are simply according the citadel of their power the glorious parliament building it has so long deserved. Men keep their essentials - coins and, if you're lucky, a clean hanky in their pockets. Occasionally, they arrive at a restaurant carrying a plastic bag with a newspaper in it. But that is pretty much it.
Women, on the other hand, carry their world in their woollen Orla Kiely, or their leather Hermes - and this has long been the case. My mother still sleeps with her handbag beside the bed, so she can grab it in the event of fire.
Sensible men understand all this. They know your bag is out of bounds. Tell a man he can find a pen in your handbag, and he won't go rifling through it.
So, I rather think Mlle Lecroc is doing more important work than she may realise. In fact, in years to come, her little paintings will tell historians almost everything they need to know about women today. - The Daily Telegraph
Source: The Sydney Morning Herald "Good Looking" feature by Rachel Cooke 30 May - 5 Jun 2000

An aside: Were you aware that the average woman consumes six pounds of lipstick in her lifetime?! Many women use more than 20 different beauty products on a daily basis striving to look their best. 9 out of 10 of these use make-up past its use-by date. Dependence on cosmetics and toiletries means that a cocktail of 4 pounds 6 ounces (just over 2 kilograms) of chemicals a year is absorbed into her body through her skin... And if you want to know what's in collagen, try reading Beauty Products from the Skin of Executed Chinese Prisoners (in the Prisons section) - it puts new meaning into the term "dead skin"...

A Brand New Bag
by Elizabeth A Kennedy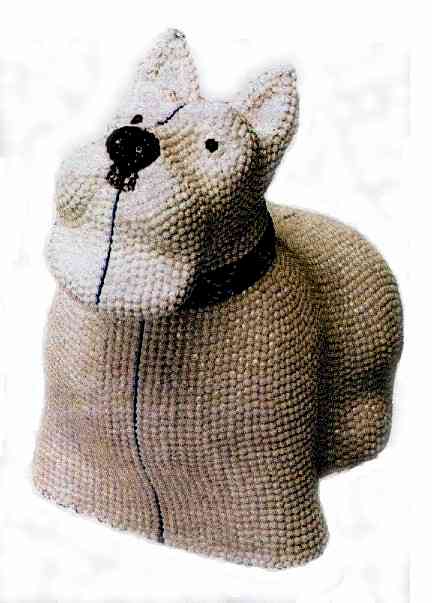 New York - If there is one fashion accessory women never leave home without, it's their purse. But instead of being just a receptacle for the effluvia of daily life, today's trendy bags are major fashion statements. Novelty bags that are turning up on the arms of funky women, sophisticated women and everyone in between are elaborate, bejeweled and often completely impractical. And enormously popular.
Judith Leiber bags, long a status symbol among the older, wealthy set, are decorated with thousands of Swarovski crystals and they come in shapes including dogs, tomatoes and asparagus bunches. The bags can cost up to $5,000. Victor Lipko, CEO of Judith Leiber, says the pricey bags are attracting a wider audience, notably younger buyers. The bags are meant to be elegant and formal, but Lipko says the younger crowd has been pairing them with jeans and T-shirts.
Lulu Guinness, another bag designer who creates whimsical styles, says her customers aren't defined so much by age, but by a desire to get noticed. Guinness' bags take the form of butterflies or a Chinese pagoda; some feature an embroidered New York skyline or a perfume shop. "My bags can be a useful talking point. Certainly if you place them on a table at an event where you don't know anyone, they almost defy people not to talk to you," she says.
Timmy Woods, a Los Angeles-based designer, says her bags go beyond conversation pieces - they are "...psychological bags. People can really relate to them," she says; her bags are made of wood and carved into mermaids, houses, lips and fish. "They become like your friends." She admits, however, that there is something a little funny about carrying around, for example, a bag in the shape of a horses head. "People do find humour in them, of course, that's a great deal of what they're all about," she says. "You can't help but look. It evokes a feeling. These are 'feeling bags.'"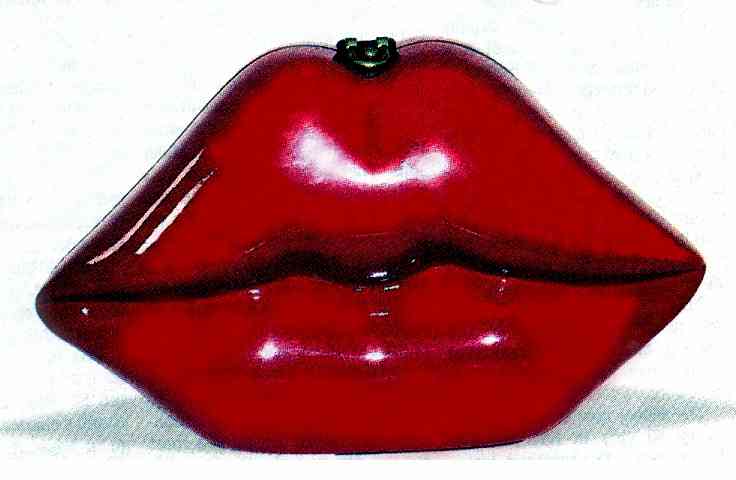 Jane Schoenborn, co-owner and designer for Jane Fox bags, believes that novelty bags are gaining popularity because women are dressing down more often, and a novelty bag "completely zips up a wardrobe."
As the bags become more popular, they are beginning to take on a life of their own. (No wonder, for a bag shaped as a seal or a dove.) According to Leslie Newton, one of the designers for timi & leslie bags, women build their outfits around the bag, instead of matching a bag to an outfit. The focus on a woman's purse reminds Newton of the 1940s and '50s. "It's a throwback to the time when you had a matching bag and shoes," she says. She adds that she is inspired by vintage fabrics - "They make me think of my grandma in the '50s with her plastic-covered couches."
Guinness also culls inspiration from the '40s and '50s. "This era is a huge influence in my work. It represents a time of elegance and femininity - and everyone was so glamorous."
That glamour comes at a cost, however. Judith Leiber bags start at around $1,000, and the tiny totes fit barely more than a credit card and pack of gum. (They do, however, come with a miniature gold-plated comb and mirror set, and a change purse.)
"They're not throwaway bags," says Jennifer Tash, a designer for Isabella Fiori. The average Isabella Fiori bag costs $325, and Tash tries not to make them too trendy so they can be used for several seasons. Instead, she focuses on designs that offer "a little bit of something extra." A popular bag is the "Beaded Monkey," which she calls "a funny little bag" with a jungle motif. "I think that even with the economy going down, people still want to be different," says Tash. "If they're going to spend good money on something, they want to be singled out for it."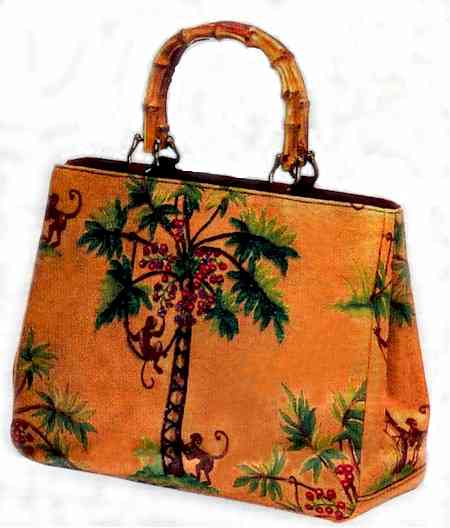 Source: The Sunday Star-Ledger 22 July 2001

It's in the Bag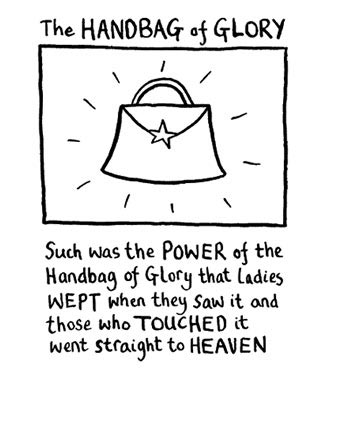 Source: www.edwardmonkton.com
by Keren Lentschner
The utilitarian sack has grown into a personal statement
Don't even ask the price. For a true fashionista such handbags as the Fendi Baguette - $465 to $6,000 - or a camouflage-print Dior Saddlebag - $855 - are not simply places to stash an appointment book. They're as critical to the well-dressed look as the latest shoes. So popular have handbags become, that fashion designers feel compelled to place their stamp - often literally - on the accessory.
This summer, the French company Louis Vuitton produced a graffiti bag that sent New York socialites over the edge: despite its $265 to $1,000 price tag, the bag sold out in just two months, and waiting lists proliferate worldwide. What's the fuss about? Stephen Sprouse, a famous underground New York artist, redesigned Vuitton's famous 1896 French monogram-canvas bag so it now looks more like a spray-painted subway wall than something you'd carry to a dinner party.
The hottest bags for summer and fall come in strong geometric shapes, some with woven or optical details, such as bamboo or golden-style link handles. From the trendy Parisian neighborhood of Le Marais to the catwalks of Milan and London's Sloane Street, handbags not only tote a woman's daily needs, but they reflect what is happening in society. Fashion icons such as Grace Kelly and Diana, Princess of Wales, were immortalised with handbags that were named after them. Even Margaret Thatcher's black leather Ferragamo purse - a symbol of her conservative philosophy - was sold for $150,000 in an Internet auction last year. And while New York's Metropolitan Museum of Art celebrates Jacqueline Kennedy's White House years, fashion watchers go crazy about "Sex and the City" heroine Sarah Jessica Parker's fancy handbags and shoes.
In fact, accessories have gradually - and paradoxically - become "must-have" fashion essentials. "A lot of people are looking to accessories to give them that fashion excitement rather than looking to clothes for that," says Valerie Steele, acting director of the Museum at the Fashion Institute of Technology and author of Handbags: A Lexicon of Style. "In terms of style, clothing has become increasingly minimal and uniform for most women," says Ms Steele. "So they have fun wearing a playful pair of shoes or a high-fashion handbag." In addition, it's cheaper to purchase a fancy brooch or purse rather than a fashionable suit.
"Accessories make an outfit more sophisticated," says Valerie Auto, a Parisian lawyer who buys at least 10 handbags a year.
"Carrying a handbag makes me feel more feminine," says Eliza Bird, a budget-conscious, self-described "fashion follower."
Yet, before becoming one of today's most coveted fashion accessories, handbags evolved, along with women's social status through centuries. At the turn of the past century, for instance, purses weren't necessary because many women had accounts, and wouldn't need to carry money. Then, as women went out and traveled more, they carried small bags that gradually became daily companions. "These bags would be with them, with money and jewelry inside, when they might have their suitcases [or] trunks carried onto a train," says Steele. "Then, their small bag turned into more of a handbag. As women began to work in the early 20th century, obviously they did start to carry bags for small things, like money, keys, wallet, and more identification."
Later, the list of basics grew - from organiser to cellphone, Palm Pilot, hand cream, contact-lens supplies, or breath mints. Women also found men asking them to carry wallets and other gear for them.
Steele speaks of handbags as "a sort of an identity kit, that has everything women need in it." Whatever purse, tote, or shoulder bag women carry, it becomes part of their personality. "Handbags are a kind of mirror of people's lives," says Steele. And also their preoccupations: some carry hair clips, tweezers, mini flashlights, pepper spray, or candy bars.
Whether it holds a cellphone or an unusual item such as a Swiss Army knife, handbags make women feel secure. "When I carry one, I feel like a Girl Scout. I'm prepared for anything," says one respondent to an informal survey. "It weighs me down, but I would be lost without it," says another of those polled. Yet, many defy the tyranny of fashion and believe that a handbag should be primarily "functional" rather than trendy. In fact, many working women are fed up with fashiony little purses, too small for real life.
These women will be happy to know that, at least for summer, the classic tote is back in style. It has resurfaced in a variety of refreshing prints, from Kate Spade flowers to Jane Fox shell designs.
Source: csmonitor.com 25 July 2001 © The Christian Science Monitor

Fashionable Purse? Or Well-Trained Pet?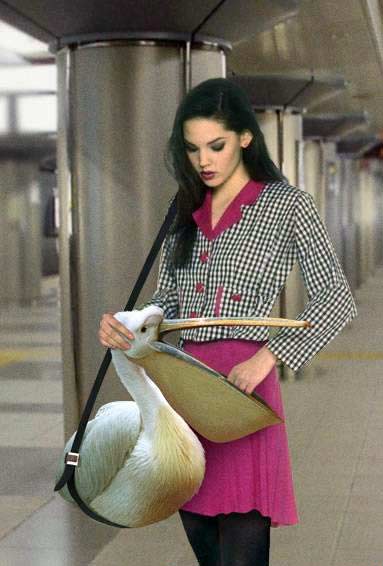 Japanese Paradox: Louis Vuitton As a Hardship Option
by Sebastian Moffett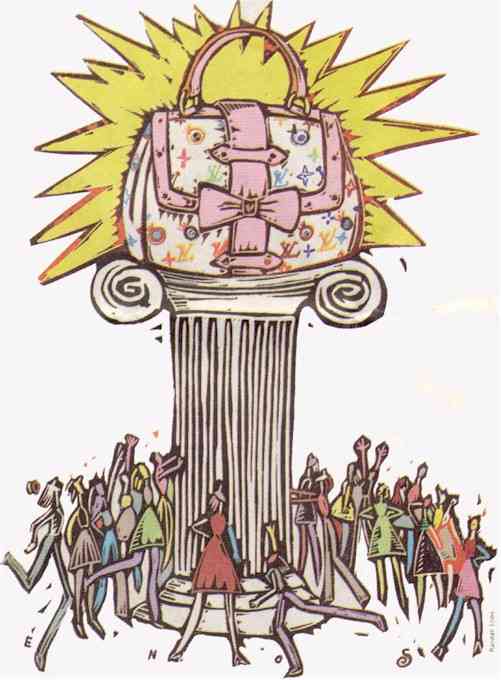 Pinched by Economic Slump, Women Buy More Handbags - from Vuitton, Prada, Hermes
Tokyo - Chie Mizukoshi has an accessory problem. She spent about ¥150,000 (US$1,300) on expensive fashion accessories in 2001, including a Prada cosmetics bag and a Gucci shoulder bag. Then last year, she spent an additional $1,700 on luxury items, including four Gucci bags and her first Louis Vuitton. So far this year, her handbag habit has led her to spend more than $2,400, buying three more Louis Vuitton handbags and another Gucci. And she isn't done yet: depending on the size of her bonus, Ms Mizukoshi says she'd like to buy two more designer bags this year for a combined $1,300.
Ms Mizukoshi earns about $26,000 a year as an office worker. She lives at home with her parents in Sapporo, and her lot isn't improving in Japan's weak economy. "Even though I am busy every day, my bonus gets cut because of the bad economy," she says. "When I felt empty, I felt Louis Vuitton was like a jewel that made me rich."
Ms Mizukoshi's thinking helps explain an economic paradox in Japan, where consumers are known world-wide as conservative spenders and dedicated savers. Japan has been mired in an economic funk for a decade, but a handful of luxury brands are still jumping off beautifully designed shelves.
Prada Group's Japanese revenue rose 10% in 2002 to $263.2 million, and it is expected to rise 15% this year. Hermes International SA also enjoyed healthy gains. Top luxury seller Louis Vuitton has increased its Japanese sales every year for the past decade. Last year, when Japan's economy hardly grew, Louis Vuitton's Japanese revenue jumped 15% to $1.19 billion, accounting for about a third of the company's world-wide revenue. This year, sales in Japan are expected to contribute to a profit recovery at the French patent, LVMH Moet Hennessy Louis Vuitton SA.
"Japan is our main market in the world," said Yves Carcelle, chief executive of LVMH's Louis Vuitton Malletier unit, at an event to announce the recent opening of yet another Tokyo megastore. This one is designed like a dance floor encased in steel rings. Mr Carcelle says he doesn't know why Japan's luxury sales keep rising. "It's a mystery for everybody, and I don't want to try to understand," he says.
Of course, one simple explanation could be that economic conditions are encouraging Japanese consumers to stay home and buy their handbags in Japan, rather than go on overseas shopping trips, as Ms Mizukoshi did in 2001 (Hawaii) and 2002 (South Korea). But several analysts say Japan's long slump may be fostering a psychological need to spend. Splurging on luxury handbags gives many consumers the illusion of wealth and helps them forget anxiety over jobs and the future, at least temporarily. "In the downturn, the people who buy [luxury items] are not just the rich, but people with little money too," says Ken Ohira, a Tokyo psychiatrist and author. "Having four bags gives them some self-confidence."
One group largely responsible for fuelling Japan's luxury-goods spending is single, working women, a fast-growing section of the population. As many as 71% of women aged 25 to 29 were in the workforce in 2001, compared with 49% in 1980. Over that same period, the proportion of Japanese women who were single at age 30 rose to more than half from around a quarter. Often these single women save money by living with their parents, leaving them with cash on hand to spend on clothes, accessories and vacations. Such is the case with Ms Mizukoshi, who contributes $440 each month to her parents' household. She says her family doesn't object to her handbag purchases because she plans them carefully and uses her own money. She finances the bags partly by selling clothes and accessories she no longer wants through used-goods stores and online auctions.
Economist and author Richard Katz says that for young Japanese, it is cheaper to live with parents and splurge on luxury items than to raise a family and pay for education and housing. "Louis Vuitton is a hardship option," he says. "It's a sign of economic doldrums."
The Japanese love affair with top brands started in the 1970s. When the economy took off, many well-off Japanese could buy Western luxury accessories for the first time. In the 1980s, with the advent of mass tourism, the vast Japanese middle class could afford to go overseas and bring home symbols of cosmopolitan prosperity. Davide Sesia, president of Prada Japan, says of Japanese customers: "Buying Prada, they fill their psychological needs to be part of a lifestyle or culture."
The paradox arrived when the bubble economy burst in the early 1990s. Common sense, as well as economic theory, says sales of expensive handbags should fall in a downturn, when incomes are squeezed. Indeed, Japan's overall market for luxury goods has fallen about a third since 1996. Yet a small number of "super brands," including Louis Vuitton and Prada, are defying the trend. Their brands' success has encouraged these marketers to roll out giant stores. In June, Prada opened the Epicenter store, a spectacular showplace in Tokyo's posh Aoyama neighborhood. The lopsided building, designed like a giant honeycomb with curved glass walls, is the Japanese counterpart to Prada's New York Epicenter store in SoHo. Louis Vuitton, meanwhile, has just opened a flashy, 2,970-square-foot store in Tokyo's upscale Roppongi Hills development, fronted by a facade built of 30,000 glass tubes and open until 11pm Thursday through Saturday. The store is Louis Vuitton's 47th Japanese store and comes only a year after the company opened a big store just down the road from the Prada Epicenter.
So far, the new retail palaces haven't had any trouble attracting customers. Shortly after they open, most have long lines outside, both because they restrict the number of people permitted inside at anyone time and because they often offer special items on a limited basis. Mayumi Ohshima, 29, a Tokyo homemaker and mother of one, bought her first Louis Vuitton bag nine years ago. Using her personal savings, now close to $8,800, she recently bought a shoulder bag for $920, bringing her total collection to six. "I feel superior by having a Louis Vuitton," she says. "The economic slump doesn't matter. Tonight, I'd like to sleep with this bag beside me."
Source: The Wall Street Journal Tuesday 23 September 2003 picture credit Randall Enos

In the US, I suppose this "See? I'm not so bad off!" feeling is engendered by owning the ever-popular SUV?

Can't Afford a New Handbag? How about a New Pair of Sunglasses!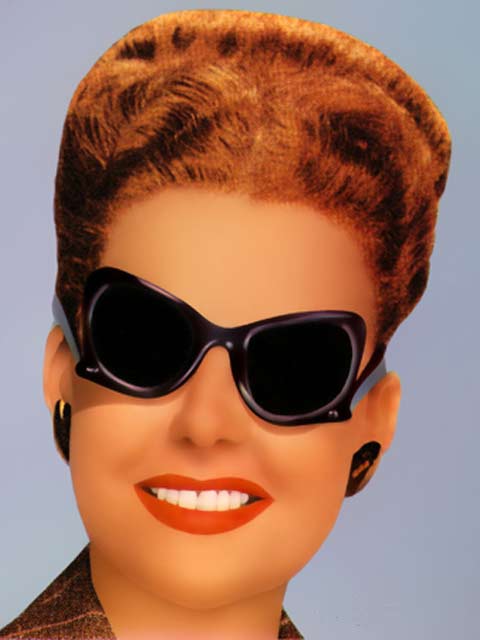 SOLAREX Scientific Sun Glasses, 1948 Style SS-43 Source: ephemeranow.com
Is her skin made of rubber?

For articles related to lifestyles including guns, television, extortion, hair, handbags, parenting, time bind, desserts, fitness, feasting, friends, happiness, ageing and more, click the "Up" button below to take you to the Index for this Lifestyles section.