Cigarettes Can Kill
What's Really Important to Parents?
Until the rise of American advertising, it never occurred to anyone anywhere in the world that the teenager was a captive in a hostile world of adults.
- Gore Vidal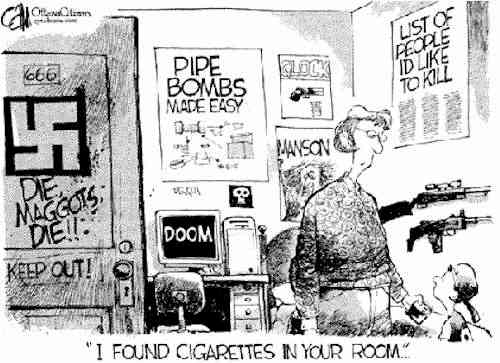 Source: Funny Times (unfortunately, I don't remember which one, but it was sometime in 2000). This cartoon is almost too sad to be funny.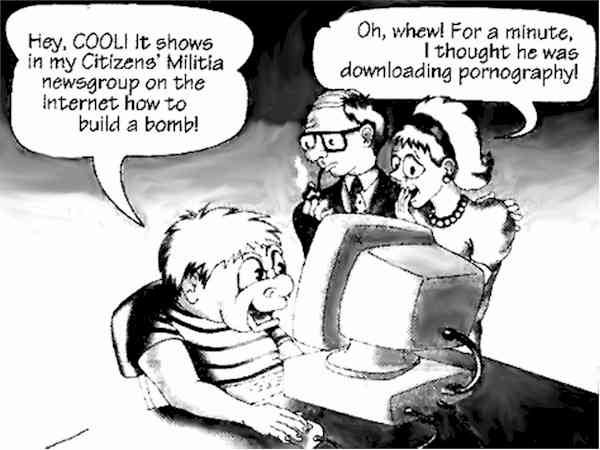 Source: greece.k12.ny.us/taylor/humor/nobomb.htm

Parents Warned about 24-Proof Gelatin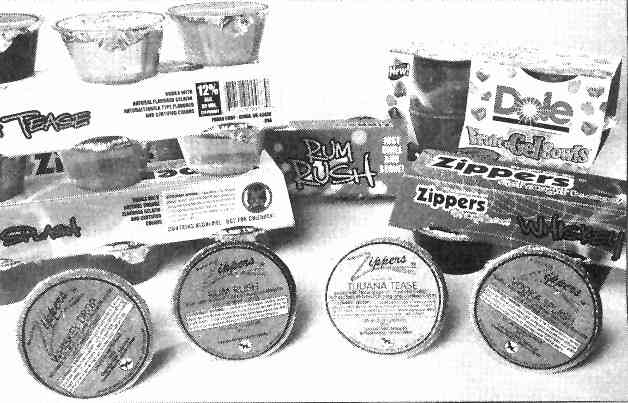 Shots: Zippers, with 12% alcohol, come in bright colours and fruity flavours
and have packaging that resembles popular gelatin snacks like those at upper right.
by Donna Leinwand
'Looks just like Jell-O' but spiked with spirits
There's a new front in the fight to keep alcohol away from kids: school lunch boxes.
A national anti-drug coalition is alerting parents about the rising popularity of Zippers, which are packaged cups of fruity-flavored gelatin and alcohol. Zippers are being marketed by a small Ohio company as the first commercially produced version of "Jell-O shots," the sweet, chilled concoctions that have long been a staple at beach bars and college parties.
But Zippers, with their bright colours and cheery labels, also look like the gelatin dessert packs that thousands of youths take to school each day. And some drug-prevention officials are hearing complaints from parents and school administrators that Zippers could make it too easy for youths to sneak alcohol into school.
"Zippers may be dangerous because they come packaged in containers that look like any other snack pack or after-school snack a child may put in their lunch box," the Community Anti-Drug Coalitions of America said in an alert last week. The coalition added that "Zippers are being marketed in ways that appeal to an underage audience."
Burt Brooks rejects the notion that the Toledo, Ohio, company that he started with several friends is marketing its products to kids. Zippers, he says, are aimed at the adult group that is most likely to enjoy sweet, alcoholic drinks: 24- to 44-year-old women who like "entertaining, nights out with friends (and) fun with no regrets."
Brooks also notes that Zippers' packaging is clearly marked with a government alcohol warning and a picture of a baby with a red slash through it, indicating that the product isn't for kids. "We went above and beyond what the states and federal government require," Brooks says. His 4-year-old company, BPNC, projects $2 million in sales this year.
"If you leave a rum and Coke on your table, a kid will drink that and mistake it for a Coke just like they might mistake our product for (regular) Jell-O," he says. "You have to supervise your children."
Zippers, which unlike regular gelatin snack packs require refrigeration, are sold in bars, liquor stores and groceries in 26 states. There is a cherry-flavoured version called Rum Rush, a bourbon-and-lime one known as Whiskey Drop, an orange one called Vodka Splash and a lemon one with grain spirits called Tijuana Tease. Eight-packs retail for $6.99 to $9.99 depending on the market and local taxes. Each gelatin cup contains 12% alcohol and has about the same potency as a glass of wine.
Hope Taft, the wife of Ohio Governor Bo Taft, is among those speaking out against Zippers. She says parents in her state have been calling a drug-prevention resource centre in Cincinnati about Zippers. "Products like these and wine coolers ...cause us great concern because they are very appealing to young people," says Taft, the mother of a college senior. "They all have colourful, creative labelling and catchy names. The packaging is sort of disguised."
Lily Heil, 12, a seventh-grade student from McLean, Virginia, agrees that kids at school could easily pass off Zippers as regular gelatin snack packs. "Once you rip off the lid that says it has alcohol," she says, "it looks just like Jell-O."
Meanwhile, Zippers seem to be a hit among some bar owners. "I have five people at least on a busy night doing nothing but selling these things," says Gingi Bakri, who owns Cotton Eyed Joes, a 30,000 square-foot country music bar in Knoxville, Tennessee. He says he sells about 10,000 Zippers a month at his bar for $2 or $3 each. "The profit margin on these things is unbelievable," says Bakri, who buys Zippers wholesale. "You get a good looking girl or guy selling these things and everyone wants to try it."
Source: USA Today Monday 29 April 2002; photo credit Leslie Smith, Jr

What's Really Important to Children?
To an adolescent, there is nothing in the world more embarrassing than a parent.
- Dave Barry
Naughty Or Nice?
by Helen Bain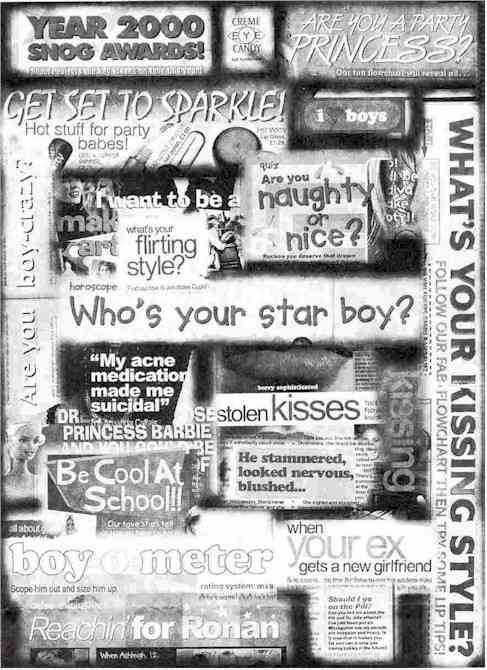 Are magazines that advise 8-year-old girls on "smoocharama" lip gloss and how to kiss spunky boys actually pedalling soft porn? These glossies are tapping into the multibillion-dollar pre-teen market.
Would you approve if your pre-teen daughter wore a silver string bikini to a disco at which she snogged "spunky" boys with her glossed "lush lips"?
All the above are apparently endorsed by a plethora of magazines targeting the "tween" market - girls aged 8 to 12. A British study has found that thousands of girls as young as 13 read magazines targeted at older teens - which give detailed sexual advice. It concludes that publishers of teen magazines are peddling soft porn to children.
But it is not just reading material of teens that has caused concern - Woolworths has banned new British tween magazine Mad About Boys which has sparked outrage about the sexualisation of even younger girls. Mad About Boys isn't available in New Zealand yet, but its content is little different from a range of "tween" and early teen magazines available here. A flick through them shows New Zealand girls are reading surprisingly spicy stuff:
Barbie (Australian, $4.95): Judging by the models and readers' photographs, the readership looks to be about 6 to 10 years. Whether its fashion pages are appropriate for this age group is questionable. One story exhorts them to: "Get up! Get down! Be a disco diva and shake your booty!" Its pre-teen models wear suggestively skimpy outfits (a girl of about 9 wears a silver lurex string bikini) and plenty of makeup.
A lucky pre-pubescent competition winner poses in a minuscule boob tube for a cover shot with a couple of Home and Away stars, "the two spunkiest boys on TV."
Barbie is heavy on promotion of Barbie products ("pucker up with these heart-shaped lip balm compacts from Barbie, you'll have totally lush lips. ...Smoocharama!").
Shout (British, $7.25) appears to be targeted at a slightly older readership. Readers tempted by the free gold face glitter can find out what their kissing style is by answering quiz questions like: "Have your mates ever been shocked by someone you've kissed?" The accompanying photograph of a 14-ish girl in pink sequin boob tube, clutching a teddy bear and holding a bunch of mistletoe over her head, looks like she is auditioning for a remake of Lolita.
"Carry sugar-free mints, gum or breath-freshener spray with you for quick freshen-ups between snogs!" Shout advises. On the letters page, a reader asks what Spin the Bottle is, and is told it is "a smoochy party game that matches up a boy and a girl who then take themselves off for a quick snog before rejoining the party. Hot stuff!"
The mid-teen models on Shout's fashion pages favour navel-baring, tight and slinky attire. "Romantic, sexy and very glam" high-heel sandals are "flirty, confident and cute - just like you!".
Creme (New Zealand, $4.95) is targeted at 12 to 18-year-olds, and is less boy/fashion/makeup obsessed than its overseas counterparts. Its March cover features Leslie Bibb from television show Popular, and the magazine has interviews with actress Kate Hudson, Shortland Street "spunk" Jesse Peach, an "On the Road with Zed exclusive poster book", a photo shoot with Fur Patrol, a special report on the Big Day Out, and an article about Jackson's Wharf star Rachel Wallis quitting smoking.
The Hershey's Kiss and Tell competition, in which Creme readers send in their "pashing stories", and a quiz ("Are you boy crazy?") is about as racy as it gets, unless you consider Britney Spears' lyrics to be a dangerous influence on young minds.
Mizz (British, $4.75) seems to be targeting girls about 10 to 13. It includes an interview with popstar Ronan Keating, pop pin-ups, problem page ("There's this boy that I really fancy. .."), "Suss out how to spot the boy of your dreams by his star sign", and the like.
Its quiz, "Are you naughty or nice?" tests matters as innocent as whether you would pinch Christmas pies left out for Santa. Perhaps the girl in its cartoon "My parents won't let me grow up" had seen the heavily made-up young girls on Mizz fashion pages who look like Jodie Foster's 12-year-old hooker in Taxi Driver.
And heaven knows what 10-year-olds think about the lipstick advertisement picturing a naked young woman with the words: "When everything else comes off, Lipcote stays on."
Cosmo Girl (American, $14.40). When this was launched, for 12 to 17-year-olds, it promised it wouldn't be all sex and boys. However, its content - the "boy-o-meter; scope him out and size him up", "When it's time to make a move on your crush", "Gettadate: our guide to guys", a quiz: "What's Your Flirting Style?", a free sticker that reads "1 love boys", "When your ex gets a new girlfriend", and "Why these hot guys make us shiver" - suggests otherwise.
One might question the attitudes fostered by its articles on how to exercise at school without being noticed (squeeze your buttock muscles while sitting at your classroom desk) and "Muffin vs bagel - which has more fat?"
And who knows what the consequences might be of its story "Kissing 101": "Try a little tongue ...to drive him crazy, slip your tongue into his mouth and slide it around like you're licking ice-cream ...now move it in a little further and use more pressure. Make circular motions around his tongue for a count of four. Pretend there's a mint in his mouth that you're searching for with your tongue."
Parents of tweens who spoke to The Dominion said the content of the magazines was disturbing - many said they would not let their daughters read them - and felt angered by the pressure put on their children to grow up too soon.
Creme editor Bridget Hope, 23, says the magazine (18,500 circulation) seeks to "bring inspiration to teenagers through entertainment." Though the magazine must be fun to hold readers' attention, it has a social conscience and serious messages, Hope says.
She says Creme encourages a healthy body image (Hope won't use models in the magazine), has an anti-smoking campaign, and a guide to staying safe at concerts - without lecturing and alienating its readers. The kiss and tell competition was "just a fun thing."
"When I was 13 or 14, me and my friends had our first kisses and it was a really freaky experience, it was really intimidating. Getting people to write in about the sometimes embarrassing things that happened to them might help other people feel better about that experience."
Ruth Zanker, lecturer at the New Zealand Broadcasting School, who has been researching children's media in New Zealand, says the tween mags are driven by the "kargoy" phenomenon - Kids Are Getting Older Younger. What used to appeal to 12-year-olds now appeals to 8-year-olds. There are now pop groups targeted at 2 to 4-year-olds, Ms Zanker says.
And the reason behind kargoy is money - as manufacturers saturate markets they need to find new ones, so are pushing their products to ever-younger children, she says. Sexualising young girls brings huge profits from selling them cosmetics, clothing and popstars.
"It is huge, huge money. Tweens and teens are the fastest-growing market there is. In the United States, pre-teens spend US$17 billion (NZ$41.46 billion) of their own money and directly influence a further US$118 billion of their parents' money," Ms Zanker says.
"The peer group is so powerful at that age - being in or out because you don't have the right gear can make or break your life, and advertisers have really hooked into that."
Source: The Dominion Monday 19 March 2001
See also:
| | |
| --- | --- |
| | Child Molesters - this page covers social concerns regarding sex between adults and children - sometimes coerced, sometimes mutually sought - especially the last article, Sexy Kids. |
| | Enjo Kosai - Enjokosai is a hush-hush style of teenage prostitution. Unlike the horror stories of chained-up, child prostitutes, enjokosai doesn't happen in back alleys. These girls don't hustle on the streets. There's no Pimp-san lurking in the shadows. If there were, Yumi and Mariko wouldn't have any coins in their Fendis after a night in Asahi Mura. Instead, like everything else in Japan, from electric heated toilets to MP3 players the sizes of an aspirin, enjokosai relies on technology. |

For articles related to lifestyles including guns, television, extortion, hair, handbags, parenting, time bind, desserts, fitness, feasting, friends, happiness, ageing and more, click the "Up" button below to take you to the Index for this Lifestyles section.