Morph Un
Transforming Experiences
The way of the Creative works through change and transformation,
so that each thing receives its true nature and destiny and comes into permanent accord with the Great Harmony:
this is what furthers and what perseveres.
- Alexander Pope

This Bridge Is Ship Shape!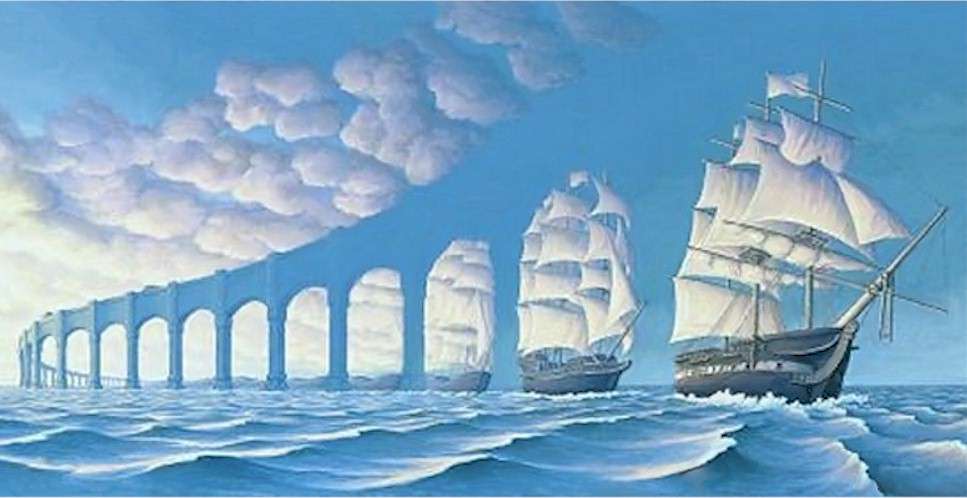 The Sun Sets Sail

Water Those Monks Doing?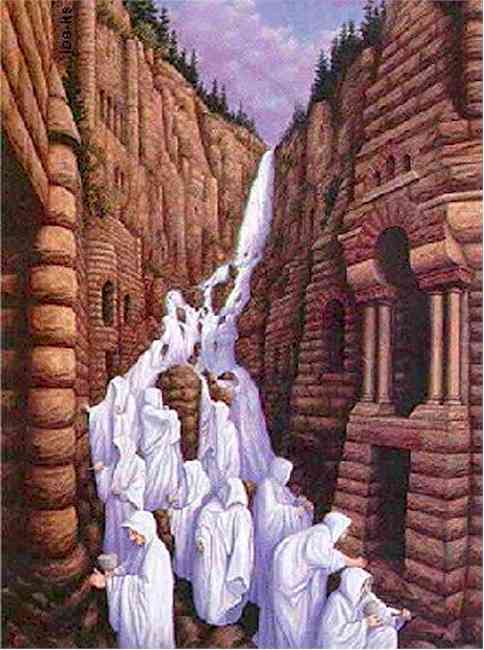 Carved in Stone

He Played to a Full House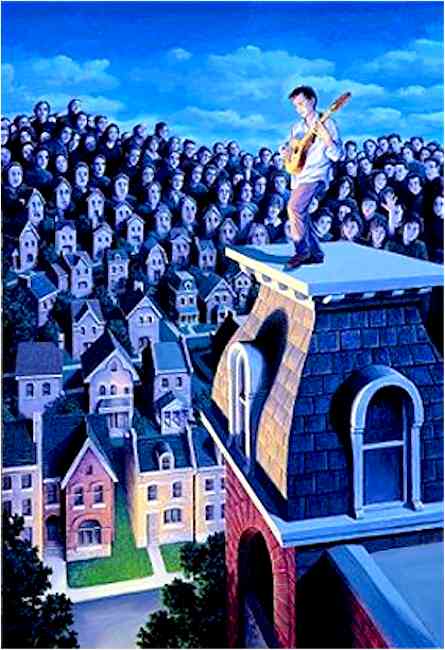 Performer and the Public
Source: for all three: these represent a small portion of the artwork of Rob Gonsalves. Many galleries carry prints of his works for sale. (Personally, I think he could show more creativity in naming them.)

Dylan Single "Top Moment That Changed the World"
Bob Dylan's Like a Rolling Stone has come top of a list of 100 music, movie and TV moments that have changed the world. The magazine Uncut asked industry experts and movie and music icons to name their seminal moments from the past 50 years. Elvis Presley's Heartbreak Hotel came second after Dylan's 1965 single. Third place was taken by the Beatles famous track She Loves You. (I Can't Get No) Satisfaction, from the Beatles rivals The Rolling Stones, was fourth. It was followed byA Clockwork Orange, making Stanley Kubrick's film the most important and influential movie of modern times. The Godfather and The Godfather II films were sixth, while David Bowie's Rise and Fall of Ziggy Stardust came seventh. Homer, Marge, Bart, Lisa and Maggie also got a placing in the top 20 with The Simpsons at number 14.
Music and movie magazine Uncut took a year to compile the definitive list of films, music, TV programmes, books and bands, from the poll of industry experts. Those who took part included Sir Paul McCartney, Noel Gallagher, Rolling Stone Keith Richards, Brian Wilson and Lou Reed. Hollywood stars like Robert Downey Jr, Ed Norton and Juliette Lewis also took part. Former Beatle Sir Paul selected Heartbreak Hotel as his number one choice, saying: "It's the way he sings it as if he is singing from the depths of Hell. His phrasing, use of echo, its all so beautiful. Musically it's perfect".
Rocker Patti Smith said of the winning Dylan song: "I absolutely remember where I was when I first heard it. It got me through adolescence."
Uncut editor Allan Jones said: "This list has been a massive undertaking and considering which films have had a greater cultural impact than Bowie for example has fuelled many discussions. What we have been left with is Dylan as the most seminal artistic statement of the last 5 decades - but I'm sure others will disagree."
Top 20
Bob Dylan Like a Rolling Stone
Elvis Heartbreak Hotel
The Beatles She Loves You
The Rolling Stones (I Can't Get No) Satisfaction
A Clockwork Orange
The Godfather and The Godfather II
David Bowie The Rise and Fall of Ziggy Stardust
Taxi Driver
Sex Pistols Never Mind The Bollocks Here's the Sex Pistols
The Prisoner
The Wild Bunch
The Velvet Underground The Velvet Underground And Nico
Jimmy Hendrix Purple Haze
The Simpsons
Neil Young After the Gold Rush
Ramones Ramones
The Beach Boys Pet Sounds
The Who My Generation
Jack Kerouac On The Road
Joy Division Unknown Pleasures
Source: breakingnews.iol.ie 4 August 2005

Razzmatazz: The Money of Colours
by Richard Morin
Crayola crayons came in eight straightforward colours when they were introduced in 1903: black, blue, brown, green, violet, yellow, orange and red. Today, Crayola makes crayons in 120 colours, including "Inch Worm," "Jazzberry Jam," "Tropical Rain Forest," "Manatee," "Bittersweet" and "Razzmatazz." Manatee ... Bittersweet ... Razzmatazz ? What mysterious shades are those? And what's up with the other vague but vaguely evocative flavour and colour names that are all the rage these days, like Ben and Jerry's "Fossil Fuel" or "Chubby Hubby" ice cream flavours, Benjamin Moore's "Sweet Daphne" and "Castleton Mist" paints, or that new nail polish colour "Trailer Trash," manufactured by Hard Candy Cosmetics?
That's what Elizabeth G Miller of Boston College and Barbara E Kahn of the Wharton School at the University of Pennsylvania wanted to find out when they embarked on a series of experiments to see whether people responded more positively to ambiguous colour and flavour names or to more specific monikers. They reported their findings in the latest issue of the Journal of Consumer Research.
Miller and Kahn discovered that there's method - and perhaps even profit - to this maddening name game. In one test, 100 students taking part in an unrelated study were told that after they had finished the research task they should select jelly beans from 6 containers as a reward for their participation. They were told that each container held a different flavour of jelly bean. Half the students saw containers labeled with ambiguous names ("white Ireland," "moody blue"), while the other half saw those same containers with more specific descriptive names ("marshmallow white," "blueberry blue"). As the researchers had hypothesised, students took nearly 3 times as many jelly beans on average from a container that bore a vague name as from one that carried a specific name. In another study involving 60 students, participants were told to pretend they were ordering sweaters from a catalogue. The sweaters in question came in various colours, and these shades were described either ambiguously or using common descriptive names. Again, the students clearly preferred the vague names when making their buying choices. A third test turned up similar results.
Why does ambiguity seem to sell? Miller and Kahn theorise that, without real information, consumers try to understand why the product has such a jazzy name and fill in the blanks with imagined desirable qualities.
Crayon Controversies
The name game is serious business in the crayon industry, where the names of colours have provoked occasional semantic storms.
The name of the colour "Prussian Blue" was changed to "Midnight Blue" in 1958 in response to teachers' requests to change it because they felt students were no longer familiar with the history of the Baltic kingdom.
The Crayola company voluntarily changed the name of the color "Flesh" to "Peach" in 1962, "partially as a result of the US Civil Rights Movement," the company reports on its website. Similarly, Crayola changed the name of "Indian Red" to "Chestnut" in 1999 after teachers complained that "some children wrongly perceived the crayon colour was intended to represent the skin color of Native Americans."
Source: washingtonpost.com Sunday 14 August 2005 page B05

For more articles, tests and visual amusements click the "Up" button below to take you to the Index page for this Intellectual and Entertaining section.