Stick It to Him
His Name Is Pierce?
Men who have a pierced ear are better prepared for marriage - they've experienced pain and bought jewelry.
- Rita Rudner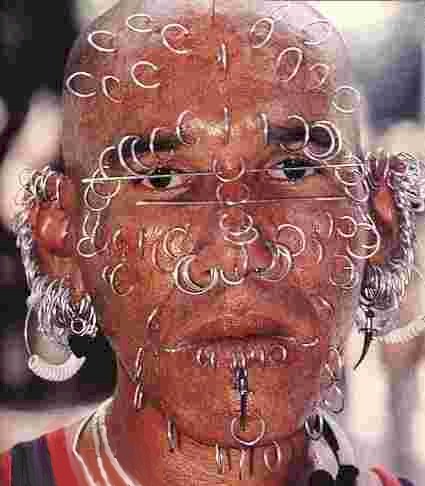 Source: the web

There's Something on Your Face...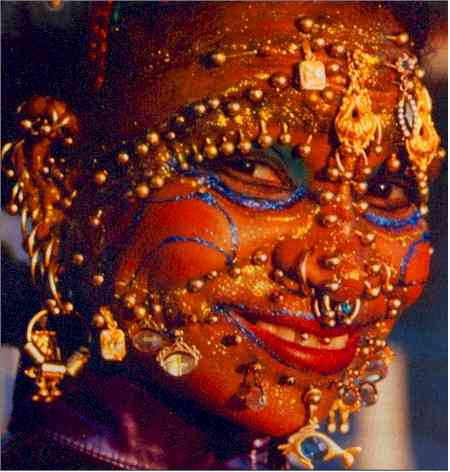 Source: Maxim May 2001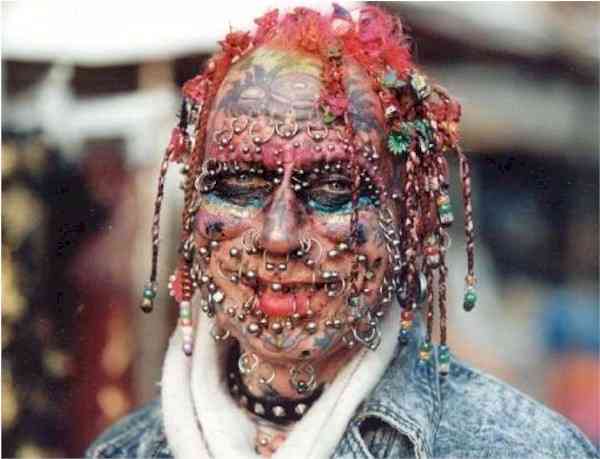 I can't help but wonder if someday they won't regret their choices...

Acupuncture on Steroids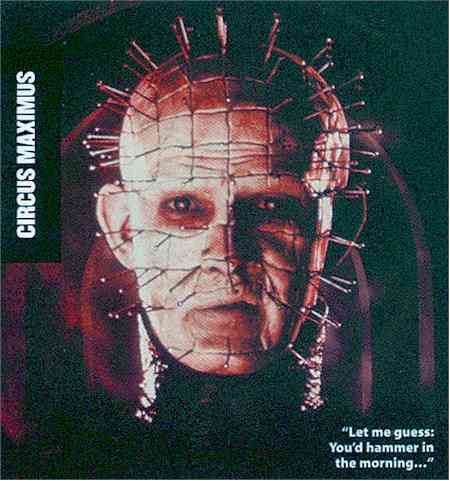 Source: Maxim May 2001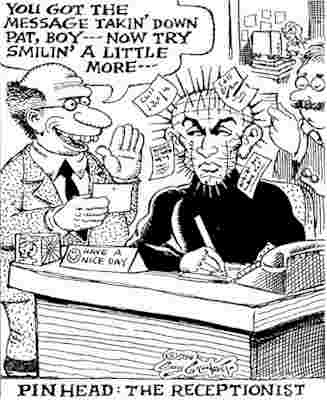 Source: Funny Times May 2002

Pin Up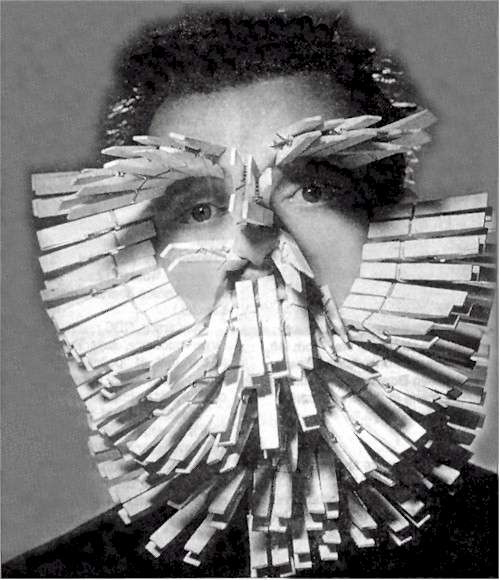 Why would Kevin Thackwell affix more than 100 clothespins to his face?
To get the attention of Ripley's "Believe It Or Not"
Source: The Star-Ledger 8-14 July 2001

But Here Is Record-Breaker Garry Turner with 133 Pegs...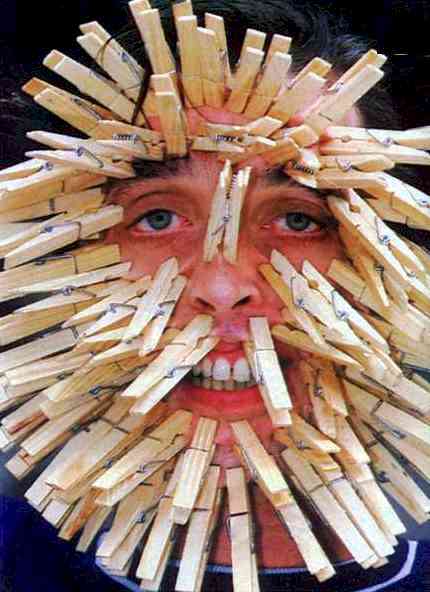 Source: the web

Man Breaks Record by Clipping 153 Clothes Pegs to His Face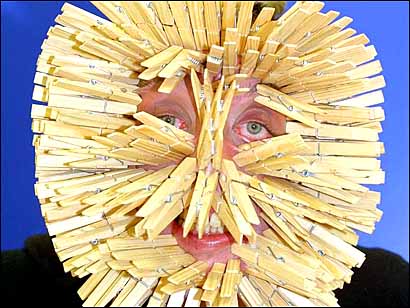 Garry Turner breaking his world record/NNP
A man has broken his own world record by clipping 153 clothes pegs to his face. Garry "Stretch" Turner smashed his previous record by 20 pegs in front of amazed onlookers in York. The feat took place at WH Smith's store in the city to celebrate the launch of the Guinness Book of Records 2003. Ben Potter, who works as an assistant in the store and helped organise the event, told The Northern Echo, "He looked like he had a very good technique - as though it had been practised many times.
"Garry said that attaching the pegs to his cheeks hurt the most and afterwards you could see he was in a lot of pain. There were marks on his skin that he said would last an hour and he had to keep rubbing his face." The rules stipulate that there are certain areas of the face where pegs cannot be placed, including the lips.
Mr Potter told the paper: "I think it's a lot easier for Garry to attach the pegs to his face because of the type of skin that he has. He just kept popping them on and they held on to the smallest amount of his skin." Mr Turner told the crowd his success was due to his elastic skin and large pain threshold.
Members of the public tried to set a record by eating as many Smarties as possible in three minutes using chopsticks. The best attempt saw 54 Smarties eaten, far short of the record of 93 held by Sebastian Pinski, of Leicester.
Source: www.ananova.com Monday 30 September 2002

At least the clothes pegs (clothespins in the US) are easily removed and recovery takes only an hour...

You're Swell(ed)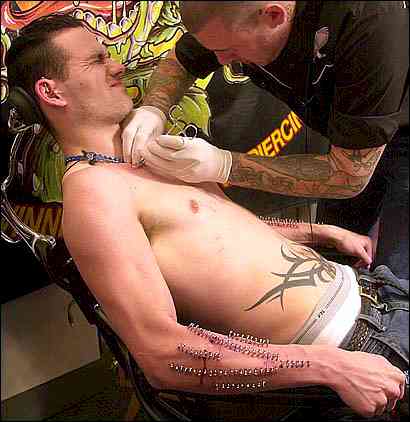 A US student claims he has broken the world record for the most body piercings in one day. Matt Brown, of Omaha, Nebraska, had 171 piercings in a single day to beat the old record of 102. The 21-year-old had 10 on his collarbone and the rest in his arms which became red and swollen.
Mr Brown is now waiting for official confirmation from Guinness Book of World Records. Joe Smith, who performed the body piercing, says he has waited 10 years to find someone who could tolerate the pain to pull off the record.
Source: Ananova Monday 26th November 2001

Man Sets New Pincushion Record
A Winnipeg, Canada body artist set a new world record 15 January 2002 by becoming "the most pierced person on the planet." Brent Moffatt, 34, broke the previous record of 200 piercings set in 1999. (Note this information conflicts with the story above.) Moffat plans to continue until he reaches 1,000. "I'll keep going unless I fall unconscious," he said.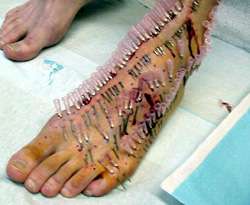 To prepare for the attempt, Moffatt shaved his legs and took antibiotics to prevent the pinholes left from the surgical needles from becoming infected. He said he felt no pain at the time he broke the record. "My skin feels really tight - like after a sunburn." In the future, Moffatt wants to have a full body suit of tattoos and "wouldn't mind adding horn implants to his head."
Source: Wednesday 15 January 2003 © canada.com

Do you suppose Moffatt's head is missing more than just horn implants? Where's the value in a record like this? Moffatt sounds as if he must live a rather impoverished life on the whole.
If you're seriously into body modification... (Not for the squeamish! Contains images of seriously split tongues and other mutilations.)

For more articles, tests, film studies and visual amusements click the "Up" button below to take you to the Table of Contents for this Intellectual and Entertaining section.