Cellular
Why Do You Think They're Called "Apart-ments"?
After all, the 3 major sources of apartments are death, divorce and transfer.
- Cornelius Gallagher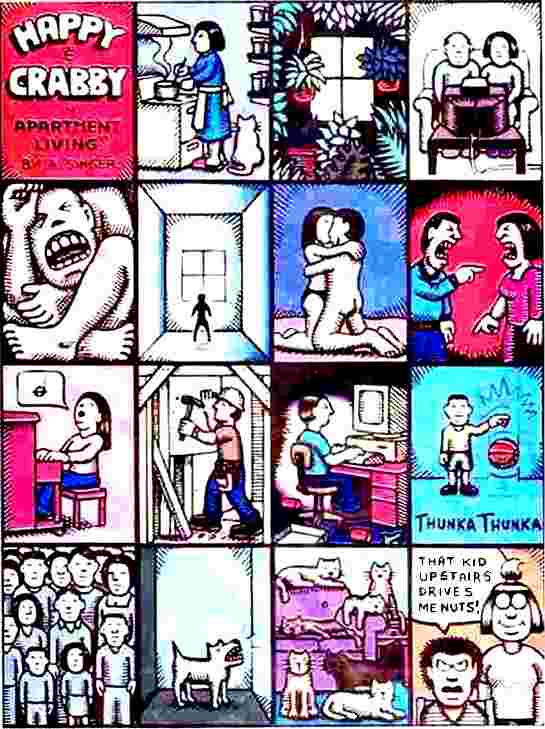 Source: Funny Times July 2000 funnytimes.com

What to Look for in an Apartment Or Townhouse
"Location, location, location" is a real estate agent's cry, but when you're buying an apartment in the inner city one location may be as good as another.
Views, décor and the shape of the rooms may be important but there are other things to consider when looking for a new home. Here are tips gleaned from an apartment owner, a real estate agent and an architect.
| | |
| --- | --- |
| | Storage space - In a bustling city, space is at a premium. You may be able to fit your furniture and possessions comfortably into a new home but what will you do with those boxes that you've been storing in the garage or attic? Possessions have a way of accumulating so it pays to check out the space behind the living space. |
| | Individual laundry facilities - Most apartments and nearly all townhouses have their own laundry facilities but don't take it for granted! |
| | Drive on access and parking - Many apartment buildings have parking facilities but it often costs a little more to have your own parking space. Likewise, townhouses sometimes come with garages but there are not always as many spaces available as there are tenants in a development. Don't let your car end up on the street. |
| | Sunlight - Windows facing the sun are fantastic in winter but in summer they can turn your home into a sauna. On the other hand, when winter rolls around you don't want to find that you live in four months of darkness. |
| | Privacy - Look through all the windows. What do they overlook? Who can look in? Is the balcony secluded enough for you to sunbathe in comfort? |
| | Security - Is the street busy and well-lit at night? Is the front entrance secure? An internal mailbox is recommended. |
| | Noise - The main source of noise in apartments is through floors and ceilings. Ask for a rating of soundproofing and check that the windows are double-glazed to reduce noise from the street. |
| | Neighbourhood - In the inner city, residential areas often abut industrial areas. Take a drive around the block and check for nightclubs or factories. |
Source: Adapted from a Capital Times article, date unknown - probably 1998-1999

We lived in an inner-city apartment in Wellington for a year. Our biggest problem was that a fire alarm was situated just inside the door. It appeared to be great fun for one or more people - after having a few drinks at the bar across the mall - to dash inside our building and trigger the alarm about 2am. Everyone in the building then had to immediately exit and wait on the footpath for the firemen to arrive, check the building, turn the alarm off, then give us the okay to return to our homes.
Sometimes people would attempt to stay in bed and avoid the whole exercise (though how they managed to tolerate that shrieking alarm at close range - they rang simultaneously in each apartment - is beyond me). When this happened, the firemen would occasionally keep us all an extra 20 minutes or so (sometimes even in the rain or cold with us in our bathrobes and sometimes bare feet) while they lectured us on the importance of obeying the rules and checking our apartment off on the board as vacant when we exited. This silly exercise happened as frequently as weekly during some periods. That, as much as any other thing, finally caused us to move out.
See also:
| | |
| --- | --- |
| | Neurotic - a very funny short clip by Bruno Bozzetto (Flash plugin required) 1 meg |

Housing Problems Loom with Changing Climate
Climate change is likely to cause problems for houses both old and new. The Building Research Association of New Zealand has prepared tips in anticipation of this but warns that for specific situations the appropriate professional advice will be needed.
| | |
| --- | --- |
| | Any building likely to flood now may do so up to 4 times more often than before. To cope, the building may have to be raised or moved or a second storey added with the ground floor used as a non-living space. |
| | Services such as wiring and hot water cylinders need to be installed as high as practicable and cladding, flooring and linings should be replaced with flood-resistant materials. |
| | For new buildings, apart from avoiding flood-prone areas, Branz says floor height minimums should be exceeded by as much as possible by using raised slab or suspended timber floors. As with existing buildings, services should be installed as high as practicable and flood-resistant building materials should be used. |
| | Building over-heating problems are predicted as the number of days exceeding 25oC increases. Smaller windows, tinted or reflective glazing, shading windows with eaves, awnings, greenery or other buildings will help keep the sun out. Ventilation can be increased by using passive venting, cross-flow ventilation, extractor and ceiling fans. |
| | Insulation should be increased, particularly in the roof. |
However, the news is not all bad. Branz says it is likely building heating requirements will be significantly reduced. "To maximise this it advises using passive solar design principles. These optimise the heating effect of the sun while ensuring the building is well insulated.
Adaptation for climate change is generally cheapest, easiest and most effective if done at the design or construction stage of a new building. Modifying existing buildings can be more expensive or difficult, although if they are carried out during renovations, the extra cost and difficulty may be low.
Source: The Evening Post Saturday 17 March 2001

The Best $15 to $6,000 You Can Spend
by Lou Manfredini
I couldn't get my good friend to listen to me. So he and his wife moved into a house at the bottom of a hill and finished off the basement. I warned him, "Take care of the drainage problems first." Then a giant storm hit, and they ended up with 5 ½ feet of water in the basement. Their new refrigerator bobbed around like an apple in a bucket.
Many of us don't like to think about our basements. They are places to hide noisy boilers and furnaces along with piles of old junk. Worse, we spend thousands of dollars finishing them off without giving any thought to making sure they'll stay dry. But water can create a range of problems, from structural damage to mould and mildew that can make people sick. Misery does love company, though: nearly 70% of homes have water infiltration to some degree, reports the American Society of Home Inspectors.
Overall, basement water problems fall into two categories: those you can do yourself, and those that require guys with jackhammers.
Let's start with the easy one. Walk around the outside of your house and take a look at your gutters, downspouts and/or leaders. If the gutters are clogged, water can spill over and splash against the foundation. Downspouts and leaders sometimes end just a foot or two away from the house, which isn't far enough to drain water away. Adding extensions of four, 6 or 8 feet will take the water farther from your foundation; this alone could solve your problem. Often, the ground right around the foundation settles over time and slopes toward the house. This creates standing water when it rains, which will funnel water right into the basement. The ground should be pitched away from the house, as should any sidewalks or driveway lying close by. You may need a contractor for the sidewalk work.
They say you can count on death and taxes. Well, add cracking foundations to that list. These cracks may lead to leakage. If the leak is small, you may be able to stop it with a concrete epoxy kit available at a hardware store for about $15. After prepping the wall (which involves chiseling it out slightly, according to the instructions), you apply the epoxy. This works 50% of the time.
If you have water literally running through the wall, you'll need a bigger fix. A basement waterproofing contractor can break up the concrete around the perimeter of the floor, haul out the debris in buckets, lay drain tile and install a sump pump in as little as two days. Result: a drier basement, and peace of mind. Cost: $3,000 to $6,000 for an average basement. But if you have serious water problems or are planning to finish off your basement, it's the best money you can spend. Like new kitchen cabinets, this fix adds real value to your home.
At my house, we plan to remodel our basement playroom in the coming year. Thankfully; we don't have water problems. "It'll be great," my wife said recently, adding, "but first we have to add drain tile to the floor." Hey, at least she listens to my advice!
Lou Manfredini is "Mr Fix-It", a contributor to NBC's Today show.
Source: USA Weekend 8-10 June 2001

Check It Out Before You Buy It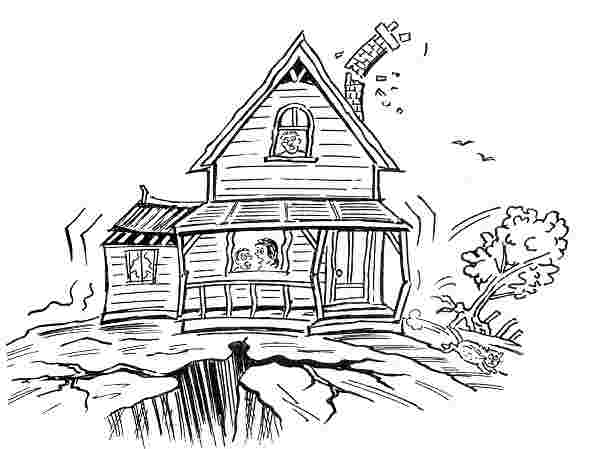 If you don't want to wind up on Fair Go or contacting Consumers' Institute, check the boundaries and fence lines of a property before you buy. Otherwise it could lead to bitter and protracted rows with neighbours over who owns what. Steve Fejos of LJ Hooker in Oriental Bay recommends prospective buyers should obtain a title of the property from the land transfer office. "This will clearly show the measurements and the exact shape of the section and how the land sits in relation to neighbouring sections and properties." He then suggests securing from your local authority an aerial photograph and a cadastral map. The latter is a site plan on clear plastic overlay which you place over the aerial photograph to see whether the fences have been built on the boundary or follow the natural flow of the land. "If there is the slightest doubt of an error, I suggest the best option is to personally inspect the boundary lines and, if possible, measure them," Mr Fejos says.
The cadastral map is also important for showing whether any buildings or parts of the property are built over the legal boundary line. "A fence and garden can always be moved but parts of a building, garage or sheds cannot." Mr Fejos says problems occur more often with older homes, where fences were built decades earlier, and on hillside sections, where the fence line serves more for natural physical protection and as a safety line than a boundary. "With subsequent ownership changes, the fence is taken to be the actual boundary."
Prospective buyers also should check a property for:
| | |
| --- | --- |
| | sufficient storage space in the kitchen, bedrooms and outside |
| | a level floor and sound pilings |
| | good water pressure (turn on the taps and shower; flush the toilet) |
| | insulation (check for insulation batts in the roof, ceiling and walls) |
| | which of the fixtures remain (heaters, carpets, dishwasher) |
| | traffic/airplane noise |
| | house movement (revealed by cracked window sills or walls) |
| | dampness (can be detected by smell and/or mildew) |
| | leaking roof (check the wallpaper and ceilings for stains, ensure the iron is not rusty or tiles decayed) |
| | zoning restrictions (check with the local authority) |
| | potential flooding/slipping (look at banks, streams) |
| | old wiring (start with the meter box, a tangle of worn wires is a bad sign) |
| | and structural defects (check for dry rot and borer - don't be scared to jump on floor boards to check them out thoroughly). |
Source: The Evening Post Saturday 17 March 2001

Cold and Dark? A Good Time to Buy a House
by Liz McDonald
[Excerpt]
Kirsty Gillespie, a director of HomeSell, a Christchurch-based business which helps homeowners sell their own properties, believes winter is the best time to buy. "I think it uncovers problems and shows houses in their true light," she says, adding, "Buyers at this time of year [winter] can discover five important things. These are:
| | |
| --- | --- |
| | How warm is the home? |
| | Does it get good sun? |
| | Does it leak? |
| | Does the section drain well? |
| | Is there anything that is likely to cost me money that I need to know about? |
Gillespie says that in winter, would-be buyers coming into an open home from the cold are much more likely to notice whether a home has double glazing and good insulation, and what sort of heating it has. Buyers should look out for damp smells and mould, low-lying damp gardens, and things like cold sleep- outs, she says. "You can put your hand on a wall and feel how warm it is. You get a far better idea of what you are really getting."
...
The Department of Building and Housing has put out a list of guidelines for househunters suggesting what to look for in a house to avoid buying trouble in the form of dampness. They suggest keeping a close eye out for tell-tale signs that water is getting into the inside of a house. These are easier to spot in winter and include:
| | |
| --- | --- |
| | Black spotted mould on inside walls or ceilings. |
| | Swollen architraves or MDF skirtings. |
| | Stained timber window or door trims. |
| | Stained carpet. |
| | A general feeling of dampness next to doors or below windows. |
Signs that too much moisture is being generated from inside a house include:
| | |
| --- | --- |
| | Mildew and water stains. |
| | Condensation on hard surfaces. |
| | Swelling and rotting wood. |
| | Rotting carpet. |
| | Condensation on windows. |
| | Bubbling wall linings and vinyl flooring. |
| | Musty smells. |
Source: stuff.co.nz 18 July 2008

For pages on natural disasters - including lightning strikes, tornados, hurricanes, volcanoes, floods, global warming and more - as well as some great satellite and tree photos, click the "Up" button immediately below to go to the Table of Contents page for this Environment section.