A Perfect Environment
No Moat Required
I want a big house with a moat and dragons and a fort to keep people out!
- Victoria Beckham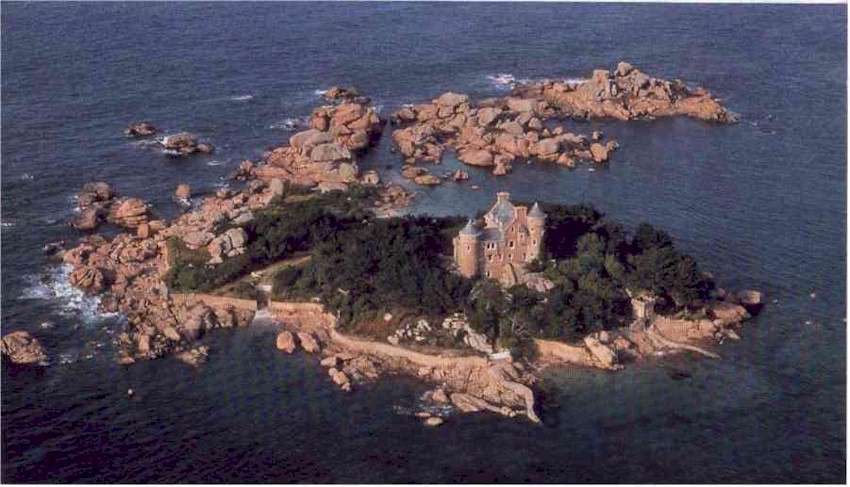 Costaérès Castle, Ploumanac'h
Source: Editions Jack, Louannec, France

From a Different Direction
Ploumanac'h, on the Corniche Bretonne, is famous for its rocky coastline, stunning pink and red granite natural rock formations and sandy beaches. In the château de Costaères, the Polish writer Henryk Sienkiewicz [1846-1916] wrote the novel Quo Vadis.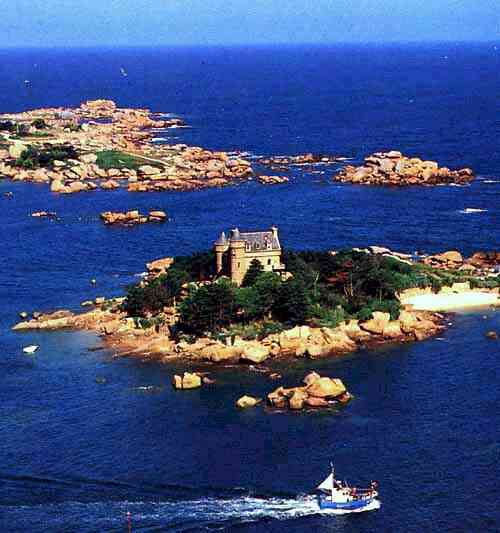 A Closer View
This is my favourite castle. If any reader happens to know the owner, please introduce me. I would love to see the inside and to know more about its history.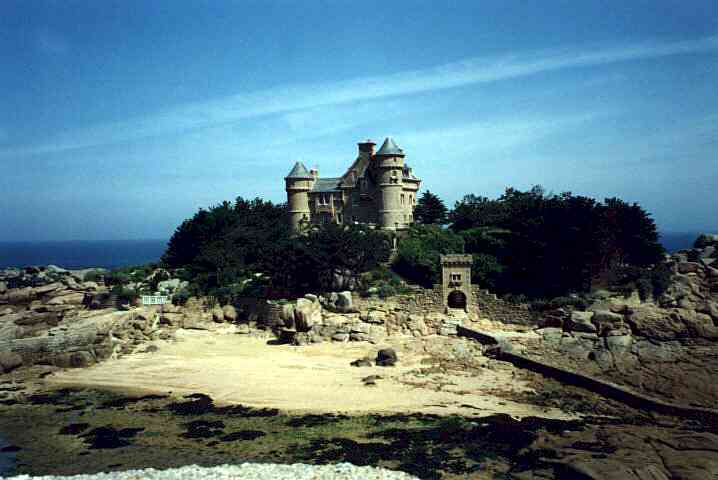 A Long Shot
I discovered it isn't quite as isolated as I had envisioned...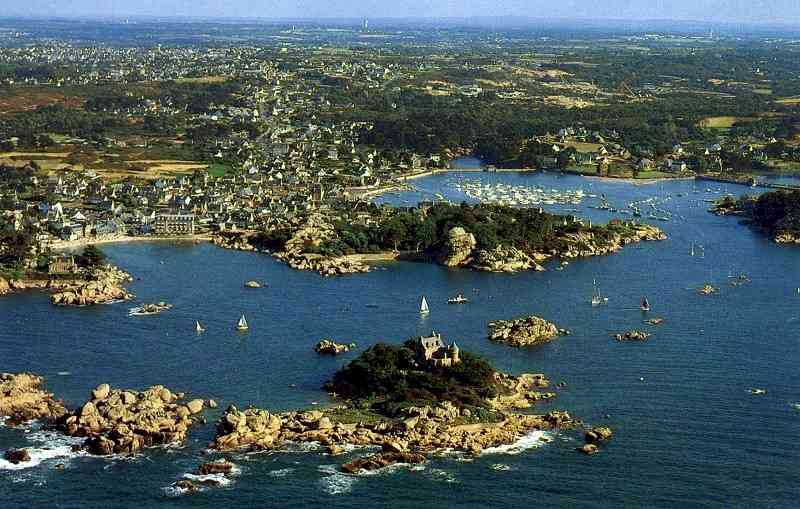 Source: chez.com

The Most Castles per Square Mile?
Thousand Islands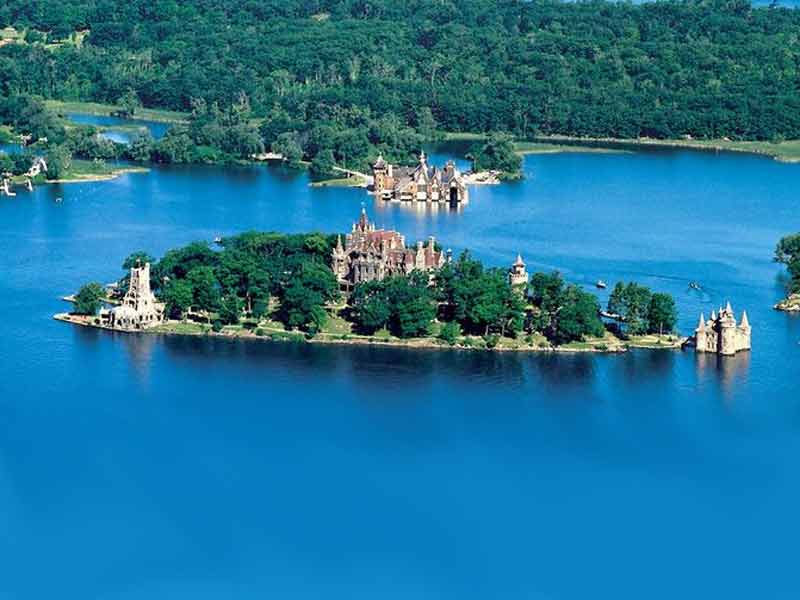 Aerial view of Boldt Castle and some of the Thousand Islands in the Saint Lawrence River.
The Thousand Islands are a chain of islands that straddle the US-Canada border in the Saint Lawrence River as it emerges from the northeast corner of Lake Ontario. The islands stretch for about 50 miles (80 kilometres) downstream from Kingston, Ontario. The Canadian islands are in the province of Ontario; the US islands are in the state of New York. The islands, which number 1,865 in all, range in size from over 100km² to smaller islands occupied by a single residence, to even smaller uninhabited outcroppings of rocks that are home to migratory waterfowl. The number of islands was determined using the criteria that any island must be above water level for 365 days per year, bigger than one square foot (roughly 900cm²), and support at least one tree or shrub.
The Thousand Islands gave their name to the popular Thousand Island Dressing around the turn of the 20th century when Sophie LaLonde, of Clayton, New York who served the dressing at dinner for guests of her husband, a popular fishing guide, gave the recipe to Clayton hotel owner Ella Bertrand and New York City stage actress May Irwin (who shared it with hotel magnate George C Boldt).

Once upon a time, there was a busboy at the Waldorf-Astoria Hotel in New York. The child of poor immigrant parents from Prussia, he dreamed the American Dream and grew up to become the most successful hotelier of an era, owner of the Waldorf-Astoria and of the Bellevue Stratford in Philadelphia, a trustee of Cornell University, a bon vivant on a lavish scale. His name was George C Boldt, he owned one of the Thousand Islands and he dreamed of building the perfect love gift for his wife. He dreamed of a real castle, of mossy stone, of drawbridge and portcullis, of turrets and towers and castellated walks - though first he had earth-moving equipment refashion the island itself into the shape of a heart. Work moved on apace between 1900 and 1904, then stopped abruptly. Boldt Castle, on Heart Island, still stands as a monument to a rich man's fantasy, but Boldt's wife died suddenly, and the castle was never completed. The tour boats stop there, and you may disembark and stroll around the earthen heart, beautifully kept, for as long as you please. You may eat in a restaurant in the castle. You will learn that Boldt's chef at the Waldorf-Astoria created the famous dressing in honor of summer picnics and dreams.
Source: en.wikipedia.org/wiki/Thousand_Islands (first half), query.nytimes.com second half. Whom should you believe?

For pages on several types of natural disasters - including lightning strikes, volcanoes, floods, hurricanes, tornados, global warming and more - and also some great satellite photos and pictures of beautiful trees, click the "Up" button immediately below takes you to the Table of Contents page for this Environment section.