Cool Cats
I'm Just Taking the Cats out for a Walk...
To bathe a cat takes brute force, perseverance, courage of conviction - and a cat.
That last ingredient is usually hardest to come by.
- Stephen Baker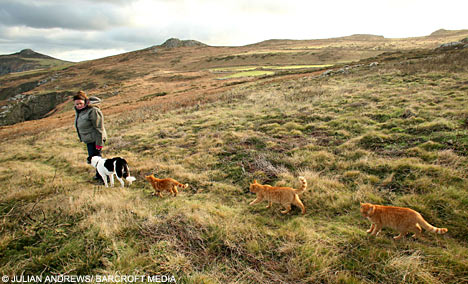 Maurice, Elmo and Pixie follow Jackie and her dog on a walk
by Claire Bates
Jackie Morris is used to the odd stare when she takes her pets out for a walk. But it's not her dogs Bella and Floss that get the admiring glances, but rather her three ginger cats that accompany them. Maurice, Elmo and Pixie often tag along on the 4-mile walks by the Pembrokeshire coast in Wales. The intrepid moggies pick their way through moorland and even negotiate tricky stiles on the route. They also leap onto the sign posts, perhaps to check they are going in the right direction.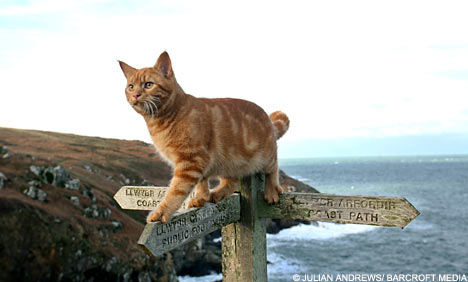 This way: one moggie point the way home
Their adoring owner Jackie said her cats were keen to come out in all weathers... but the preening felines didn't like muddy areas and avoided any bogs. She said: "We do get a lot of people staring at us. Ramblers come up to us and say: 'But they're cats'. And I say: 'Yes of course, they are cats.' No-one can quite believe that they really come walking with me. But they love it. Elmo likes to be in the lead, Maurice wanders off to look at things and runs up hills and gateposts, and Pixie likes to stand and stare at the view, or jump on you as you walk past. Once someone said to me: 'You're supposed to keep your dog on a lead.' And I had say: 'But he's a cat."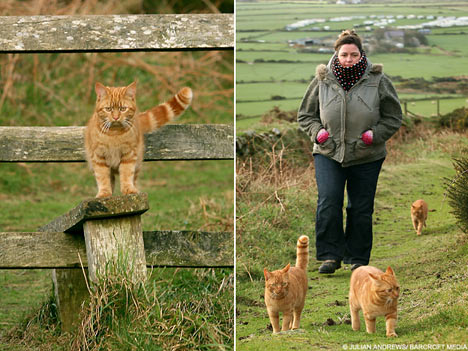 Jackie's cats have learnt how to negotiate stiles and rough terrain
Jackie, who lives on a deserted clifftop near St Davids in Pembrokeshire with her two children, said her cats had started tagging along when they were only 4-months old. Jackie plans to continue walking with them as long as they are keen to follow. "They love being with me and never wander off, or get lost," she said.
Source: dailymail.co.uk 12 April 2007 photo credit Julian Andrews / Barcroft Media

Mystery Cat Takes Regular Bus to the Shops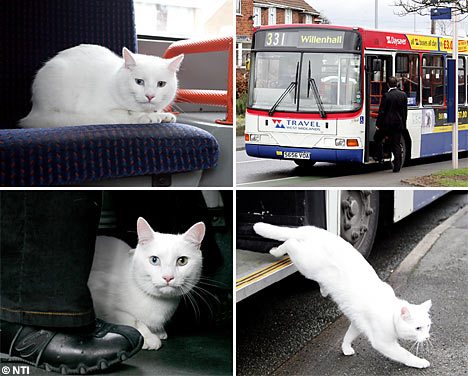 The cat, nicknamed Macavity, has one blue eye and one green eye
Bus drivers have nicknamed a white cat Macavity after it has started using the No 331 several mornings a week. The feline, which has a purple collar, gets onto the busy Walsall to Wolverhampton bus at the same stop most mornings - he then jumps off at the next stop 400 metres down the road, near a fish and chip shop.
The cat was nicknamed Macavity after the mystery cat in TS Elliot's poem. He gets on the bus in front of a row of 1950s semi-detached houses and jumps off at a row of shops down the road which include a fish and chip shop.
Driver Bill Khunkhun, 49, who first saw the cat jumping from the bus in January, said: "It is really odd, the first time I saw the cat jumping off the bus with a group of passengers. I hadn't seen it get on which was a bit confusing. The next day I pulled up on Churchill Road to let a couple of passengers on. As soon as I opened the doors the cat ran towards the bus, jumped on and ran under one of the seats. I don't think any of the passengers noticed. Because I had seen it jump off the day before I carried on driving and sure enough when I stopped just down the road he jumped off - I don't know why he would catch the bus but he seems to like it. I told some of the other drivers on this route and they have seen him too."
Since January, when the cat first caught the bus he has done it 2 or 3 times a week and always gets on and off at the same stops. Passenger, Paul Brennan, 19, who catches the 331 to work, said: "I first noticed the cat a few weeks ago. At first I thought it had been accompanied by its owner but after the first stop it became quite clear he was on his own. He sat at the front of the bus, waited patiently for the next stop and then got off. It was was quite strange at first but now it just seems normal. I suppose he is the perfect passenger really - he sits quietly, minds his own business and then gets off."
Source: dailymail.co.uk 9 April 2007

One blue eye and one green eye? The cat would then be both male - and deaf...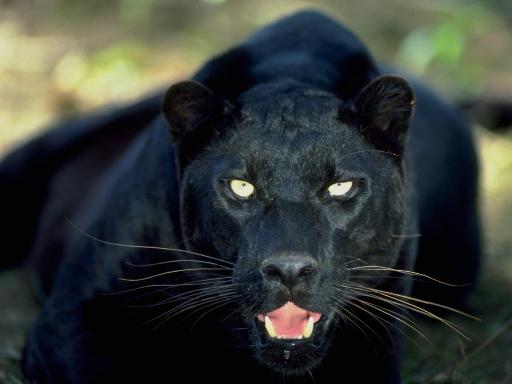 For more on animals, including reptiles, crustaceans, arachnids, insects, fish, birds, pets, livestock, rodents, bears, primates, whales and Wellington's waterfront, click "Up" below to take you to the Table of Contents for this Animals section.