Never say anything on the phone that you wouldn't want your mother to hear at your trial.
—
Trial by Jury
Aug. 15, 2013
Why Do We Have Juries?

The idea is that criminals should be judged by a panel of ordinary men and women who will be able to view the case through untrained eyes rather than the forensic lens of a legal professional. Aside from the fact that it's completely open and so nullifies the threat of establishment conspiracy against particular individuals, one of its many benefits is that it allows a certain amount of discretion that a policy of always adhering to the letter of the law doesn't. The phrase "a jury would never convict" is an oft-used one which suggests that those who are on trial for a crime where they've technically broken the law stand a better chance in front of a jury. The jury has been described as "an exciting and gallant experiment in the conduct of serious human affairs." But is it?
Criminal law, some suggest, is founded on the idea that society as a whole is calling an individual to account for his actions. It is precisely because the defendant has transgressed society's norms in allegedly committing a crime that he can be called up by a court of law. The jury, in their breadth and diversity of interests, represent that society. But, say others, one of the central premises of the law — that the majority of people hold the same views about what conduct is dishonest — is erroneous. Moreover, far from being representative of society as a whole, juries tend to be swayed by one or two vocal individuals. Better, some suggest, that the expertise and rationalism of a seasoned judge decides innocence or guilt, rather than a noisy jurist hoping for a book deal after the trial.
Is trial by jury a recipe for incompetence and bias or the supreme protection for ordinary individuals against the state?

There is no such thing as an impartial jury because there are no impartial people.
— Jon Stewart

---
What Are Reasons to Continue Trials by Jury?
In countries where jury trials are common, they're generally seen as important checks against state power.
They provide a means of interjecting community norms and values into judicial proceedings. It's precisely the amateurism of a jury made up of '12 good men and true' that ensures criminal law conforms to what ordinary citizens think is fair and just. Laws people are tried under are often decades (even centuries) old. The current will of the people is applied via juries on a case-by-case basis.
Juries provide opportunities for citizens to validate criminal statutes by applying them to specific trials. In America, it's understood that juries weigh evidence and testimony to determine questions of fact, while judges usually rule on questions of law, although the jury in a criminal case has the right to decide, according to their own judgement and consciences, questions of law as well. This is called jury nullification and it can't be overturned by a judge if doing so would violate legal protections against double jeopardy. A judge can throw out a guilty verdict if it isn't supported by the evidence, but has no authority to override a verdict that favours a defendant.
Many believe a jury is likely to provide a more sympathetic hearing, or a fairer one, to a party who isn't part of the government or some other establishment interest than would representatives of the state — though this is a disputed point. For example, in highly emotional cases such as child rape, the jury may be tempted to convict based on personal feelings rather than on there being no reasonable doubt.
A rejection of jury trials may evidence a new and troubling cultural preference for compromise over one of standing on principle.
Importantly, jury trials educate citizens about self-government. We don't just have a right to be tried by jury; we also have a right to be jurors. A jury is an important democratic component of society, one of the few areas of life where ordinary people get to make a choice of real significance. Indeed, there is arguably more of a choice available to a jury than there is to an electorate. (If juries have only the range of choices open to us as voters these days, they would only be able to find defendants "guilty" or "really guilty".)
One of the most powerful reasons for believing in the jury system is that it compels lawyers and the judge to address their words to ordinary people in ordinary language, thereby including not just the jury but more importantly, the defendant, witnesses, and onlookers.
Do not pray for easy lives. Pray to be stronger men.
— John F Kennedy

---
What Are Reasons to Replace Trials by Jury?
There is potential for jurors to be swayed by prejudice, including racial considerations.
The jury may not fully understand statistical or scientific evidence. The expectation of jury members as to the explanatory power of scientific evidence has been raised by television in what is known as the

CSI

effect. The competence or lack thereof of jurors as fact-finders is often called into question. Part of the problem nowadays is that many trials are very complex and include numerous defendants and charges, some dependent on others. Because a jury has to be 100% sure of guilt before convicting, criminals may be acquitted simply because the jury doesn't understand the case and interprets this as "reasonable doubt", the threshold needed for exoneration.
Justice by juries sometimes appears to be administered capriciously.
With many cases lasting for weeks or months, professional people are reluctant to sit on a jury. As jury duty isn't compulsory, it can be avoided. People who have holidays booked or business or family commitments which can't easily be altered are usually excused. This leaves the possibility that juries are mainly composed of unemployed people, housewives, and those without a valid excuse to get out of sitting.
Juryless trials simplify the legal process because legal arguments about what the jury can and can't hear are dispensed with, the process of swearing in a jury is done away with, and the often-lengthy time that juries take to reach decisions is shortened.
Jury decisions are arrived at secretively. While proponents say secrecy allows a jury to remain impartial by protecting it from undue pressure or attention, opponents contend that this prevents a transparent trial. Juries need not give a reason for their verdicts; opponents argue it's unfair for a person to be deprived of life, liberty or property without being told why. In a decision by a judge or bench, detailed reasons of both fact and law as to why a decision was reached are required.
Ending racial discrimination in jury selection can be accomplished only by eliminating peremptory challenges entirely.
— Thurgood Marshall

---
Some Things to Consider

People who come from countries that use Napoleonic-style systems of investigating magistrates often find the idea of having their guilt decided by an arbitrary collection of 6 or 12 of their fellow citizens discomfiting. That said, it's not immediately clear that being tried by independent legal experts is any better. Functionaries ensconced in the judicial system may be more susceptible to regulatory capture by police or prosecutors, or simply to developing consistent organisational biases they can't even recognise. There probably isn't any truly unbiased way to decide whether people are guilty in a way that eliminates social prejudice. Are non-jury judicial systems less racially biased? Probably not. The Netherlands, for example, uses a system of police judges, for less-serious criminal offences such as theft, fraud and assault. A recent study found that "Dutch-looking" Dutch citizens received jail sentences for such offences 11% of the time. "Foreign-looking" Dutch citizens, generally those who appeared to have Middle-Eastern, black, or eastern-European ancestry, received jail sentences 28% of the time. Actual foreigners who did not speak Dutch received jail sentences more than 50% of the time.
Juries are being confused and exhausted by long, complex trials. The prosecution should be presenting its case clearly and concisely, but it's a challenge. Juries must sometimes sit through complicated arguments for weeks or even months. Verdicts where one or even two jurors disagreed rather than only accepting unanimous verdicts or else smaller juries, and also providing technical advisers to juries might help a court system which has become too slow, too expensive, too mysterious, and too unhelpful. Serious criminal trials, for example, have become so intricate and lengthy that hardly anyone can afford their own defence — virtually all criminal trials involve legal aid, a situation that raises public scepticism. Much time is wasted as the system doesn't allow most cases to be distilled to basic issues. Lengthy periods might even be spent establishing that a crime occurred when that isn't in doubt. As well, both sides are bent on producing "rabbits out of hats" to influence the jury. Some people ask to be allowed to have a lay person represent them to reduce costs. But having untrained representatives in court could create more problems than it solves — judges may feel compelled to help poorly represented people in the interests of a fair trial. That would heighten the risks of appeals and cause yet further delays and expense.

---
What Is Being Done?
The vast majority of US criminal cases are not concluded with a jury verdict, but rather by plea bargain. Prosecutors, and often defendants, have a strong interest in resolving a criminal case by negotiation resulting in a plea bargain. If the defendant waives a jury trial, a bench trial is held. In US Federal courts, there's no absolute right to waive a jury trial. Only if the prosecution and the court consent may a defendant waive a jury trial, though most states give the defendant an absolute right to do it.
In the UK, the Criminal Justice Act 2003 allows for trials to be heard without juries where there are fears that jury tampering may take place or where measures to protect jurors are inadequate. Yet a trial without a jury presents its own problems. There's the issue of deciding what's admissible and not as evidence. The judge must read all background to the case. If he decides something can't be used by the prosecution, oops, well he's already read it. This could be used to advantage by a prosecutor who, knowing it'll fail, still submits an application for a defendant's previous convictions to be aired in court. The judge will have to consider it — and by doing so, he becomes aware of the information anyway. For the judge to put this out of his mind when coming to a verdict is difficult.
In Singapore, trial by jury was abolished in 1970; instead, judicial assessment is performed by judges. Penalties include judicial corporal punishment in the form of caning for rape, rioting, vandalism, and some immigration offences. There's a mandatory death penalty for murder and certain drug-trafficking and firearms offences. Amnesty International says legal provisions conflict with the right to be presumed innocent until proven guilty and Singapore has "possibly the highest execution rate in the world relative to population."
Jury trials were abolished by the government of India in 1960, followed soon after by Pakistan, on the grounds that juries would be susceptible to media and public influence. Jury trials in multi-cultural countries with a history of ethnic tensions may result in some juries being biased and partial — one of the reasons why both India and Pakistan abolished jury trials soon after independence.
Malaysia abolished its jury system in 1995, citing the danger of jurors untrained in the legal profession delivering verdicts coloured by emotions or popular perception.
Japan once had optional jury trials for capital or other serious crimes; the defendant could choose whether to have a jury or trial by judges. This was abolished in 1943, perhaps stemming from the popular belief that any defendant who risked his fate to the opinions of untrained laymen was likely guilty. However, jury trials were reinstituted in 2009 and consist of 6 people chosen at random from voters to assess guilt and 3 lay judges for sentencing (who require the assent of at least one professional judge for a sentence to stand). This change was made amid widespread criticism of the glacial pace of trials for serious crimes and the absence of lawyers during the questioning of suspects — a practice police exploited to force confessions later used in court. Verdicts and sentences were decided by panels of judges, with 99% of criminal trials ending in a conviction. Reformers hope the "citizen judges" (citizens willing to serve the community who have undergone training to become familiar with basics of law and courtroom procedure and who demonstrate a capacity of wisdom and discernment) will be more sympathetic to defendants who say they were forced to confess. With this change, the Japanese hope to achieve a justice system that is speedier, fairer, more accessible, and more reliable.
---
Is There a Workable Compromise?

To better understand one of the problems with juries, let's look at herring gulls.
Adult herring gulls have a bright yellow bill with a conspicuous red spot near the tip. Their babies peck at the red spot, which induces parents to regurgitate food for them. Naïve chicks were given a range of cardboard gull heads varying in bill colour, spot colour, and shape to see if naïve gull chicks are born with a preference for long yellow things with red spots. To determine this, obviously more than a single chick must be tested — some chicks could be red-biased, others not. A chick might begin by choosing any old colour at random, but once he's chosen he gets locked on to that colour and hammers away at it. (Successive pecks, however numerous, are not "independent data.")
How many must be tested? Is two enough? Three? Start to think statistically. There's a 25% chance of a unanimous verdict, by luck alone with 3 chicks. How about 12 good chicks and true? If 12 chicks are independently offered a choice between two alternatives, the odds that they'll all reach the same verdict by chance alone are satisfyingly low, only one in 1,024. But suppose that instead of testing 12 chicks independently, they are tested as a group. Suppose the collective of chicks registers 532 pecks at red and zero at blue. Does this massive disparity prove that herring gull chicks in general prefer red? No. Chicks could have a strong tendency to imitate one another (as well as imitate themselves in lock-on effects). If the first chick to peck happened to select red, others would then copy him and the whole company join in a frenzy of imitation. In this case, the 12 chicks could be functionally equivalent to a single chick and thus their summed pecks would amount to only a single independent result.
Turning to courts of law, why are 12 jurors preferred to a single judge? To be fair, in theory jurors begin with the idea that the defendant is not guilty, changing this position if, and only if, sufficiently swayed by evidence. Plus, herring gull chicks (one might suppose) are a bit more prone to imitation than are adult humans. If nothing else, jurors will have had a lifetime to become set in their biases, and likely won't unquestioningly follow the first juror to voice an opinion. But they are nevertheless unlikely to be wiser, more knowledgeable, or more practised in the arts of reasoning than a single judge. Twelve jurors are preferred to one judge because they're more numerous. Letting a single judge decide a verdict is akin to letting a single chick speak for the whole herring gull species. Twelve heads are better than one because they (theoretically) represent 12 assessments of the evidence. But those assessments need a degree of independence which is frequently lacking. Twelve men and women locked in a jury room can sometimes be like 12 gull chicks. They may not imitate each other, but they might. This could invalidate the reason why a jury is preferred over a single judge. Juries are often massively swayed by one or two vocal individuals, plus there can be a very strong peer pressure to conform to a unanimous verdict as most jury members would like to be done and go home.
What might help would be to increase is the number of independent verdict-reaching units. The 12 jurors could be locked in 12 isolation chambers and their opinions separately polled so that they constitute genuinely independent data (though they would lose the value of hearing why other jury members vote as they do). Alternatively, cases could be tried by 2 separate juries — or 3. In fact, 2 juries of 6 members, or 3 juries of 4 members might be a notable improvement over the present system. The Two Verdicts Concordance Test is based on the principle that, if a decision is valid, two independent shots at making it should yield the same result. Two juries listening to the same case are forbidden to talk to members of the other jury. At the end, each jury is locked in separate jury rooms. Do they reach the same verdict? If not, this casts doubt on the jury system itself.
To make the experimental comparison with Trial by Judge, we need two experienced judges to listen to the same case, and require them, too, to reach separate verdicts without talking to each other. Whichever system, Trial by Jury or Trial by Judge, yields the higher score of agreements over a number of trials could be seen as the better system. (In my opinion, the fact that the two judges agree need not necessarily represent the better verdict.)

Conformity is the jailer of freedom and the enemy of growth.
— John F Kennedy

---
In Summary

Should we have more juryless criminal trials?
Yes…
In complex trials it is better that a legal professional judges the facts.
They essentially do away with reporting restrictions which hinder the freedom of the press.
Jury tampering could produce perverse results and this would eliminate it.
No…
Trial by one's peers is what makes for the best justice.
A judge deciding upon all aspects of a case is neither right nor fair (judges in general, and Napoleonic code style "investigating magistrates" in particular are often anything but independent).
Having a jury allows for a certain discretion that the letter of the law does not.
---

The degree of civilisation which a people has reached, no doubt, is marked by their anxiety to do as they would be done by.
— Oliver Wendell Holmes, Jr, Associate Justice of the United States Supreme Court
The Common Law (1881), p. 44.
---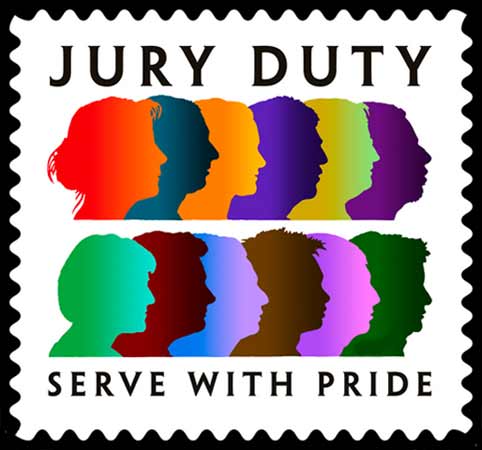 Designed by Lance Hidy (he also designed the typeface, which is called Penumbra). On 12 September 2007 the United States Postal Service held the First-Day-of-Issue Event for the Jury Duty Stamp at the rotunda of the Manhattan courthouse at 60 Centre Street (Foley Square) in New York, New York. © USPS. The Jury Duty Stamp was unveiled at the 2006 National Symposium on the American Jury System in Dallas, Texas.

Does It Really Even Matter?
Juries are sometimes confused by the term "reasonable doubt". In New Zealand, jurors are typically told throughout a trial that the offence must be proved "beyond reasonable doubt" and judges usually include this in the summing-up. There's no absolute prescription as to how judges should explain reasonable doubt to juries — they usually tell jurors that they'll be satisfied beyond reasonable doubt if they "feel sure" or "are sure" that the defendant is guilty. In line with appellate court direction, judges do little to elaborate on this or to explain what it means. Many jurors are uncertain what "beyond reasonable doubt" means, variously interpreting it as 100%, 95%, 75%, and even 50%. Occasionally this produces profound misunderstandings about the standard of proof. In the US, juries must be instructed to apply the reasonable doubt standard when determining the guilt or innocence of a criminal defendant, but there's disagreement as to whether the jury should be given a definition of "reasonable doubt." The US Supreme Court has expressed disapproval of the unclear reasonable doubt instructions at issue, but stopped short of setting forth an exemplary jury instruction.
A NZ woman began growing cannabis to finance a kidney replacement for her dying teenage son. When police raided the property, she had no idea how she was going to sell the cannabis and had made no money. She said she turned to crime when her doctor told her that her son would die without an urgent transplant. Her son did undergo a transplant after one unexpectedly became available during the time his mother was in jail, but there were complications and he died. (Presumably it was a jury who found her guilty of growing marijuana — that detail wasn't specifically mentioned. Or perhaps she waived her right to a jury trial since the fact that she was indeed growing cannabis seemed not to be in question.) Meanwhile, the District Court ordered forfeiture of her home under the Proceeds of Crimes Act — which an appeals court upheld. (The Appeals Court sits in panels of either 5 or 3 judges depending on the nature and wider significance of the particular case. In order to assist with the workload of the Court of Appeal, it also sits in divisions which consist of one Court of Appeal judge and two High Court judges dealing with routine appeals. There is no jury.) The preceding week an article written by a physician appeared in the same NZ paper saying that the decriminalisation of cannabis "appears a sure thing". For a law that may even be repealed, she lost her house and missed being with her son as he died (and he knew it was due to him that she was in jail). When laws are followed rigidly, without properly taking extenuating circumstances into account — without wearing a human face — something important can be lost. On the other hand, at the trial of American Jim Corbett, the judge appeared to acknowledge that he was a respectable citizen. But in his summing up he told the jury, "Good motive is not a defence to intentional acts of crime." Mr Corbett had founded a movement that helped many thousands of refugees from Central America to cross into the US, evading border guards and providing them with shelter and food until they could manage on their own. The trial attracted a wide audience. Jim Corbett likened his charges to slaves escaping from their masters in the American South in what was called the "underground railroad". The jury was sufficiently impressed to find Mr Corbett and two fellow defendants not guilty. Afterwards Mr Corbett said he would continue helping refugees and was prepared to stand trial as often as was necessary. But he was never prosecuted again. (These are merely anecdotes to illustrate that a jury might indeed matter to a defendant; they illustrate no universal rule.)
It's very difficult to devise a legal system whereby justice doesn't equal money (the more money you have available, the more chance you have of the outcome swinging in your favour). I don't mean to imply the existence of something like bribery or corruption — it's that better lawyers do better jobs but generally charge more money. If a more suitable system were obvious, it would be widely in use. Perhaps legal insurance could help — rather like an HMO: if you can convince a board of the validity of your claim, you are assigned a lawyer paid for by the insurance company. This lawyer's remuneration would be significantly increased if he wins. It seems to me a machine that can absolutely tell if the speaker is telling the truth could keep costs down. But that's not available. Yet. But perhaps that's what today's near-constant surveillance will eventually be used to determine?
Should I be charged with a serious crime here's how I want to be tried.
If I know myself to be guilty, I'll go with the loose cannon of a jury, the more ignorant, prejudiced and capricious the better.
But if I am innocent, and the ideal of multiple independent decision-takers is unavailable, please give me a judge.
— Richard Dawkins

---

The word jurisprudence derives from the Latin term juris prudentia, which means "the study, knowledge, or science of law." In the US, jurisprudence commonly means the philosophy of law. Legal philosophy has many aspects, but these 4 are the most common:
The most prevalent form of jurisprudence seeks to analyse, explain, classify, and criticise entire bodies of law. Law school textbooks and legal encyclopaedias represent this type of scholarship.
One type compares and contrasts law with other fields of knowledge such as literature, economics, religion, and the social sciences.
Another seeks to reveal the historical, moral, and cultural basis of a particular legal concept.
And the fourth focuses on finding the answer to abstract questions such as: What is law? How do judges (properly) decide cases?
Apart from different types, different schools also exist:
Formalism or Conceptualism treats law like math or science, believing that a judge identifies the relevant legal principles, applies them to the facts, and logically deduces a rule that governs the outcome of the dispute.
In contrast, proponents of Legal Realism believe most cases before courts present hard questions that judges must resolve by balancing the interests of the parties and drawing an arbitrary line on one side of the dispute according to the political, economic, and psychological inclinations of the judge (who may be able to shape the outcome based on personal biases).
Apart from the realist-formalist dichotomy, there's a classic debate over the appropriate sources of law between Positivist and Natural Law schools of thought.
Positivists argue that there's no connection between law and morality; the only sources of law are rules expressly enacted by a governmental entity or court of law.
Naturalists or Proponents of Natural Law insist that rules enacted by government are not the only sources of law — moral philosophy, religion, human reason and individual conscience are integral parts of the law.
There're no bright lines between different schools of jurisprudence. The philosophy of a legal scholar may consist of a combination of strains from many schools of legal thought. Some feel it's more appropriate to think about jurisprudence as a continuum.
Other prominent schools of legal thought include critical legal studies, feminist jurisprudence, law and economics, utilitarianism, and legal pragmatism.

---
Everything Else
The Way, the Truth, the Light
I'm guessing perhaps Wyoming,

USA

.
Checkerboard Mesa up close. Zion National Park is located near Springdale, Utah, and contains incredibly beautiful rock formations. The mesa's horizontal furrows were made during the Jurassic period by wind-blown sands of huge ancient dunes spread out over land. The vertical slits were created much later after brittle rock had formed. Notice that the carvings are always on the north side where snow takes longer to melt.
On some nights when you look, you see her smiling down at you, casting her pale glow.
This is the final scene in the movie Paper Moon, which was filmed around Hays, Kansas and St Joseph, Missouri, so I presume this road is somewhere in that vicinity.
The large-scale, horizontal crossbedding in the sandstone, which arises from the way the sediments were laid down — a set of beds was partially eroded, then filled by the next overlying set. Each set differs slightly in its orientation. The vertical grooves, which give this formation its name, come from jointing — cracking related to the slowly changing pressures on the rock as it was buried and exhumed. Weathering by rainwash and freeze-and-thaw cycles brings these grooves out in relief.
Earth & Moon from Russian weather satellite Elektro-L No. 1, March 2011, via RussianSpaceWeb. The Elektro-L spacecraft was designed to give Russian meteorologists the ability to watch the entire disk of the planet, thanks to the satellite's position in the geostationary orbit 36,000 kilometres above the Equator.
---
Some Say the World Will End in Fire; Some Say in Ice…
Hut in the peace of the winter, the Seven Municipalities Plateau, which rises majestically over the Po Valley in the province of Vicenza, Italy between the Astico and Brenta rivers. Around 90% of the area of the Seven Municipalities Plateau is not owned privately or by the state, but is jointly owned by the ancient inhabitants, and subject to civil regulations. Joint management of the land dates back to the Germanic laws, and was born when the Government of the Seven Municipalities was founded. Still today, those who have civic use rights are registered with a specific register, grouped by families, and a family head represents them with the town authorities defending the civic rights of each single member.
This ice-covered landscape is located in the Finnish Lapland where temperatures ranging from -40 to –15°C can completely engulf trees in solid ice.
Winter landscape between the countries of Asiago and Gallio on the Seven Municipalities Plateau in northern Italy.
---
Flowers with Unusual Colouring
This red hybrid tea rose is velvet red with white satin on the petals' reverse; these produce very large double blooms. This hybrid was apparently bred by Kordes in Germany and introduced in 1978.
Adenium multiflorum growing in Kruger National Park, South Africa.
Tuberous Drosera zonaria is apparently a carnivorous plant. It is endemic to southwest Western Australia from near Perth southeast to near Esperance. It grows in a tight rosette approximately 5-7 centimetres in diameter with 20-30 green to red leaves that are arranged in concentric layers. The leaves are typically 1 centimetre wide and are usually described as being "kidney-shaped" with crimson leaf margins. It grows in deep silica sands in open woodland or coastal heathland and only flowers after a bush fire, which is speculated to be caused by the release of ethylene. Its white, sweetly perfumed flowers emerge on 4 to 5 centimetre tall scapes (and here I thought this was the flower). It will die back during the dry summer months and retreat to the fleshy tuber 10-30 centimetres below ground.
This unusual flowering plant, huernia oculata, belongs to the family of Apocynaceae (dogbane). The plant produces small succulent stems, which can be used for propagation. It's fairly easy to grow in well drained soil and dry climate. It is native to Namibia.
This Japanese iris grows in wet soil and is the most extensively cultivated variety in Japanese gardens. It's classified into the Edo (Tokyo), Higo (Kumamoto Prefecture), Ise (Mie Prefecture), and American (

USA

) varieties.
Tricyrtis Hirta is native to Japan and belongs to the Liliaceae family. It's a perennial plant, growing in partial sun and shade; it prefers rich soil; it blooms in late summer to mid-autumn, bearing unusual flowers of whitish petals with purple spots.
---
Korean Seul Gu in action during a last solo free routine as part of the 15th

FINA

World Championships at Palau Sant Jordi pavilion in Barcelona. 22 July 2013.
Recently installed at the Palais de Tokyo in Paris, this gigantic Gordian Knot was constructed by Brazilian artist Henrique Oliveira who is known for his near complete organic transformations of interior and exterior spaces. Titled Baitogogo, the work depicts an architectural grid of columns and support beams that seem to morph into a chaotic tangle of branches or roots.
This photo implies that chickens can swim, but I read on multiple sites discussing raising backyard hens that if they fall into a swimming pool, they can drown. Perhaps only some chickens swim? Or perhaps they float until their feathers become soaked? I found a veterinarian who said that he knew from personal experience that hens can indeed swim. (But perhaps not for too long? I wouldn't leave them unsupervised in the pool at any rate.)