We may have democracy, or we may have wealth concentrated in the hands of a few, but we cannot have both.
—
Hyperbolic Discount
April 23, 2012
The title indicates that we tend to pay attention to our short-term well-being while discounting larger rewards that may come in the future.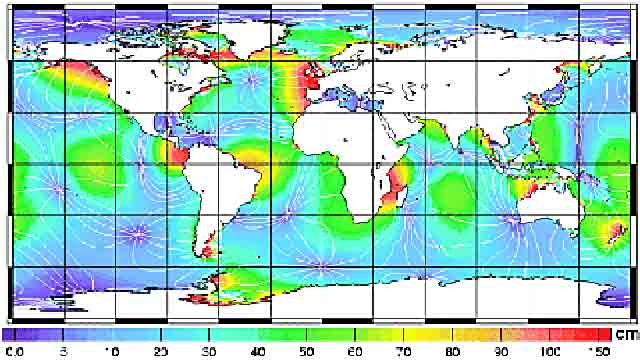 In December 2004, scientists at

NASA

and the Jet Propulsion Laboratory (

JPL

), in Pasadena, California, estimated there was a nearly 3% chance that a 30-billion-kilogram rock (large enough to fill the Rose Bowl football stadium) called 99942 Apophis would slam into the earth on Friday the 13th, April 2029, releasing the energy equivalent of 500 million tons of

TNT

. That's enough to level small countries or raise tsunamis that could wash away coastal cities on several continents. More recent calculations have lowered the odds of a 2029 impact to about 1 in 250,000. (Russians appear to believe the chance is higher.) This time around, Apophis will probably miss us — but only by 30,000 kilometres, less than 1/10 of the distance to the moon. It will dip below the altitude of our communication satellites. If its trajectory on that day passes within a narrow range of altitudes called the "keyhole," then the influence of the earth's gravity on its orbit will guarantee that 7 years later, in 2036, on its next trip around the sun, the asteroid will hit the earth directly, likely slamming into the Pacific Ocean. The tsunami from such an impact would devastate all the coastlines of the Pacific Rim. If Apophis misses the keyhole in 2029, there'll be nothing to worry about in 2036. But it's possible that tidal stresses during its 2029 approach could cause it to break apart, adding to the odds of an impact during the subsequent rendezvous.
Several possibilities have been put forth to deflect this (or other) objects, some of which are heavily dependent on the composition of the object for success. A more recent discovery, half the size of Apophis, could conceivably collide with us in 2040, but

NASA

deems that a remote chance.
The eyesight of many mammals is sensitive to moonlight. The level of adaptation of night vision would be very different without the moon. Many of these species have evolved in such a way that their night vision could work in even partial lunar illumination, because that's when they're most active. But they can be more subjected to predators, too, so there's a balance between the ability to see and the ability not to be seen. The moon has completely changed evolution in that aspect. If you take away the moon suddenly, it would change the global altitude of the ocean. Right now there's a distortion which is elongated around the equator; without that effect, suddenly a lot of water would redistribute toward the polar regions. The moon's tidal effect influences the mixing of the deep ocean. A French-American mission, TOPEX/Poseidon, accurately measured the altitude of the sea and detected a stream a few centimetres high. That may not seem like much, but over the area of the Pacific Ocean it represents a huge amount of water moving from one place to another. The map shows moon-caused tidal variations across the globe. Red areas represent large variations in water level, purple areas zero or very low tidal variation.
---
| | |
| --- | --- |
| | If you're an amateur astronomer who likes a challenge, NASA is looking for a little help from their amateur astronomers friends. Called called Target Asteroids!, the project is part of the upcoming mission to improve basic scientific understanding of Near Earth Objects (NEOs). NASA is hoping amateur astronomers can help in the mission by discovering new asteroids and studying their characteristics to help understand the population of NEOs. NASA says amateur contributions will affect current and future space missions to asteroids. Amateur astronomers can help determine the position, motion, rotation and changes in the intensity of light the asteroids emit. Professional astronomers will use this information to refine theoretical models, improving understanding about them. OSIRIS-REx (Origins Spectral Interpretation Resource Identification Security – Regolith Explorer) is scheduled to launch in 2016 and will be a sample return mission from an asteroid, 1999 RQ36. When it meets up with the asteroid in 2019, it will map the asteroid's global properties, measure non-gravitational forces and provide observations that can be compared with data obtained by telescope observations from the earth. In 2023, it will return to Earth with at least 60 grams of surface material from the asteroid. |
| | |
| --- | --- |
| | Pennsylvania law states that companies must disclose the identity and amount of any chemicals used in fracking fluids to any health professional that requests that information in order to diagnosis or treat a patient that may have been exposed to a hazardous chemical. But the provision in the new bill requires those health professionals to sign a confidentiality agreement stating that they will not disclose that information to anyone else — not even the person they're trying to treat. "Fracking" is the process by which a high-pressure mixture of chemicals, sand, and water are blasted into rock to tap into the natural gas sequestered there. Recent discoveries of great reserves in the Marcellus Shale region of the state prompted a rush to development, as have advancements in fracking technologies. A 2010 congressional investigation revealed that Halliburton and other fracking companies had used 32 million gallons of diesel products, which include toxic chemicals like benzene, toluene, ethylbenzene, and xylene, in the fluids they inject into the ground. Low levels of exposure to those chemicals can trigger acute effects like headaches, dizziness, and drowsiness, while higher levels of exposure can cause cancer. |
| | |
| --- | --- |
| | Researchers from the US Geological Survey said that for the 3 decades until 2000, seismic events in the nation's midsection averaged 21 a year. This jumped to 50 in 2009, 87 in 2010 and 134 in 2011. This is "almost certainly" man-made, and may be caused by wastewater from oil or gas drilling injected into the ground — as the seismic activity occurs in areas where disposal of wastewater through deep-well injection increased significantly, government scientists said. The quakes are "fairly small." There's a difference between disposal injection wells and hydraulically fractured wells — there are over 140,000 disposal wells in America, with only a handful potentially linked to seismic activity. The Interior Department is considering rules to update design standards for wells and to require disclosure of the chemicals in fracking on public lands. It's important to have very good information on the costs and benefits here. |
---
Nuclear Concerns
If terrorists set off a nuclear bomb just blocks away from the White House, the explosion would destroy everything in every direction within ½ mile. An intense flash would blind drivers on the Beltway miles away. A radioactive cloud would drift toward Baltimore. But just a bit farther from the epicentre of the blast, such an explosion would be fairly survivable. The blast area would be a no-go zone for days afterward due to radiation. But the US Capitol, the Supreme Court, the Washington Monument, the Lincoln and Jefferson memorials, and the Pentagon across the Potomac River would be in areas described as "light damage," with broken windows and mostly minor injuries. [Of course, they picked a favourable spot to be able to say that.] While it would likely kill tens of thousands of people, and injure up to hundreds of thousands more — it wouldn't wipe Washington off of the map. Why not? The type of bomb a terrorist group could develop and deploy would be small, maybe 10 kilotons. The "Little Boy" bomb dropped on Hiroshima produced a yield of 15-20 kilotons. If you're still alive 5 minutes after a small nuclear weapon detonates, you're already very likely to continue surviving. The decisions you make in the 10 minutes after the explosion will probably determine whether you live or die. The flash precedes the blast by 30 seconds or more. If you glimpse a flash, DON'T go to the window to see what it was. Take cover, instead. After the blast, you have a few minutes to find a thickly-sheltered spot (like a basement or an interior room in a concrete-walled building) to protect you from fallout. Stay there at least a couple of hours.
North Korea won't be bullied by its nuclear-armed enemies, 3rd-generation dictator Kim Jong Un said in his first public address at a military parade as South Korea warned that his regime may conduct an atomic test. Last week's rocket launch may have cost US$800 million, equivalent to a year's worth of food for the North's 24 million people. As many as 1 million people starved to death during the 1990s, according to estimates. The North's parliamentary body ruled to allocate 15.8% of the total budget for national defense this year. Kim, the 3rd son of Kim Jong Il, inherited an economy 1/40th the size of South Korea's. His father also left him the goal of making North Korea a "strong and prosperous nation" by 2012. [He'll need to work fast.] Kim Jong Un formally assumed the regime's top political and military posts only recently; he acknowledged past economic difficulties but didn't mention the rocket launch or his regime's atomic weapons programme during his 20-minute speech. While North Korea said the launch was intended to put a satellite into orbit, the US said it violated international commitments. They scrapped the February plan to provide 240,000 tons of food aid. Kim Jong Un was schooled in Switzerland; he styles his hair and mannerisms like his grandfather. He appears more charismatic than his father, who shunned national addresses.
Congressman Edward Markey (Democrat, Massachusetts) advocates global nuclear disarmament. In February, Markey asserted in a floor speech that it would be "insane" to upgrade and replace uranium and plutonium facilities that support the US nuclear arsenal, claiming that "the plants we have now work just fine." In response, Congressman Michael Turner (Republican, Ohio) — who chairs the House Armed Services Subcommittee on Strategic Forces — sent a letter to Markey inviting the Massachusetts lawmakers to join him on a tour of "the deteriorating circumstances of the facilities." Markey did not responded. The letter included many vivid photos of what appear to be decrepit and decaying conditions at facilities critical to maintaining America's nuclear weapons. Above is one such photo. Some difficult decision loom.
---
| | | |
| --- | --- | --- |
| | While much attention focuses on the chain of islands dividing the East China Sea from the Pacific Ocean between Japan's Kyushu and Taiwan, it tends to focus heavily on those that are part of Okinawa prefecture and to neglect those in the northern part of the chain that are close to Kyushu and administratively part of Kagoshima rather than Okinawa prefecture. Mage is one such. Mage (literally: Horsehair) Island sits well north of the Kagoshima/Okinawa line. In the early 21st century, Tasuton Airport Company began clearing the pristine landscape and constructed two runways, one running south-north and one running east-west. The 441-hectare forest that existed in 2002 shrank by approximately 40% and an airport of a scale comparable to Tokyo's Narita or Osaka's Kansai emerged on the uninhabited island. This development would appear to have been unlicensed and possibly illegal. Nishinoomote City, administratively the locus of Mage Island, tried unsuccessfully to gain physical access in order to levy taxes on works that from aerial inspection seemed to include at least a 6-story office block and several buildings presumed to be staff quarters. Work on the site stopped, and in January 2012 the prefecture was reported to be taking steps to cancel any existing permits. The affair is still shrouded in mystery. Speculation is that it involves a military base in the interests of Tokyo and Washington. | |
| | |
| --- | --- |
| | "I am a United States Air Force Officer, a CGO (Company Grade Officer). Often, in one's career, you hear that it is an unwritten rule you need to be the right type of Christian to be a good officer. But it turns out it IS written! Not in some obscure corner of the Air Force library but front-and-centre in the Squadron Officer School (SOS) curriculum, the required reading assignment. When I got to the part about Spiritual Forces, I was shocked. The spirit world, angels, demons, deity, that's all stuff I expect to read about in the Bible or mythology. I did not expect a document assigned by Air Education and Training Command, the organisation charged with the training of officers (a document to learn from), to be talking about the spirit world as if it's a real and tangible thing. In order to be a good ethical officer, according to the example in the text, you should attend chapel regularly and make sure your subordinates know you attend chapel. Otherwise, your command would be seen as ethically lax, and the morality of the unit will deteriorate. One Lieutenant Colonel recommended I play Christian contemporary music in my office loud enough for people to hear – as he was doing at that very moment." [Look — how else can they make sure they keep God on their side? Or — more importantly — make their men believe it? This officer should have figured that out.] |
| | |
| --- | --- |
| | From the attempts made by Hollywood to push through legislation allowing pirate websites to be shut down, to the British government's plans to monitor social media and web use, the ethos of openness championed by the pioneers of the internet and worldwide web is being challenged on a number of fronts. China now has more internet users than any other country; its government recently introduced new "real identity" rules in a bid to tame the boisterous microblogging scene. In Russia, there are powerful calls to rein in a blogosphere blamed for fomenting a wave of anti-Vladimir Putin protests. It has been reported that Iran is planning to introduce a sealed "national internet" from this summer. Governments are realising the power of the internet to organise people and are trying to clamp down worldwide, not just in places like China and North Korea, but in the US, Italy, and elsewhere. Google co-founder Sergey Brin acknowledged that some people were anxious about the amount of their data now within reach of US authorities because it sits on Google's servers. He said the company is periodically forced to hand over data and is sometimes prevented by legal restrictions from even notifying users when it does so. But he maintains that Google is doing the best they can to preserve user privacy. |
---
Past Presidents: Some Had More Relevant Ideas Than Others
George Washington, the first president of the United States, has been named as the greatest foe ever faced by the British. The American was voted the winner in a contest recently run by the British National Army Museum to identify the country's most outstanding military opponent. To qualify, each commander had to come from the 17th century onwards — the period covered by the museum's collection — and had to have led an army in the field against the British, thus excluding political enemies like Adolf Hitler. The contest was designed to not only identify Britain's most outstanding opponent, but also to draw attention to some lesser-known adversaries. Most of the entrants fought in various colonial wars, such as Ntshingwayo kaMahole, the Zulu leader and victor of Isandlwana, one of the British army's greatest military defeats. Washington scored highly as an enemy of Britain on 3 key grounds: the immense scale of damage inflicted upon Britain's Army and Empire; his ability not only to inspire his men on the battlefield but to work with civilians crucial to sustaining the war-effort (and also "the kind of man he was." (Religious? Rich? Pious? Talented? Tenacious? What?) As British officers conceded, he was a worthy opponent. Runners up included Irish Republican Army leader Michael Collins, Napoléon Bonaparte, Erwin Rommel, and Mustafa Kemal Atatürk.
"In time of actual war, great discretionary powers are constantly given to the Executive Magistrate. Constant apprehension of War has the same tendency, to render the head too large for the body. A standing military force, with an overgrown Executive will not long be safe companions to liberty."
"The means of defence against foreign danger have been always the instruments of tyranny at home. Among the Romans it was a standing maxim to excite a war, whenever a revolt was apprehended. Throughout all Europe, the armies kept up under pretext of defending, have enslaved the people… War is the parent of armies; from these proceed debts and taxes; and armies and debts and taxes are the known instruments for bringing the many under the domination of the few."
"In war, too, the discretionary power of the Executive is extended; its influence in dealing out offices, honours, and emoluments is multiplied; all the means of seducing minds are added to those of subduing force. The same malignant aspect in republicanism may be traced in the inequality of fortunes, and in the opportunities of fraud, growing out of a state of war, and in the degeneracy of manners and of morals engendered by both."
"No nation could preserve its freedom in the midst of continual warfare. Perhaps it is a universal truth that the loss of liberty at home is to be charged against provisions against danger, real or pretended from abroad."
This could equally be spoken today. Should be. In some ways, James Madison (4th President of the US) was brilliant. Unfortunately, he also said this:
"Through the various means of trade and manufactures, will not the landed interest be overbalanced in future elections, and unless wisely provided against, what will become of your government? In England, at this day, if elections were open to all classes of people, the property of landed proprietors would be insecure. If these observations be just, our government ought to secure the permanent interests of the country against innovation. Landholders ought to have a share in the government, to support these invaluable interests, and to balance and check the other. They ought to be so constituted as to protect the minority of the opulent against the majority." Via Tywkiwdbi.
I think Madison's perceptions were accurate and, again, feel the same situation still exists today.
On the other hand, it is sadly former US president Abraham Lincoln who said the following:

"I will say, then, that I am not, nor ever have been, in favour of bringing about in any way the social and political equality of the white and black races — that I am not, nor ever have been, in favour of making voters or jurors of negroes, nor of qualifying them to hold office, nor to intermarry with white people; and I will say in addition to this that there is a physical difference between the white and black races from living together on terms of social and political equality. And inasmuch as they cannot so live, while they do remain together there must be the position of superior and inferior and I as much as any other man, am in favour of having the superior position assigned to the white race." — Abraham Lincoln at Charleston, Illinois, 15 September 1858, as cited in The Collected Works of Abraham Lincoln, Roy Basler, editor, 1953 New Brunswick, NJ: Rutgers University Press. Via Immoral Minority. Would he have a different belief if born into a different era? One would hope so. No way to tell.
"A separation of the races is the only perfect preventive of amalgamation, but as immediate separation is impossible the next best thing is to keep them apart where they are not already together. Such separation, if ever effected at all, must be effected by colonisation. The enterprise is a difficult one, but 'where there's a will there's a way' and what colonisation needs now is a hearty will. Will springs from the two elements of moral and self-interest. Let us be brought to believe it is morally right, and at the same time, favourable to, or at least not against, our interest, to transfer the African to his native clime, and we shall find a way to do it, however great the task may be." — Abraham Lincoln at Springfield, Illinois, on 26 June 1857, ibid., Vol II, pp 408-9.
"Send them to Liberia, to their own native land. But free them and make them politically and socially our equals? My own feelings will not admit this." Basler, op. cit.
Whatever his faults, Lincoln was a skilled politician.
---
| | |
| --- | --- |
| | "I travel a great deal so I frequently find myself in the company of TSA [Transportation Security Administration] agents who check my boarding pass, remind me to remove my shoes, jacket, belt, laptop, liquids, and all items from my pockets (including the previously inspected boarding pass), and then screen these things, as well as myself. Every time I find myself standing in line, in my socks, I inevitably contemplate the efficiency of the system. It's only half an hour or so per flight, but when you multiply that number by all the people travelling in the United States, it's a tremendous amount of time, effort, and money. And this comes not only from the TSA, but also in the form of lost productivity of all the people standing in line in various states of undress. One has to wonder whether it's worth it." — Dan Ariely, James B Duke Professor of Psychology and Behavioral Economics at Duke University and founding member of the Center for Advanced Hindsight. This chart reveals that the TSA has 62,000 employees and the programme has cost over $60 billion in funding. This does not count passenger wasted time. A former head of the Transportation Security Administration, Kip Hawley, has some suggestions for improvement. (Deleting the TSA altogether isn't one of them.) |
| | |
| --- | --- |
| | Altaeros Energies has developed a floating wind turbine — a cross between a traditional windmill and a blimp — in an effort to harness strong high-altitude winds. It's hoped this new levitating wind turbine will be a viable clean energy option for remote villages and military sites. The design is simple: an inflatable, helium-filled shell lifts it off the ground to high altitudes, where winds are much stronger than at ground level. The airborne turbines are held steady by strong tethers, which send electricity generated by the turbine back down to the ground. In 2010, a scale prototype climbed to 350 feet, generated power, then landed safely. It produced more than twice as much power at high altitudes than at conventional tower height. While floating, it's less noisy than conventional turbines and can be lowered if maintenance is required. (Unfortunately, Earth's supply of helium is dwindling.) |
| | |
| --- | --- |
| | There's barely been such a hubbub on St Helena since Napoléon Bonaparte turned up on its volcanic shores after being defeated at the Battle of Waterloo. The tiny, remote south Atlantic outcrop, home to just over 4,000 "Saints" and presently reachable only by a 1,700-mile boat journey from Cape Town, is bracing itself for a shockwave to its culture and traditions. Supported financially by Britain since the East India Company first colonised it in 1658, St Helena is about to reject its dependency on hand-outs by introducing air travel to an island described as being "further from anywhere than anywhere else in the world". Work has begun on building an airport — the biggest infrastructure project the island has ever seen — which will open in 2015. This has the potential for creating a tourism industry which might bring in as many as 30,000 visitors a year. They'll be lured by dramatic walks in St Helena's spectacular tropical interior, the chance to fish for tuna and blue marlin, and to swim from the coast of an island 700 miles from the nearest land (Ascension Island). There are some who doubt that a community that's been in receipt of £30 million per year from the British Government (St Helena is the most costly of Britain's 14 overseas territories) will be able to survive through private enterprise. Measuring 10 miles by 6, it's 1,800 miles from South America and 1,200 from Africa. A Royal Mail ship docks once a month from South Africa. According to analysts the UK government's decision to finally go ahead with the airport, after long delays, seems to be driven in part by concerns over a continuing tense standoff with Argentina in the sovereignty dispute over the Falkland Islands. Even without an airport, social and economic opportunities could be created if St Helena were to be connected to a submarine communications cable to be laid from South Africa to Brazil later this year, bringing affordable high-speed internet to the islanders. Today, young adults are moving off the island to be able to make a living. |
---
"It's Life, Jim, But Not As We Know It"
For half a century, a dogma of reproductive biology was that women are born with their full complement of egg cells, which they gradually lose throughout life until they run out. This brings on the menopause. Estimates had been that the female fœtus has about 7 million putative egg cells that reduce to about 1 million at the point of birth. By puberty, a teenager has 300,000-400,000 egg cells; these are lost at a rate of 1,000 a month, with typically just one ripening to maturity at the time of ovulation. Menopause usually begins, so dogma goes, in late middle age as the egg bank runs out of its valuable currency. For many women, age-associated health problems begin then: hot flushes, osteoporosis, heart disease, and cognitive decline. But it's now shown that stem cells exist in human ovaries and they can be stimulated in the laboratory to grow into immature egg cells. The first human egg cells created in this way could be fertilised later this year in a development that should revolutionise fertility treatments. It could help infertile women to have babies as well as making women as fertile in later life as are men. It might even lead to a reversal of menopause in older women; replenishing ovaries may prevent those age-related health problems. Scientists want to fertilise these laboratory-grown egg cells with human sperm to prove they're viable. Resulting embryos will be studied for up to 14 days — the legal limit — to see if they seem normal.
"In 1945, we actually created a new universe — of numbers with a life of their own. We see them in terms of what those numbers can do for us, but there really is a universe of self-reproducing digital code growing by 5 trillion bits per second. That's not a metaphor for something else — it actually IS a physical reality. What's it going to be in 100 years? Here we are at the very beginning; we may already not be asking the right questions about what's going on. It's a completely different physics, yet from the perspective of a digital universe, there IS physics — though we have almost no physicists looking into it. If we want to understand the sort of organisms that would evolve in that totally different universe, we must understand the parameters of that world — it's like looking for life on another planet. It wasn't long ago that to transfer money electronically you had to fill out paper forms on both ends and then wait a day for money to be transferred. Now, most of the money in the world is constantly moving electronically. We live in a world where we measure numbers of computers in billions and numbers of what we call servers (the equivalent in the old days of what would be called mainframes) in the millions, hundreds of millions. Digital organisms (maybe they don't exist now, but as long as the system keeps going, they're inevitable) can travel at the speed of light. They can propagate. They're going to go immeasurably far ahead of us. Maybe they can drag us along?" — George Dyson, science historian. Via The Daily Beast.
Researchers have developed chemical procedures to turn

DNA

and

RNA

, the molecular bases for all known life, into 6 alternative genetic polymers called XNAs. The process swaps the deoxyribose and ribose (the "d" and "r" in

DNA

and

RNA

) for other molecules. It was found the XNAs could form a double helix with

DNA

and were more stable than natural genetic material. The research could help scientists unpick how

DNA

and

RNA

became so crucial in the evolution of life, and perhaps even help in the search for extraterrestrial organisms. Co-author Vitor Pinheiro said, "If a genetic system doesn't have to be based on

DNA

and

RNA

, what, then, do you define as life? How do you look for life?" [These are, indeed, important questions.] Gerald Joyce, of the Scripps Research Institute in La Jolla, California, says the study heralds an "era of synthetic genetics, with implications for exobiology (deals with extraterrestrial life), biotechnology, and understanding life itself." He adds: "Construction of genetic systems based on alternative chemical platforms may ultimately lead to the synthesis of novel forms of life." But Joyce alludes to the potential dangers of synthetic genetics. He writes: "As one contemplates all the alternative life forms that might be possible with XNAs and other more exotic genetic molecules, the words of Arthur C Clarke come to mind. In 2010: Odyssey Two,

HAL

the computer tells humanity, 'all these worlds are yours', but warns – 'except [Jupiter's moon] Europa, attempt no landings there'. Synthetic biologists are beginning to frolic on the worlds of alternative genetics but must not tread into areas that have the potential to harm our biology."
---
| | |
| --- | --- |
| | The world's most effective malaria drug is losing its power, threatening the lives of millions of people around the globe. Tests on the border between Thailand and Burma show that the most deadly form of the malaria parasite has developed resistance to artemesinin, the gold standard treatment for the disease for more than a decade. (Actually, artemisinin is a Chinese herb, called qinghaosu, that has been used in the treatment of fevers for over 1,000 years; the first documentation as a successful therapeutic agent in the treatment of malaria was in 340 AD.) Experts described the development as "very worrying indeed" and warned that the effects could be "devastating". Malaria claimed the lives of 655,000 people, mainly children, in 2010, according to the World Health Organisation, which warned that figure could begin to rise "dramatically". A huge global effort in the past 5 years, galvanised by the intervention of Bill Gates, had seen rates halved in many countries. Those gains are now in danger of being reversed. [If they are, would this mean that Gates' money was misapplied?] Genetic changes in the parasites appear to underlie the emergence of resistance. No other drugs are ready for deployment, and drug development efforts are not expected to yield new antimalarials until the end of this decade. Changing weather patterns could bring the disease to new areas. (There are other anti-malarial drugs, but some are less effective and some are more toxic.) |
| | |
| --- | --- |
| | A new therapy, which targets a molecule found in 90% of all cancers, could provide a universal injection that allows patients' immune systems to fight off many types, including breast and prostate cancer. Preliminary results from early clinical trials show the vaccine can trigger an immune response and reduce levels of disease. Larger trials are needed to prove it can be effective against a range of different cancers. It is thought to be effective in combating small tumours if detected early or to help prevent its return and spread in patients who've undergone treatment. Cancer cells usually evade the immune systems because, being formed of the patient's own malfunctioning cells, they aren't recognised as a threat. But a molecule called MUC1, found in high amounts on the surface of cancer cells, can be used to trigger immune system detection. Cancer charities have given the vaccine a cautious welcome, but warn that further testing is needed. |
| | |
| --- | --- |
| | Wall Street's drug use is a lot like Wall Street itself: very insider, hush-hush, and usually high-end, until of course it isn't. The little we mortals hear about it usually comes in the form of an occasional drug bust. But now, a remarkable 10-year-long study has peeled back the glass partitions on the Street and confirmed the worst fears about drug abuse in the cathedrals of high finance. A University of Southern California researcher, once herself a Wall Street banker, followed more than two dozen freshly minted MBA's from the boot camps, or "grind mills," of investment banks as they clawed their way toward wealth and absolute power. By the 4th year in business, they had succumbed to a litany of out-of-control behaviours. The stress of grueling workdays and juggling other people's billions brought on compulsive drinking, drugging and depression. What people really want is to feel alive, to feel some energy course through their bodies. When the body shuts down, substance abuse is a restoration attempt. Knowledge-based workers — not just on Wall Street, but in the media, law, consulting, technology and countless other fields — perceive themselves as autonomous. In fact, they're under unspoken organisational control. Though veiled by perqs, highly educated, highly motivated people must be willing to miss a child's birthday or cancel on parents visiting from overseas to instead — well — work. Addictions and compulsions help them cope — they feel they've earned the right. Like millions of others in society's addicted class, many are hooked on prescription pain killers. But in the backstabbing worlds of fame and fortune, rivals use whatever negative information comes their way. Sometimes a flameout becomes inevitable. |
---
The Business of Incarceration
In mid-January privately-owned Corrections Corporation of America, which once handled some 5,000 overflow inmates that Wisconsin shipped out of state, sent out a letter to corrections officials in 48 states offering to buy and operate their prisons. The offer came on the heels of a deal in Ohio where the state used the proceeds from the sale of one of its prisons to

CCA

($72.7 million) to patch a budget hole. To uphold its part of the deal, Ohio promised to keep the prison at 90% capacity for the duration of the 20-year contract. Corrections Corporation of America and other private prison companies saw explosive growth in the 1990s as the war on drugs and new tough sentencing laws confronted the nation with an enlarging prison population. But in recent years, this has leveled out and is expected to drop in some states.

CCA

aggressively seeks new markets. Since 9/11, the company has managed to land lucrative contracts with the federal government as the nation stepped up efforts to detain immigrants. An investigative report by National Public Radio says, "According to Corrections Corporation of America reports reviewed by

NPR

, executives believe immigrant detention is their next big market. Last year, they wrote that they expect to bring in 'a significant portion of our revenues' from Immigration and Customs Enforcement, the agency that detains illegal immigrants." Via Tywkiwdbi. Can you see what's troubling here? Like James Madison suggested, this is one way "to protect the minority of the opulent against the majority".
At a policy-making level, it's easier to attract public and political support for state-sponsored punishment than it is to attract similar support for regulation. "Punishment" includes any retributively motivated government action or response. This preference for punishment may not be a particularly good one: resources spent on punishment could be spent elsewhere. By overemphasising punishment, non-punitive regulatory alternatives that are more adept at averting disastrous outcomes in the first place are crowded out. And punishment as a policy has an effect on all government institutions, not just on the criminal justice system. Although punishment offers a number of benefits, like birthday cake it is extremely satisfying in the short term but not particularly healthy over the long term — it has a tendency to transform complex gray-area questions into black-and-white parables. It's a signal to those who are inclined not to break rules that those who do will be held accountable, therefore signalling to the law-abiding that placing trust in others is reasonable and will likely be reciprocated. Punishment can serve as a pretext for expressions of populist anger but this undermines democratic discourse. Punishment-oriented institutions take advantage of populist sentiment to advance personal ambitions or institutional interests; further, personnel that populate punitive institutions are drawn to them because they prefer high pressure confrontations. Misconduct could be treated as a chronic condition to be contained rather than an acute disease to be eradicated.
In California, where the death penalty was expanded by initiative in 1978, the lead sponsor of that initiative, prosecutor Donald Heller, is now calling for abolition of the death penalty. He points out that California spent $4 billion executing just 13 criminals. If there is a deterrent — and that's seriously open to question — you're not getting much of it for $4 billion. The money could be much better spent elsewhere. Connecticut just became the 17th state to abolish the death penalty. Via Wickersham's Conscience.
A legislative bill introduced by a California Senator for highway safety construction programmes has cleared the Senate and is now headed for a vote in the House of Representatives. It includes an odd clause, a provision that allows for the "revocation or denial" of a passport for anyone with "certain unpaid taxes" or "tax delinquencies". Any individual who owes more than $50,000 to the Internal Revenue Service may be subject to "action with respect to denial, revocation, or limitation of a passport". The bill allows for exceptions in the event of emergencies or humanitarian situations or in cases when debt is currently being repaid in a "timely manner". The taxpayer apparently need not have been charged with tax evasion or any crime in order to have a passport revoked or limited.
---
Q: How many firemen does it take to save an injured seagull from a suburban pond that's 3 feet deep?
A: We may never know, but it's more than 25.
| | |
| --- | --- |
| | Five fire engines, containing 25 firemen, rushed to Carshalton Pond in South London, where a seagull was reported to be in difficulty. The unfortunate bird had become tangled in a plastic bag and its life was threatened. Quite why it needed 25 firemen from 3 different fire stations to respond to a seagull in distress is unclear. But once they all arrived, they got no further than the water's edge. Even though the pond was just 3 feet deep, they were prevented from going in. An on-the-spot risk assessment ruled it too dangerous. So 25 burly, fully trained firefighters watched as a member of the public pulled on a pair of waders and rescued the bird. Last year, more than 12 emergency workers were refused permission to pull Simon Burgess, 41, from a 3-foot-deep boating lake in Hampshire because of safety rules. During the inquest into Mr Burgess's death, a police officer insisted that he wanted to attempt a rescue but was told "under no circumstances" was he to go into the water. In 2007, 10-year-old Jordan Lyon drowned in a pond while the emergency services stood back and watched because they didn't have "water rescue" training. And the following year, Karl Malton, 32, drowned in 18 inches of water in Lincolnshire, when a senior fire officer stopped his men climbing down a 15-foot bank following another risk assessment. Survivors of the London Transport terrorist attacks reported emerging from smoking Tube stations only to find firefighters refusing to go down into the tunnels because of health and safety concerns. Firemen are paid to put their own lives on the line. That WAS the deal, what they signed up for. Now? A lack of funds for correct equipment and training and a fear of proceeding without it? More efficiency should help. |
| | |
| --- | --- |
| | American Gary Larson has a $5,000 deductible insurance plan, but finds his medical bills are cheaper if he claims he's uninsured and pays cash. Using that strategy, an MRI scan of his shoulder cost him $350. His brother-in-law went to a nearby clinic for an MRI scan of HIS shoulder, was billed $13,000, and had to come up with $2,500. Kaiser member Robert Merrilees had a colonoscopy at an affiliated surgery centre, which charged $7,500. His co-pay was $15, Kaiser picked up $470, the rest of the bill "just went away." Merrillees was left scratching his head. The calculus for medical charges in general is beyond comprehension, with outrageously high fees used as a starting point in a bizarre game of bargaining. [Several years ago in New Jersey, I took my son to an opthalmologist. When the doctor discovered I was paying for the visit rather than using insurance, he cut the bill in half with no explanation. I didn't complain.] Ella Moser's father John had a $5,000 deductible plan with Cigna. He took his daughter to the hospital to rule out appendicitis — nothing serious was diagnosed and Ella quickly recovered. Her dad got a bill for $5,000 from the hospital, as well as bills for $540 from a pathologist and $309 from the doctor who treated her. Because of his deductible, Cigna paid no part of the bill, but the company's contract with the hospital includes agreed-upon discounts, which were passed on to Moser. Just entering the emergency room cost $1,288, for instance, but Moser paid Cigna's negotiated rate of $682.64. The total charges, nearly $6,000, ended up costing him closer to $3,000. Dr Phil Schwarzman, medical director of an emergency department, has an insurance plan with a high deductible ($7,000). Like Gary Larson, Schwarzman also paid about $350 for a scan on himself that would have cost much more if he went with his insurance company's negotiated rate. A couple of years ago, his daughter needed an ultrasound for a possible gallstone. If he'd gone through his insurance company, he would have been charged $3,200, with insurance paying $1,500, leaving him a $1,700 bill. He chose instead to leave insurance out of the equation and pay cash. The price was $250. "It's outrageous," Schwarzman said. "I don't know where they're coming up with these numbers. Are they picking them out of a hat?" |
| | |
| --- | --- |
| | Robot assistants that can perform effectively in the often-chaotic environment of the emergency room are not as futuristic as they sound. Cognitive robots could gather medical information, take basic diagnostic measurements, and ultimately provide tentative diagnoses to human staff. This would address some of the concerns facing emergency departments in major hospitals: shortening time patients must wait, relieving strain on overburdened emergency room staff, and reducing mistakes. [And surely it would also cost less?] About 40% of ER patients arrive with potentially life-threatening conditions, so they're attended to immediately. Vanderbilt University in the US is designing a robotic system, dubbed TriageBot, to handle more effectively the 60% with less pressing problems that must wait. If the project is successful, in 5 years, emergency rooms will have electronic kiosks near the registration desk (similar to those most airlines have for check-in) along with special "smart" chairs and a mobile robot or two monitoring patients in the waiting room. If a patient provides critical information, such as reporting chest pain, the robot will immediately alert staff. In the proposed system, triage nurse assistant robots, possibly built into waiting-room chairs (still a robot if shaped like a chair only by very limited definitions), would collect basic data including blood pressure, pulse rate, blood oxygen saturation, respiration rate, height, and weight. Robots would continue to monitor patients as they wait. |
---
Trying to Heal
[Second-opinion doctor:] "After I listened carefully to Bob and sat with him at his wife's bedside, I decided to check the computer. There in the doctor's records I saw a long discussion and analysis of the problem with her liver. Quite opposite of ignoring her, her doctor had listened, had changed therapy and was watching her liver carefully. Sadly, despite the change, her liver had gotten worse. The problem therefore, was not that the doctor was not listening — he definitely was. The problem was that the computer had stopped him from communicating. It's strange to think that a system of information and data exchange, which allows you to communicate with anyone around the entire world, interferes with connecting to the person right in front of you. We see it constantly as cell phones, iPads, computers and even that 'old' obstructer the tv, get between us. At the time we need to communicate most desperately, electronics can block that most human connection of all, the physician/patient relationship. Let's be clear: multitasking is a fallacy. We can only do one thing at a time. We cannot drive and text. We cannot talk on a cellphone and listen to our mates. We cannot watch a game on tv and discuss finance with our partners. Most importantly, we cannot focus fully on a patient and a computer a same time. Therefore, both physicians and patients need to learn new habits and establish slightly different norms for the doctor visit. Patients must understand that for moments the doctor will look at the computer instead of directly at them, and not be offended. Doctors need to take time during each visit to look patients in the eye. Doctors must never teach or give advice while at the keyboard. We must turn, see, and touch our patients." — James C Salwitz, MD
When sick people come into a doctor's office, part of what they look for is psychological wellness. They want to feel like somebody has listened to them and is doing something to treat their illness. Sometimes, that means they ask their doctors for antibiotics, even if antibiotics aren't the right thing to treat what they have. Instead of giving in to misguided requests, doctors should remember the three E's: Empathy, Evaluatation, Education. Hear them out. Do an exam focused on them (even though you already know what's wrong and what to do about it). Show compassion. Explain what's wrong, what can (and can't) be done to fix it, and why. Tell them how they'll know when to see a doctor again. Don't give them a prescription for antibiotics they don't need, but don't

JUST

say "No." Tell them to take two naps a day, eat citrus and their favourite chicken soup. The increase in antibiotic resistance makes this an important issue. Via Andrew Sullivan's The Dish.
In depression and several other psychiatric disorders, studies have begun to detect a pattern of hyperconnectivity between 3 widely scattered networks in the brain: the network of structures in which we process emotion and response to threats (the affective network); the network of structures that allows us to focus our attention, to reason and make higher-order judgments (the cognitive control network); and a cluster of regions that come alive as a group when our minds are at rest — brain structures that help us ponder the intentions and mental states of others, consider our personal experiences and assess our emotions (dubbed the default mode network). In healthy people, those 3 networks more-or-less take turns being dominant. In depressed people, the chatter among them appears to be too noisy: A depressed person's concentration at work is easily broken by ruminations about relationship troubles. A social slight that a healthy person might easily dismiss feels like the emotional equivalent of a rampaging elephant to a depressed person. Electroconvulsive therapy (

ECT

) restores order. After several sessions of

ECT

, a healthy pattern of brain networks taking turns is again seen in subjects' brains.
---
| | |
| --- | --- |
| | But wait. Perhaps a bit of noisy brain chatter can be a good thing. A study has found that people who appear to be constantly distracted have more working memory, giving them the ability to hold a lot of information in their heads and manipulate it mentally. Those with higher working memory capacity report more mind wandering during simple tasks without their performance suffering. But the doctor above who was exhorting other doctors to pay attention to patients rather than computers said that multitasking was a fallacy, that we can only attend to one thing at a time. Can we multitask, or not? These results, published online in the journal Psychological Science, appear to confirm previous research that found working memory allows humans to juggle multiple thoughts simultaneously. (But perhaps not multiple important thoughts.) Working memory capacity is associated with general measures of intelligence, such as reading comprehension and IQ scores, and also offers a window into the widespread, but not well understood, realm of internally-driven thoughts. The brain allocates resources to those most pressing. |
| | |
| --- | --- |
| | Suicide is the 3rd leading cause of death in the US among people under the age of 45. Yet psychiatrists know remarkably little about what treatments can most effectively prevent people from killing themselves. For the most part, investigators have shied away from studying the problem head-on because designing intervention studies with suicidal subjects is fraught with difficulty. Most psychiatric drug trials today — the majority of which are industry sponsored — exclude anyone expressing thoughts of suicide. This is for ethical as well as practical reasons: physicians consider it taboo to give people on the brink of suicide an experimental drug, let alone a placebo, if other options are available. To complicate matters, many additional safety precautions are required to run trials in this vulnerable population and few mental health experts are trained in how to conduct suicide research; those who do are often afraid of lawsuits. Who wants to be known as someone who had several patients kill themselves during a trial to test an experimental form of suicide prediction? Unfortunately, virtually all established scales are "experimental" due to lack of data. |
| | |
| --- | --- |
| | Researchers have found 4 facial muscles that leak a person's true feelings, such as guilt, when he's under intense emotional pressure. The team concluded that liars are betrayed by tiny movements that cause them to raise their eyebrows in surprised expressions and smile slightly. Innocent people, meanwhile, tend to furrow their brows in genuine expressions of distress. A person's lack of complete control over facial expressions means genuine feelings can be differentiated from fake emotion. Most humans can control lower facial muscles in order to talk or eat but those in the upper face are more difficult to manipulate. Certain muscles are likely to betray the liar, particularly in high-stakes, highly emotional situations. Unfortunately, not everyone leaks their true emotions (certainly not always, anyway) — some (such as psychopaths) are better than others at adopting false faces. |
Not that you lied to me but that I no longer believe you has shaken me.
― Friedrich Nietzsche (1844-1900), "Beyond Good and Evil" Aphorism number 183
---
Sending and Receiving Signals
Major life decisions such as marriage, divorce, abortion, having a child and attending university may be subconsciously influenced by how long people believe they will live, according to a recent study. The longer someone expects to live, the more time they'll invest in education. If life expectancy is short, someone may decide to get married and have children sooner, or stick with the partner they're currently with rather than seek divorce. A branch of evolutionary theory known as life history theory predicts that life expectancy has an influence on major life decisions in humans as it does on the lives of other animals. The demographic transition model is the transition from high birth and death rates to low birth and death rates as a country develops from a pre-industrial to an industrialised economic system. It's not certain whether industrialisation and higher incomes lead to lower population or if it is lower populations that lead to industrialisation and higher incomes. I suggest it may have something to do with people having the idea that more money can mean longer life.
Education is perhaps the most significant investment decision you (or your parents) will make. Most citizens of developed countries spend 12−20 years of their lives in school. This involves 2 types of costs: direct (actual) costs (buildings, teachers, textbooks) and indirect costs (the opportunity costs of attending school instead of working or having fun). Is this enormous investment socially efficient? Given that schooling has a roughly fixed marginal cost, and a declining marginal return, if we assume competitive markets, perfect information, and rational actors, people will obtain the optimal amount of schooling (that is, the amount at which the marginal cost = the marginal return). Simple as this model is, it describes a remarkable empirical regularity. Over the last 65 years (as long as we can measure it for the US), the estimated rate of return for a year of schooling has been about 5-10% — approximately equal to the real rate of interest plus inflation. Much of the schooling received doesn't raise productivity in any measurable way — it's really just hoop-jumping to show off IQ, work ethic, and ability to conform. [From a lecture by David Autor,

MIT

, 2010: "Education, Human Capital, and Labor Market Signaling" and a PowerPoint presentation by Bryan Caplan, Economis professor at George Mason University, 2011.]
If you wear a white coat that you believe belongs to a doctor, your ability to pay attention increases sharply. But if you wear the same white coat believing it belongs to a painter, you will show no such improvement. "Enclothed cognition" (a twist on a growing scientific field called embodied cognition) is the effect of clothing on cognitive processes. The effect occurs only if you actually wear the clothing and know its symbolic meaning. (Perhaps this justifies managers and executives requiring the wearing of suits? Why people like to wear expensive clothes and jewelry?) Clothing affects how other people perceive us as well as how we think about ourselves. Experiments have shown that women who dress in a masculine fashion during a job interview are more likely to be hired, and a teaching assistant who wears formal clothes is perceived as more intelligent than one who dresses more casually. Clothes invade the body and brain, putting the wearer into a different psychological state. But what happens when you wear those clothes every day? Do you become habituated, so that those cognitive changes no longer occur? Do the effects wear off? I'd say yes — why we get tired of wearing the same old clothes (some sooner than others).
"In any presidential party, the Secret Service guys are the ones who are mature, whom you can count on, who'll keep their heads. They have judgement, they're by the book unless they have to rewrite it on a second's notice. And they wear suits, like adults. This week I saw a picture of those agents in Colombia. They were in T-shirts, wrinkled khakis, and sneakers. They looked like a bunch of mooks, like slobs, like children with muscles. Special thanks to the person who invented casual Friday. Now it's casual everyday in America. But when you lower standards people don't decide to give you more, they give you less." —
Wall Street Journal
columnist
Peggy Noonan
.
---
| | |
| --- | --- |
| | Is creativity more like IQ, or more like having expertise? IQ, whatever its flaws, appears to be a general factor: if you do well on one kind of IQ test you will tend to do well on another, quite different, kind. IQ also correlates well with many and varied real-world outcomes. But what about creativity? Is creativity general like IQ is? Or is creativity more like expertise; a person can be an expert in one field, for example, but not in another. Creativity appears to be domain-specific, so much of what we think we know about creativity may be based on invalid data. Divergent thinking exercises (like brainstorming unusual uses for bricks) really only develop divergent-thinking skill in a limited domain. Yet the fact that creativity can be stimulated by drugs and travel does suggest a generalised aspect. No one ever says, if you want to master calculus take a trip — but this does work if you're blocked on some types of creative projects. [The problem here is a lack of definition of the word creative. The artistic expression of novel, useful ideas? One can have expertise in playing the violin without being creative. One can create beautiful music mentally without knowing how to express it. I think expertise in expression can be taught, but rather doubt that creativity can be.] Via the New Shelton wet/dry. |
| | |
| --- | --- |
| | The hypothalamus is the part of the brain that reacts to perceived danger by triggering a fight or flight response via the release of adrenalin (quickening the heart rate, speeding the breath). The prefrontal cortex is the part of the brain that evolved most recently and it doesn't fully develop until after the teenage years. It holds the circuitry needed for abstract thought, allowing concentration on the task at hand while storing useful information in temporary storage for later evaluation and possible transfer to long-term storage. It's basically the command centre for the brain. Prefrontal dendrites (neuron branches) are affected by stress. They can regrow if stress disappears but they can't rebound after severe stress. Remaining in a highly-aroused state means prefrontal function weakens. This condition is colloquially known as "brain freeze". |
The technologies of mobile communication are so psychologically powerful that they not only change what we do, but who we are. People text, shop, go on Facebook, and read email during classes, presentations, and meetings. (An important new skill today is knowing how to make eye contact while texting.) People want to control where they put their attention, but end up hiding from each other even while connected — keeping a distance, controlling the amount. Texting, email, and posting are attempts to present the self we want to be. Human relationships are rich, messy, demanding — clean them up with technology! Stay connected all the time — never be alone! These seeming benefits, however, are not without downsides:

Sips of online communication offer only the illusion of friendship without actually providing the real thing. We trade intensity for volume. When we're sick or in need of help, we can rely on our social network only to the same degree that we can a polite stranger: we can expect sympathy and well-wishes. No more, no less.
The moment that people are alone, even for a few seconds, they become anxious, fidget, reach for a device. Being alone feels like a problem needing to be solved. But is it? Solitude is where you find yourself so that you can then reach out to others to form real attachments. Without a capacity for solitude, we turn to others to feel less anxious, to feel alive, using them as spare parts to support a fragile sense of self. We're drawn to virtual romance, to computer games that seem like worlds, to the idea that robots will someday be our true companions. We're losing our capability to spend time with ourselves. [This is a summary of

MIT

professor Sherry Turkle's Tedx talk.]
---
Poultry Farming
Supermarket eggs gleam with apparent cleanliness, and nothing might seem more wholesome than breaking one of them into a frying pan. Think again. An undercover investigation into a major US factory farm that produces 4.5 million eggs each day revealed an operation that has little concern for cleanliness or the welfare of hens. It's hard to breathe because of ammonia rising from manure pits below the mice-and-fly-infested barns. An automatic feeding cart that runs between the cages sometimes decapitates hens as they eat. (They may be the lucky ones.) Corpses are pulled out if they're easy to see, but sometimes remain for weeks in cages, piling up until they've rotted into the wiring. The reality of food processing can be off-putting. Industrial operations are efficient at producing cheap eggs, but those who eat animal-based food have a responsibility not just to animals, but to themselves, to pay attention to how food is produced. Perhaps eating less food of better quality could be an alternative for some?
Now let's talk about chicken MEAT. Apparently as a result of a need to cut costs, the US Department of Agriculture has proposed allowing chicken slaughterhouses to inspect themselves, eliminating those pesky federal monitors who have the annoying habit of taking diseased birds out of the food supply. There just isn't enough money in the budget to enforce the rules on the books. Inspectors have observed numerous instances of poultry plant employees allowing birds contaminated with fæcal matter or other substances to pass. (When employees try to remove diseased birds, they face reprimands.) The new proposal allows poultry plants to speed up their assembly lines to 200 birds per minute from 140, hampering any effort to examine birds for defects. Chickens, pigs, cattle, and fish are fed meal made from chicken by-products (including feathers). Most meal tested contains antibiotics and all meal tests positive for arsenic. It also generally contains antihistamines, acetaminophen, and antidepressants (to reduce chicken stress). The US poultry industry raises about 9 billion chickens and 80 million turkeys for human consumption each year. The meat is often dunked in bleach. I don't want to be tedious about this. It's not like getting upset about the food being offered to you and your family will change anything — the only thing that would change is perhaps you decide to spend more to get better quality (if you can). In today's economic climate that may not be an option. However, if you

ARE

interested to know more, Propublica has a chart that explains in detail the differences among lean finely-textured beef, mechanically separated beef, and advanced meat recovery and tells you where you're likely to encounter each.
"How do you prepare your chickens?"
"We don't. We just tell them 'You're gonna die. Accept it.'"
---
| | |
| --- | --- |
| | Marijuana has many uses other than being smoked. Unfortunately, the smoking part is usually enough to prevent its good qualities from being exploited. But that isn't true of kenaf, which has most of those same properties, just not the stoner one. Hibiscus cannabinus is probably native to southern Asia, though its exact natural origin is unknown. Kenaf is cultivated for fibre in many countries. The stems produce two types of fibre, a coarse fibre in the outer layer (bast fibre), and a finer fibre in the core. The bast constitutes 40% of the plant. These fibres are long (2-6 millimetres) and slender. The pulp quality is similar to hardwood. It matures in 100-200 days. It was grown in Egypt over 3,000 years ago. The leaves were consumed by both humans and animals and the fibre used for bags, cordage, and sails for Egyptian boats. Today, principal farming areas are China and India. The main uses are rope, twine, coarse cloth (similar to that made from jute), and paper. Other uses are engineered wood, insulation, clothing-grade cloth, soil-less potting mixes, animal bedding, packing material, and material to absorb oil and liquids. It's also useful for blending with resins for plastic composites and can be made into seeded grass mats for instant lawns and erosion control or into moldable mats for manufactured parts and containers. Kenaf seeds yield an edible vegetable oil; the oil is also used for cosmetics, industrial lubricants and biofuel production. It's high in omega polyunsaturated fatty acids (PUFAs) and contains a high percentage of linoleic acid (Omega-6). Over 20 years, 1 acre (4,000 square metres) of farmland can produce 10-20 times the amount of fibre that 1 acre of Southern pine can produce. It's a hardy plant that requires little fertiliser, pesticide or even water in comparison to conventional row crops. So why isn't more of it being grown? |
| | | |
| --- | --- | --- |
| | Phaseolus lunatus is a legume grown for its seed, which is eaten as a vegetable. Those seed are commonly known as lima beans or butter beans. During the Spanish Viceroyalty of Peru, lima beans were exported to the rest of the Americas and Europe; since the boxes of such goods had their place of origin labelled "Lima – Peru", the beans got named as such. The term "butter bean" is widely utilised for a large, flat, yellow/white variety of lima bean. In the Southern US, lima beans and butter beans are seen as two distinct types of beans, the former being small and green, the latter large and yellow. In areas where both are considered to be lima beans, the green variety may be labelled as "baby" (and less commonly "junior") limas. Lima beans typically yield 2,900-5,000 kilograms of seed per hectare in under 3 months. Lima beans are a virtually fat-free source of high quality protein. They contain both soluble fibre, which helps regulate blood sugar levels and lowers cholesterol, and insoluble fibre, which prevents constipation, digestive disorders, irritable bowel syndrome and diverticulitis. The magnesium content of lima beans is a calcium channel blocker. When enough magnesium is present, veins and arteries relax, which reduces resistance and improves the flow of blood, oxygen and nutrients throughout the body. The beans contain iron and trace minerals manganese, molybdenum, potassium, copper, and phosphorus. Raw lima beans and butter beans contain toxic linamarin, a cyanogenic glucoside — one handful of raw beans can make a person violently ill. The beans are rendered safe when cooked. | |
Things to do with sugar (other than just eat it):

Pour granulated sugar on bedsores, leg ulcers or amputations before dressing to kill bacteria.
Sugar can ease the pain of a burned tongue, or lessen the pain of too much spiciness in the mouth.
Mash a ripe banana with 3 tablespoons of sugar and 1 teaspoon of olive oil. (Don't overmix.) Gently rub on skin as an exfoliant and rinse off in the shower.
Add sugar to soap lather to act as an abrasive for very dirty hands.
3 teaspoons sugar and 2 tablespoons white vinegar per quart of warm water extend the life of fresh-cut flowers.
Mix equal parts sugar and baking powder and sprinkle over areas of roach infestation. Sugar attracts, while baking powder exterminates. Replace frequently.
Make a paste of warm water and sugar and apply to grass-stained clothing, let sit for an hour (or longer for tougher stains); wash as usual.
Coffee bean and spice grinders can collect strongly-flavoured oils; sugar can clean them by absorbing offending elements. Pour ¼ cup sugar into the grinder and run it for 2-3 minutes. Dump out and wipe well.
And a surprise: 3D printing.
---
The Largest Cylindrical Aquarium on the Planet
The world's largest cylindrical salt-water aquarium, the Aquadom, is located in the centre of Berlin, Germany, in the 5-star Radisson Blu Hotel. The tank, made of acrylic glass, is 16 metres tall (25 metres overall) and has a diameter of 11.5 metres. In the centre is a glass-walled lift that allows passengers to to view the fish as they constantly circumnavigate the tank. The tank holds about a million litres of salt water and about 2,500 fish representing about 50 species. It weighs about 150 tons.
---
| | |
| --- | --- |
| | The Great Mosque of Djenné is the largest mud brick (adobe) building in the world and is considered by many architects to be the greatest achievement of the Sudano-Sahelian architectural style. The mosque is located in the city of Djenné, Mali on the flood plain of the Bani River. The first mosque on the site was built around the 13th century, but the current structure dates from 1907. As well as being the centre of the community, it's one of the most famous landmarks in Africa. The walls of the building are decorated with bundles of rodier palm (Borassus aethiopum) sticks, called toron, that project about 60 centimetres (2 feet) from the surface. The toron also serve as readymade scaffolding for annual repairs. Ceramic half-pipes also extend from the roofline and direct rain water from the roof away from the walls. The entire community of Djenné takes an active role in the mosque's maintenance via an annual festival. This includes music and food, but has the primary objective of repairing the damage inflicted on the mosque in the past year (mostly erosion caused by rain and cracks caused by changes in temperature and humidity). In the days leading up to the festival, plaster is prepared in pits. It requires several days to cure but needs to be periodically stirred, a task usually falling to young boys who play in the mixture, thus stirring up the contents. Men climb onto the mosque's built-in scaffolding or on ladders made of palm wood and smear the plaster over the face of the mosque. |
| | |
| --- | --- |
| | Yanaka is a historic district of Tokyo that has survived earthquakes and bombings. It's a place with a special charm, with many small temples and a number of traditional shops. In this area of ​​town, houses are crammed next to each other in streets where cats abound. Yanaka Cemetery (Yanaka Bochi), often called by its old name, Yanaka Graveyard (Yanaka Reien), lies north of Ueno Park, the resting place of Yoshinobu Tokugawa (the last shogun), the painter Taikan Yokoyama, Eiichi Shibusawa (called the father of modern Japanese capitalism), Saint Nicolas of Japan, and many others. The cemetery is famous for its cherry blossoms in April; the main path is nicknamed "Cherry Lane" as it becomes a tunnel of blossoms. At about the mid-point of the central street are the ruins of the 5-storied pagoda that became the model for Kōda Rohan's novel The Five-Storied Pagoda. The pagoda had been a donation made in 1908 by Tenno-ji. It was burned one summer night in 1957 in the so-called "Yanaka Five-Storied Pagoda Double-Suicide Arson Case". Next to the middle pillar of the pagoda, among the ruins, were found the charred bodies of a man and a woman — too badly burned for a positive identification, but their identities were established to a near certainty thanks to a thimble found among the ruins. A seamstress in her 20s working in a sewing shop in Tokyo and her middle-aged (and married) lover had gone missing. Witnesses testified the two had wanted to burn themselves to atone for their adulterous relationship; therefore, the two bodies were likely to be theirs. The destruction of the cultural asset was universally and severely criticised. It was decided the pagoda wouldn't be rebuilt, only the 5 foundation stones would be preserved. These were later declared a historical landmark by the city authorities. |
| | |
| --- | --- |
| | "Let them eat cake" is attributed to Marie Antoinette (1755-1793), Queen of France from 1774 to 1792; beheaded in 1793 during the French Revolution. This classic expression of disdain for the common people she supposedly said when told that most French people were unable to buy bread to eat. Scholars doubt she actually said it. Moreover, if she did say the line as traditionally given in French — "Qu'ils mangent de la brioche" — then it has long been mistranslated and therefore possibly misunderstood. Those words actually mean "Let them eat brioche," referring to a bakery product that is not what we usually think of as a "cake." Brioche is a fluffy pastry with a flaky crust. As explained by the excellent Phrase Finder site, French law in Marie Antoinette's time required bakers to sell fancier products like brioche at the same price as a common loaf of bread, to prevent them from using too much of limited flour supplies to make products typically more profitable to the bakery but unaffordable to poor French families. Thus, "Let them eat brioche" could have been an expression of compassion rather than disdain, suggesting that poor people should have access to a product they'd be unable to afford without price controls. |
---
Dockwise
The Taiwan-built Blue Marlin (

IMO

9186338 Callsign

PJFM

) is a semi-submersible heavy lift ship designed to transport very large semi-submersible drilling rigs above the transport ship's deck. It's equipped with 38 cabins to accommodate 60 people, a workout room, sauna, and swimming facilities. Blue Marlin and her sister ship MV Black Marlin comprise the Marlin class of heavy lift ship. They're owned by Dockwise Shipping of the Netherlands. The Blue Marlin has a deadweight of 56,000 metric tons, an

LOA

of 712 feet, a cruise speed of 14.5 knots, a depth of 44 feet, and a cruise range of 25,000 nautical miles. Today, it is flagged Netherlands Antilles. Dockwise is conducting a feasibility study for a new Type 0 semi-submersible vessel to cater for increasing demand for transportation of extremely large and heavy production platforms.
Two of the company's vessels have been lost in recent years, the Mighty Servant 2 capsized after hitting an uncharted underwater pinnacle off Indonesia in November 1999 (5 fatalities, scrapped), and the Mighty Servant 3 foundered after unloading the drilling unit Aleutian Key off Angola, December 2006 (no fatalities). After 5 months of resting on the seabed in 52 metres of water, Mighty Servant 3 was salvaged by Dutch company Smit International and handed back to its owners on 26 May 2007. To pull the vessel from the seabed, the 1,200 tonne sheerleg Taklift 7 was used in combination with pumping pressurised air into closed compartments. Mighty Servant 3 was transported to Cape Town for repairs and returned to service.
Dockwise is versatile. It also has a yacht transport service. The ship has complimentary cabins for yacht crew — complete with meal service, a swimming pool, an atrium, a fitness centre, and a conference and media centre. (The current Dockwise rules state the yacht must be over 80 feet for a crew to have a complimentary cabin.) The deck drops down and a boat can be driven directly over the submerged floor. The yacht is then held in place by supports specially fitted to each one's unique dimensions. For sailboats, this transport avoids the hassle of removing the mast and disassembling the rigging — almost all other yacht carriers are lift on-lift off arrangements where a crane moves the yacht onto the deck of the transport ship. That invariably requires removal of mast and rig so the crane can get a hoisting strap around the hull. Neither method is an inexpensive way to get home but it does save wear and tear on yacht and crew.
---
| | |
| --- | --- |
| | The best doorway ever is situated in the 7th arrondissement of Paris. Avenue Rapp was named after the famous French General Jean Rapp who distinguished himself in the Egyptian Campaign of 1801. Number 29 — or the Lavirotte Building as it is known – was designed by architect Jules Aimé Lavirotte. Although Lavirotte was responsible for the entire building, he did not produce the doorway. That exotic and somewhat ostentatious object was designed by sculptor Jean-Baptiste Larrive, and sculpted by Sporrer, Firmin-Marcelin Michelet, and Alfred Jean Halou in 1901. |
| | | |
| --- | --- | --- |
| | Rainbow House is located on Clipper Street in San Francisco: I ran across a photo of this house several years ago. I loved it and even toyed with the idea of painting my own house similarly, but decided keeping that many pots of paint around for touch-up maintenance would be entirely too much effort. I was quite surprised to run across a side view of the house the other day and subsequently disappointed to see that the house isn't quite what I had thought. Only the front has rainbow paint, and the roofline is deceptively tall with a false front of sorts — not an "honest" Victorian, in my opinion. Plus, the driveway into the garage is almost impossibly steep — I wonder why the garage wasn't built to be on the level above with a room reached by a stairway underneath. (It's still rather pretty, though.) | |
| | |
| --- | --- |
| | This photograph is by South African photographer Hougaard Malan. The majority of his still-fairly-small portfolio was shot within daily driving distance of his home town, Stellenbosch. He's also photographed Namibia and the basalt peaks of the Drakensberg. His photos seem to me to be a bit oversaturated, but perhaps that's just the way South Africa looks. He has plans to move further afield. |
---
Patterns from Space
André Kuipers, a Dutch physician and now astronaut on the International Space Station, used a new technology to capture images from 400 kilometres above the earth. The relative speed of the space station usually means photos taken from space are blurry, but Kuipers used a motorised camera to compensate. He'll spend 191 days aboard the space station; he launched 21 December 2011 and his expedition is due to return 1 July 2012.
Kuipers is unsure whether the waves are in the air or in the water.
A second photo in another spot in the Sahara came out looking like ostrich leather.
I wonder what these clouds look like from underneath. They appear to be mammatus clouds. Or too much bubblebath.
---
| | |
| --- | --- |
| | Fred Bennett, of Brewers Bar and Restaurant in Nelson, New Zealand, decided to start selling Thai food. He hired a Thai chef and asked the chef's advice on choosing a good name. The chef suggested a phrase he said meant, "Welcome and see you again." Bennett had a sign printed for outside the restaurant. Months went by. Bennett noticed that he served plenty of Westerners, but hardly any Thai people. His chef departed and Bennett hired a new one who asked, "Why call your restaurant 'Go Away and Don't Come Back'?" Bennett laughs now. "It pays to research." |
| | | |
| --- | --- | --- |
| | As the famous quote by Leroy "Satchel" Paige states: "Age is a question of mind over matter. If you don't mind, it doesn't matter." Proving that quote true beyond any measure of doubt, 86-year-old Johanna Quaas tackles the parallel bars and manages a 5-second planche at a tournament called "Turnier Der Meister," or Tournament of Masters, at the 2012 Cottbus World Cup in Germany. She also shows a handstand, cartwheel, backward rolls, and headstand. Talk about not taking old age lying down! Drool, you 50-year-old couch potatoes. | |
| | |
| --- | --- |
| | Now 74, Ernestine Shepherd is in better shape than most people decades her junior. Up at 3am every morning, she spends her days running, lifting weights and working out. She also works as a certified personal trainer at her gym. "I feel better than I did at 40," she says. She has a carefully formulated diet — 1,700 calories a day, mostly boiled egg whites, chicken, vegetables and a liquid egg white drink. She runs 80 miles per week and bench presses 150 pounds. Bicep curls are done with 15- and 20-pound dumbbells. Married for 53 years and grandmother to a 13-year-old, Shepherd said she's exactly where she wants to be. Twenty years ago, she worked as a secretary in the Baltimore school system (after spending 30 years at AT&T). Exercising was no part of the picture. "I was too prissy to exercise," she says. "I didn't want my hair messed up. Didn't want my fingernails broken." Then, at 56, she found herself in a dressing room with her sister trying on swimsuits for a pool party. "When we looked at each other we both laughed because we didn't look too good in those suits," Shepherd said. "She said 'Tina, we're going to have to do something about this.'" They started with aerobics classes, then began weight lifting. But her sister soon developed an aneurysm and died. Frightened at first, Shepherd decided to keep going. She now runs 2-3 hours per day and has completed 8 marathons. More photos. |
---
The Beauty of Worms
Alitta virens is an annelid worm that burrows in wet sand and mud. It's classified as a polychaete in the family Nereididae. Sandworms make up a large part of the live sea-bait industry. "Sandworming", or the harvesting of sandworms from mudflats, employs over 1,000 people in Maine. [I will never be one of them.] As of 2006, the population of sandworms had diminished greatly over the preceding years due in large part to overharvesting immature worms. Sandworms eat seaweed and microorganisms. They have distinctive traits: they often reach great lengths, sometimes exceeding 4 feet; they have numerous, highly vascularized parapodia along both sides of their bodies (these function both as external gills — primary respiratory surfaces — and as a means of locomotion; they have blue heads with two large pincer teeth.
Sabllidae polychaete Annelida is a fan worm that lives in a flexible, leathery tube. The tube is often much longer than the worm. Some fan worms have eye spots on their tentacles to detect movement. Fan worms slip instantly into their tubes at the slightest sign of danger. The tubes also keep them moist and safe on the rare occasions they're exposed at low tide.
Sabellid polychaete Branchiomma arctica feather duster worms live in tubes made out of sand, and bits of shell and other debris. They tend to be common in the intertidal zones around the world. They have a crown of feeding appendages or radioles in two fan-shaped clusters. Size varies between tiny and over 10 centimetres long. Some small species can bend over and extend their tentacles to the sea floor to collect detritus.
---
| | | |
| --- | --- | --- |
| | Corkscrew Cuts for Cats: "People believe we are hurting cats when we groom them. If people shave their hair for such reasons, do we question them?" (I prefer to assume the cat didn't mind, though his wife does NOT appear to be overjoyed.) | |
Yes, dogs are partially colour blind, and so are cats. But contrary to what some people think, dogs and cats do see some colours, not just shades of black and white. They basically see everything in yellows, blues, and grays — similar to colour blind humans. That means they may not see that red ball in green grass. (Brightness and motion are far more important aspects to them.)

A collie is watching the news with a dalmatian when the newscaster says "Two Brazilian men die in a skydiving accident." The collie starts crying to the dalmatian, sobbing "That's horrible! So many men dying that way!" Confused, the dalmatian says, "Yes dear, it is sad, but they were skydiving, and there's always a risk involved." After a few minutes, the collie, still sobbing, says, "How many is a Brazilian?"
| | |
| --- | --- |
| | A dog's version of a couch potato: watching the equivalent of canine television. (From the dog's owner, "My dog and the neighbour dogs always tried to 'talk' by jumping up on the fence. My dad came up with this idea and the dogs love it!") |
---
Artistic Expressions
Cartier is a French jeweler and watch manufacturer. To celebrate their 165th anniversary they've released a beautiful mini-film directed by Bruno Aveillan. It took them 2 years to complete. Click on "full film" to see a 3½ minutes advertisement, called The Odyssey of Cartier. It is perhaps the most expensive ad ever made — and one of the most breathtaking. The leopard is real but some of the rest is impeccable

CGI

. Via Presurfer.
What if the world's greatest works of art, when seen one after another, tell a meta-story — a story of people, places, nature and motion? ArtCircles from Art.com brings you Van Gogh to Rothko in 30 Seconds, an epic journey of discovery through the world's most inspiring art collection. Via The Dish. Rather well done, I think.
Quilling, or paper filigree, is an art form involving the use of strips of paper that are rolled, shaped, and glued together to create decorative designs. The paper is wound around a quill to create a basic coil shape; this is glued at the tip. These shaped coils are arranged to form flowers, leaves, and/or various ornamental patterns similar to ironwork. This was my favourite of the 40 samples. At a glance, it looks like a painting.
---
| | |
| --- | --- |
| | The statisticians at OKcupid have come up with a winning first-date strategy. It's a list of questions statistically proven to suggest key details about your unknown dinner companion without making things too awkward. The ideal questions are those people don't consider too private (that is, they are casual topics) and they lead to a high diversity of answers (it is this diversity which actually then tells you something about the person). ASK: Do you like the taste of beer? BECAUSE: Among all casual topics, whether someone likes the taste of beer is the single best predictor of whether he or she has sex on the first date. No matter the gender or orientation, beer-lovers are 60% more likely to be okay with sleeping with someone they've just met. ASK: Do you like horror movies? Have you ever travelled around another country alone? Wouldn't it be fun to chuck it all and go live on a sailboat? BECAUSE: Of all questions appropriate to a first date, those 3 are the ones successful couples most often agree on. ASK: Do you prefer the people in your life to be simple or complex? BECAUSE: This one question very strongly predicts a person's ideas on these divisive issues: Should burning your country's flag be illegal? Should the death penalty be abolished? Should gay marriage be legal? Should evolution and creationism be taught side-by-side in schools? In each case, those who prefer complexity are 65-70% more likely to give the liberal answer. Those who prefer simplicity are 65-70% more likely to give the conservative one. ASK: Do spelling and grammar mistakes annoy you? BECAUSE: If your date answers "no" — that is, he/she is okay with bad grammar and spelling — the odds of him or her being at least moderately religious is slightly better than 2:1. |
| | |
| --- | --- |
| | An Australian pilot said he was forced to make a harrowing landing reminiscent of a Hollywood thriller after a snake popped out from behind his dashboard and slithered across his leg during a solo cargo flight. Braden Blennerhassett, 26, unsure whether the snake was venomous, said his heart raced as he tried to keep his hands still while manœuvering the plane back to Darwin. The snake popped its head out from behind the instrument panel several more times, then crawled across his leg during the approach to the airport. After Mr Blennerhassett landed safely, park rangers spotted and tried to capture the animal (believed to be a golden tree snake like the one pictured, a non-venomous reptile that can grow 1.5 metres long). But days later, the suspect was still at large inside the Beechcraft Baron. It's found a new home and doesn't want to leave. (How can they be sure it didn't sneak away?) This seems a serious obstacle to continued safe operation of that plane. Air Frontier's Mr Hunt said he was not aware of another snake being found in a plane in Australia, but he's heard of a young chicken being found alive under the floor of a plane and of an escaped juvenile crocodile crawling under the pilot's rudder pedal. A Crocs on a Plane sequel, anyone? |
| | |
| --- | --- |
| | Air New Zealand caused a minor stir on April Fool's Day with its announcement that Grabaseat would introduce "straight up fares" — which it said were standing-room-only tickets on planes that were full. Grabaseat says 737-300 aircraft on domestic routes will from today be fitted with ceiling-mounted hand straps in the aisles, similar to those on buses, boosting capacity by an extra 69 passengers. "Unlike buses, passengers will not be able to request stops," a statement said. The punchline? The fares are for passengers who can "stand it". |
---
Night Lights on the Golden Gate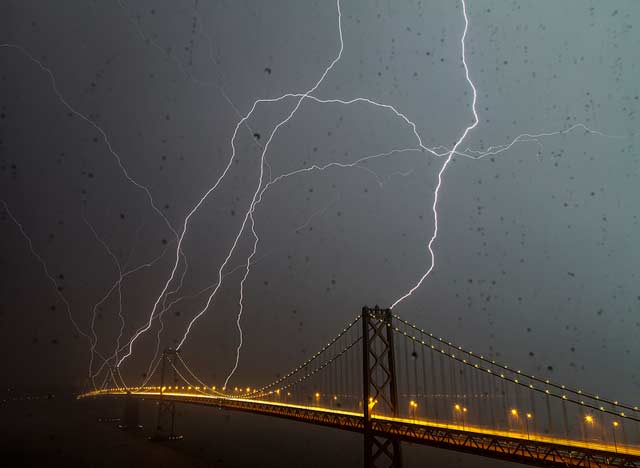 From the Just-When-You-Think-the-San-Francisco-Oakland-Bay-Bridge-Has-No-Original-Photographs-Left Department: This is a single exposure shot 12 April 2012 from the photographer's office window (he didn't want to get his new camera wet). Note that lightning is striking all 3 towers simultaneously.